This Crochet Pansy pattern has been adapted from a piece of crochet lace my great-grandma made in the '50s.  Working on it has brought back so many memories of her.  For a few short hours, it felt like we were communicating across the years.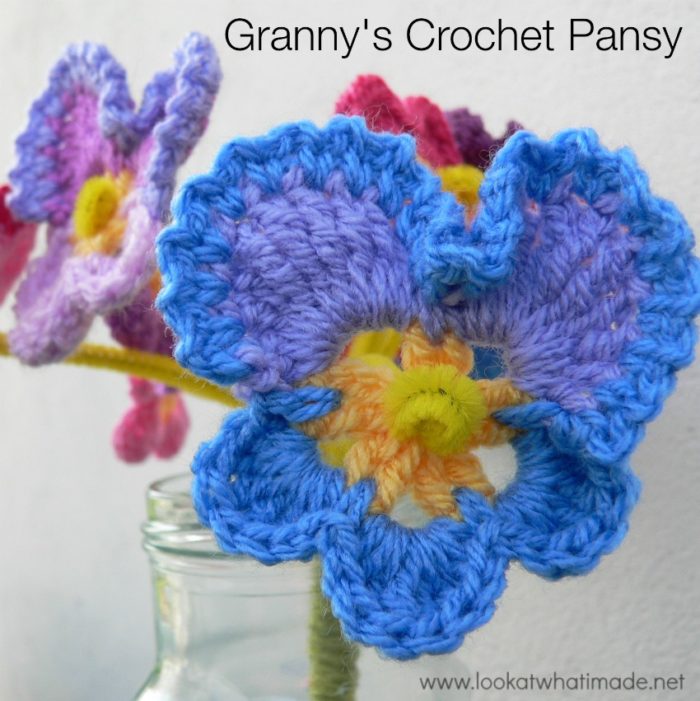 The most "intimate moments", for lack of a better word, were when I noticed some little error in the work or a change in tension.  In those moments she was not the graceful old lady from memory, coiffed to perfection and smelling like Yardley, but a young woman, very much like myself, raising her children and running her home.
Maybe she snatched whatever stolen moments she could to sit down and crochet?  It would have been by the light of a paraffin lamp.  Probably by the scarred kitchen table.  And if it was winter, her feet would have been resting on one of those little wooden "heaters" we used to use as chairs when we were very small.  She will most certainly have had a china cup and saucer at her elbow.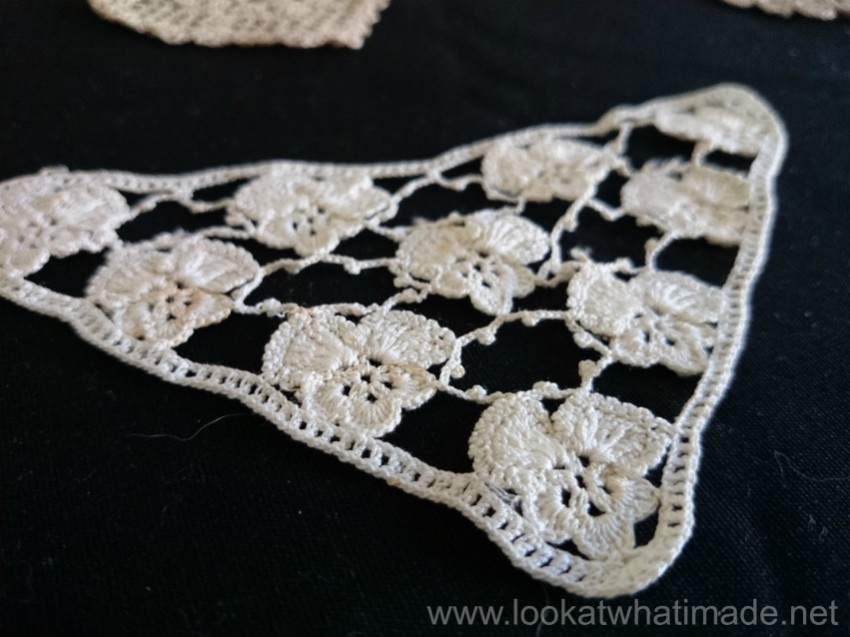 I cannot begin to tell you what a struggle it was trying to decypher the "pattern".  First of all, it was done in the finest of thread, so I could hardly see a thing.  Secondly, some of the pansies were made by a left-handed crocheter.  That just about blew my mind.  I couldn't understand why the stitches were going the "wrong way", until I copped on that they must have been done by a lefty.
I thought I would share a little bit of the "figuring-out" mayhem.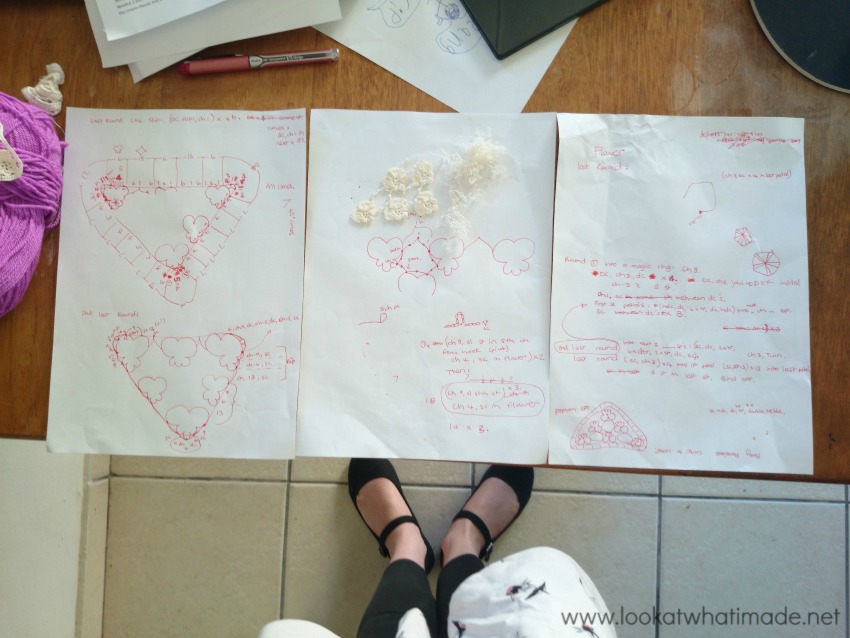 I have had to alter the pattern quite a bit.  The original, although perfectly suited to fairy-hair (also known as cotton thread), was just too clumsy when made with yarn.  Here is the second one I made.  I still wasn't completely happy with it, although you probably won't be able to tell the difference between it and the final Pansy.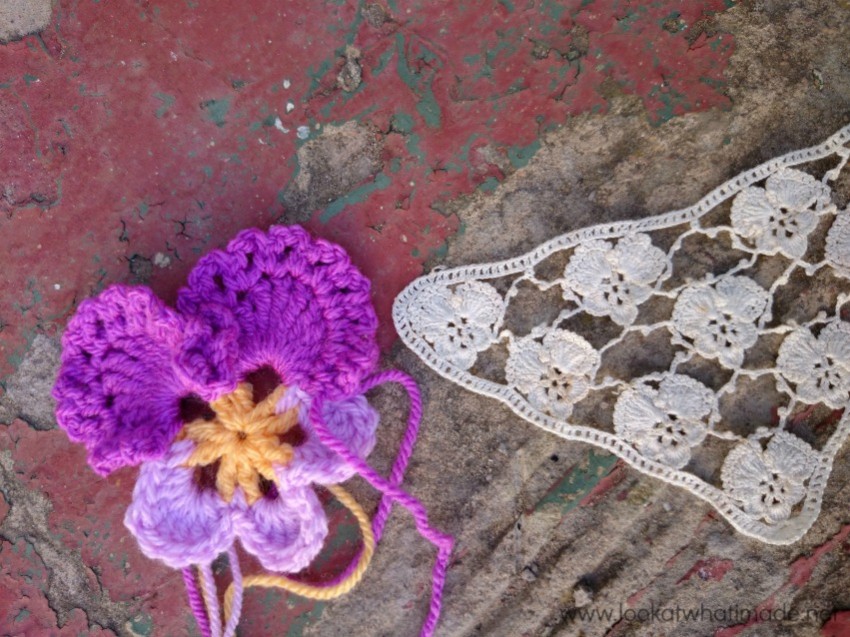 I interrogated my grandma to find out who the lefty was.  She has absolutely no idea.  But she did tell me that all the crochetery was done by my great-grandma (Dalina), and her two sisters (Hanna and Aunty Dollie).
I've told you about Aunty Dollie before (see my Aunty Dollie Bag).  She was a graceful, beautiful woman who lost both her husband and her son quite early on in life.  She then went to live with my great-grandma on our family farm, which I spoke about a little bit when I did the photo tutorial for Aurora Suominen's Autumn Clusters a few weeks ago.
Some of the crochet pieces might even have been done by their mother, Ouma Hoekoe, so-called because she came from Hoekoe.
Why is this important?  The South-Africans among you might know that Hoekoe is the name of the valley where CJ Langenhoven was born in 1873.  Ouma Dalina and Aunty Dollie were friends with his daughter, Engela.  In fact Aunty Dollie and Engela were both born in 1901, mere months apart.
CJ Langenhoven
Langenhoven was an exceptional writer and politician.  He was lovingly called Sagmoedige Neelsie (Gentle Neelsie).  Despite his sharp wit and the fact that he did not suffer fools, he was a kind and gentle man.
In 1918 he wrote "Die Stem", South Africa's national anthem (1957 – 1994).  After the abolishment of Apartheid, his anthem was replaced by Nkosi Sikelel' iAfrika, in which a part of "Die Stem" still features.
In 1920 he was elected as a senator.  One of my favourite Langenhoven anecdotes comes from this time.  He was sitting in parliament one day, getting increasingly annoyed at everyone.  All of a sudden he stood up and said:  "Half of you are donkeys!" (Die helfde van julle is Esels.)  The speaker reprimanded him and told him to apologize.  "I take it back," he said, after barely a moment's pause.  "Half of you are NOT donkeys".
Some of my favourite Langenhoven quotes (translated by Goodreads):
"Friends should be like books, few, but hand-selected. "
"To test a man, determine how much it takes to make him lie."
"It does not mean much to be important. The most important man at a burial is dead."
"Yes is like credit, No is like cash."
"God made the world like a knife. We have the choice to take it by the handle or the blade."
"A man with no enemies is no good as a friend."
That's all fine and well, Dedri, but what does any of this have to do with the Pansy?
Working on this pattern opened up a whole spiderweb of sentimentality:  my granny, great-grannies, and great-great granny;  being proudly South-African (albeit in London);  heritage and memories… Sometimes crochet is not just crochet. And now you may continue on to the pattern.

Granny's Crochet Pansy Pattern
©Dedri Uys 2014.  All Rights Reserved
Edited by Venetia Smith
Tested by Venetia Smith, Beth Spaulding and Kimberly Slifer
Pattern Resources:
Difficulty
Intermediate
Materials
Double knit yarn in 3 (or 4) colours
4 mm Crochet Hook  (US G/6  UK 8)
Yarn needle
Abbreviations
US Crochet Terminology used throughout.  Please see this chart if you need help with any of the abbreviations in this pattern.
Special Stitches
Double treble crochet (dtr) :  Yarn over 3 times, insert your hook into the applicable stitch and pull up a loop, then *yarn over and pull through 2 loops* x 4.
Special Instructions
Small Petal:       Into the same ch-3 space:  hdc, dc, 4 tr, dc, hdc.
Large Petal:        Into the same ch-3 space:  hdc, dc, 2  tr, 3  dtr (see Special Stitches), 2  tr, dc, hdc.
Instructions
Round 1
With Colour A and working into a magic ring:  ch 3 (this counts as your first dc).  See Photo 1.  Make another dc (Photo 2) and ch 3 (Photo 3).  *2 dc, ch 3 (Photo 4)* x 4.
At this point you may go out and find a cute little baby to help you check your stitch count (Photo 5).  This is my nephew, Luca, doing the honours.  Tighten the magic ring (Photo 6) and join to the top of the initial ch-3 with a sl st (Photo 7).  Finish off.
Stitch Count:  10 dc's (including initial ch-3) and 5 ch-3 sp's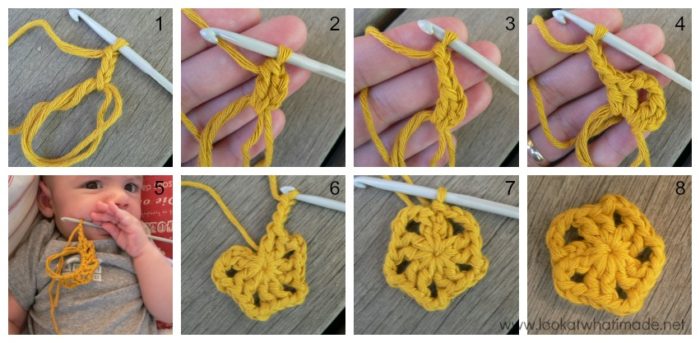 Round 2
Join Colour B by making a sc between any 2 dc's of Round 1 (Photo 1).  *Make a Small Petal (see Special Instructions) in the next ch-3 space (Photo 2).  Sc between the next 2 dc's (Photo 3)* x 3.  Change to Colour C on the last yarn-over of the last sc (Photo 4).  Make a Large Petal (see Special Instructions) in the next ch-3 space (Photo 5), sc between the next 2 dc's (Photo 6), make a Large Petal in the last ch-3 space.
Join to the first sc with a sl st (Photo 7).   Now you are going to ch 1 and turn. If you would like to change colours at this point, do so by picking Colour B back up before making the ch st.
Stitch Count:  50 st's/5 petals

Round 3
This is not a complete round.  In this round, you will only be working into the stitches of the 2 larger petals.  The wrong side of the flower should be facing you.
In the photos below, I have used the same colour for Rounds 2 and 3.  Remember that you should change colours BEFORE the ch-1 and turn at the end of the previous round if you wish to do so. Skip the sl st (indicated with an arrow in Photo 1).  *Sc, ch 2* in each of the next 22 st's (Photos 2 -4).  Sc in the last st and then sl st in the same st (Photo 5).
Bind off and work away your yarn ends.  The last sc and sl st should fall in the last stitch before the colour change.  See Photo 5.
Stitch Count:  23 sc's, 22 ch-2 spaces
Your top two petals (the Large Petals) might look a bit odd.  See Photos 6, 7 and 8.  That's how they are meant to look.  They should form a little lip between them (Photo 7).  Depending on how loosely you crocheted and the thickness of your yarn, this "lip" should be quite flexible, allowing it to drape to one side.
I like the movement this lends to the flower. If you find that your petals are too rigid, relax your tension a tiny bit or go up a hook size.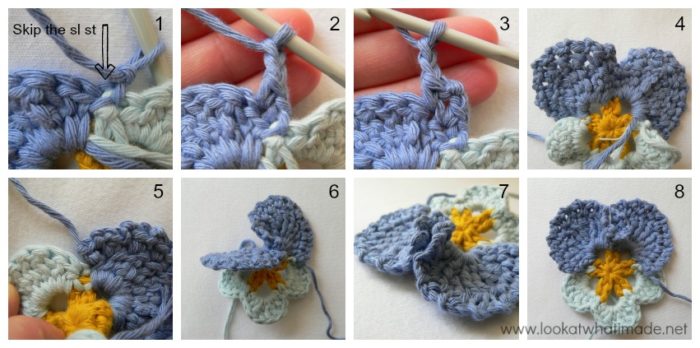 As always, you are welcome to make (and sell) as many of these Pansies as you wish.  All I ask is that you credit me as the designer if you make anything using this pattern.

Free Flower-Related Patterns

This blog post contains affiliate links. I only link to products I personally use or would use.  All opinions are my own.