This Rainbow Rag Rug has so many happy memories crocheted into it.  Two of my favourite turquoise tops and one of Christiaan's favourites (my pink empire t-shirt with lace trim);  some t-yarn left over from when I made the boys' Round Rag Rug; a green dress Anmarie gave me 4 years ago that does not, and never again will, fit me…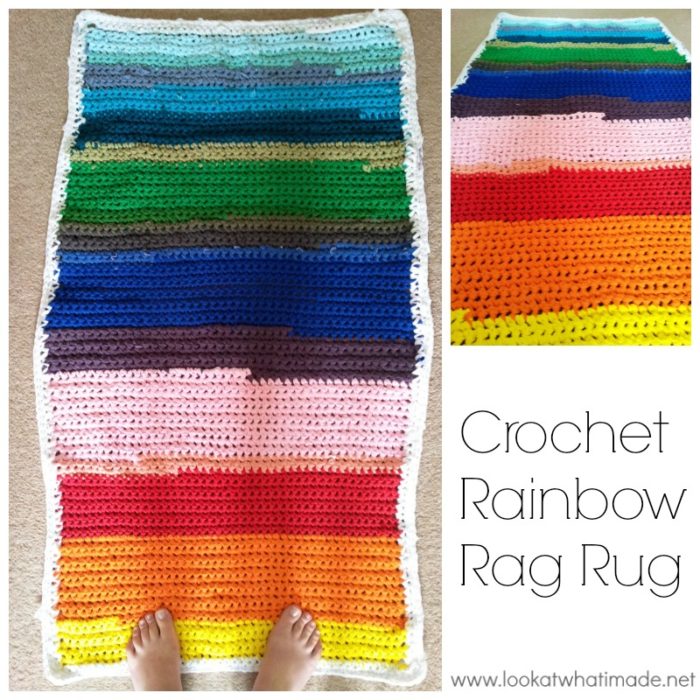 I love preserving memories in this way.  I am also amassing a truckload of 10cm squares cut out of soiled, torn, washed-/worn-out, old clothes.  I plan to make a memory quilt with bits of the boys' old clothes.  I love the idea that I will be able to sit under it and remember all the special times when they wore each item.  Makes much more sense than keeping everything in the attic to rot.  Of course I have given LOADS of stuff away on freecycle or to the charity shop, but some things are too special (or too trashed, haha).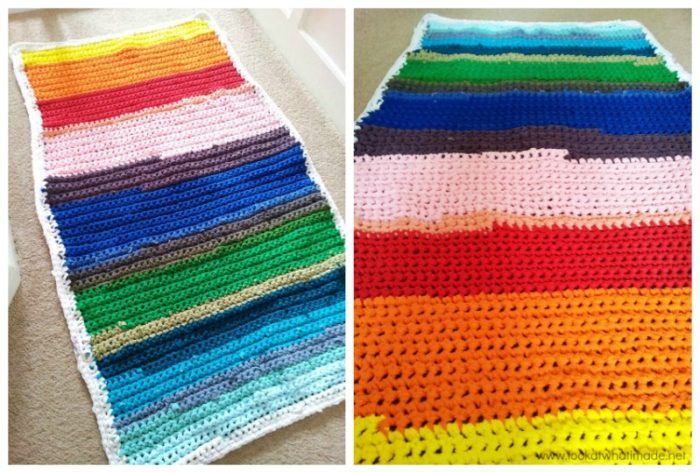 How to Make a Rectangular Crochet Rug
Materials
Abbreviations
This pattern uses US single crochet (Sc), which is the same as the UK double crochet, and chain stitches (Ch).
Instructions
Start with as many chain stitches as you want.  I started with 45 chains.
Row 1:  Sc in the second ch from the hook and every subsequent ch.  When you get to the end, ch 1 and turn.
Row 2:  Sc in each stitch accross.  Ch 1 and turn.
Subsequent Rows:  Repeat Row 2 until your rug is as long as you want it, or until you run out of yarn, whichever comes first.
Finish Off:  Sc in each stitch and row around.  (Sc, ch 1, sc) in each of the 4 corners.  Join to the first border sc with a sl st and bind off.  Work away your tail of yarn (t-shirt yarn).
Voila!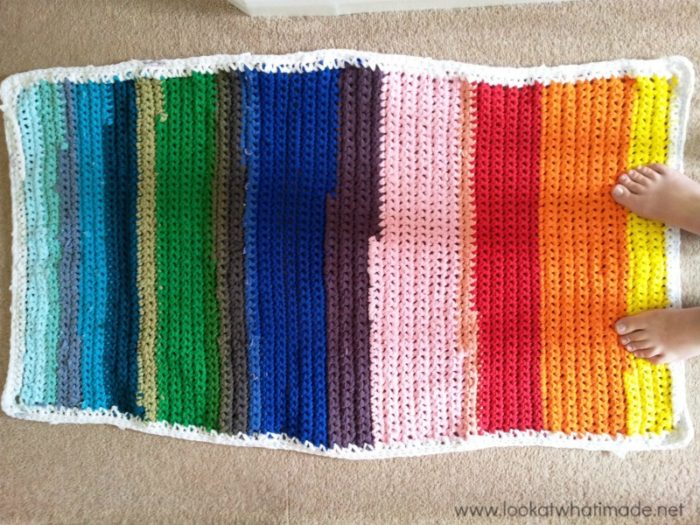 I am thinking of putting mine in front of my kitchen sink.  And yes, it is wonky, but that's the nature of the beast.
More Rug Patterns
Remember to subscribe to my newsletter if you would like to be kept in the loop. You can also like my Facebook page or follow me on Bloglovin or Google+.
Happy Hooking!