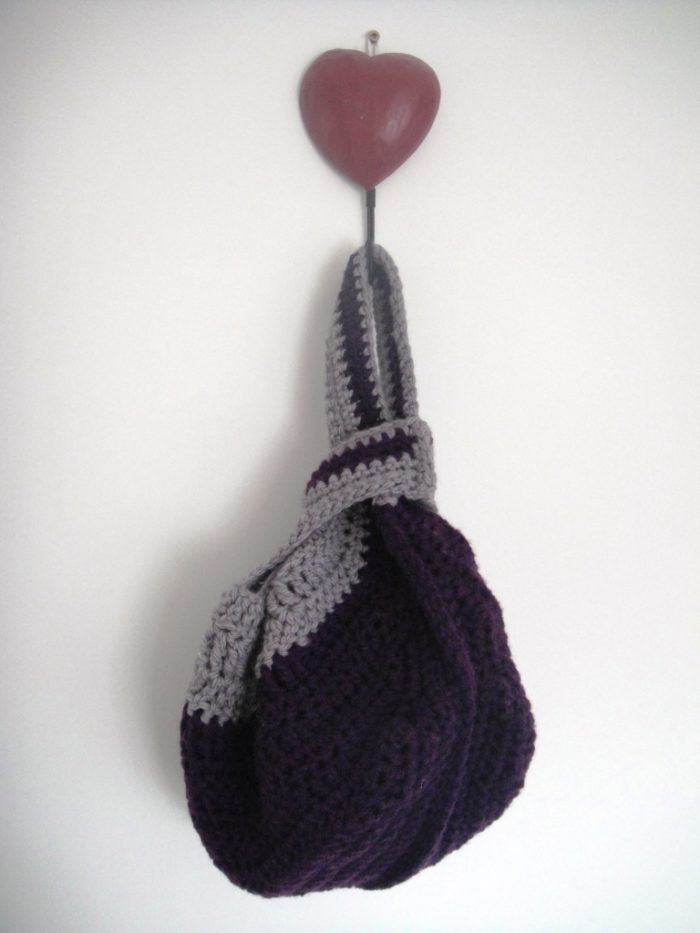 We've had a busy three weeks.  Pieter had tonsillitis, Jaco has been wheezing since just after his birthday and I've convinced the doc to give me Salbutamol drops so that we can use a nebulizer instead of that horrible spacer – the child freaks even before it's on his face!  Christiaan has been working like a maniac.  Almost 40 hours overtime last week and I'm counting the extra money as I drift off to sleep, hehe.
So I have not had time (or even the use of the computer) to write anything.  I HAVE been busy, though, so read on and I'll tell you about this little bag.
Auty Dollie Bag
My mom described this bag to me and asked me if I could make a pattern for a crocheted version.  She has since found the original magazine pattern (obviously she didn't have it at the time of describing the bag to me, because my pattern now looks quite unlike the original, hm?).  It looks like it's from the 1700's, the paper is that yellowed.  I assume copyright has long since become blurry on this one, so I am attaching a photo of the page and if you feel adventurous, you can try and untangle the instructions and make yourself a little fabric bag.
But the pattern I am adding today is my crochet version and a nod to my great-grandma Dollie.  Technically she was my great-grandma's sister, but she lost both her husband and son quite early in life and so went to stay with her sister (my actual great-grandma) on her farm.  The two of them lived there until my great-grandma passed away.  Tannie Dollie went to live in the old age home in Oudtshoorn until she, too, passed away.
I have only fond memories of the both of them and as we saw them every other weekend, we were quite close to both  of them and never made any distinction between Tannie and Ouma.  Both were just our great-grandma's and that was that.  If anything, I was a bit closer to Tannie Dollie as she used to mind me sometimes as a baby (and her in her 80's, phew!).  She used to help me make doll's dresses out of plastic bags and whenever we got into the car to go, she would say:  "Goodbye my Polly.  Don't be naughty!"
Back to the bag.
It took quite a lot of bumbling and 3 or 4 goes to finally get this crochet bag done.  I ran out of wool on the first one (and the second one, mind you), so I decided to make the bottom of the bag a different colour.  It didn't look nice at all.  Then I altered the pattern to make it less complicated.  Then I ran out of purple wool and had to wait for eBay to send me some more.  Now it is finally done.
You can find the free pattern HERE in my Ravelry store.
Since releasing this pattern, I have used it to make stroller bags and a market bags.  I have also done a tutorial on how to line the bag, should you wish to use it as a purse.
Remember to subscribe to my newsletter if you would like to be kept in the loop. You can also like my Facebook page or follow me on Bloglovin or Google+.
Happy Hooking!