Good evening and a very happy Friday to you!  I am very excited to show you some photos of my completed Mighty Fine Day Bag.  Although I love the textured simplicity of the bag itself, the tiny little Flower Pouch attached to it has stolen my heart.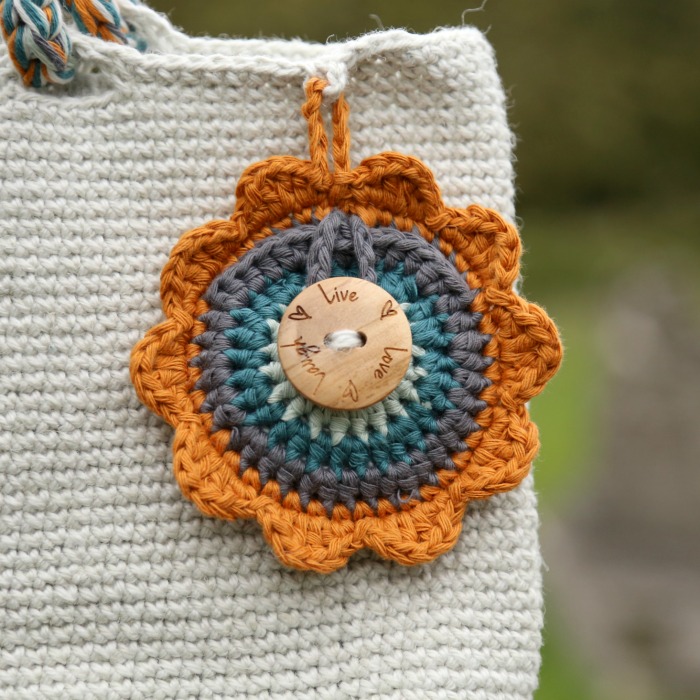 It is a flower, or a rainbow, or a sunset… whichever of these resonates with you most.  And I've nicked a button from my Sophie Stool Kit for the closure because I just LOVE the message on it and it ties in so well with my mission to celebrate the joyful moments this year.
The pouch is actually meant for things like stitch markers or my gorgeous Cohana Measuring Tape.  What I ended up putting into it was the 'treasures' that have accompanied me everywhere (in my plastic needle holder) for the last 4 years:  2 stitch markers, a tiny ammonite from Lyme Regis, and the Nonyaka flower we used as a gauge swatch for my South Africa Workshops in 2016.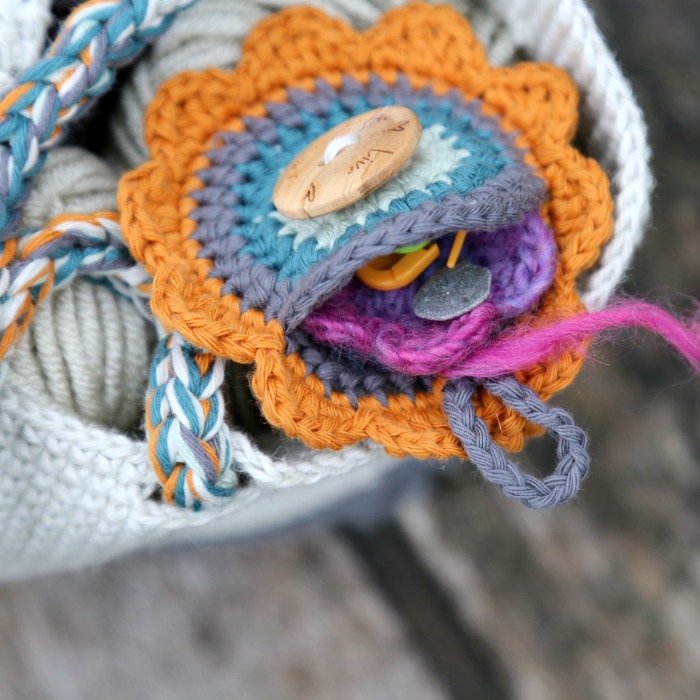 The bag closure is a long strap with the same dense texture as the bottom of the bag.  There are two buttons on the side, so when the bag is not too full, the strap can be fastened with both buttons.  You'll have to squint a bit to see it fastened that way in the photo below.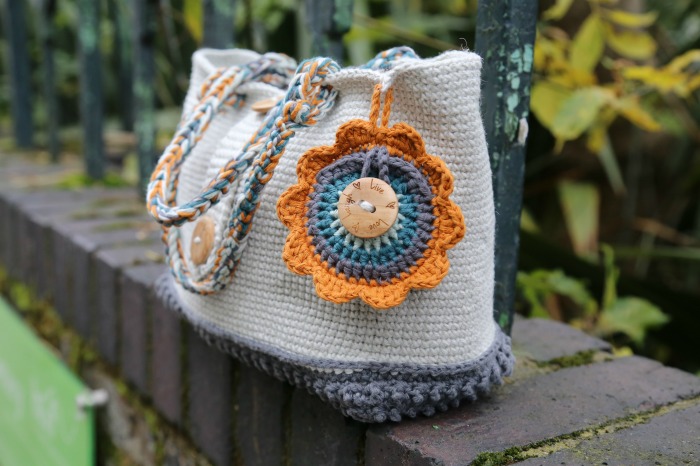 When the bag is super full, though, you can fasten the strap with only one button.  Isn't that the coolest old graveyard tap?  What a happy find!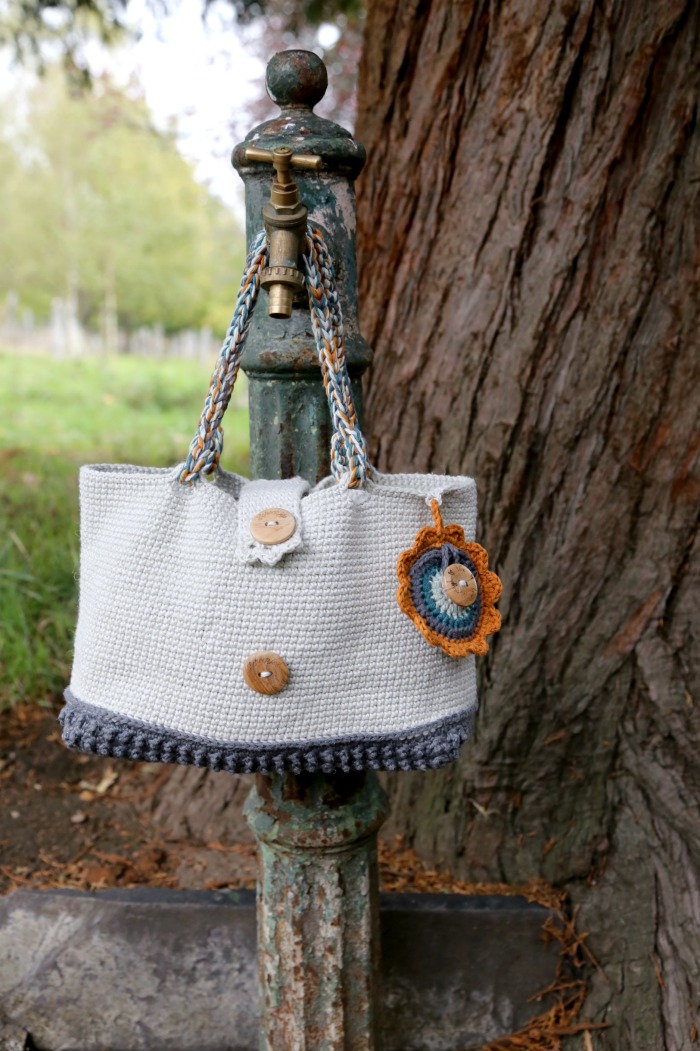 The bag is large enough to carry 4 or 5 balls of Chunky Monkey or Colour Crafter 'standing up', which means that, if you centre pull, you can easily work with 4 or 5 colours straight from the bag without tangling your yarn.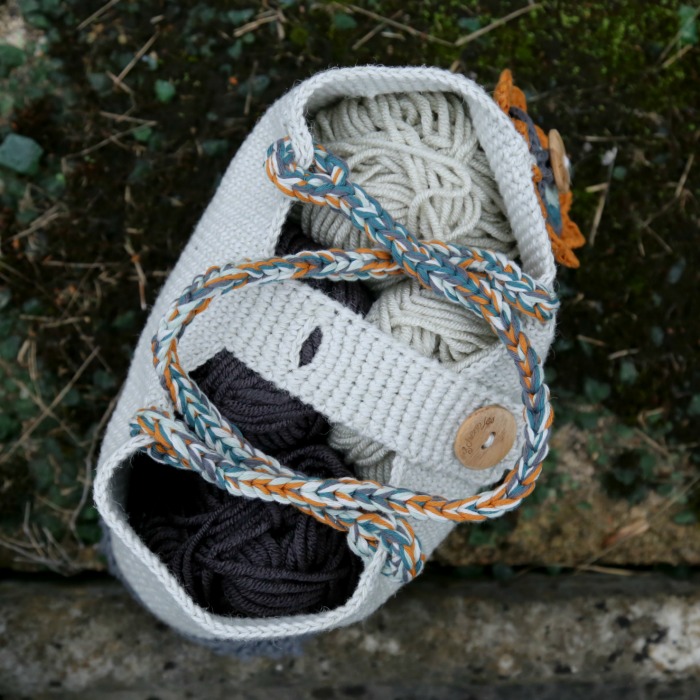 Did you notice that the Chunky Monkey in the bag echoes the Scheepjes Mighty Colours I used for the bag?  This is partly because I have been obsessed with these colours ever since I made the Camping in Cornwall Rug and partly because… actually, it is completely and utterly Cornwall/Devon/Dorset-related.  Watch this space :)
The straps are created by using all 5 contrasting colours held together.  They are such a subtle way to introduce the colours, and like I said last week, they remind me of the slate walls we saw in Tintagel.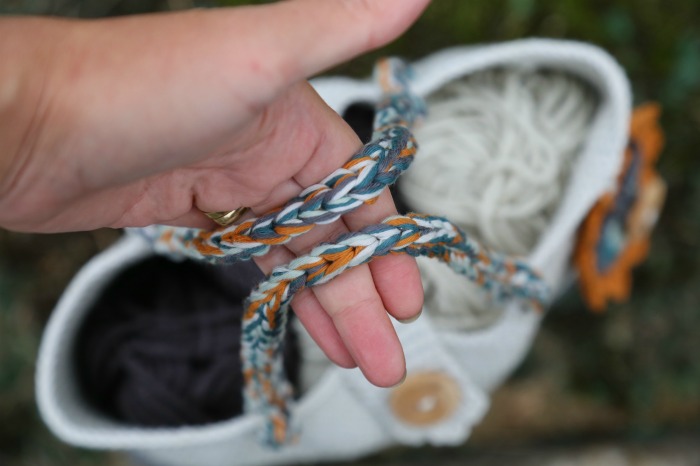 These photos, like MANY of my photos, were taken in Margravine Cemetery next to Charing Cross Hospital (where I have worked since we came to the UK 15 years ago).  I spent a very late and very drizzly lunchtime taking these photos today.  I kept delaying my lunchtime in the hope that the weather would clear up.  It only threatened to get worse!  In the end, I reminded myself that I called this bag 'A Mighty Fine Day' for a reason;  that every day and moment had the potential to be Mighty Fine (even the grey drizzly ones).  And do you know what?  It was!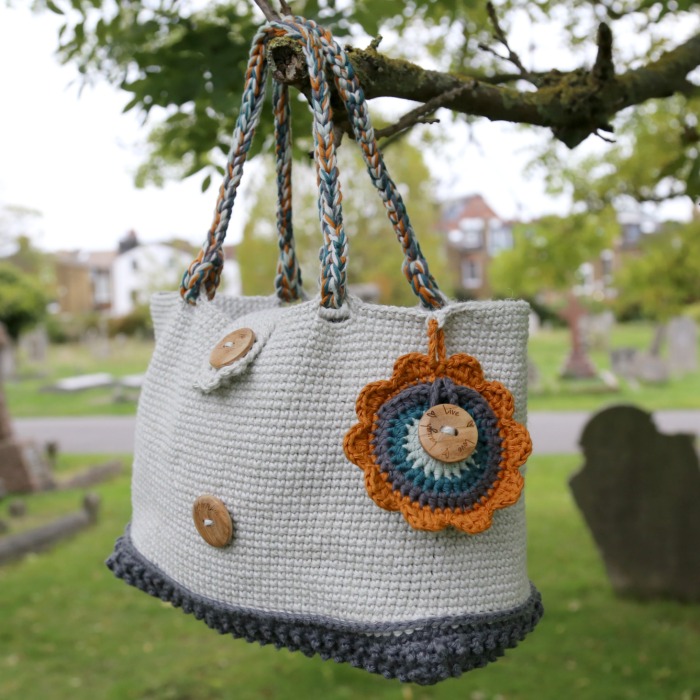 I will be sharing the pattern for this bag next week.  I hope you will join me then x
More Projects Photographed in Margravine Cemetery (or at Baron's Court Tube Station)
Hide and Seek Shawl
Simple Joy Blanket
Lydia Blanket
Lynda Blanket
Metropolis Colourway
Want to see more of our A Mighty Fine Day Bag journey?

This blog post contains affiliate links. I only link to products I personally use or would use.  All opinions are my own.