Last week, I told you about the yarn I will be using for my new crochet bag.  This week, I will show you some sneak peeks of my Mighty Fine Day Bag.  I don't want to show you too much (because I want to keep a little something-something for the reveal next week), but I do want to show you all the simple, gorgeous textures (which I LOVE).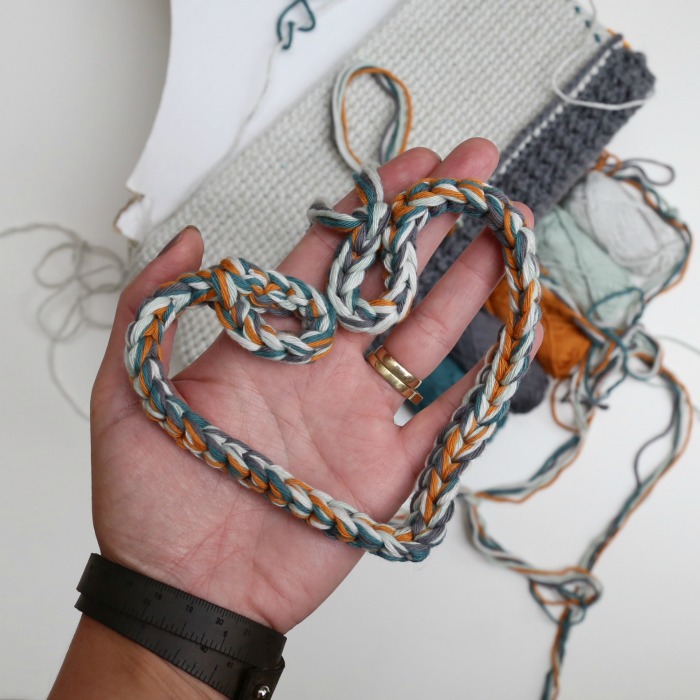 When I sat down to write last week's post, I noticed that a lot of my every-day lockdown photos feature the same yellow/blue/dark grey/light grey combination as my Tintagel inspiration photos.  I'll be the first one to admit that there is a definite degree of artistic license in the varying shades of yellow and blue.  But it makes me happy to marry all these photos and circumstances, so why not?
There are the pigeons that took over the platform at Acton Town as soon as the majority of people stopped using public transport,  the gorgeous yellow flowers I walk past every day and never noticed (gorgeous sunlight + overcast sky that morning), and the day I had a whole Piccadilly line carriage to myself.  I know… the tube photo isn't especially inspiring, but those carriages are very special to me.  Every single one of my patterns has been made/conceived/frogged/photographed/written on a Piccadilly line seat – most notably Sophie (ah, the memories).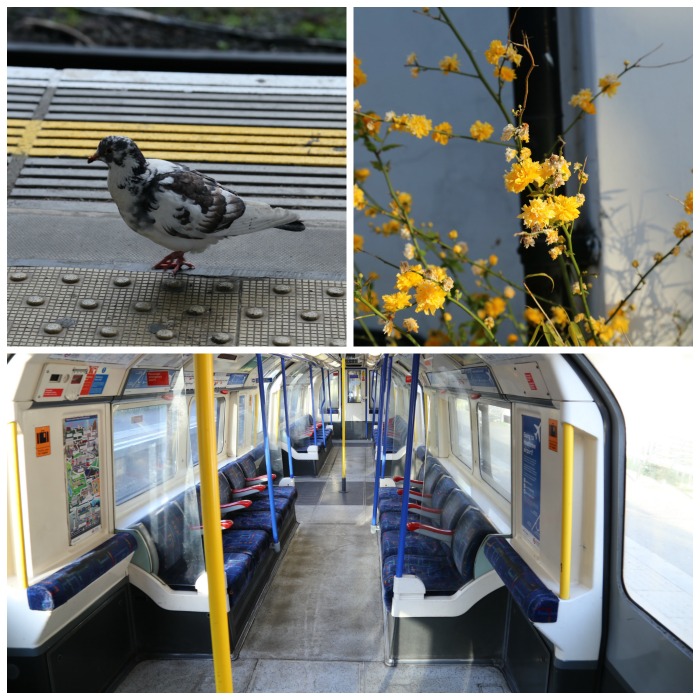 This (artistically edited) selfie is probably the closest representation of my colourway – masked on a drizzly London day, wearing the mustard Saltrock jacket I bought in Cornwall (LOVE mustard anything), and listening to Jen Sincero telling me I am a Badass!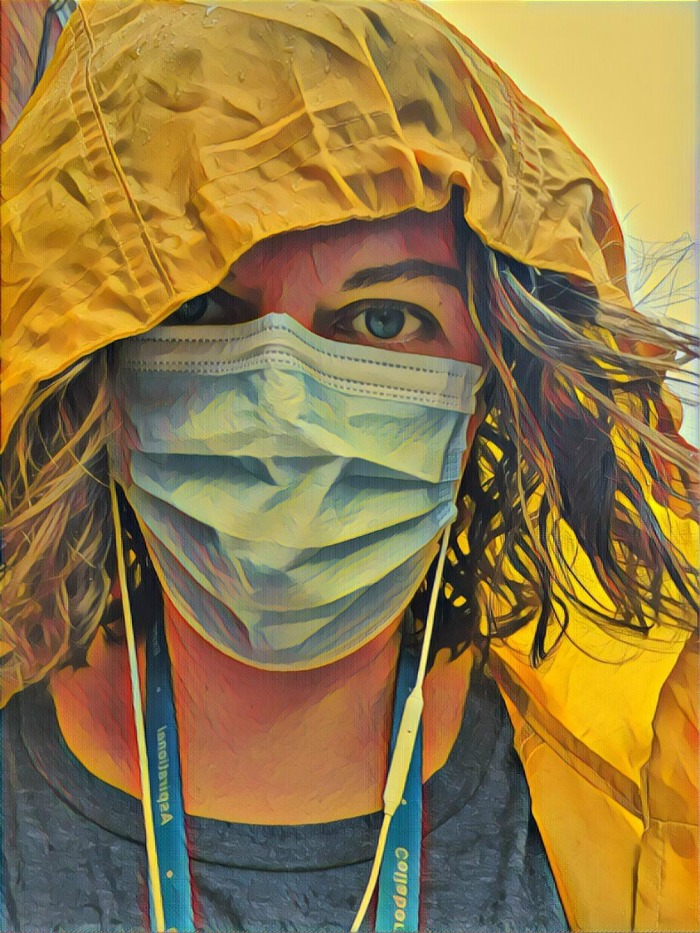 Marrying these everyday moments with the ones that make my heart sing will hopefully serve as a reminder that the best days are not the only mighty fine days there are.  Sometimes the regular days are mighty fine too!
Righto.  The bag!
The base is extra thick to make it nice and sturdy.  I used a combination of slip stitches and single crochets worked OVER the slip stitches.  The resulting texture looks like dense cross stitches.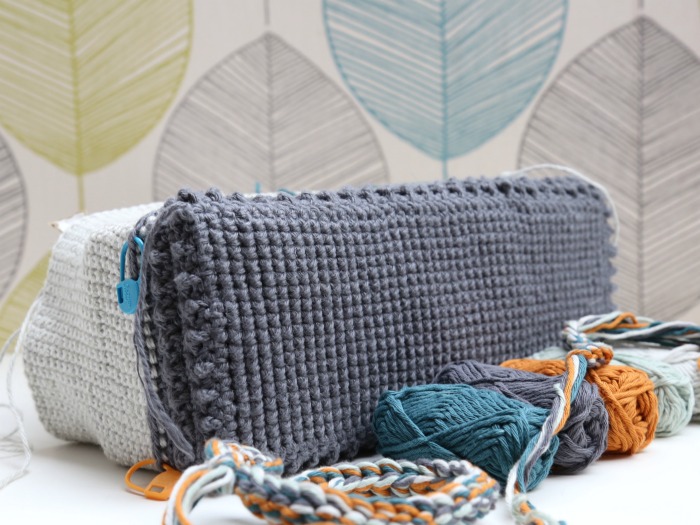 This is followed by a few rows of 'Bubble Stitches'.  I particularly like using them for the first round after a base because their 'popping' texture makes for a crisp, clean transition between the base and the sides. For the body of the bag, I decided to use Crossed Single Crochet stitches.  They echo the cross stitch look of the base, with a rigidity somewhere between regular single crochets and the pattern that forms the base.
I was unable to capture their texture in the photos I took, so I am borrowing one from my Ammonite Wrist Warmers (which use both the Crossed Single Crochet and the Bubble Stitch).  The Crossed Single Crochet is not hard at all, but it does force your mind to do something it is used to doing on autopilot in a completely different way, so it is brilliant for slowing way down and focussing only on what you are doing.  I've recently read that mixing up something you do on autopilot (like brushing your teeth or the way you write your e's) is a brilliant way to encourage the formation of new neural pathways.  Isn't that exciting?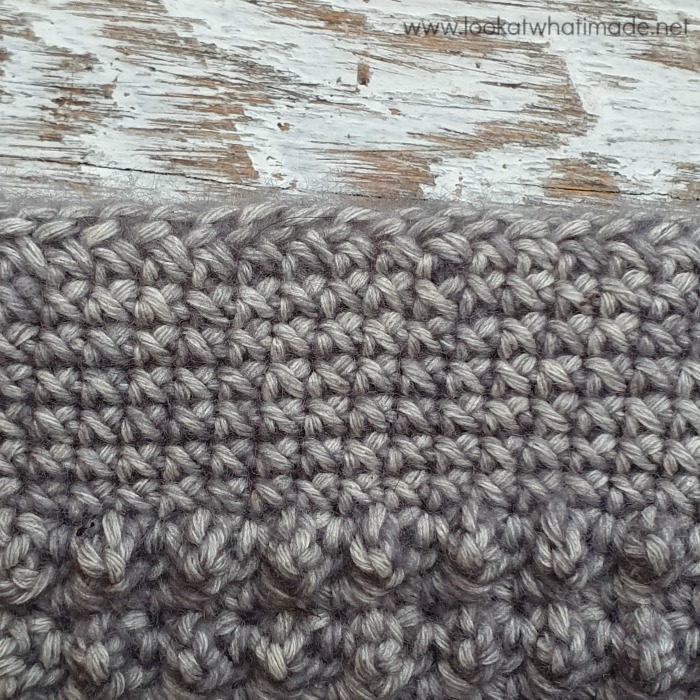 I wanted to find a way to use the accent colours without making the contrast too stark.  I decided to blend all of them to create the straps, and I am delighted with how it turned out.
It reminds me of the herringbone slate walls we saw in Tintagel.  I forgot all about them until I made the straps and remembered the gorgeous mix of colours in the stone.  If I am totally honest, I only 'remembered the gorgeous mix of colours in the stone' after Mr LAWIM said:  "Hey, that looks just like those slate walls you took so many photos of."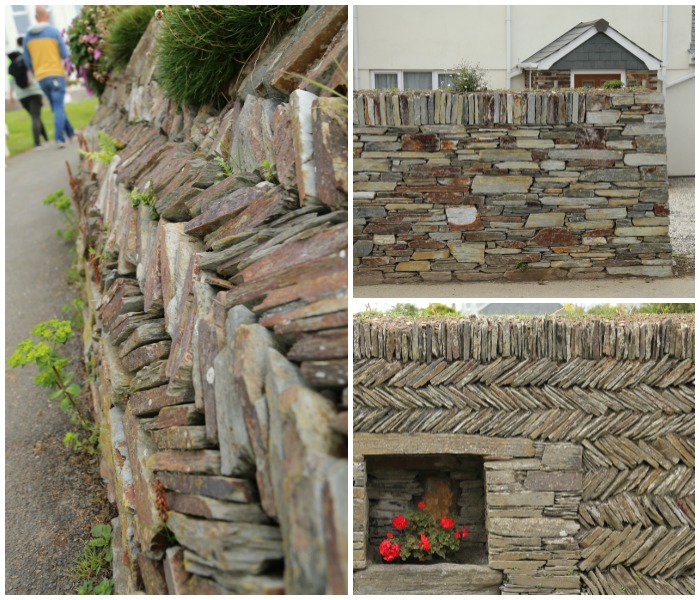 I initially wanted to use I-cord for the straps, but that takes WAY too long to make, so I opted for plain old cord (looks the sameish, but with a quarter of the hassle).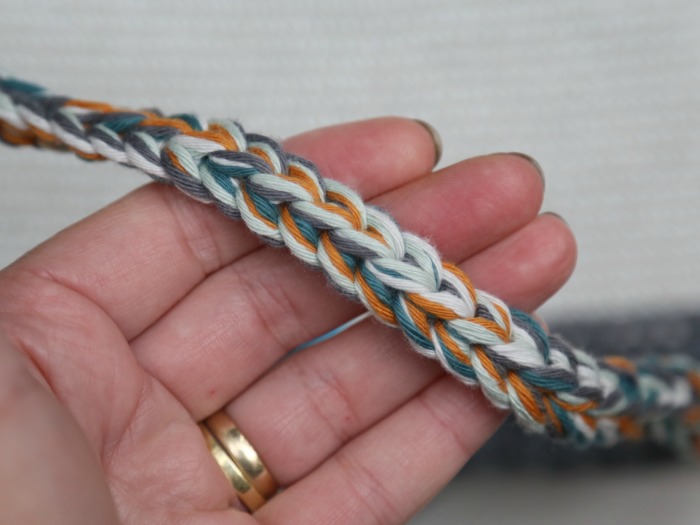 Isn't it pretty?  I just love how calmly those colours play together and cannot wait to show you the finished bag next week.
I just want to mention that the light in London was delightful today.  It had the same orange/pink hue as the light in Cornwall – the kind of light that makes the greens iridescent!  Combined with the sombre grey sky, it made me smile from the moment I left my house to the moment I entered it again just after sunset.  It was definitely an example of the fact that regular days can be just as Mighty Fine as spectacular ones – or maybe there is no difference between the two…
Want to see more of our A Mighty Fine Day Bag journey?

This blog post contains affiliate links. I only link to products I personally use or would use.  All opinions are my own.