Hello!  I'm very excited to show you some sneak peeks of my new design:  Unseen Mandala.  While I was working on this design, I spent a lot of time tending to my own 'unseen things' (that will make more sense if you have already read last week's Yarn Arrival post).  We went camping, we sat around on secluded beaches, we went for misty walks, and I swam a lot (floating in the paddling pool counts too, right?).  Mostly, my blocking mat and I sat quietly in the sunshine as I designed-blocked-frogged-redesigned.  And let me tell you:  It was GOOD for my soul :)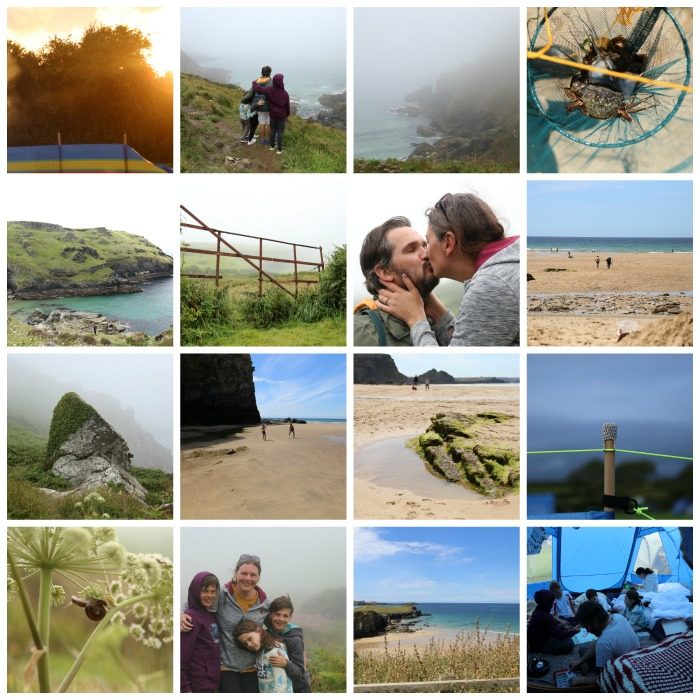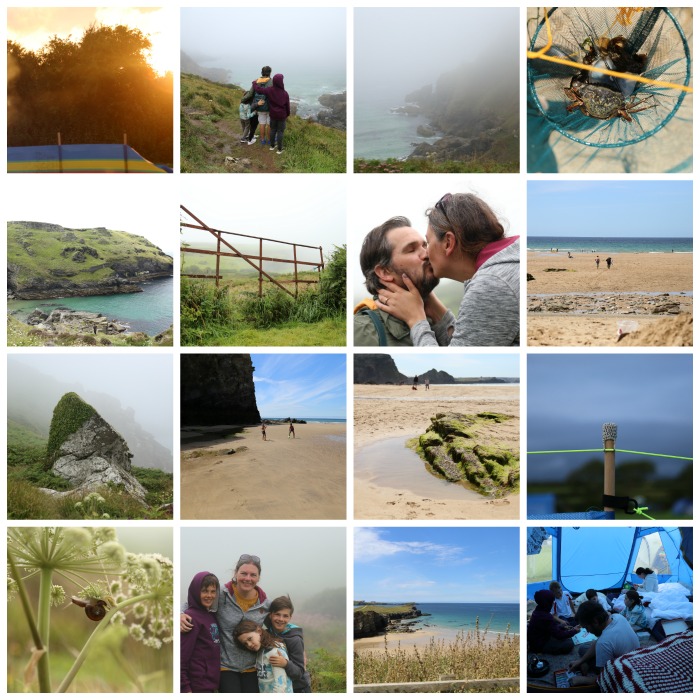 The mandala starts with a pretty lace flower that melts into the background as the design grows.  The photo below shows it made in Catona (blocked) because that is what I grabbed to 'doodle' with that first day.  I think it makes a lovely stand-alone motif, which would look great used in a wrap.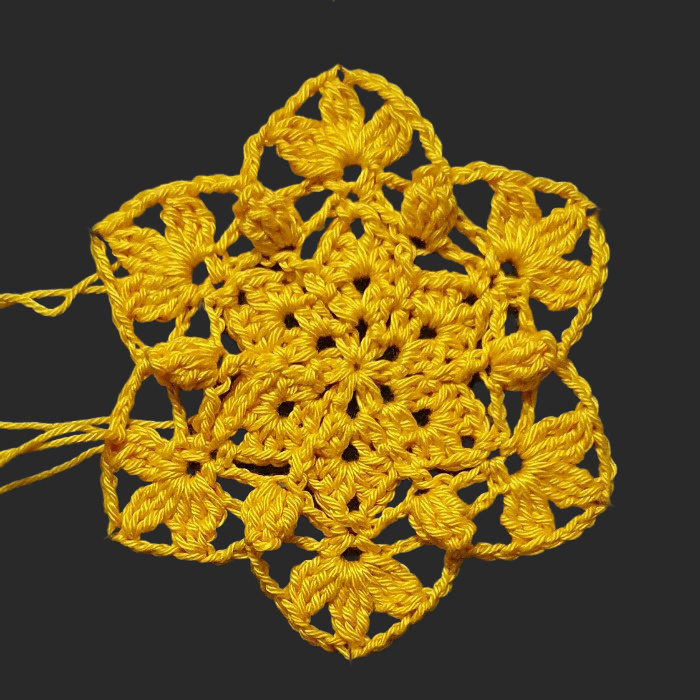 In the photo below, I have used Stone Washed in lots of different colours.  It has a completely different feel, don't you think?  It looks a lot more squishy than the Catona version, but once it is blocked, the lace detail opens up beautifully.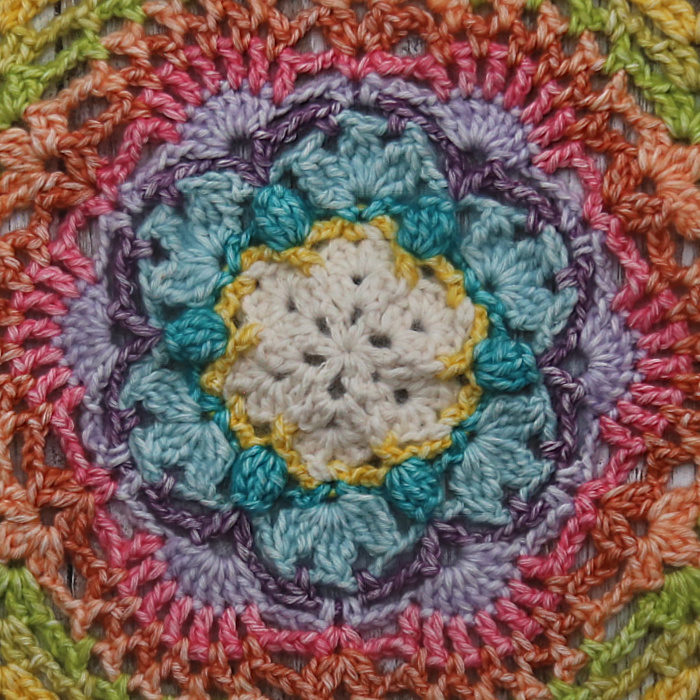 Ever since I designed the Celestial Mandala for the Yarn 9 Bookazine, I have been fascinated by Pineapple Stitch mandalas.  I LOVE the symmetry of the Pineapples/fans and am fascinated and excited by the design challenge.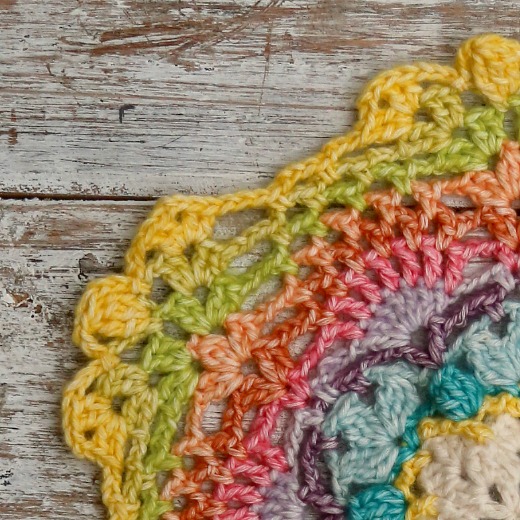 I especially love how the Pineapples are almost lost in the design until it gets blocked.  Just for the record, the Pineapples are the easiest part of designing a lacy mandala.  They, at least, follow some sort of rules.  The other lacy bits cause a whole lot of guessing, trying, and re-doing!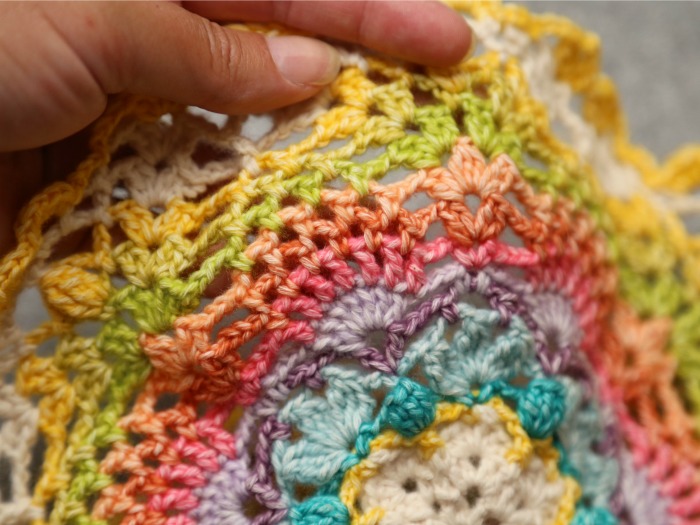 Don't you just love how those colours play together?  They make me all sorts of happy!
I don't want to show you too much more as that will spoil the surprise, but I couldn't resist sharing one more photo of the mandala up to the end of Round 20.  If you choose to stop at this point, you will have a playful mandala, roughly 32cm/12.5″ in diameter.
The last ten rounds are my favourite part of the design, but you'll have to wait until next week to see if you agree with me!
Want to see more of our Unseen Mandala journey?
Unseen Mandala Reveal (Coming 19/08/2020)
Unseen Mandala Pattern (Coming 26/08/2020)

This blog post contains affiliate links. I only link to products I personally use or would use.  All opinions are my own.