Tada, my lovelies. TA! DA! This is my Unseen Mandala in all its 29-round glory. Made with Stonewashed Cutie Pies and one regular skein of Stonewashed Moonstone, it is 50cm/19″ big and full of happy colours. I spent a delightful afternoon taking photographs of it so you can see all the little details.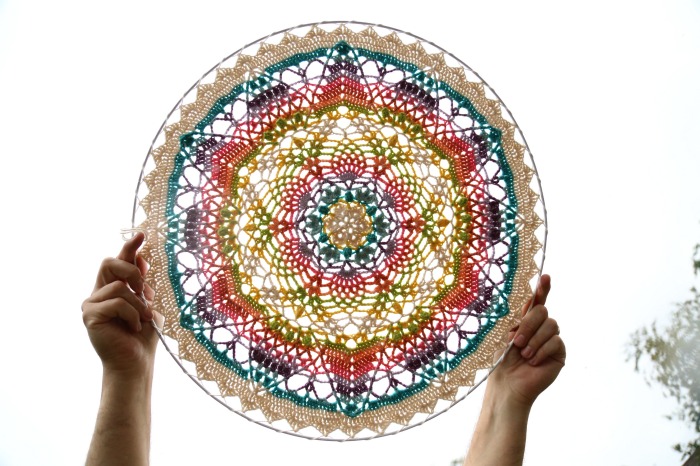 Mr LAWIM and I tried to get one of those pretty mandala-against-the-sky photos, but it was tipping it down outside, so the sky was almost white. It looks like I took a photo and stripped the background, don't you think?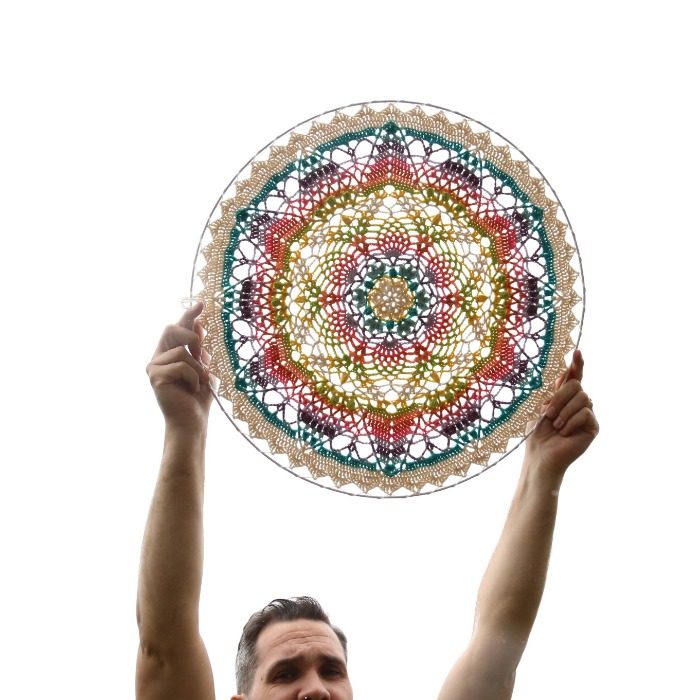 I continued my photography quest by bribing Boy 2 to hold the mandala for me. Turns out, the going rate is 3 Lindor chocolate balls for 30 seconds of posing in the rain.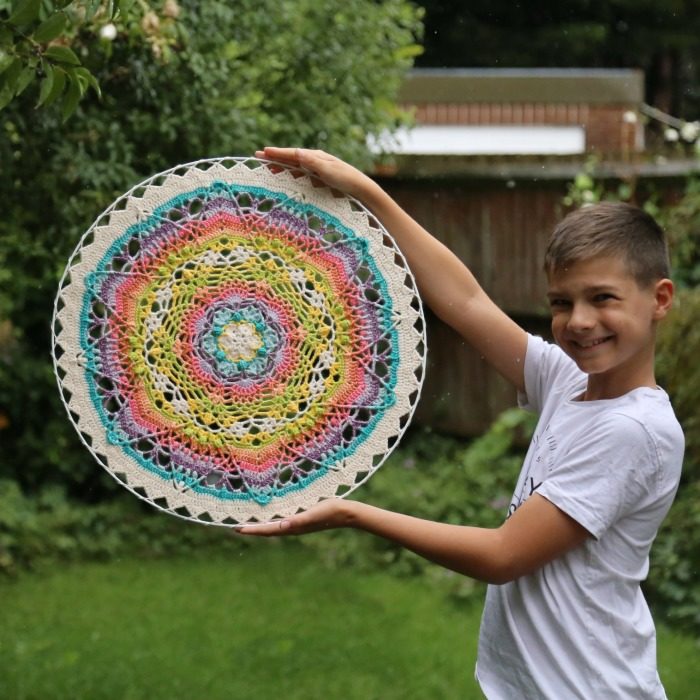 We then tried the classic mandala-in-front-of-a-window move. I LOVE those kinds of photos! They work much better when your windows aren't double-glazed, patterned, and set in plastic, but I'm happy with how this photo turned out anyway :)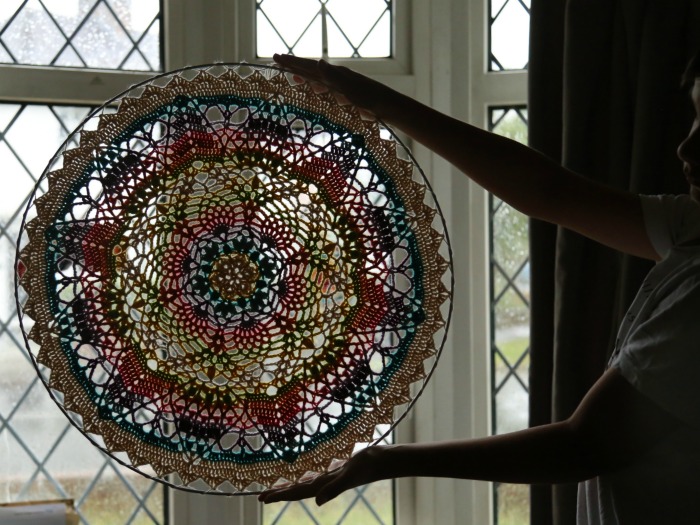 One more moody one, because I love how the edges of the rounds pick up the light…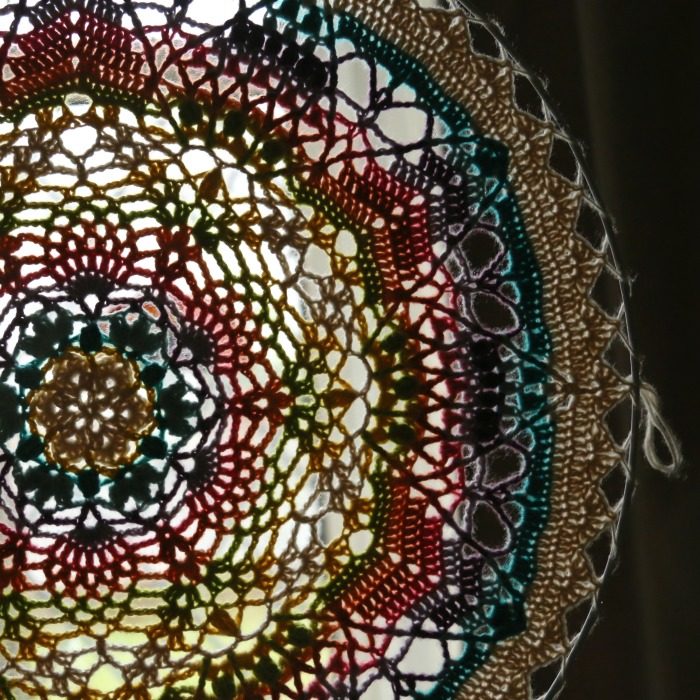 As you can see, I have changed colours on almost every round. You can read more about that in THIS POST. Using standing stitches and invisible joins helped me keep on top of my ends as I went.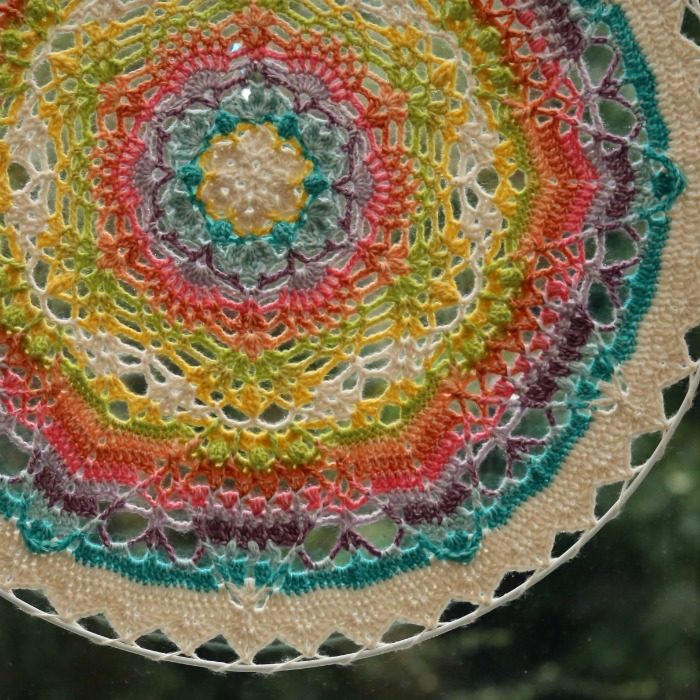 I am very pleased with how the twelve large petals turned out. I like the fact that they aren't all the same. Six of them are simple (dc stitches) and 6 of them are complex (many Bobbles, Puffs, and Popcorns). My favourite part of the pattern, however, is the little hearts that blossomed between petals, serving as a reminder to choose love when dealing with other people. And to choose love extra hard when dealing with ourselves.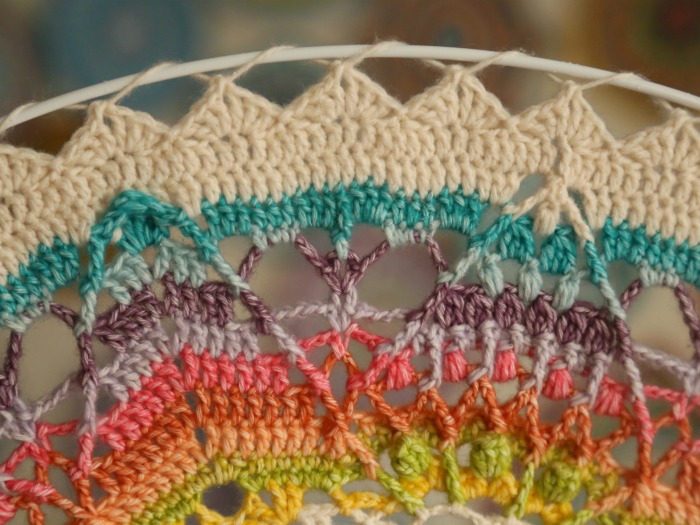 Here is a little close-up of one of the hearts…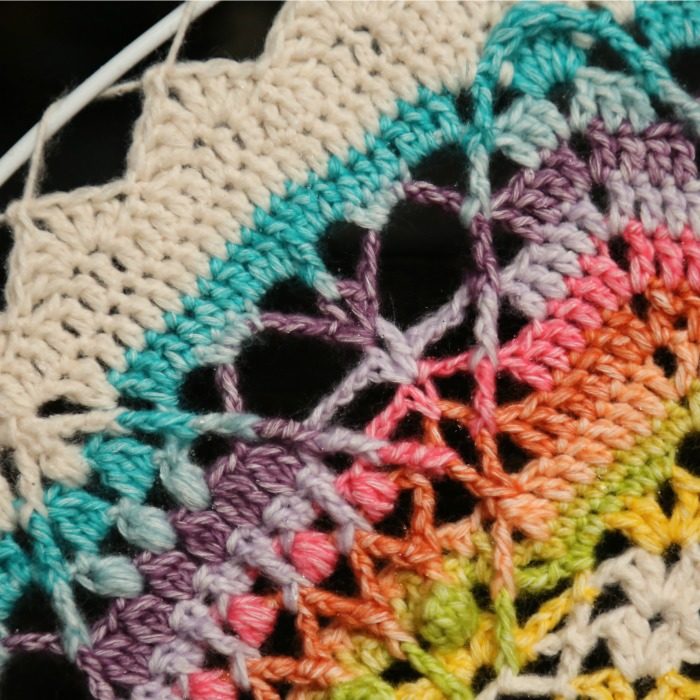 I'll share one final, messy, photo. This one was taken in our dining room/home office/blanket cupboard. There are many happiness-inducing things in this photo – most prominently Mr LAWIM's 40th birthday gift (the beautiful fire-pit and cast-iron barbeque paraphernalia from Kadai), which finally arrived today after 2 months of waiting.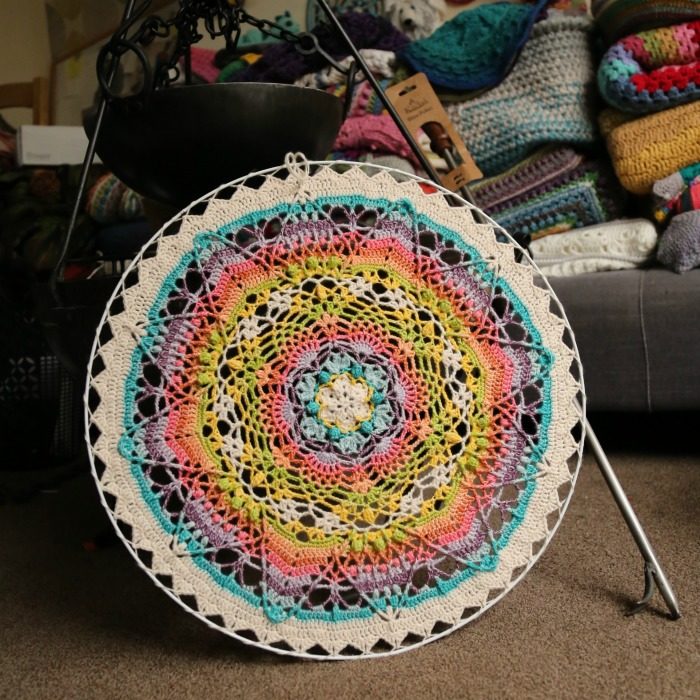 Guess who's having an all-day barbeque tomorrow!!! Maybe I will be able to get a mandala-against-blue-sky photo after all…
I'll be sharing the pattern for this mandala next week, so I hope I will see you then.
ps. Scheepjes are celebrating their 165th birthday and there are two points to note:
They are hosting a giveaway over on their Facebook Page, so hop over before the 24th of August for a chance to win
They have made a feel-good Happy Birthday video featuring the Scheepjes Bloggers (same link as above). My part went a little awry. Go and look!
Want to see more of our Unseen Mandala journey?

This blog post contains affiliate links. I only link to products I personally use or would use.  All opinions are my own.