In Part 19 of Sophie's Universe we are looking at 2 squares you can use to grow your square Sophie into a rectangle.  If you are going to add these squares I strongly recommend that you add a border, which we will look at next week.
I realize that squares are not everyone's cup of tea, so at the bottom of this post you can find a suggested alternative.
The most important thing is that you are happy with your final blanket, so if you are unsure of which growing method you would like to use, consider waiting until next week to see what the border looks like.
I realize that this "mystery" element of the CAL has been frustrating for some people, but I hope that it also added to the excitement for some.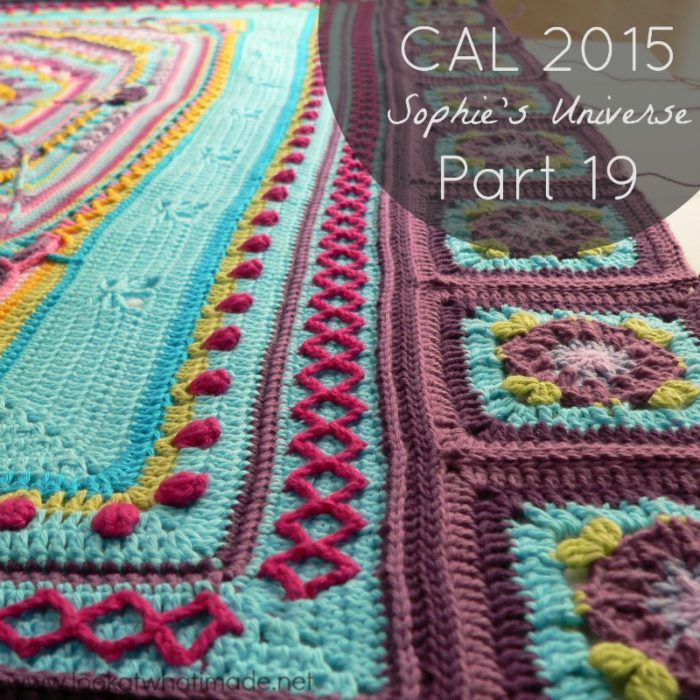 Update:  I was adamant that I didn't want to make any of my Sophies rectangular, but Mr Lookatwhatimade loves the squares and is equally adamant that I should.  So I will be growing my small Sophie after all.  Let's hope Jenny loves me enough to make some more squares for me…
Sophie's Universe Part 19 – Sophie's Choices
©Dedri Uys 2014. All Rights Reserved.  Photos by It's All in a Nutshell used with permission.
Resources
Translations
Materials
For the purposes of this tutorial, I am using Scheepjeswol Cotton 8 (available from Wool Warehouse) and a 3.25 mm Clover Amour Crochet Hook
(US D/3  UK 10).  
Lydia
Cotton 8
Softfun
Stonewashed XL
Round 1
Light Pink
Light Rose
Moonstone
Round 2
Pink
Dark Rose
Lemon Quartz
Round 3
Fuchsia
Bordeaux
Deep Amathyst
Round 4
Light Green
Olive
Canada Jade
Round 5
Light Turquoise
Light Blue
Moonstone
Round 6
Pink
Dark Rose
Deep Amathyst
Round 7
Light Pink
Light Rose
Corrundum Ruby
Jack
Cotton 8
Softfun
Stonewashed XL
Round 1
Violet
Pink
Moonstone
Round 2
Light Purple
Violet
Amazonite
Round 3
Moors
Cyclamen
Green Agate
Round 4
Light Green
Olive
Lemon Quartz
Round 5
Light Turquoise
Light Blue
Moonstone
Round 6
Heath
Heath
Blue Apatite
Round 7
Moors
Cyclamen
Green Agate
You can find the yardages per round HERE.
Optional Squares
Some of you might remember the Piccadilly Square I made up on my commute to work one morning last October (originally named after the Piccadilly Line tube I take every day and on which I crochet A LOT).  You can see my Facebook post about it HERE.  I also used it in my Foursquare Tutorial.
Although the square is quite simple I just love it.  So to grow your square Sophie into a rectangle I will be sharing 2 variations of this square (named Jack and Lydia, after the "real" Sophie's siblings).
Before you Start
The final stitch count for Sophie's Universe is 216 stitches per side (not including ch-2 corner spaces).  This is 9 x 24 stitches.
Each square has a final stitch count of 22 stitches per side.  Add to that the two ch-2 corners and you get 24 "stitches".  We are including these ch-2 corners as "stitches" because they take up space and will have to be worked into when joining your squares to Sophie.
You will therefore need 9 squares for the top of Sophie and 9 for the bottom.  I will only be using "Jack" squares…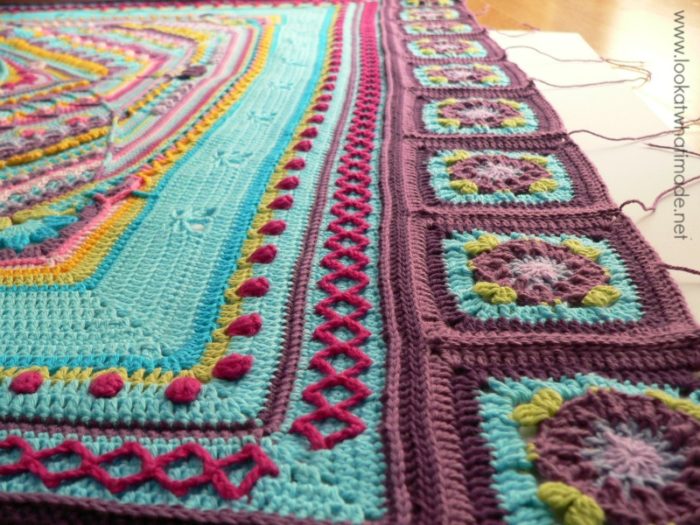 … but Esther (who does the videos) has alternated Jack and Lydia so that you can see what it looks like.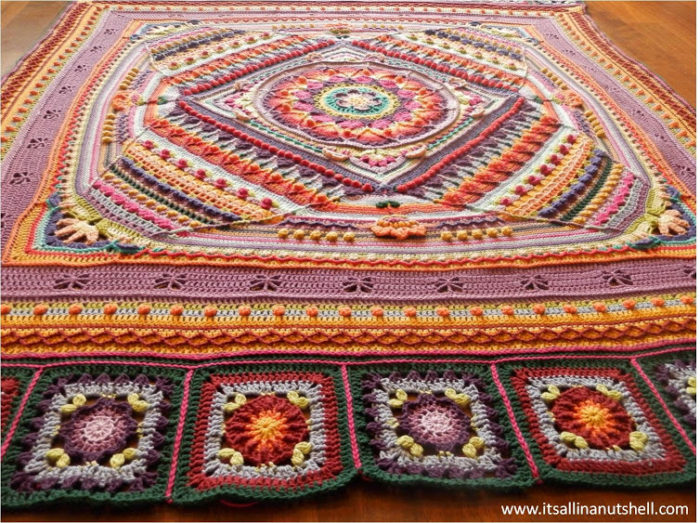 Rectangularifying Sophie
(Yes, that's a made-up word)
Step 1:  Patterns
You can find the pattern for Jack and Lydia HERE.  Esther has kindly provided video tutorials for both squares.  You can find them at the start of each pattern.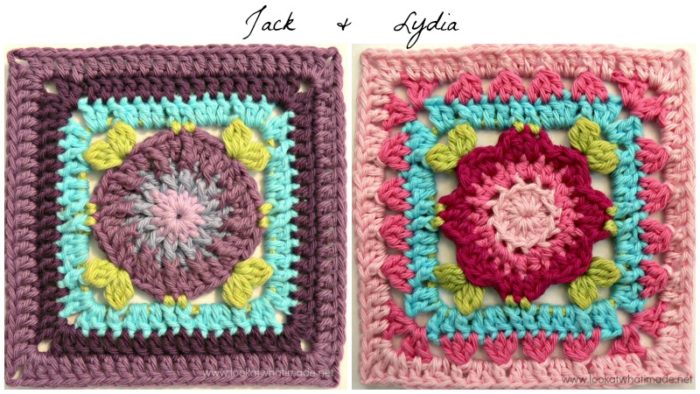 Update:  Penny Davis has modified the Lydia square to create 'Dedri's Rose Garden'.  You can find the tutorial for that HERE, should you choose to make that square instead.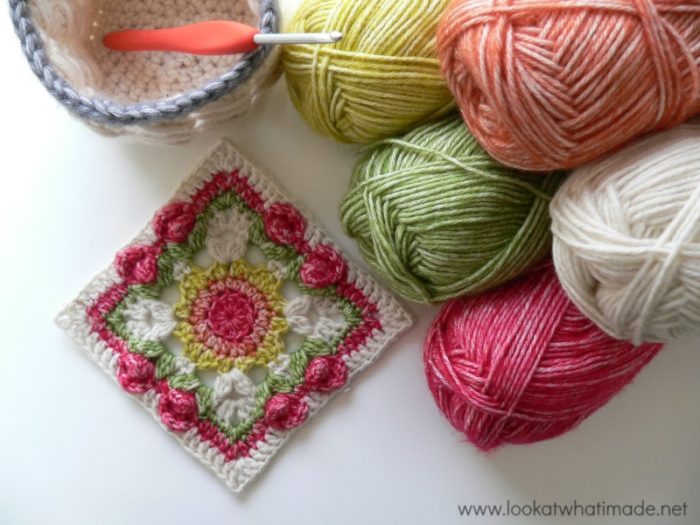 Step 2:  Decide on Your Layout and Colours
Have a little play with a piece of paper and some colouring pencils.  Or alternatively you can use PicMonkey and upload a photo of your (blocked) Sophie along with the images below.  Make a collage with 9 squares along the top edge of your Sophie and see how you like it.  You can find a tutorial for using PicMonkey to decide on the layout of an afghan HERE.
Remember that you will need 9 squares along the top and 9 along the bottom, so 18 in total.
You can either use the colours I will be using (listed under Materials above), or you can use up the scraps left over from making Sophie.  Please note that the scraps for the small version should be enough, whereas the left-over yarn for the medium and larger versions won't be.
Step 3:  Make the Squares
As I have already mentioned, the stitch count for the squares matches up with the stitch count for Sophie (if using 9 squares).  However, the size of the squares might not necessarily match up.  You want your squares to be a ninth of the size of one side of Sophie (phew…lots of of's again).
My small Sophie is 100 cm, meaning that each square should measure 11 cm (ish).  Using the 3.25 mm Clover Amour Crochet Hook
(US D/3  UK 10) I used for the small Sophie made the squares exactly 10 cm.  So I went up a hook size (to a 3.5 mm).  This made the squares 11 cm, which was perfect!
Remember to block your squares before measuring.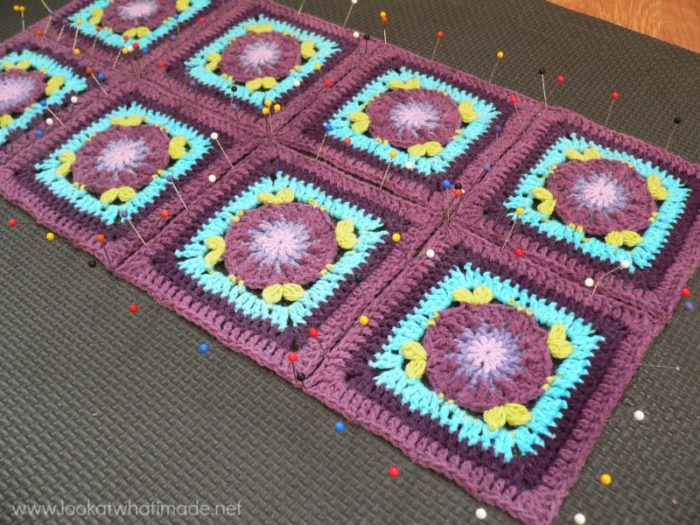 Blocking will also make it easier to attach your squares as you will have straight edges to work with, not wobbly ones.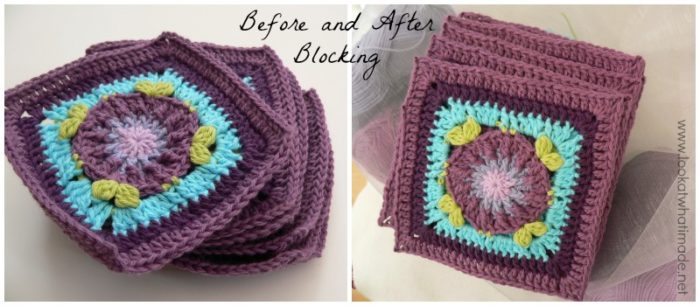 Step 4:  Joining the Squares
When you have made all your squares, you will need to attach them to each other in 2 strips of 9, as if you were making 2 scarves.

I recommend using the zipper join if your outside rounds are all the same colour.  Remember to have a look at Esther Dijkstra's Video Tutorial HERE.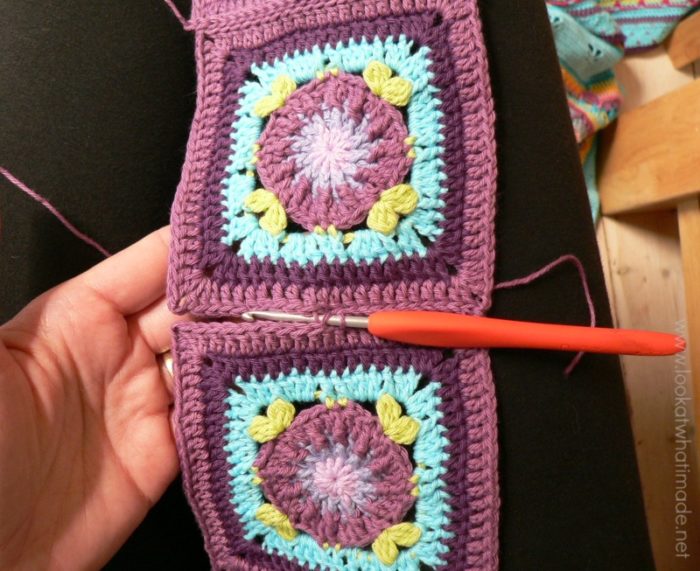 If the outside rounds of your squares are all a different colour, I recommend using the Slip Stitch Outside Loops Only Join (Right Sides Together) by Lucy from Attic 24.
If you don't like either of these 2 methods, you can find more options HERE.
Step 5:  Attaching the Squares to Sophie
Once you have your two "strips", use the joining method you chose above to attach the strips to the top and bottom of Sophie.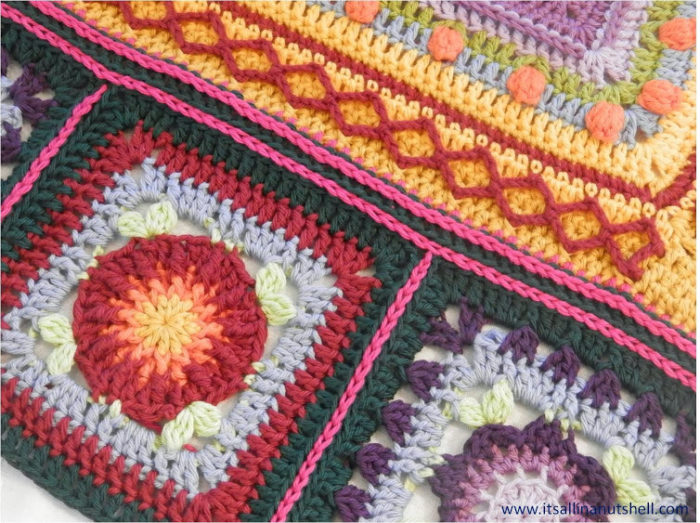 You will notice that the 2 corner spaces on Sophie will need to be worked into as well, technically giving you 2 more stitches on Sophie than on the "strips".  You will need to do a teeny tiny bit of fudging.  The easiest way to do this is to skip two of the stitches along the length of Sophie.  Don't skip 2 st's right next to each other.  Space the "skips" out a bit so that they are not obvious.
Once you have attached both strips you are ready to add your border, which we will look at next week.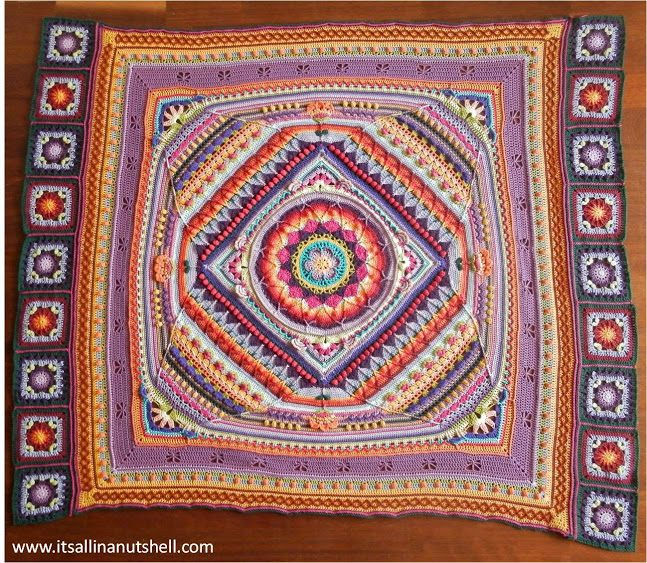 Alternative (Rows)
If you don't like the squares, you can always use the As We Go Stripey Blanket by Not Your Average Crochet.  There are lots of different stitch arrangements, making it highly adaptable.
To use this pattern to grow your Sophie into a rectangle, you will need a multiple of 24 + 1 stitches.  As already mentioned, the last round of Sophie has 216 stitches (and 2 ch-2 corner spaces), giving you (nine multiples of 24) + 2.  To make it work you will need to work into both the corner spaces and skip 1 stitch along the side when making your first row.
The great thing about this pattern is that you can completely individualize your Sophie by choosing which rows to make and which ones to leave out.  Because of the infinite possibilities I have NO way of telling you how much yarn (or which colours) you will need.
I hope we see you back here next week for the border.

This blog post contains affiliate links. I only link to products I personally use or would use.  All opinions are my own.