I've seen quite a few people say that they are anxious about making Sophie's Universe in a single colour. They are worried that the pattern will lose its definition, or that they will choose the wrong colour. I thought I would address these fears by sharing Jenny's Single Colour Sophie.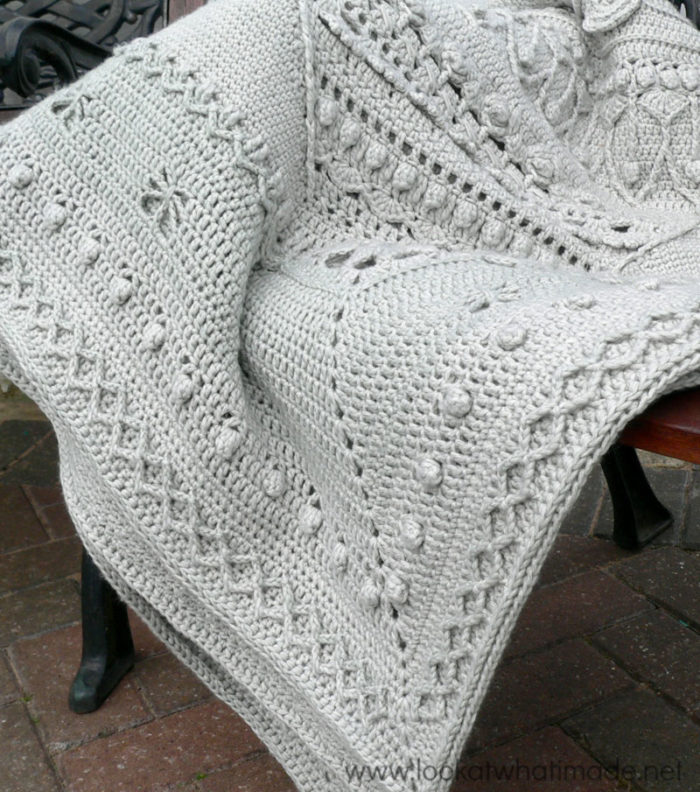 Resources
The Yarn
Jenny used 52 skeins of Scheepjes Stonewashed XL in Crystal Quartz (Available HERE from Deramores and HERE from Wool Warehouse) and a 5.5 mm Clover Amour crochet hook (US 9/I UK 5). Her Sophie was 167 cm squared. This means that her Sophie was 2 cm bigger than mine and used 2 more skeins of yarn.
Is There Such a Thing as the Wrong Colour?
I have seen hundreds of single-colour Sophies, in all the colours of the rainbow, and they were all beautiful. That does not mean that every shade of every colour will work equally well. The details tend to get lost in colours that contain a lot of black (like dark brown, solid black, dark navy, deep plum), so I would stay away from them if you want to celebrate all the intricate details of this pattern.
If you do want to use a dark colour and need a little bit of reassurance, may I suggest using the colour to make an afghan square as a test? When you have finished, stand at a bit of a distance and look at it straight on. If you cannot see the textured detail, you might want to choose a slightly lighter shade. I would suggest using either Never Ending Love or Prince Protea Square from the Block a Week CAL 2014 as testers. They contain enough surface detail to be accurate gauges.
Why Do I HAVE to Fasten Off Sometimes?
I have added this information because it is one of the most frequently asked questions about a single-colour Sophie.
When you make Sophie's Universe, you will notice that the majority of rounds provide instructions for if you start with the same colour AND if you start with a different colour. Where I have not provided this option, it is because you will need to fasten off at the end of the previous round regarless of colour choice. This has been done for two very simple reasons: neatness and ease. Please know that a lot of thought has gone into how each round is presented and where it starts. I appreciate that this means you have to sew in ends, but trust me: it will take a lot less time to sew in the ends than to try and re-jig the repeats and fudge the starts in order to avoid doing so. And if you use the Invisible Join, you'll be sewing the ends away as you go, so no nasty surprises at the end :)
There are 36 instances of enforced fastening-off, just in case you were wondering :)
Jenny's Single-colour Sophie
I volunteered for the task of blocking Jenny's Sophie, and I managed to take a fair few photos in the process.
I have to tell you that I did NOT want to give Jenny's Sophie back! I fell hopelessly in love with the elegance of it.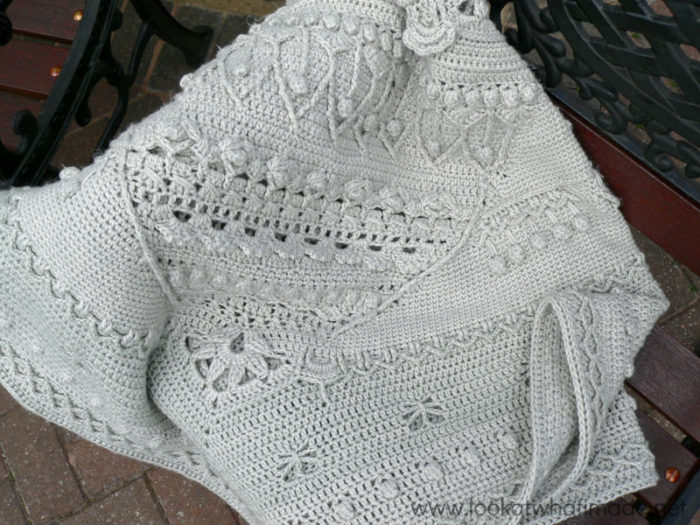 My eye kept jumping from one detail to the next…
…and without the distraction of colours, I was able to really see each detail.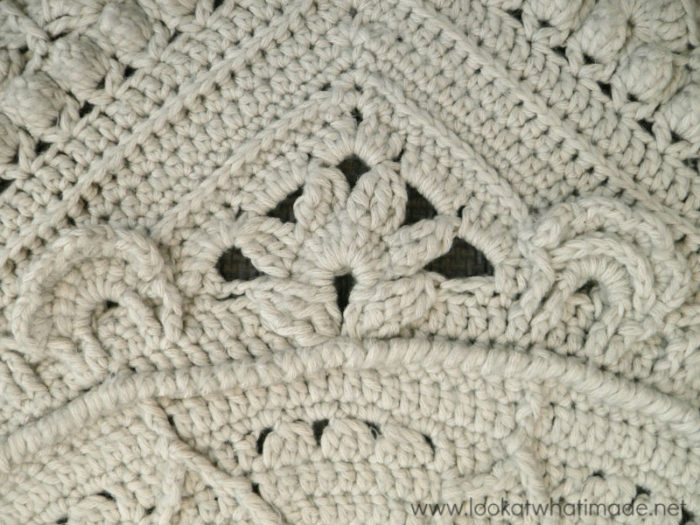 My favourite has to be the large central flower on the 'short sides'.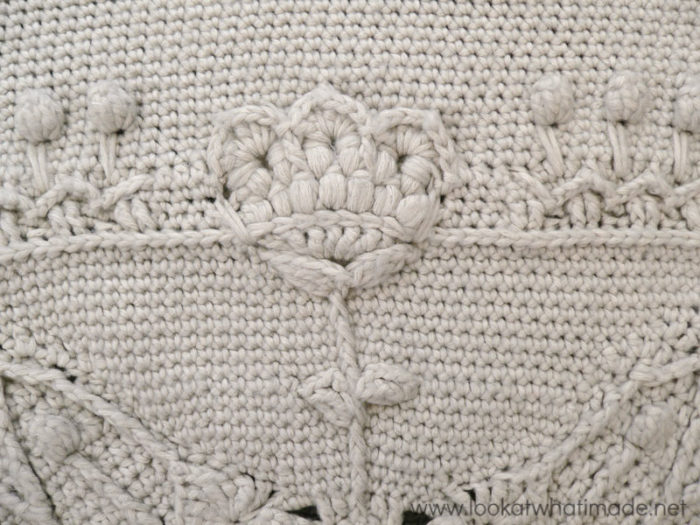 However, I also really like the way the details in the central mandala 'pop' in a single colour.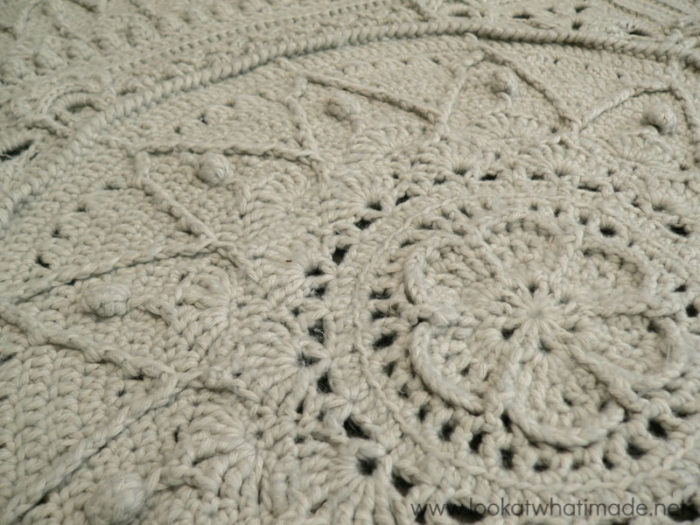 Here you can see my Sophie next to Jenny's one. We both used Scheepjes Stonewashed XL, but I used the colour pack for the Large Sophie (available HERE from Wool Warehouse and HERE from Deramores).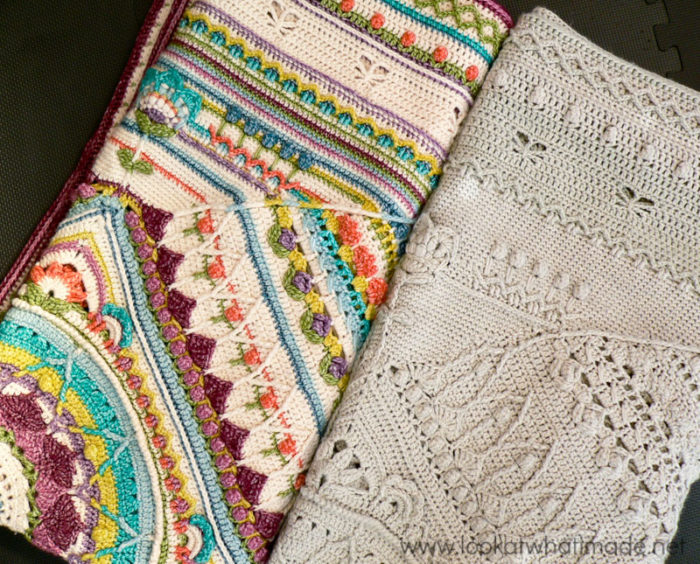 I think it is absolutely amazing what a big difference colour (or the lack thereof) can make to a pattern. It almost doesn't feel like the same design!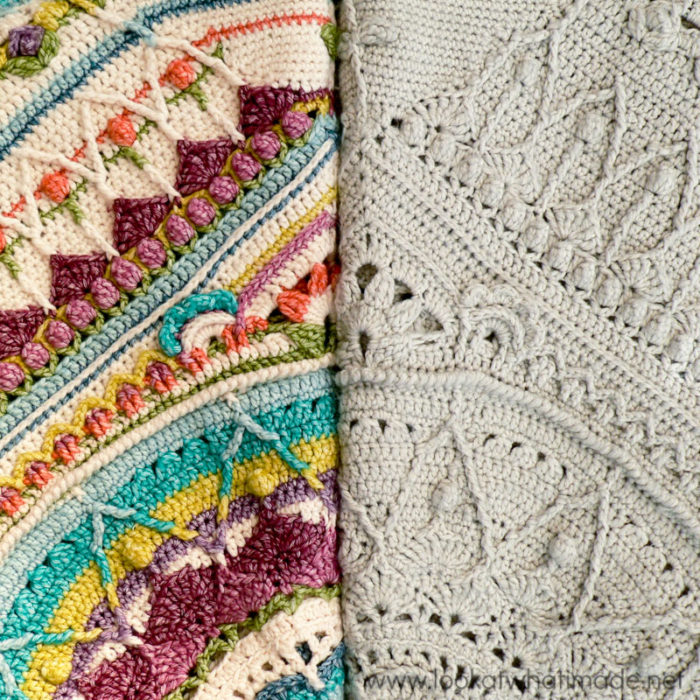 I wish I had gotten a better picture of Single Colour Sophie in her entirety, but unfortunately the only photo I have of her is when I was blocking her.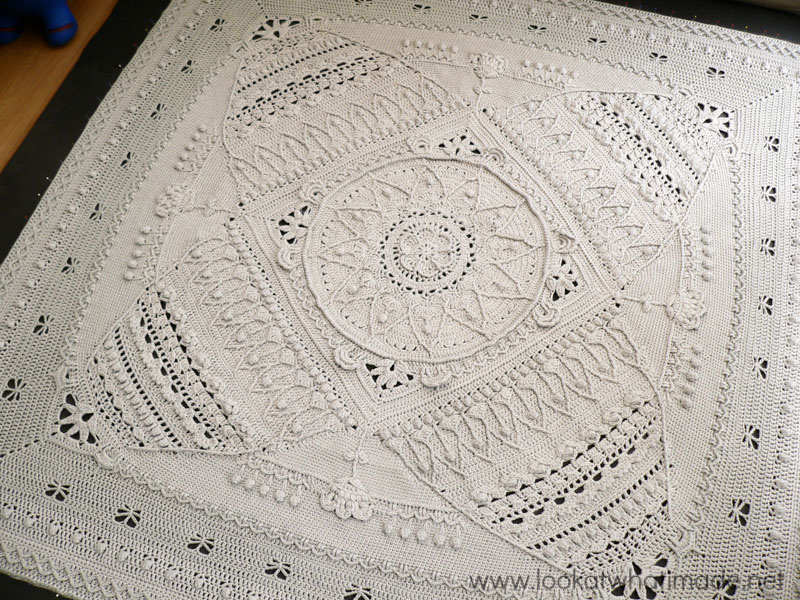 And to finish off, here are 4 of our 5 combined Sophies (not counting the very first 'prototype').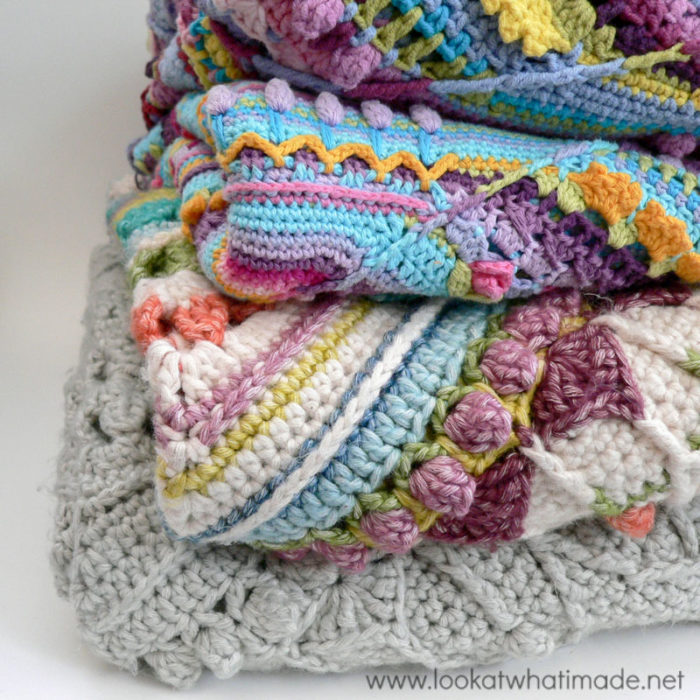 From top to bottom they are: Medium Sophie made with Scheepjes Softfun, Small Sophie made with Scheepjes Cotton 8, and 2 Large Sophies made with Scheepjes Stonewashed XL. Details for the colour packs can be found HERE under 'Size and Materials'.
If you are one of those people who have been wanting to make Sophie in a single colour, I hope this post has convinced you that you should totally go for it! And if you have already made Sophie in a single colour, please feel free to comment below or tag me on social media.
You might also like having a look at the Sophie's Universe Jenny made using three balls of Scheepjes Whirl. If you don't fancy changing colours constantly, but still want a colourful project, using Whirl is the perfect compromise. You can find more details about that HERE.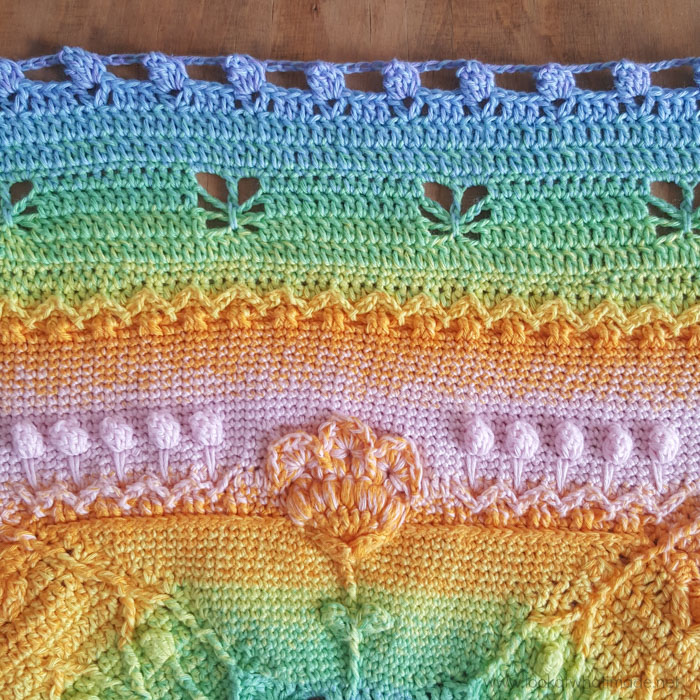 This blog post contains affiliate links. I only link to products I personally use or would use.  All opinions are my own.