Et Voila!  My Pansy Pizza is all done.  Don't judge me for the name.  When I made my first (wonky) prototype many years ago, it seemed like a great idea.  If I am going to keep growing her (which I AM), I suppose I have to give her a better name.  But for now, she's called Pansy Pizza.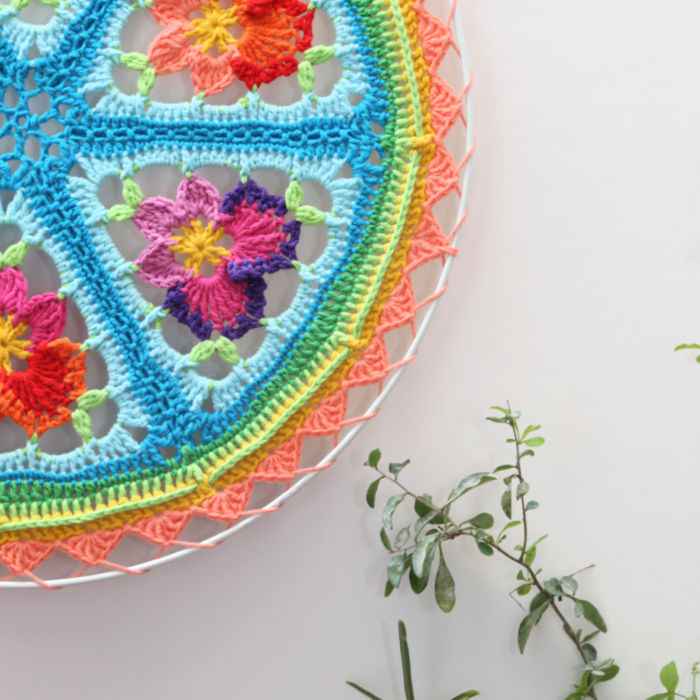 ---
If you want to read more about this little adventure, you can read about the yarn HERE and you can see some work-in-progress photos HERE.
---
I am absolutely in love with how this turned out!  Everything about this mandala makes my eyes and heart happy.  The one I made in the Rainbow Softfun Minis is my favourite.  Usually I shy away from using orange and red, but I am so glad that I decided to use them.  They work SO WELL with the other colours :)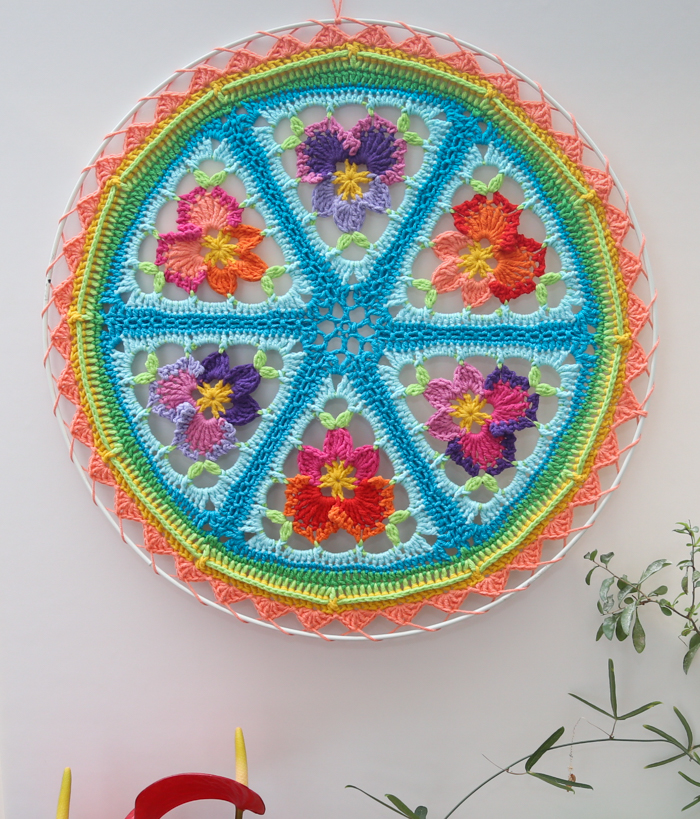 I do like a mandala-against-sky photo, so I dragged Christiaan out in Storm Barra.  He wasn't best pleased standing there in the rain (you can't see it, but it was raining and VERY cold) while I took photos :)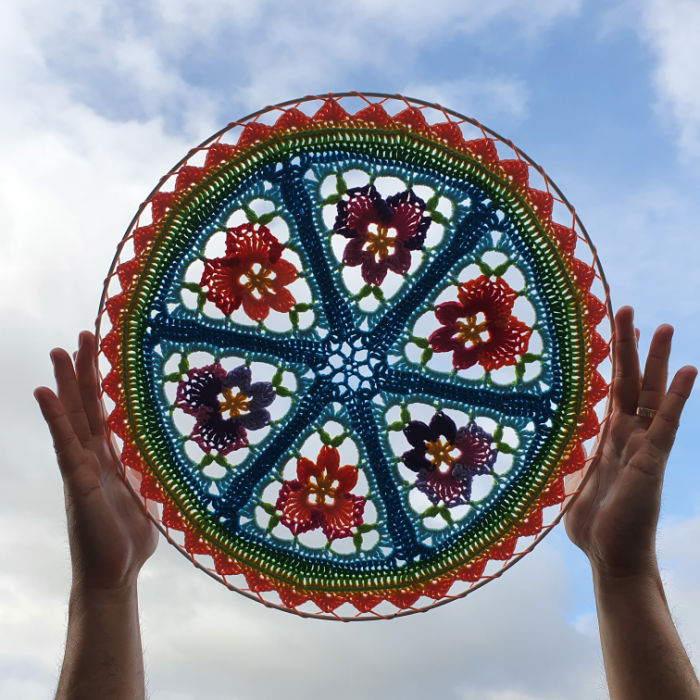 The Pansy Pizza is 40cm blocked if you make all 10 rounds.  If you stop at the end of Round 9, it is 36cm, with a stitch count of 240 stitches in the last round.  This makes it the perfect size for squaring up with Part 4 of Sophie's Universe/Sophie's Garden.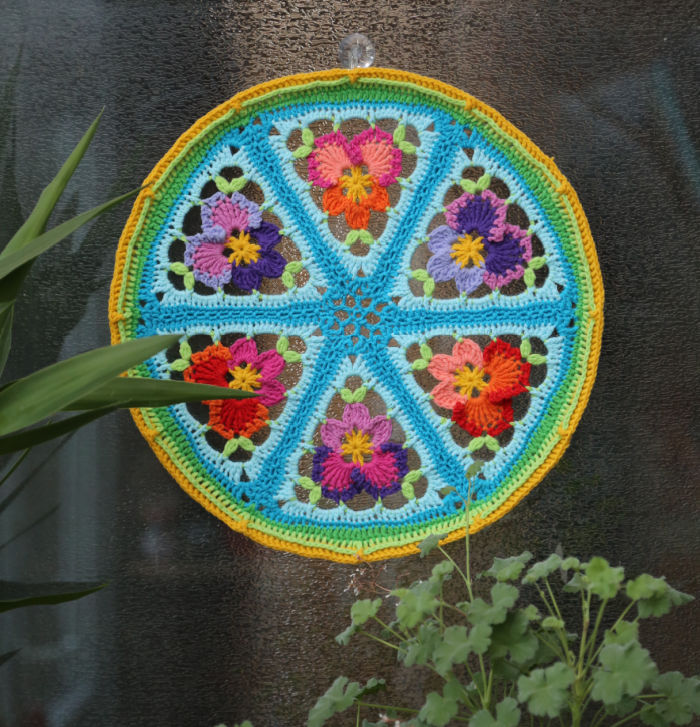 Because I enjoyed making the Pansy Pizza so much, I made another one in the Jewel Softfun Minis colourway.  I bought an extra ball of Olive (2531) because I wanted to see what the triangles would look like if I made them all in one shade instead of using two shades as above.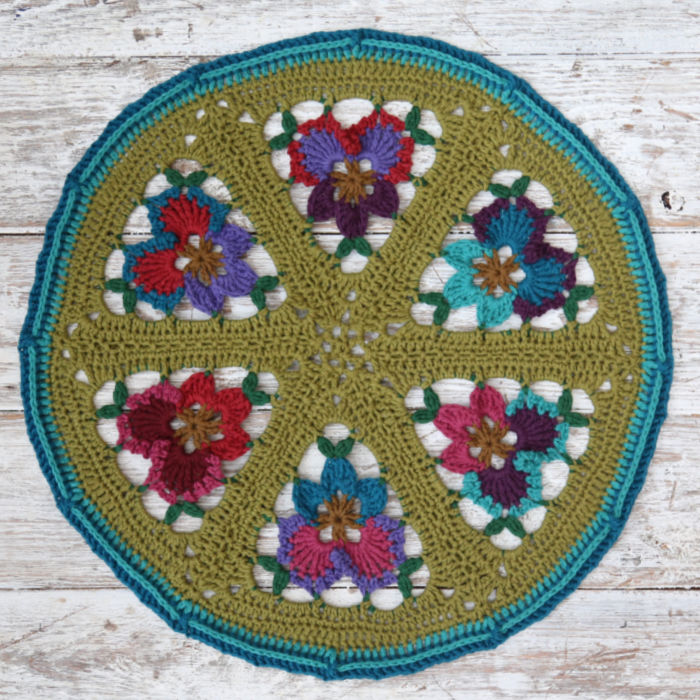 I wish you could experience the richness of this version in real life.  The colours remind me of when I made Lillabjorn's Circles of the Sun CAL in Linen Soft.  Incidentally, that would be a lovely quick make if you are looking for hand-made Christmas gift ideas :)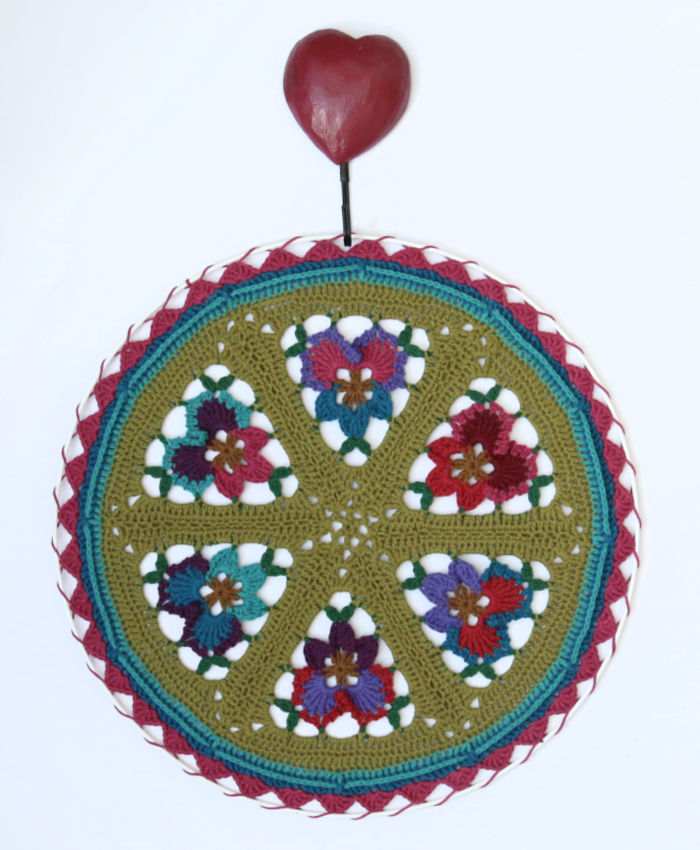 Heehee, isn't it pretty?
I will be releasing the (free) pattern for the Pansy Pizza next week.  In the meantime, I am busy busy busy playing with ideas and ways to grow it.
Just in case I haven't mentioned it enough, I am having SO MUCH fun with this one :)

This blog post contains affiliate links. I only link to products I personally use or would use.  All opinions are my own.