I have been having so much fun playing with the Rainbow Softfun Minis. I love the challenge of using a set number of colours and a set amount of yarn.  Where I would usually just pick whichever colours I like without fear of running out, using a box like this means that I have to consider my colour placement very carefully.  And if I'm designing with mini balls, some rounds are actually informed by the amount of yarn I have left of a specific colour, which is a lovely little design challenge.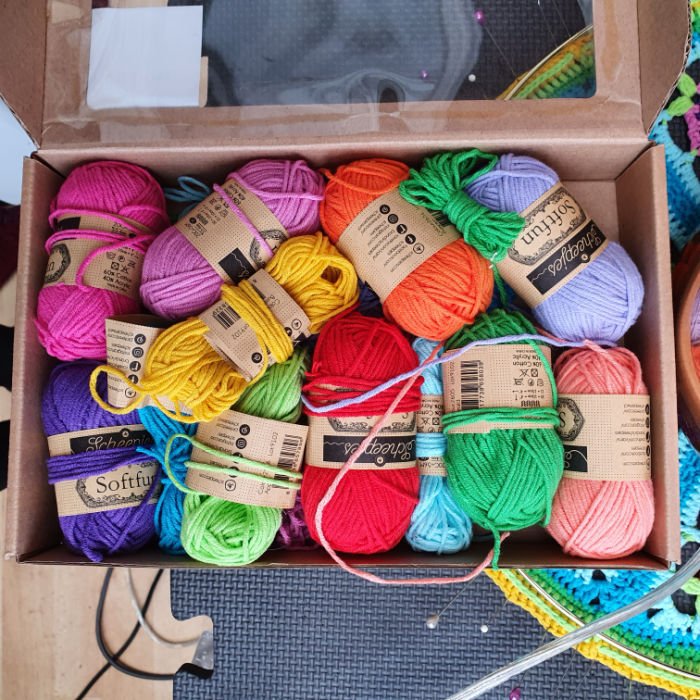 It also means that you, the fabulous maker, can use scrap yarn left over from other projects.
Two recent examples of design-by-yarn-amount are the Unseen Mandala, made with Stone Washed Cutie Pies…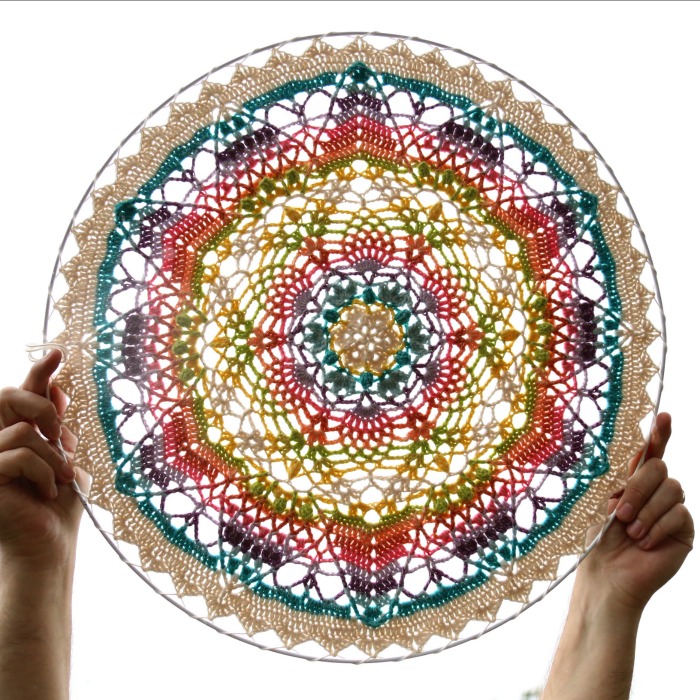 … and the Catona version of the Camping in Cornwall Rug (made with Catona Cutie Pies).  I did cheat a bit on both because I used a regular ball of cream in each.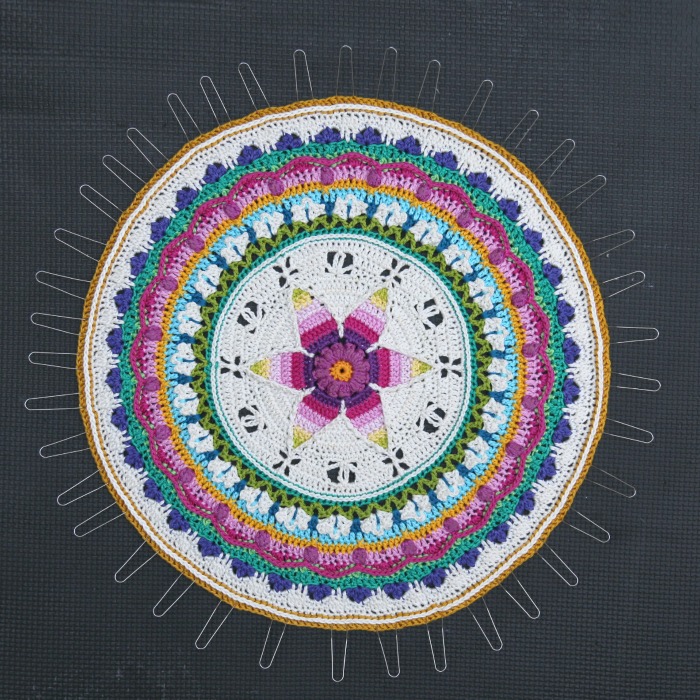 So, what have I been making with my mini-balls this time?  Pansies!  LOTS of Pansies.  To go in a mandala or three.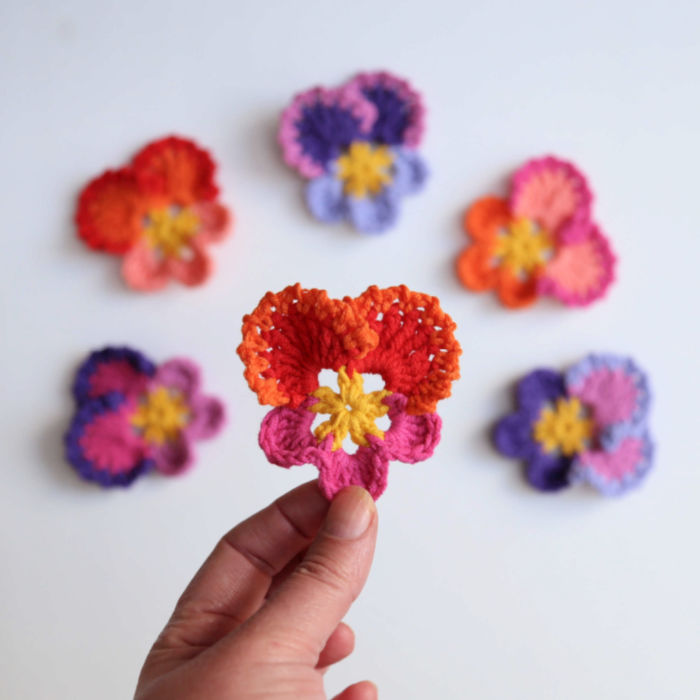 Usually, I don't tend to make multiples when I am designing (except for Sophie's Universe), but I really enjoy making these little flowers.  So much so that I made another batch in Whirl (I'm thinking of just making an entire Whirl's worth of Pansies and seeing where that leads)…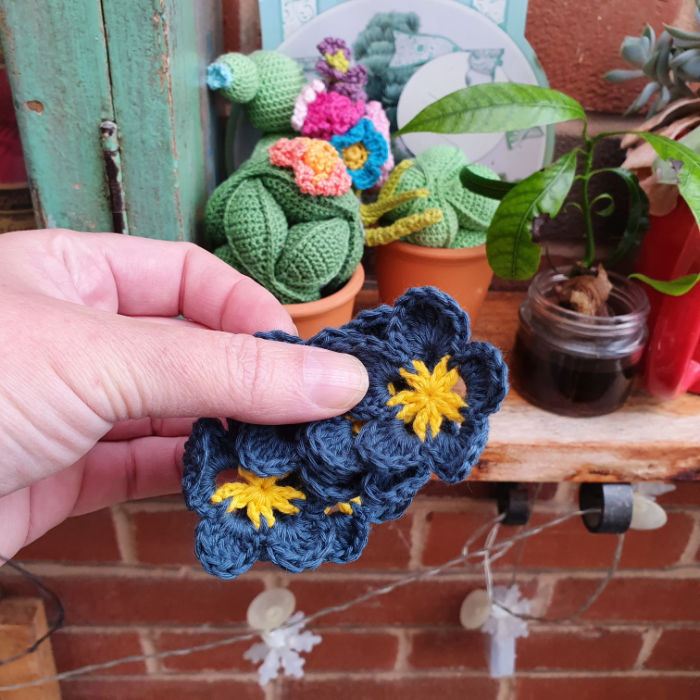 … and another batch in the Jewel Softfun Minis pack (you can find details for all 5 mini packs in last week's post HERE).  I ran out of the Olive though, so I have to wait until my order arrives from Wool Warehouse.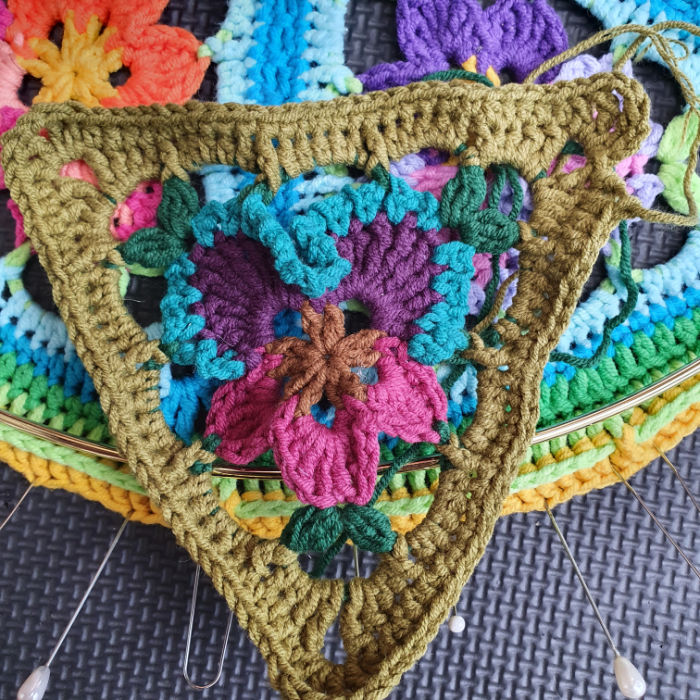 I may also just have started another batch in the Pastel colourway.  10 mins later:  Scratch that, I frogged them and started using Cloud instead (because it reminds me of Charlotte's Universe)…
I don't tend to like the first few fiddly rounds of anything.  I like it when a project is big enough that you can grip it with ease.  I like the longer and longer rounds of a continuous design.  So I was (am) pleasantly surprised that I like making these flowers so much.  I think part of it is the joy of choosing which colours to use for each Pansy?  Or that, and a combination of how quickly they work up and how portable they are?  Or ALL of that and the sheer joy of just crocheting something because I want to and it's pretty and it makes me happy.  Every day, another little pocket-lovie* to remind me that I have done one thing, that day, that made me happy.
*Pocket-lovies are little crochet flowers that you carry in your pocket.  If you need a bit of cheering up or comfort during the day, you stick your hand into your pocket and feel the texture of the flower as a tangible reminder of whatever you need reminding of.  Like that rubber band on the wrist trick, but less painful.  They started because Pieter was particularly nervous to go to school one day, and out of desperation, I asked him if he would like to choose one of my MANY crochet flowers to take to school in his pocket.  His face lit up when he chose whichever one he chose (I think it was a Lydia flower).  When he came home, he said he touched it every time he felt nervous, and it made him think of how much I love him.  Naaaaaawwwwwww!  So now I always take a crochet flower to work in my pocket (or on my lanyard at the moment – a flower Jenny made following one of Janie Crow's designs).  But on days when I feel particularly down and like I haven't achieved anything, I MAKE a flower on my way to work and carry that in my pocket as a reminder that, if nothing else, I created beauty that day.
As to what I am going to do with all these little beauties… I am going to triangularify them.  Similar to the Pansy Bunting I made years and years ago, but updated so that six of them will fit together to form a very neat hexagon.  Add a few more rounds and voila!  A lovely little mandala :)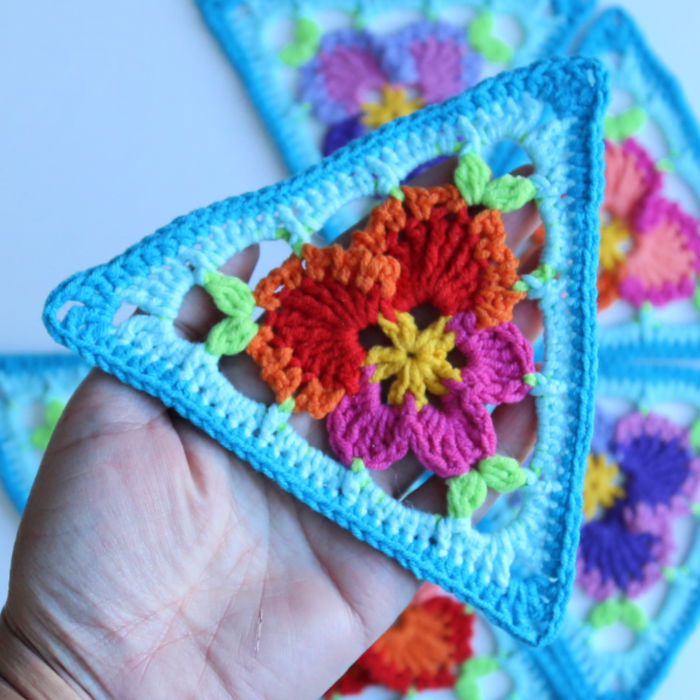 One of my favourite parts of this design is the snowflake at the centre of the mandala.  I LOVE it when joins create pretty patterns – a pattern within a pattern, created not by the yarn but by the spaces :)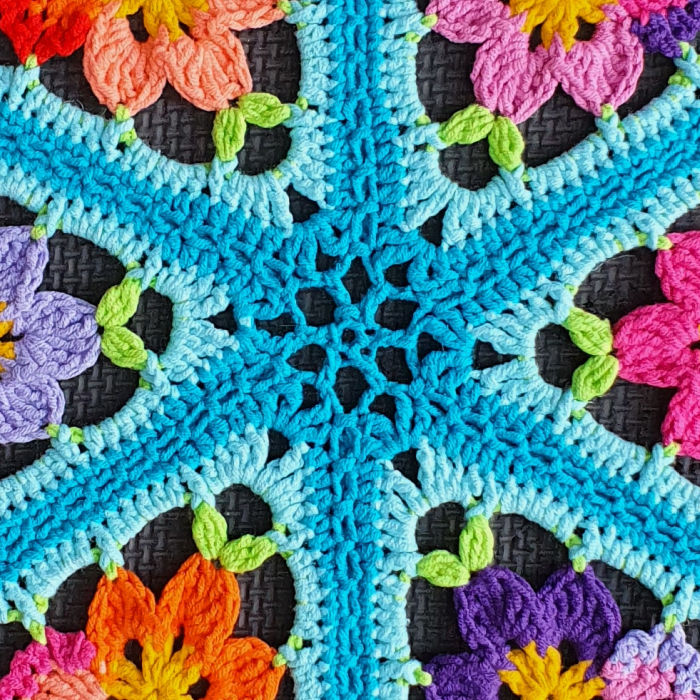 And here is one last sneaky peek.  Just because the reflection in the base of my lamp made me happy.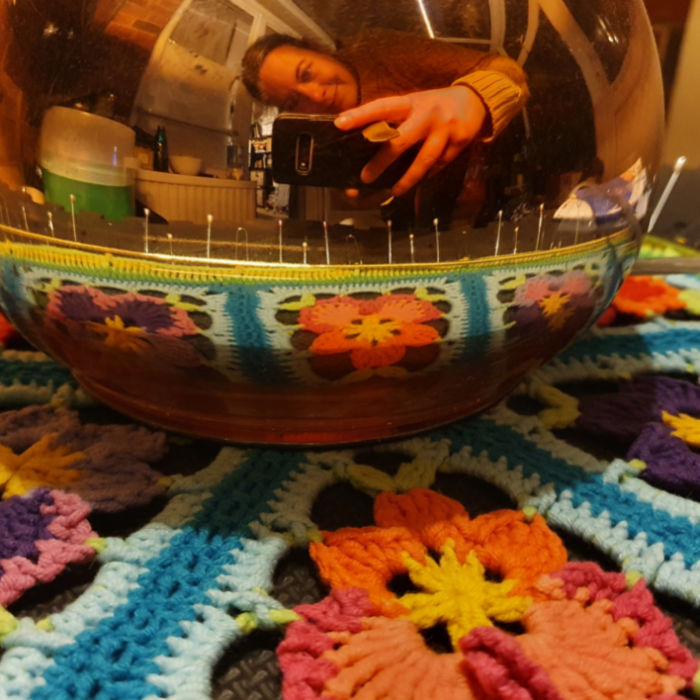 I'll be sharing more photos next week x

This blog post contains affiliate links. I only link to products I personally use or would use.  All opinions are my own.