It is no secret that I love colours. The more, the merrier! It is also no secret that I love miniature things – little bottles of Tobasco, tiny jars of jam, dinky balls of yarn… When Scheepjes recently released all 109 colours of Catona in 10g balls, my heart flipped right over in my chest – the good kind of flip, not the bad kind that saw me paying a visit to the local hospital six months ago! Who needs yarn pegs and shade cards when you can have a giant vase full of miniature yarn balls?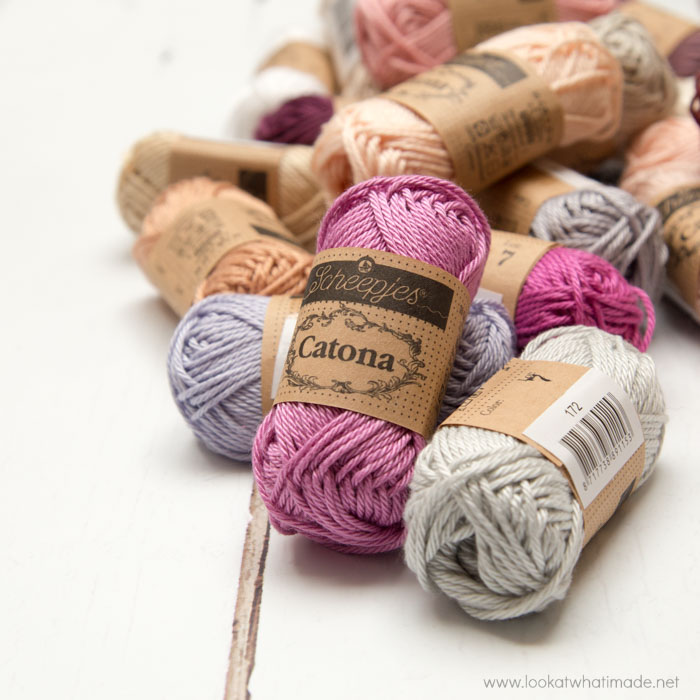 In this post, I would like to tell you about two things: the new Catona yarn packs by Scheepjes and The Secret Lives of Colour by Kassia St Clair. I don't usually talk about books when I talk about new yarn, but this seemed like the perfect exception. I am tempted to match the shades in the book up to shades of Catona for a proper history-filled colour-fest blanket.
Catona 10g Cutie Pies
The 10g balls of Catona are extremely cute and I love the fact that they have teeny tiny wrap-around labels just like the 25g, 50g, and 100g versions.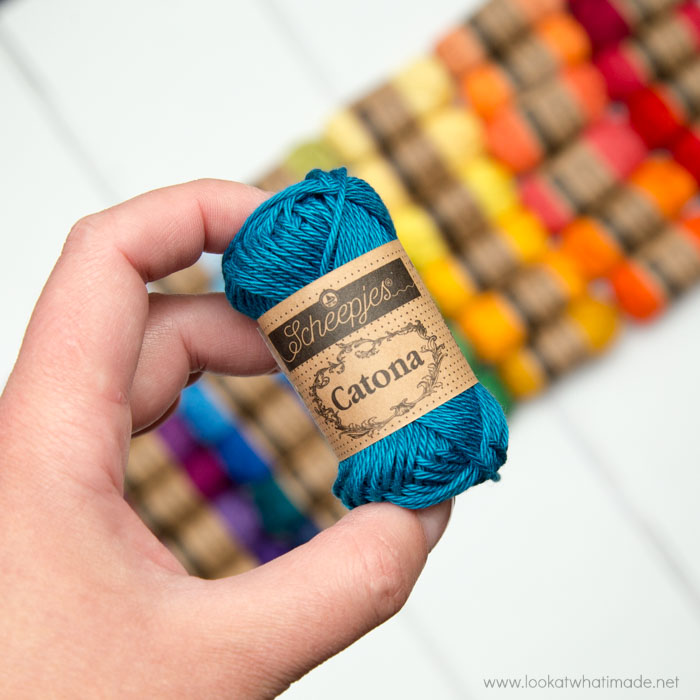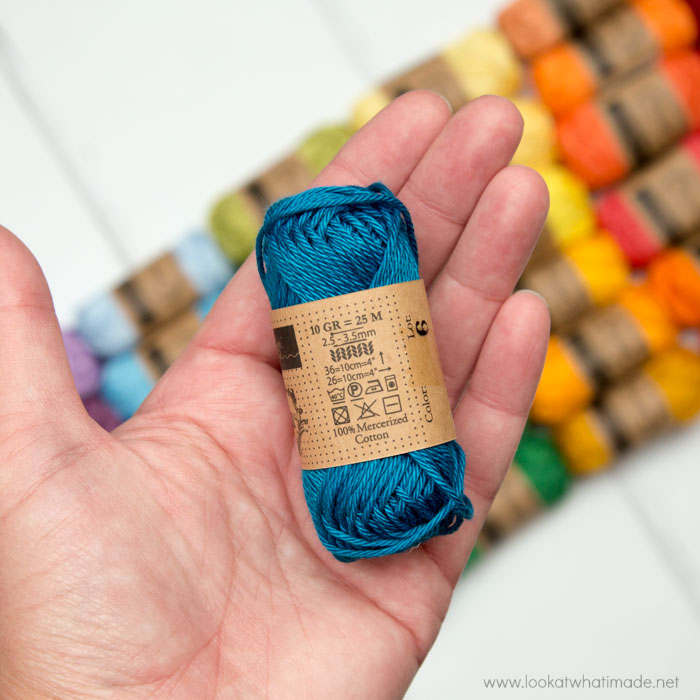 I have spent many MANY hours playing with different colourways and wondering just what I can make with these beauties. The days are growing shorter now, so I haven't had many opportunities to take photos of the process (if you read my post about Bonbon, you will get an idea of the kind of colours I like to put together). Initially, I was getting quite antsy about the fact that I wasn't documenting this journey 'properly', but then I decided that I would allow myself to enjoy playing for the sake of playing. The result has been that my mind is spinning with more ideas than I could possibly implement.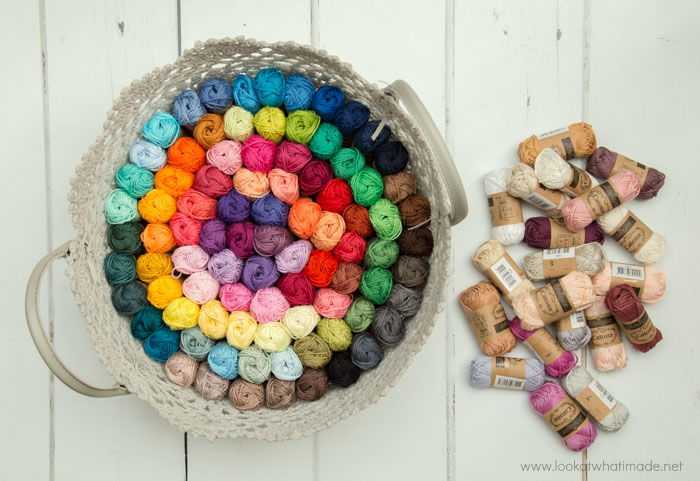 When I was playing with the Catona 10g balls (or Cutie Pies, as they have been affectionately dubbed by Scheepjes), I found myself separating the colours into a vintage pile (20 balls) and a bright pile (everything else). Usually, I prefer bright colours, but the vintage colours just look so pretty together. I think I am going to have to abandon my idea of using all the colours in one baby blanket and just use the 'brights'. I will have to find another project for the vintage colours, but I don't foresee that being a problem :)
The mini balls of Catona are sold as a colour pack containing all 109 colours. This is brilliant for many reasons:
Just Because!
It's wonderful to have a variety of colours on hand if you like making amigurumi that require small amounts of multiple colours (like these Little Zoo Animals).
The balls serve as a 'living shade card'. It's easy to move the balls around into different colour combinations. Storage isn't a problem either as they would look amazing in a large vase or a box frame hung on the wall. You could also do what Simy has done and store them on a pegboard.
The colour numbers match those of Cotton 8 (non-mercerised and slightly less vibrant) and Sugar Rush (mercerised but much thinner). Having a little 'colour library' is handy when trying to decide if a particular shade of Cotton 8 or Sugar Rush will look the same in real life as it does online.
The yarn packs are available from Wool Warehouse, Black Sheep Wools, and other Scheepjes retailers.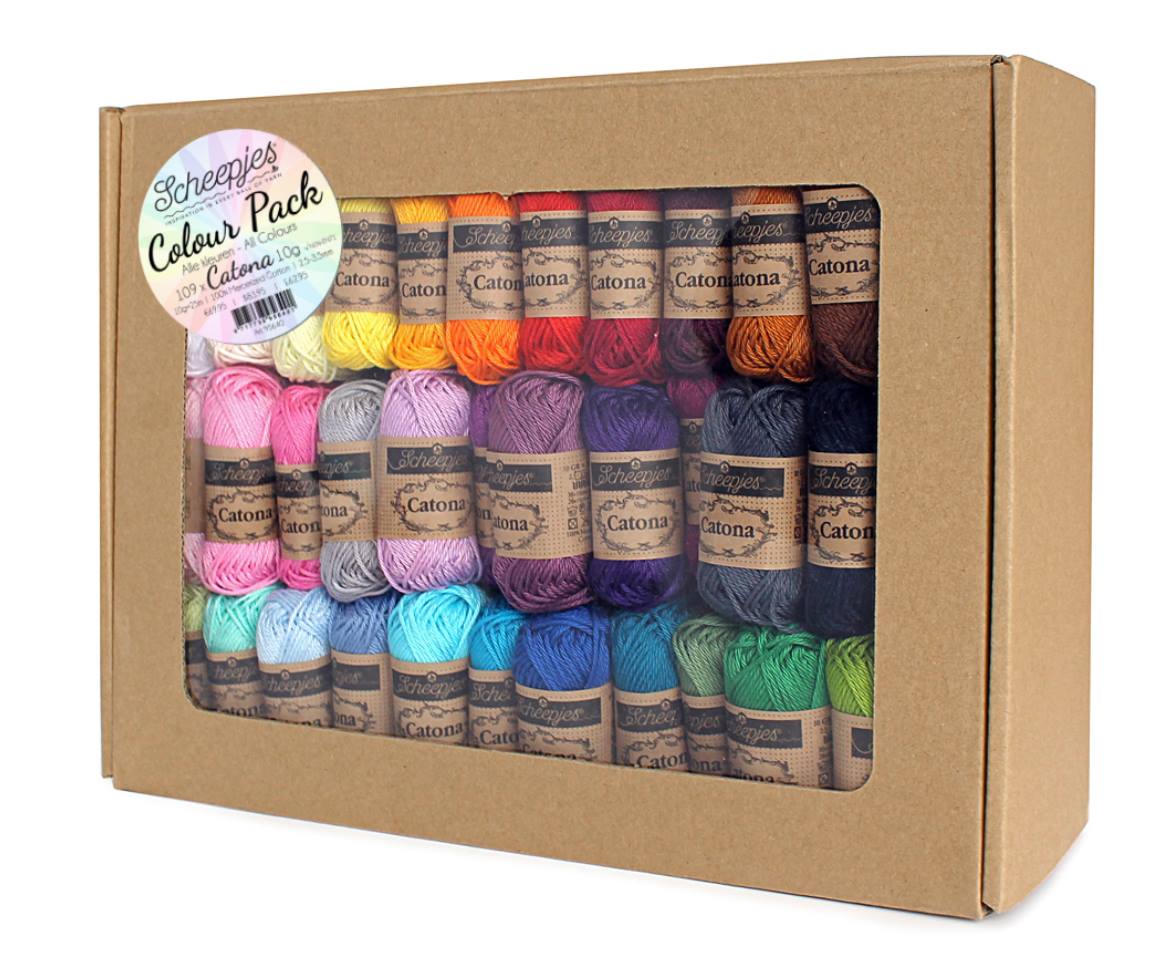 What Can I Make With One 10g Ball?
Apart from being a wonderful 'living shade card' and brilliant for amigurumi, these dinky balls also allow you to make blankets/cushions/bags/dishcloths using small amounts of MANY different colours.
4 mini balls will be enough for a 22cm x 22cm striped dishcloth.
18 mini balls will be enough for a 30cm x 30cm cushion (9 for the front and 9 for the back)
99 mini balls will give you a baby blanket that is roughly 100cm x 120cm (9 x 11 small squares) – not including joining and border, for which you would need at least 2 x 100g balls, depending on design. If you scroll down a little bit, you will see some 'My Story' squares (pattern not available yet). Each of those squares measures 11cm and were made with one 10g ball. Below you will also see a photo of the Emma square I designed for one of the Devon Sun Yarns retreats. That one also measures 11cm and used one 10g ball (pattern also not available yet). I worked these up just to show you that a 10g ball goes a surprisingly long way :)
The Secret Lives of Colour
At the last Scheepjes Bloggers Day, we were each given a copy of the wonderful 'The Secret Lives of Colour' by Kassia St Clair (available from Amazon.com and Amazon.co.uk – have a look at the handy Look Inside!).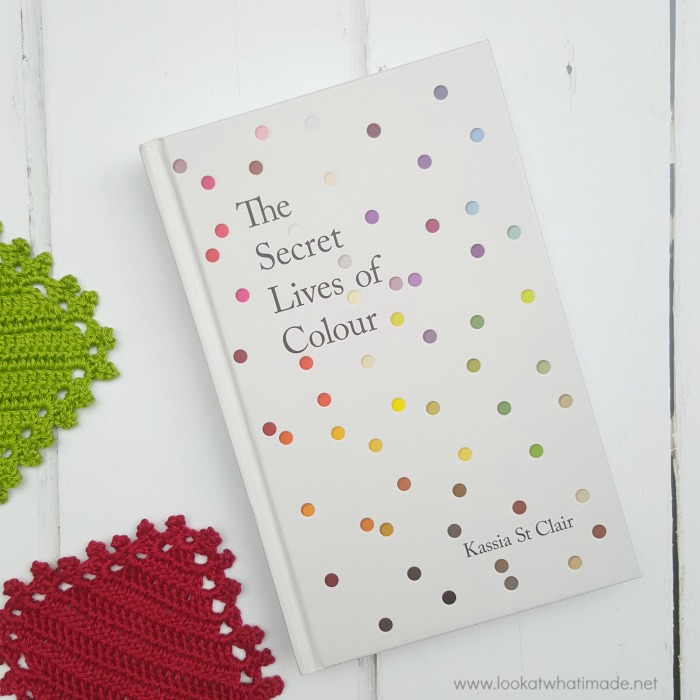 If you love colours, this is the perfect book for you! It starts with a general overview of colours – how we see them, a general history of pigments, and the love/hate debate that has been running for centuries…
"A certain distaste for colour runs through Western Culture like a ladder in a stocking."
The Secret Lives of Colour
This is followed by bite-sized history lessons (stories) for each of the 75 colours featured in the book. The colours are grouped into western groups: white, yellow, orange, pink, red, purple, blue, green, brown, and black.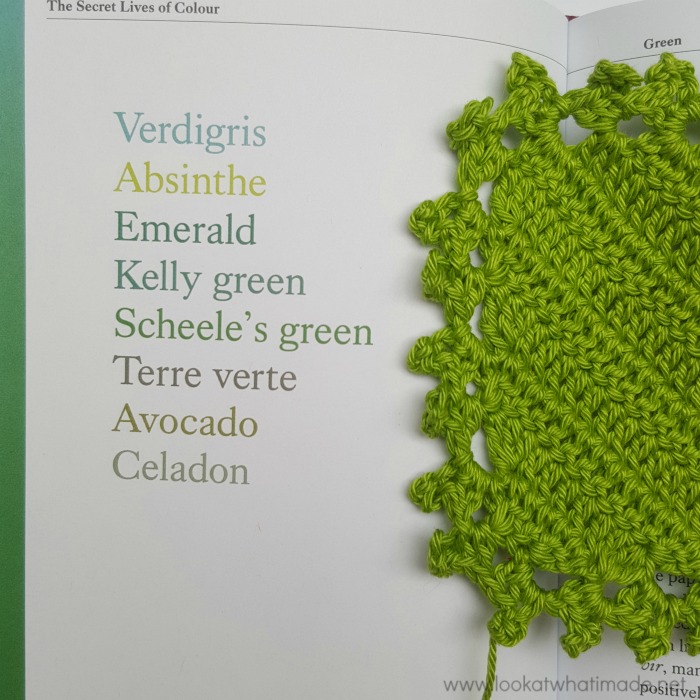 I say 'western groups' because different cultures see (and group) colours in different ways – a fact that was first brought to my attention by a neurology consultant at work. If you are interested in reading more about that, I can recommend THIS ARTICLE. The thing I found most interesting about that article is that there was no English word for Orange until the early 1500's. They just used to call it 'yellow-red'. But I digress…
The stories for each colour are extremely entertaining and cover a variety of topics: history, art, chemistry, religion, and morality to name but a few. I like the way the stories are short enough that you can read them in a quick 5-minute sitting. This means that I can pick the book up whenever I have a few minutes without having to fret about remembering what I read the last time I picked it up (as long as I have a bookmark…hmmm…idea).
Here are some of my favourite colour stories:
Mummy, known as 'dead man's head' was used until the 20th century and the story is most bizarre. It involves actual mummies!!
Tyrian Purple, "ideally the colour of clotted blood", was made from a clear, garlic-smelling liquid derived from certain shellfish. Maybe I like this one most because of the name. Yes, I am a huge Game of Thrones fan!
Dragon's blood's history is more mythical than actual, and I much prefer the mythical version (GoT again!).
Yellow is not my favourite colour by any stretch of the imagination, but I love the story about Oscar Wilde (love his work) and his yellow-backed book. I never knew that a book bound in yellow used to show that the content was less than savoury.
I am not a good book critic. I think you have to have the gift of writing if you are going to comment on other people's writing in that way. Luckily there are many eloquent reviewers who have already shared their experience of this book. You can read those reviews HERE.
More Interesting Reading About Colours
My dad is colourblind, so I have always had a fascination with how we perceive colours. How do you know that you see a specific blue the same way as I do (or anyone else you know, for that matter)? I know this post has gone from a cute colour pack all the way to colourblindness, but whenever I start talking about colours, I can't seem to stop. There are just so many things to say about colours! Here are some of my favourite articles on the subject:
I hope this post has given you a lot to think about. If you share any photos using Catona Cutie Pies, please use hashtag #catonacutiepies. If you share photos of The Secret Lives of Colour, please use hashtag #thesecretlivesofcolour.
I am curious to hear your views about colours, your memories of them, and the emotions they evoke in you, so please feel free to comment below.

This blog post contains affiliate links. I only link to products I personally use or would use.  All opinions are my own.