I might as well post the pattern for the Crochet Digger Loader here as I am never going to get around to doing anything about my Etsy account.  Have at it, aspiring farm implement crocheters!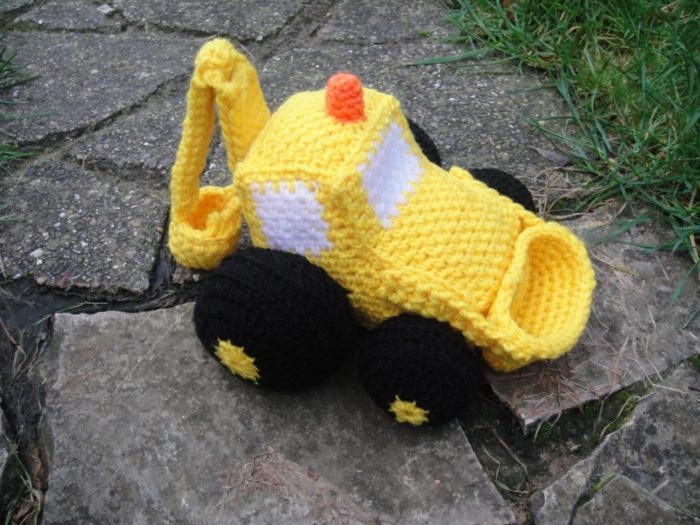 Translations
Resources
Please Read Below Before You Download The Pattern!
I have used US Crochet Terminology.
The little light has been left out of the pattern, sorry!
Little Orange Light Pattern
With orange yarn and working into a magic ring:  ch 1, 6 x sc.  Continue working around, making the first st of the next round in the first st of this round.  (6)
Sc inc x 6.  (12)
Sc into the back loop only of every st around.  (12)
Sc x 12, working through both loops again from here on out.  (12)
Sc x 12.  Ch 1 and bind off. Leave a long tail and sew to the top of the digger.  (12)
Linen Stitch Tutorial
The crochet digger is made using the linen stitch, which is basically a mesh of *sc, ch-1, skip 1*.  If you have never used the linen stitch, or would like a bit more help on how to make it, please see this photo tutorial.
Working Over the Slip Stitches
I have had some question about working over the slip stitches in this pattern (when making the "arms" and the "scoops/buckets").  Below I have included a photo that will hopefully clear up any confusion.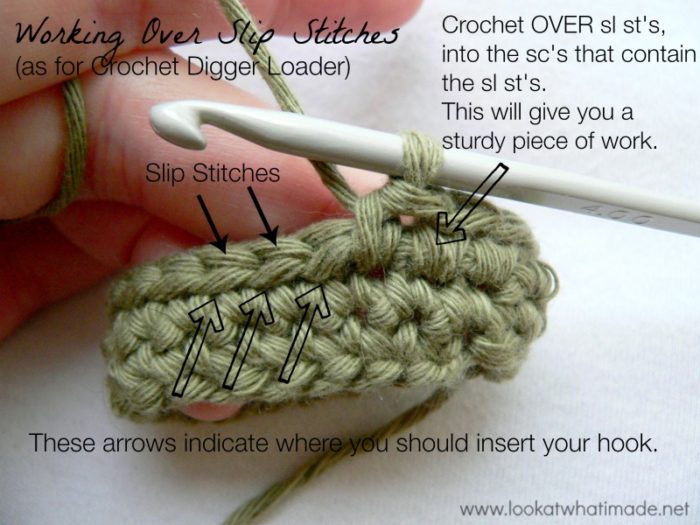 Adding (and working over) slip stitches like this creates a very sturdy piece of work that will hold its shape much better.
I hope you enjoy making this little digger loader.

This blog post contains affiliate links. I only link to products I personally use or would use.  All opinions are my own.