Can you really make cupcakes, muffins, and cakes with just one recipe?  Yes!  You most definitely can!
This sweet potato cupcake recipe is light enough to use for cupcakes, yet it has enough body to pass for a LOVELY muffin if un-iced and slathered in butter.  For a cake, just use a cake tin and a sour cream/cream cheese icing.  You don't want to use the caramel icing as this is WAY too super sweet for a cake, but just about right for a teeny tiny cupcake.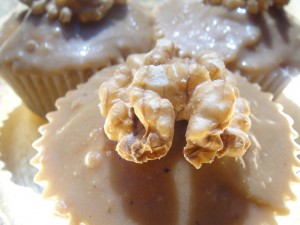 Sweet Potato Cupcakes Recipe
(Makes one large cake, 20 Muffins or 45 fairy cakes)
Ingredients
2 1/2 cups flour
15 ml baking powder
1 ml salt
5 ml cinnamon
5 ml grated nutmeg
1 1/2 cup sugar
1 1/2 cups oil
4 egg yolks (keep the whites, they get used as well)
60 ml hot water
2 cups grated sweet potato
1 cup chopped walnuts (optional)
5 ml vanilla
4 egg whites (stiffly beaten)
Method
Pre-heat the oven to 180 °C
Sift all the dry ingredients together in a bowl.
Beat the sugar and oil until smooth and add in the yolks one by one (still beating).
Now add all the other ingredients (except the  egg whites) and mix thoroughly.
Finally fold in the stiff egg whites.
You should end up with a very dry, odd looking mix.
Divide into your desired tins and bake as follows:

Cake:  30 minutes (if a skewer popped into the middle does not come out clean, add 5 minutes to this time).
Muffins:  20 minutes (same as above)
Cup cakes:  15 minutes.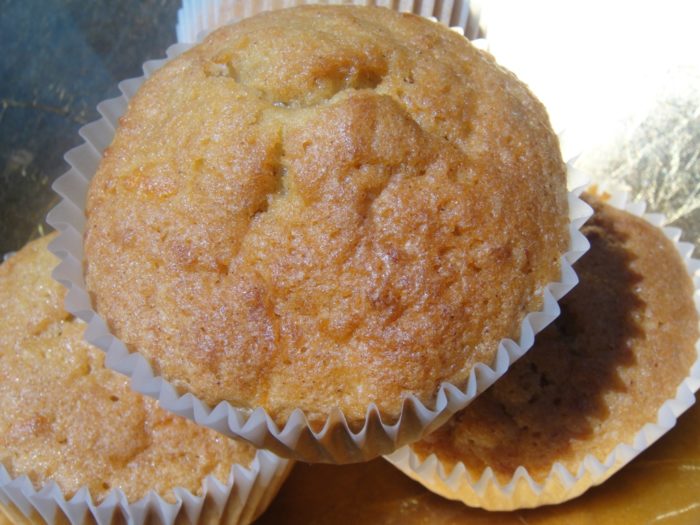 Caramel Icing
Ingredients
1/2 cup butter
1 cup brown sugar
5 ml vanilla
60 ml milk
1 1/2 cup icing sugar
1/2 cup cream cheese
Method
Put the butter and sugar in a sauce pan and bring to the boil.  Boil for about 3 minutes.  Add the vanilla and milk and take off the heat.
Allow the mix to cool for a good 15 minutes.
Mix in the icing sugar and cream cheese.
Spread the icing over the cupcakes.
Remember to subscribe to my Weekly Newsletter if you would like to be kept in the loop. You can also like my Facebook page or follow me on Bloglovin, Google+, Pinterest, Twitter, or Instagram.