This was the first ever choux pastry recipe I used.  I was 13 at the time.  Juffrou Dalena will no doubt remember the trouble she had getting me to pay attention in her home economics class.  Or more specifically, her perceived trouble at getting me to pay attention.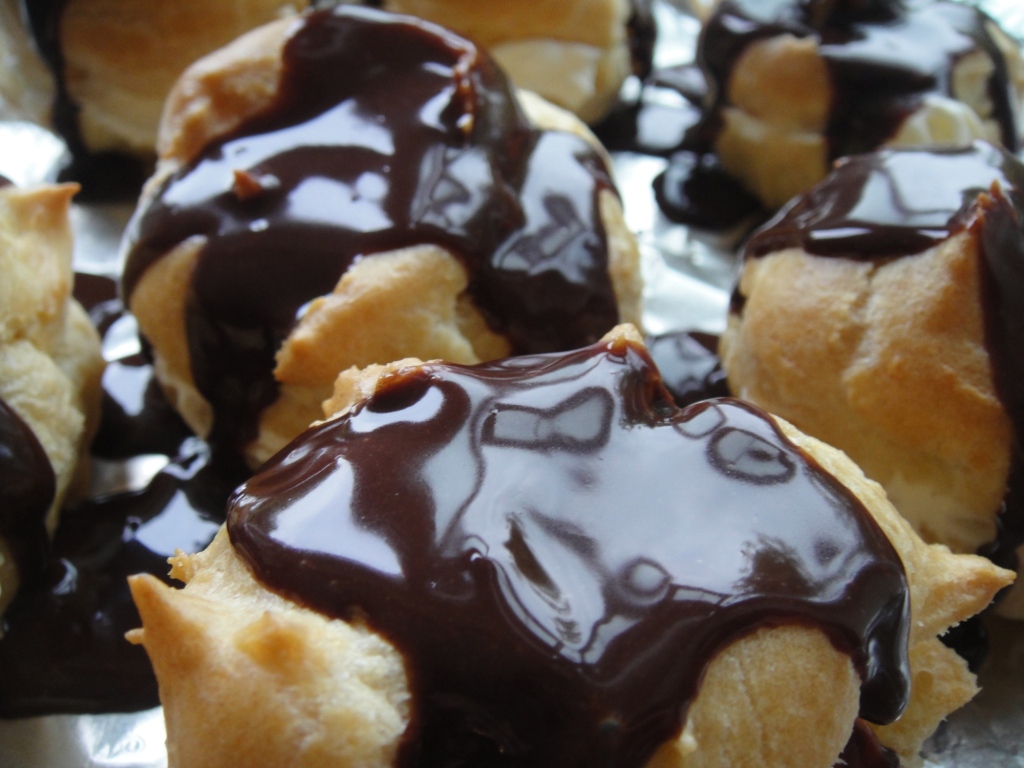 I was always drawing or doodling in her class.  BUT I heard every word.  (Unlike Biology in which Juffrou Debbie had to say:  "Dedri, this is important now.  Stop reading and listen" whenever we were covering something really important).
One day she got quite upset with me for not "paying attention" and made some or other remark to the rest of the class about the fact that I never listened.  I still remember that specific lesson and, more to the point, the specific sentence she said.
"Lesitien in die eiergeel is 'n emulgeermiddel met 'n hidrofiele kop en 'n hidrofobe stert."  It won't make much sense to you, because obviously its in Afrikaans.  Doesn't really matter, I'm just proving a point.  I was the only one that got it right in the test, and thenceforth she never bugged me about listening again.
That, I know, has absolutely nothing to do with Choux pastry and everything to do with my nostalgia for the "innocence" of my youth.
This recipe can readily be found in the home economics handbooks in South Africa, but as you don't have access to them, I am going to share it here.
Choux Pastry Recipe
Ingredients
1 cup water (boiling)
1 cup flour
1/2 cup butter
3-4 eggs, beaten
1/2 tsp salt
Method
Heat the butter in the boiling water until it melts.
Remove from the heat and add the dry ingredients, stirring to combine.  It will form a sort of gloopy ball.
Let the gloopy ball cool down and then beat in the eggs one at a time. The mixture will separate after the addition of each egg. Just keep beating until it all comes together before adding the next egg.  When you are done the mixture should be shiny, but smooth.  Not glossy and lumpy.

Prepare a baking tray by spreading it with butter and sprinkling a few drops of water onto it. The water will help create steam to puff up the pastries.
Form the pastries in any way you please.  I usually use a teaspoon to dollop little mounds of dough onto the tray, but you can use a piping bag if you're feeling particularly fancy.
Bake in a pre-heated 200 °C oven for 10 minutes.  Place the tray in the middle of the oven, by the way :)
After 10 minutes, lower the heat to 180 °C  (160 °C for a fan oven) and bake for a further 15 minutes, or until golden brown.

Fill with your choice of filling and gobble, gobble, GOBBLE!
These particular choux buns were filled with whipped cream and smothered in chocolate water ganache.  See my post about Choux with Creme Patissiere for some more chouxy goodness.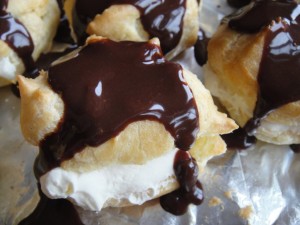 Some hints
DON'T open the oven door while the pastries are baking.
Prick with a knife as soon as you remove them from the oven to allow the steam to escape
Pipe in the filling just before serving to prevent them going soggy.  YUK!
The dough freezes really well, as do the baked pastries.  To use frozen dough, defrost for an hour before shaping and baking.  To use frozen pastries, pop them in a 180 C oven for 5 minutes (from frozen) to crisp them up a bit.
For a savoury snack, you can add some cheese to the dough and pipe it into a huge ring.  This ring is then filled with rich bechamel sauce and bacon when baked!  YUM
Remember to subscribe to my newsletter if you would like to be kept in the loop.  You can also like my Facebook page or follow me on Bloglovin or Google+.