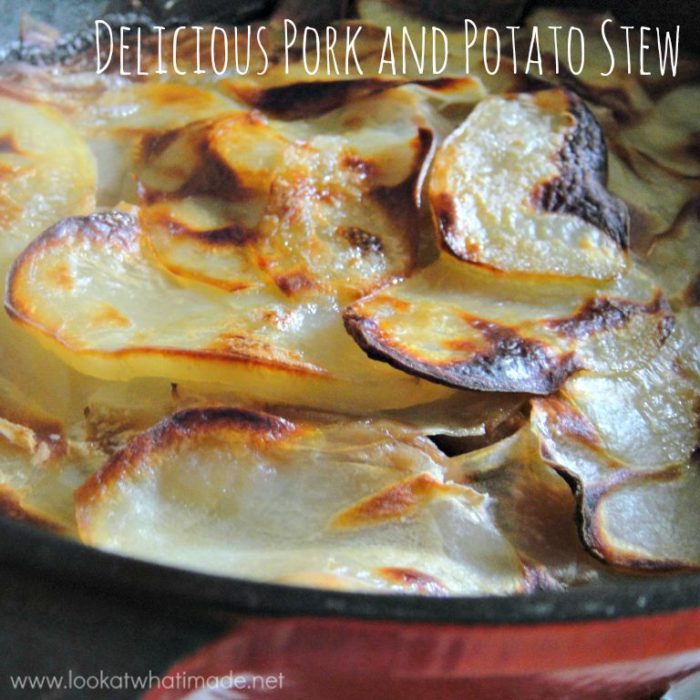 Delicious Pork and Potato Stew
This delicious one-pot pork stew is topped with a crispy potato 'lid'.  It is one of our family favourites and yields 6 portions.  
I suggest using a cast iron casserole dish, because you can take if straight from the hob into the oven.  After using a cheapie cast iron casserole dish for the last 6 years, I have just invested in a Le Creuset (available from Amazon.com and Amazon.co.uk) and I cannot wait for it to arrive!  
Preheat the oven to 180 °C (360°F).
Place the following in a large, heat-proof glass mixing bowl and mix well:
¼ cup flour
1 tsp salt
1 tsp paprika
½ tsp pepper
Add 1 kg of Diced Pork into the bowl and shake well so that the diced pork is well-covered by the flour mixture.
Brown the pork in 2 tbsp olive oil.  Depending on how big your casserole dish/pot is, you might want to do it in two batches.  Remove the pork from the pot and set aside.  Don't wash the heat-proof mixing bowl just yet, because you are going to use it again a little bit later.
In the same pot, sauté:
1 chopped onion
4 thinly sliced carrots
4 thinly sliced parsnips
2 sticks of celery (thinly sliced)
2 cloves of crushed garlic
After 5 minutes, add:
3tbsp tomato puree
1 cup red wine (250 ml)
1 tsp paprika
½ tsp mustard powder
1 ½ cups beef stock
Stir well and add the pork back in, making sure to add all the juices too!  Simmer for 15 minutes.
Peel and thinly slice 5 large white potatoes.
When the meat mixture is ready, ladle two thirds of the mixture into the heat-proof mixing bowl, leaving one third still in the casserole dish.  Place a thin layer of the sliced potatoes on top of the meat mixture and top with a few knobs of butter.  Ladle a third of the meat mixture over the potatoes and top with another thin layer of potatoes and butter.  Repeat this process one last time.
Cover the last layer of potatoes and butter with another layer of potatoes and some more butter.  Sprinkle with sea salt, cover, and place in the oven for 1 hour.
Remove the lid and cook for another hour, keeping an eye on the potatoes so that they don't burn.
Enjoy!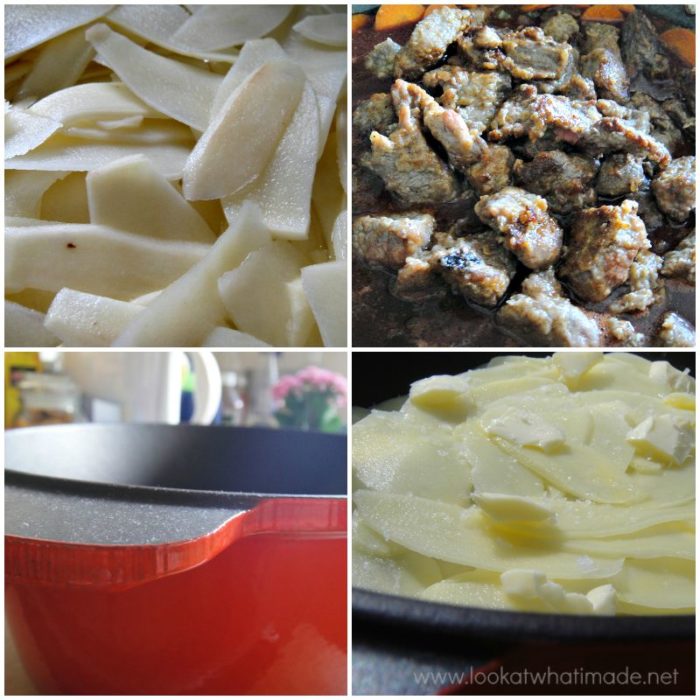 Leftover Potato Recipes
We ALWAYS end up with leftover potatoes because I am so afraid of not having enough potatoes for my dish that I always prepare more than needed.  I use these leftover potatoes in a quick potato bake for the kids' lunch the next day.
Here are 3 of my favourite leftover potato bake recipes:
Mushroom bake – Layer the remaining potatoes in a small oven-proof dish.  Poor over a tin of mushroom soup and about 100 ml double cream.  Add a little bit of salt and pepper.  Pop in the oven at 180 °C for 1 hour (360°F).
Bacon and mushroom bake – Layer the remaining potatoes in a small oven-proof dish.  Chop up some mushrooms and fry a bit of bacon.  Toss these over the top and pour 200 ml double cream over everything.  A dash of salt and pepper to taste.  Bake for 1 hour at 180 °C (360°F).
Tuna Cheese bake – Layer the remaining potatoes in a oven-proof dish.  Chuck in a cup of grated cheese  and a tin of tuna.  Top with 200 ml double cream.  Season and bake for 1 hour at 180 °C (360°F).
The possibilities are endless.