I grew up with this delicious South African wheat salad ('Koring Slaai met Geel Perskes' in Afrikaans).  It is the perfect take-along salad for barbeques and keeps really well in the fridge.  In fact, it is at its best when made a day in advance.  This wheat salad is extremely refreshing, and the addition of curry powder and yellow peaches gives it a classic Cape Malay taste (sweet and tangy).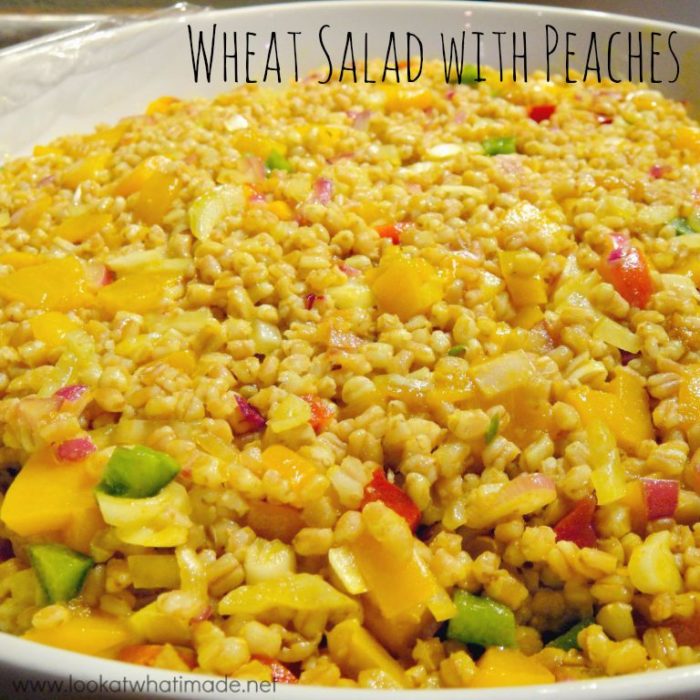 Recipe for Wheat Salad with Yellow Peaches
Ingredients
1 cup raw wheat
1 big onion (I prefer red onion) finely chopped
1 green pepper (diced)
1 tin of canned peaches (diced)
For the dressing:
50 ml olive oil
25 ml chutney
25 ml sugar
25 ml vinegar
5 ml turmeric
5 ml mild curry powder
5 ml soya sauce
Method
Cook the wheat in salted water and drain when cooked.  You want the wheat to be al dente (cooked but not mushy).  Rinse under cold running water and place into a salad bowl with the diced peaches, onion and green pepper.
Mix all the ingredients for the salad dressing thoroughly and then stir it into the salad.
Cover with cling film and refrigerate until needed.
This is one of those salads that gets better with time.  I usually make it at least a day in advance.
Remember to subscribe to my newsletter if you would like to be kept in the loop.  You can also like my Facebook page or follow me on Bloglovin.