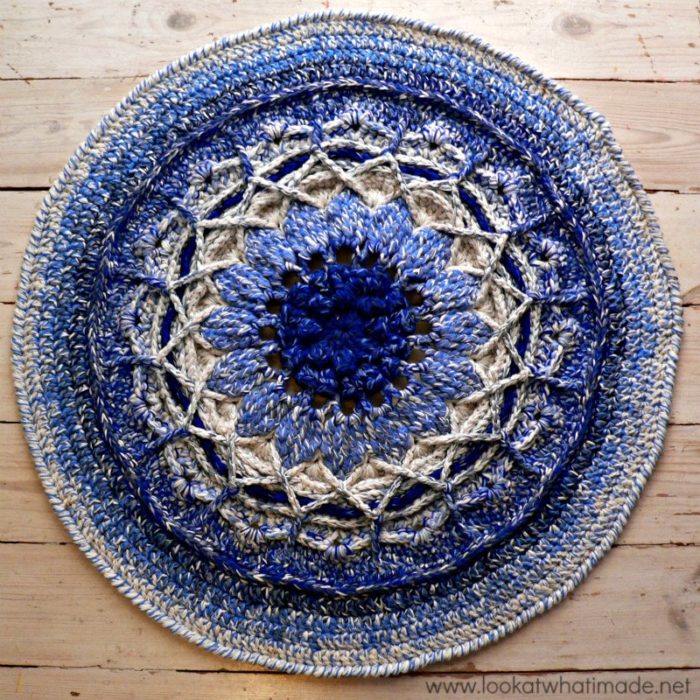 I have made another Mandala Rug…this time using John P Kelly's gorgeous Mandala in Bloom pattern.
You might remember the Mandala Rug I shared a while ago, which I made using John's free Mandala 21 pattern.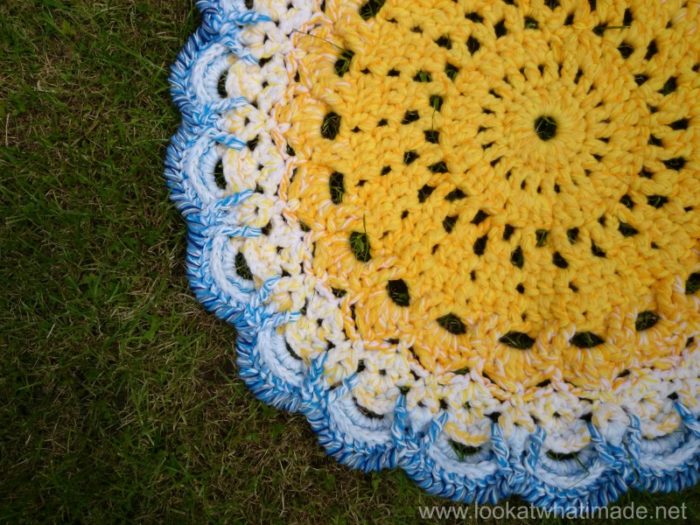 I loved it so much that I practically begged John to let me test Mandala in Bloom for him.  Okay…I didn't have to beg, but I totally would have!
So here, for your viewing pleasure, is the rug I made using the Mandala in Bloom pattern.  Please note that this rug does NOT do the pattern justice.  Head over to John's blog, He is Hooked, to see some of the gorgeous colour-pathways the other testers used.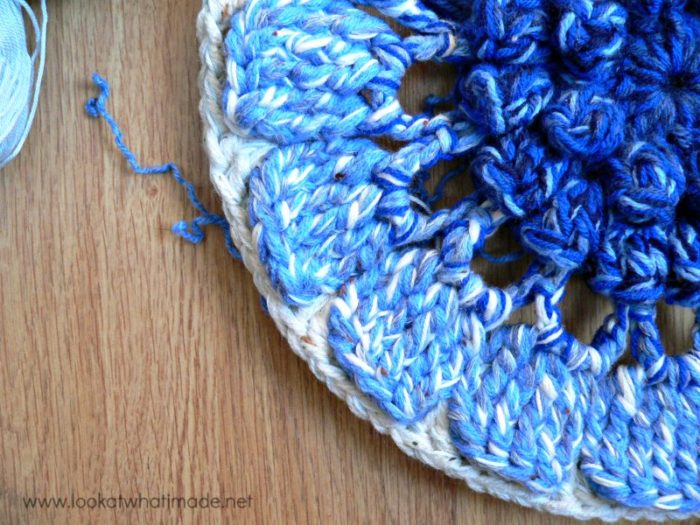 I used 8 strands of yarn (various types and thicknesses…some of them from frogged garments – more about that in a second) and a 8 mm crochet hook.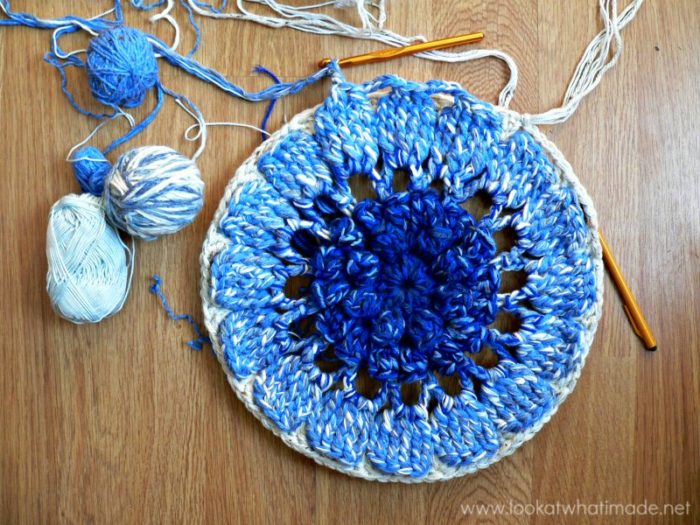 The boys had one or two hand-made (gifted) items that I loved so much, and that held such sentimental value, that I didn't want to give them away when they became too small.  We have no family (with little ones) in England, so we would probably have ended up giving them to a charity shop.  The thought of a stranger buying them from there and not treasuring the love that went into them was just too much for me.  So I frogged them (I KNOW!) so that I can re-use the yarn.  Not because I am frugal, but because I am a sentimental sop and I just love remembering the boys in the cardigans every time I step on this rug.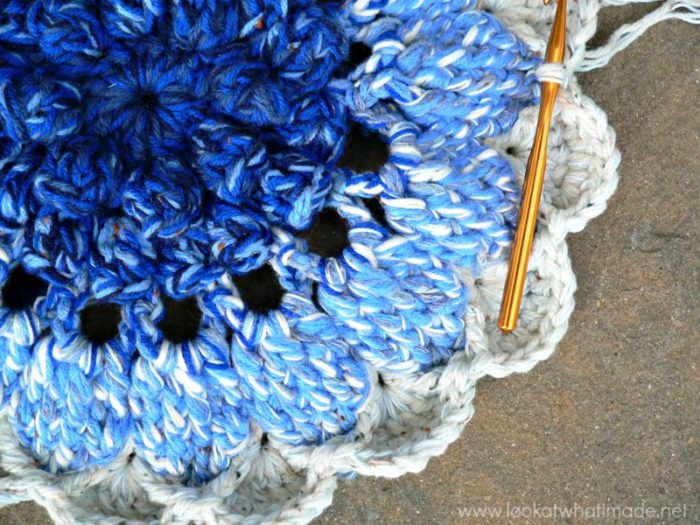 If I say this mandala rug took me 20 hours to make, I am not exaggerating.  You have to keep in mind, though, that making front-post stitches and back post stitches all over the place with a large hook and 8 strands of yarn will never be as easy as doing it with a 4 mm hook and a single strand of double knit!
I think that it was worth every hour, though.  Just look at the gorgeous detail in the design.  And this rug has got some serious texture!  It almost bounces when you walk on it.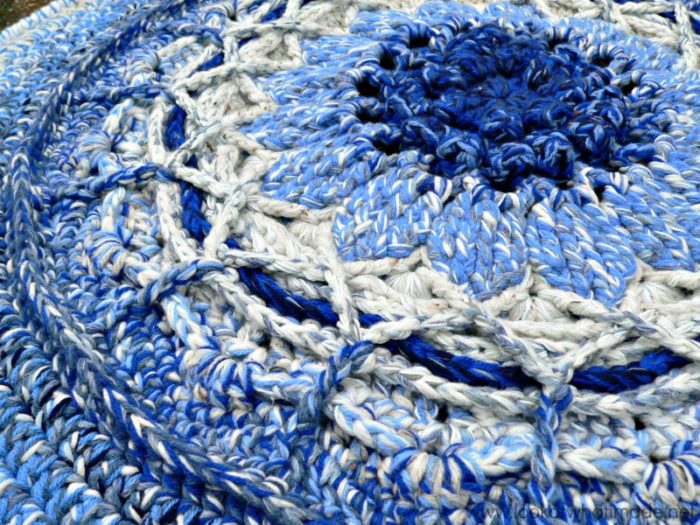 My best memory of making this rug was sitting outside under our pear tree with Christiaan and Xander, crocheting my little heart out while Xander chatted and splashed me with water from his water bottle.
Where were numbers 1 and 2?  Inside playing PlayStation, of course!
Just look at that face!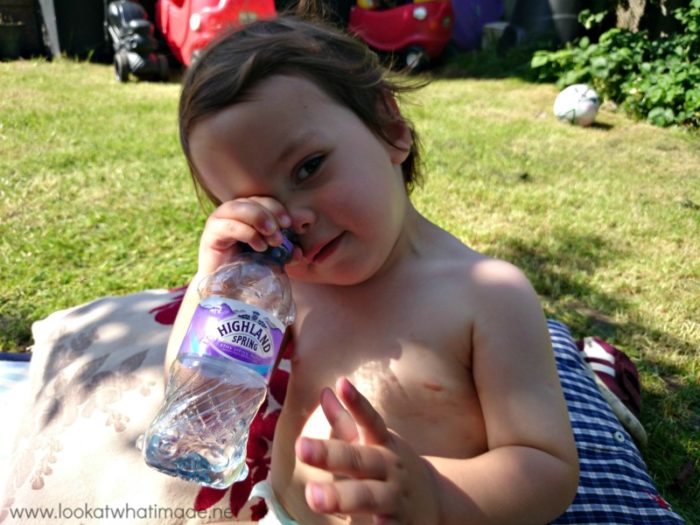 Mandala in Bloom has 24 rounds in total.  I added 4 more dc rounds to get the edge to lie flat, ending up with 228 st's in the last round.  One final round of crab stitch (reverse single crochet) and VOILA!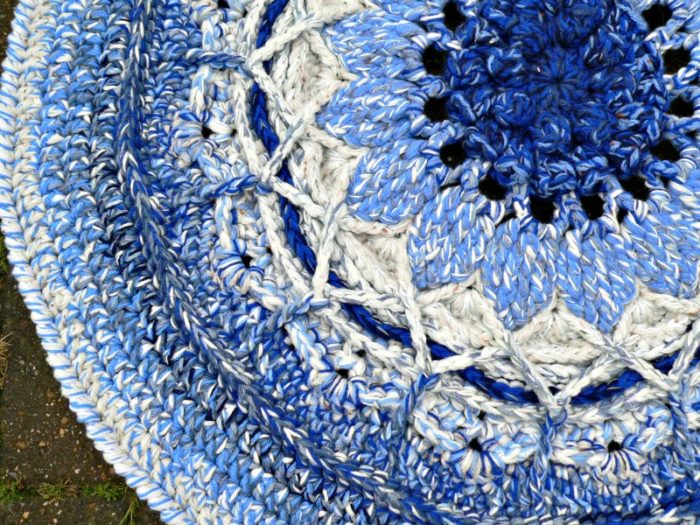 I have one almighty big callus right at the base of my right pinkie finger from making this Mandala Rug.  And every time I look at it, it reminds me of my beautiful rug and a good friend made.
Thank you for letting me test this gorgeous pattern for you, John!  And thank you for making me laugh (A LOT!)
If you would like to make Mandala in Bloom (or even try your hand at making a Mandala Rug), you can buy the pattern for Mandala in Bloom here on Ravelry.  Or you could always try your hand at Mandala 21 first :)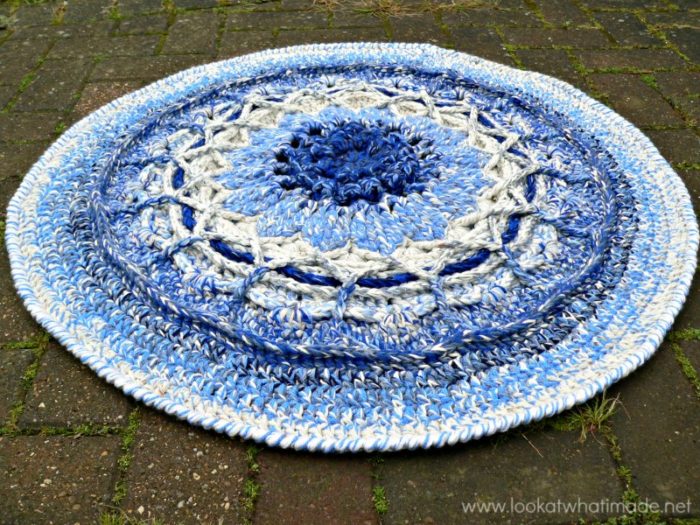 More Crochet Rugs
Related Tutorials
Remember to subscribe to my newsletter if you would like to be kept in the loop. You can also like my Facebook page or follow me on Bloglovin or Google+.
Happy Hooking!