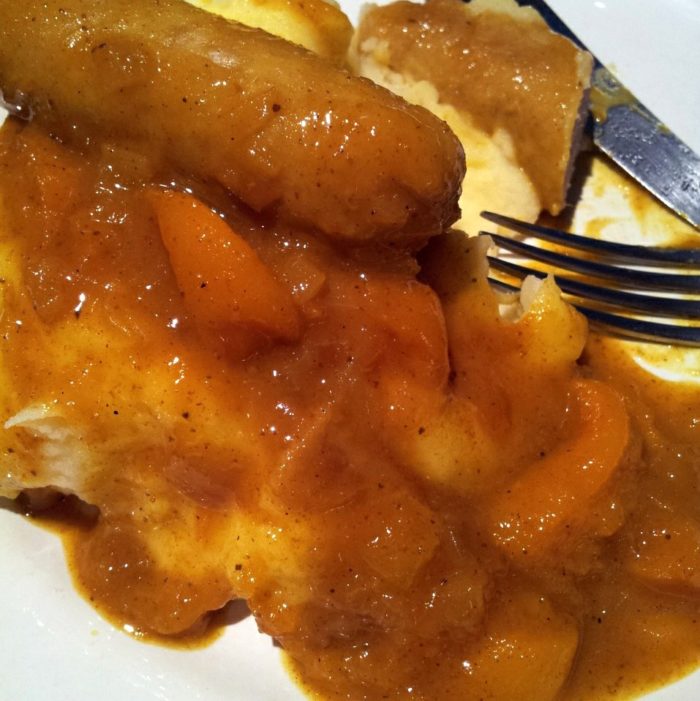 Bangers and Peaches Curry Recipe
I know, not really a combination I would have thought of, but what a tasty dinner it is!  And not only is it delicious, but it is quick and cheap too.
Pie is my sister in law.  She is also one of my dearest friends.  I've never told you how my brother and her finally got together after only 8 years (?) of friendship and I probably won't tell you the story now.  Suffice it to say that they love each other warts and all and I couldn't be happier :)
I begged this recipe off of Pie when they came to visit us over Christmas and I urge you to try it.  It has a lovely Cape Malay taste.  For those of you who have never had the privilege of tasting Cape Malay food, their curries are generally sweet and mild.  And if you like Bobotie or Kerrie Vetkoeke, then this is the dish for you.
Bangers and Peaches Curry
Ingredients
12 Pork Sausages
1 Onion (chopped)
1 Tin of Canned Peaches
1 tsp Turmeric
2 tsp Curry Powder (a sweet, mild one works best)
Butter
Method
Saute the onion in a little bit of butter (how much is up to you and your waist), the turmeric and the curry powder.
Add the sausages and turn the heat up.  Cook for about 5 minutes.
Upend the tinned peaches into the pan – syrup and all – and turn down the heat.  Pie likes her food saucy, so she recommends adding some water too (about half the tin full).
Simmer until the sauce is nice and thick and your sausages are well cooked.
Serve with proper mash (and probably some salad greens for balance).
It is good, is all I can say!
Thanx for letting me use your "secret" recipe, Pie!!!
xxx dedri