I don't think my husband has had Marmite Cake since he was little, so to surprise him I made one last night. This morning there is nothing left of it!
If you're South African and roughly my age (30 or so?) you will no doubt have come across this recipe (or a similar one) before.  To this day, Marmite Cake is my favourite cake!
If you have never heard of it, TRY IT.  If you love Marmite you won't be disappointed.  If you hate Marmite, you might be converted!
Marmite Cake Recipe
This recipe is easiest if you just chuck the ingredients into a mixer (in the right order, and remembering to at least give the butter and sugar some time alone).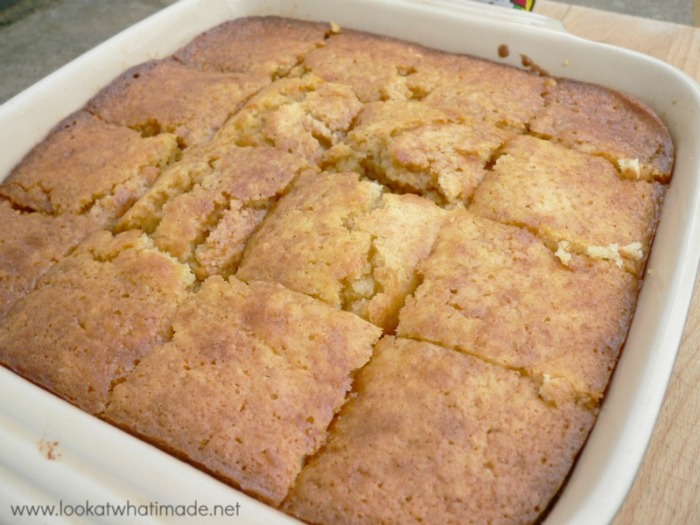 Ingredients
Cake
⅓ cup of butter/margarine (80ml)
¾ cup of sugar (180 ml)
1 egg
a pinch of salt
1 ½ cups of self-raising flour (375 ml)
1 cup of milk (250 ml)
1 tbsp Polenta (optional)
Sauce
½ cup butter or margarine* (125 ml)
2 tsp Marmite (10 ml)
*Hint:  DO NOT use low-fat butter or margarine.  When it comes to melting the butter/margarine and marmite together, you need to stir to mix it.  If you use low-fat spread, it will emulsify when you stir it, and it won't absorb into the cake as well as it should.  Just trust me!
Method
Cake
Pre-heat the oven to 190 °C (375 °F/ 170 °C Fan).
Cream the butter/margarine and sugar together until light and fluffy.
Add the egg and salt and mix until combined.
Add the flour and milk in turns until combined.  Don't over-mix.
Dump the mixture into a loaf tin or a 20 cm (8″) square brownie pan (this works the best).
Optional:  Sprinkle some polenta over the top.
Bake in the pre-heated oven for 35-40 minutes.  Test it by sticking a skewer or a knife into the cake.  If it comes out clean, your cake is ready.
As soon as your cake is ready, melt the butter/margarine and Marmite in a little saucepan, stirring to mix.
Poke the cake full of holes and drizzle the warm butter sauce over the cake.  Make sure the butter is still nice and warm when you drizzle it over.  And no, the butter will not make the cake greasy and gross.  It will make it moist and marvelous!

I have been told that this cake is best served warm, sliced and piled with mild cheddar cheese.  I prefer it cold without any cheese, but it is very unlikely that it will be around long enough to cool down.
Oh, I hope you like this cake as much as Christiaan does!
Have you made a Marmite cake yet?  What did you think?  I would love to hear from you.  Even if you just want to tell me how much you love/hate Marmite!

This blog post contains affiliate links. I only link to products I personally use or would use.  All opinions are my own.