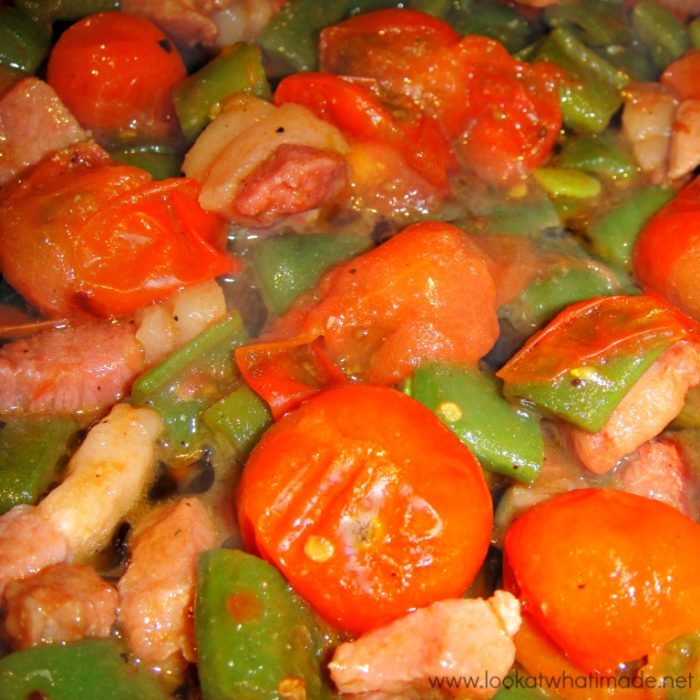 This is a quick and easy recipe for a green bean and pancetta side dish with loads of flavour.
Green Beans and Pancetta Recipe
Ingredients
300g Green beans
150g Bacon/Pancetta
250g Cherry tomatoes
1 tbsp Balsamic vinegar
2 tbsp Olive oil
Chicken stock cube
¼ tsp Dried chilli flakes
Method
Cut the beans into 1 cm pieces.  Chuck them into a pot of boiling water, add the stock cube, and cook until the beans are tender but not mushy.
In a separate pan, fry the diced bacon/pancetta until nice and crispy.
Add the the cherry tomatoes (cut in half), chilli flakes,  olive oil, and balsamic vinegar to the bacon/pancetta.  Cook until the tomatoes start going soft.
Drain the beans, retaining 60 ml of the cooking liquid.  Add the beans and cooking liquid to the bacon/pancetta and tomatoes.
Cook until the liquid is reduced.
Remember to subscribe to my Weekly Newsletter if you would like to be kept in the loop. You can also like myFacebook page or follow me on Bloglovin, Google+, Pinterest, Twitter, or Instagram.
Happy Cooking!