My eldest recently turned 4. To celebrate the occasion we had a Superhero Pop Art Party. I am so chuffed with how it turned out.  I have supplied free superhero printables and a tonne of links to help you create your own superhero party on a shoe-string budget.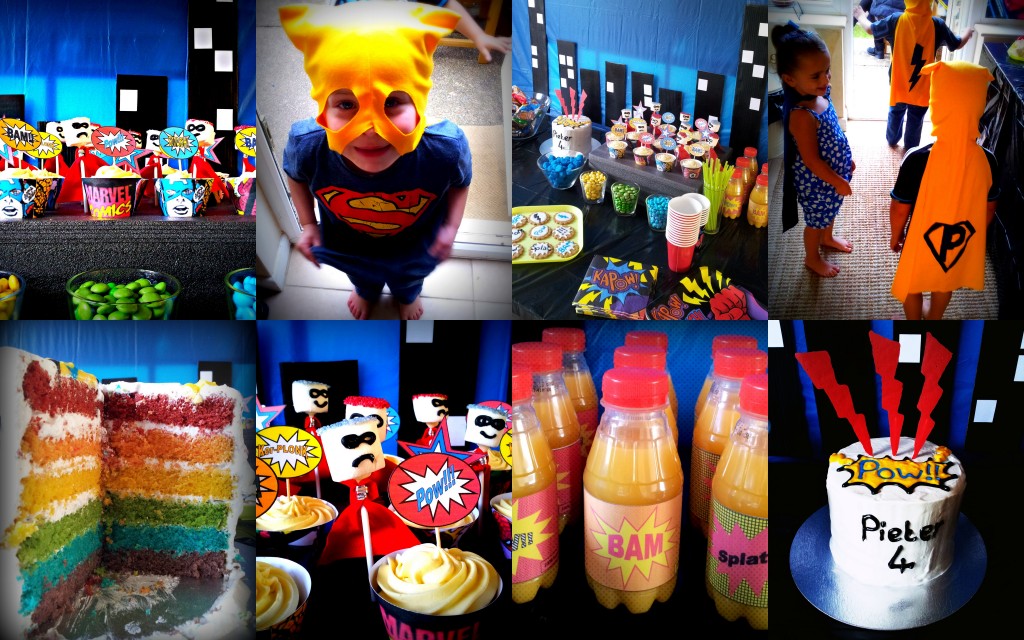 Superhero Pop Art Party
Decorations
Backdrop
I saw a great Vintage Pop Art Party over on Hostess with the mostess.  I don't often covet, but her polkadotty backdrop and little buildings are awesome and I WANTED!!!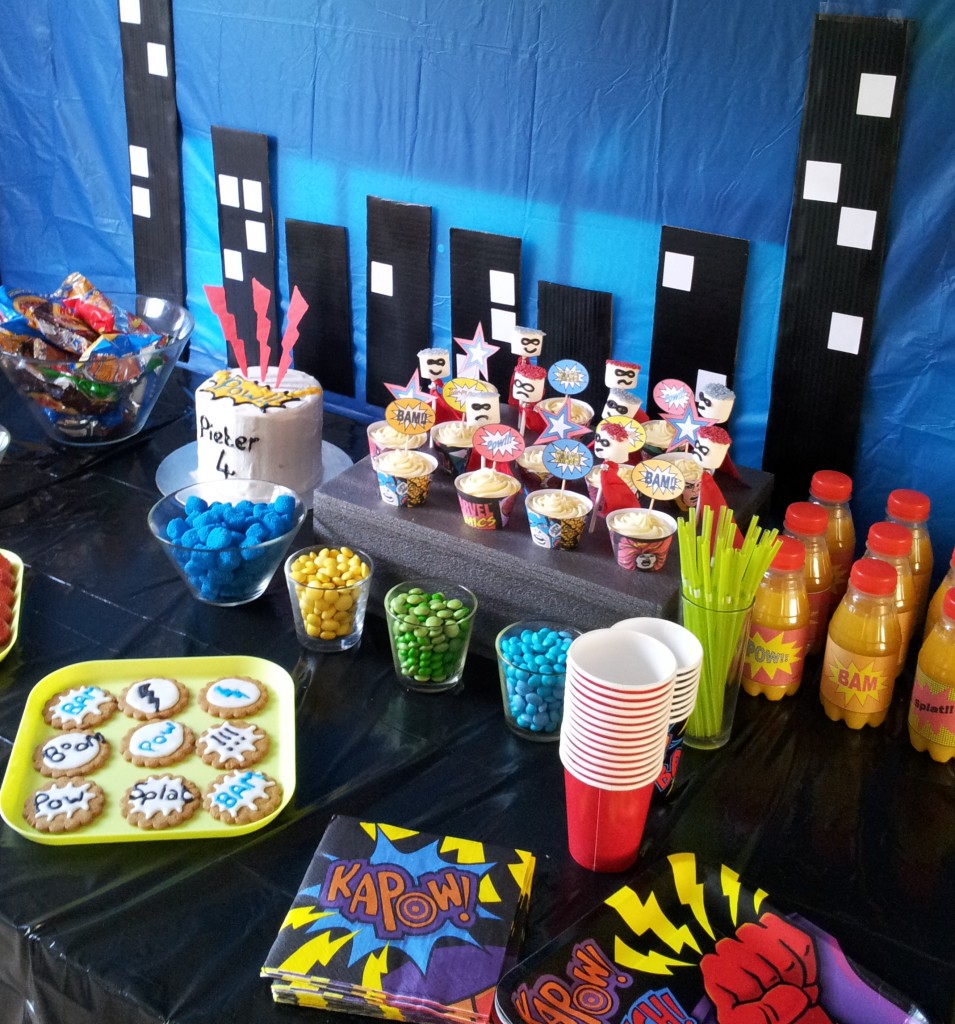 I didn't have the money to buy a photographic backdrop and we didn't have any cardboard boxes to transform into buildings, so I made do with spray-painted cardboard buildings stuck onto a blue plastic table cloth (the same one we used for Jaco's Elmo Party). The windows were just squares of scrap paper.
If you do not have the time to create a cityscape, you can always buy a Cityscape Backdrop from Amazon.com.
Superhero Accessories
You can buy the 'Kapow!Krunch!Splat!' party accessories from Amazon.com.
Alternatively you can buy this Pack of 16 Superhero Plates, Napkins, and Cups
from Amazon.co.uk.
Sweets and Cupcakes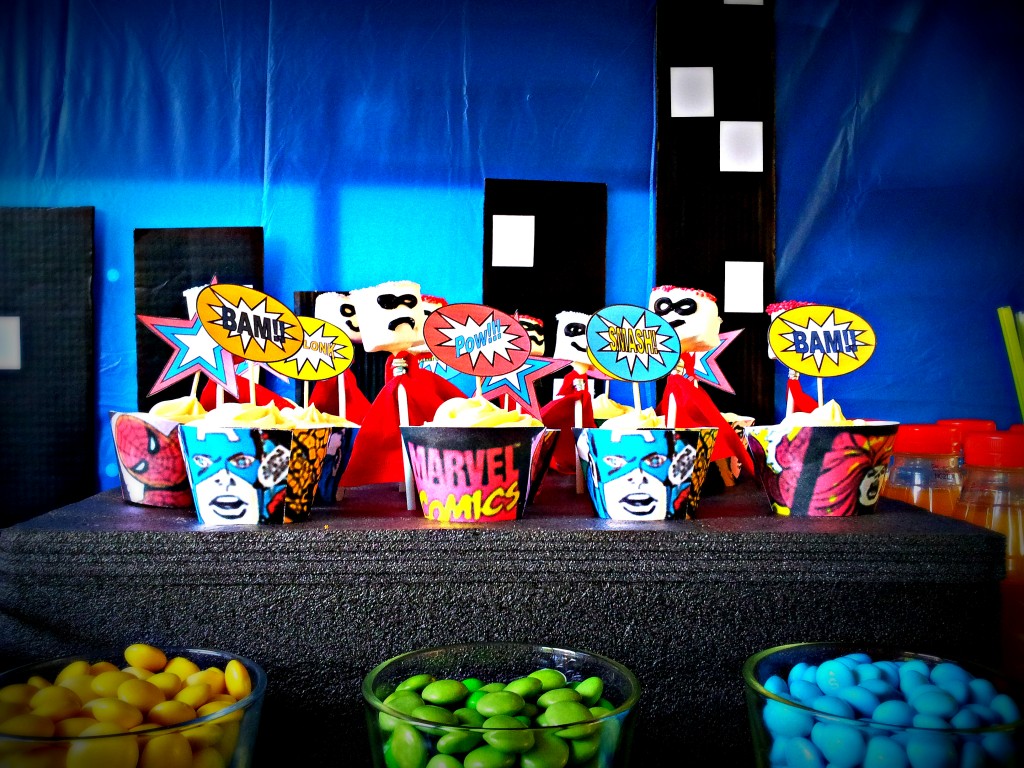 I liked the idea of having jars full of sweets with each jar containing just one colour.  It's a nice idea, isn't it?  And you see it everywhere.  But the logistics of getting a whole bunch of blue or green sweets is staggering!
I ended up buying 10 bags of Skittles and 10 bags of Smarties, sorting all the colours into ziplock bags.  Even so I just about had enough of each colour to fill a regular drinking glass.  And we have enough sweets left over to last us till next Christmas.  Anyone need a whole bunch of pink and red sweets?  Knock on my door.
 For the cupcakes I made simple sponge cupcakes with butter cream icing (I used THIS recipe for the cupcakes and a quarter of THIS recipe for the icing).  The toppers are my own design and the free printable can be found at the bottom of the post.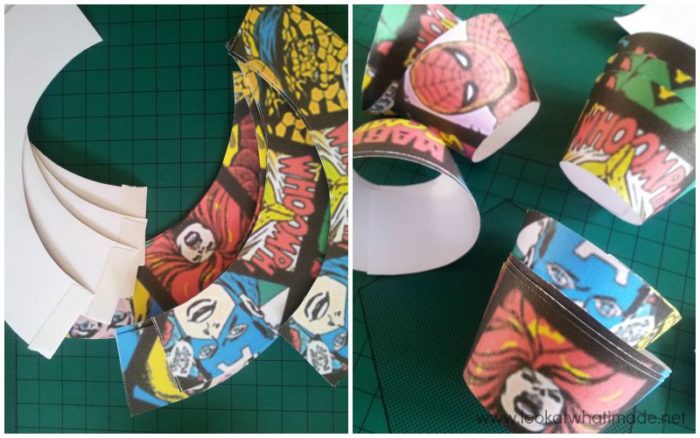 I cut the wrappers for the cupcakes out of a Marvel Comic Collage I found online.  There are many cupcake wrapper "masks" or templates available online and it is very easy to trace these onto your desired image/page and then cut them out.  You can find a bunch of Marvel images HERE.
Marshmallow Superheroes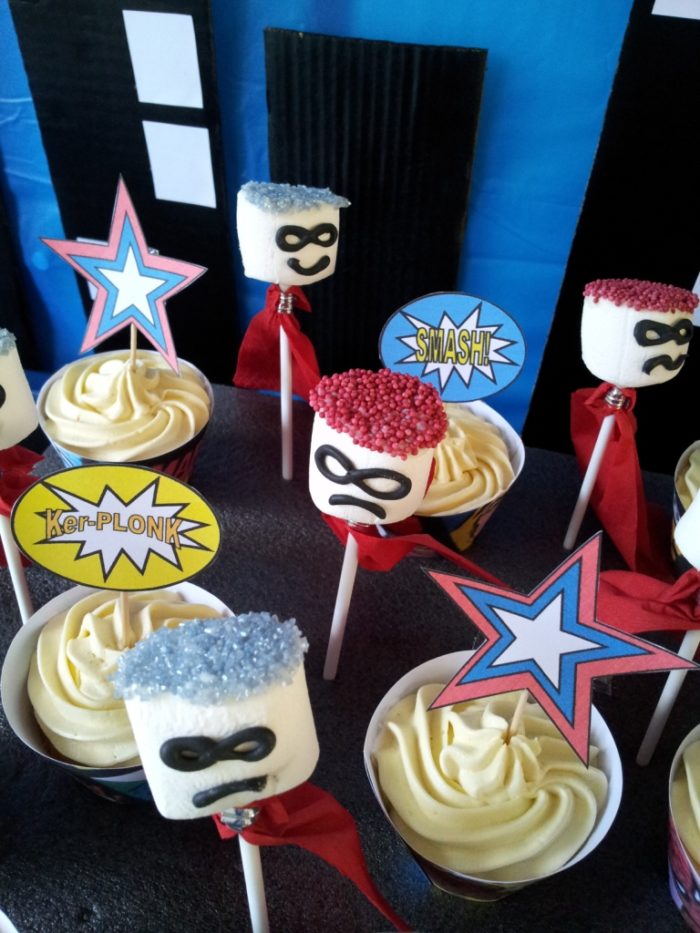 For some added budget superheroness, I made these Marshmallow Superhero "Cape" Pops.  I got the birthday boy to help me, so they were edible, cute, and toddler-entertaining.
 Snacks
Juice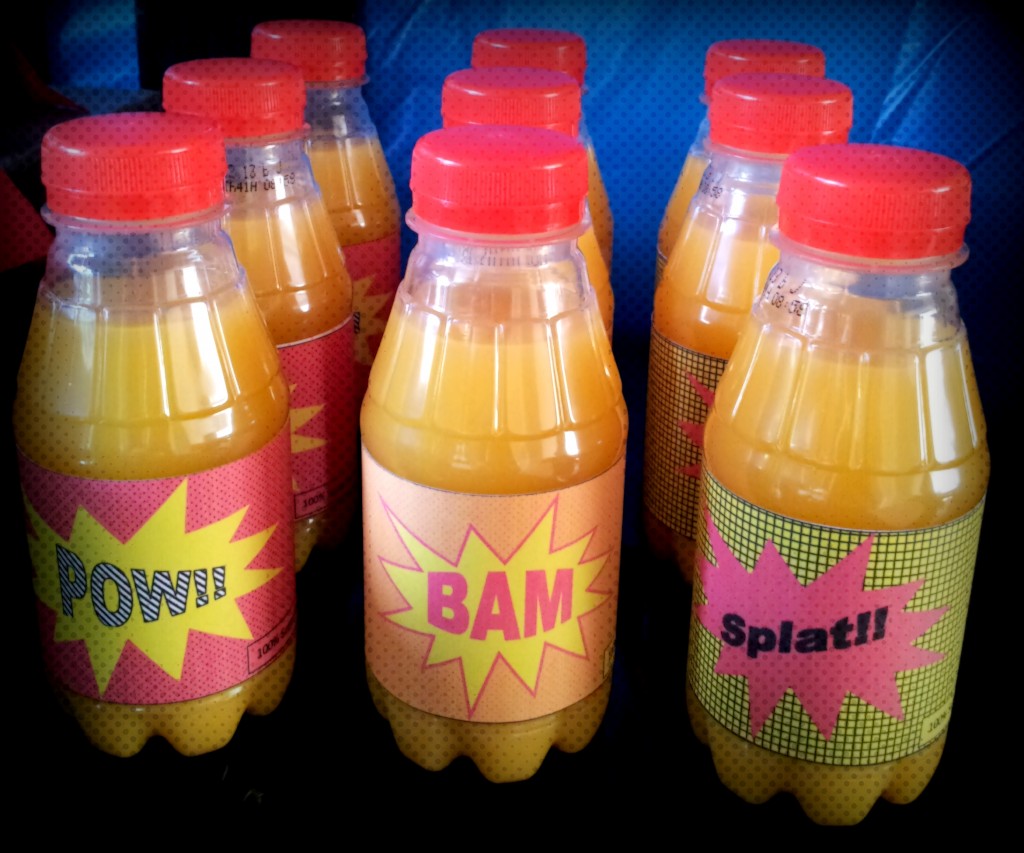 It still wasn't superhero-y enough.  So I spiced up the juice bottles with some pop art labels.  These printables are also available at the bottom of the post and will fit any bottle with a circumference less than 22 cm (7″).
Cookies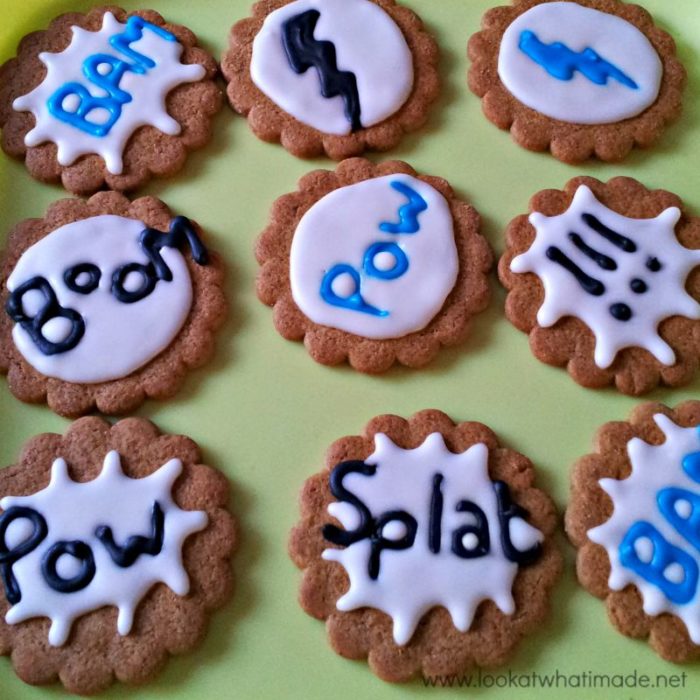 And still I wasn't satisfied.  So I grabbed a box of Ikea Pepparkakor Ginger thins and some royal icing  (see my post on making black royal icing if you don't know how) and made these BAM POW SPLAT cookies.  Easy peasy.  Just write the words in black/colour and then ice around them in white.  Leave to dry for a couple of hours.
Fruit and yogurt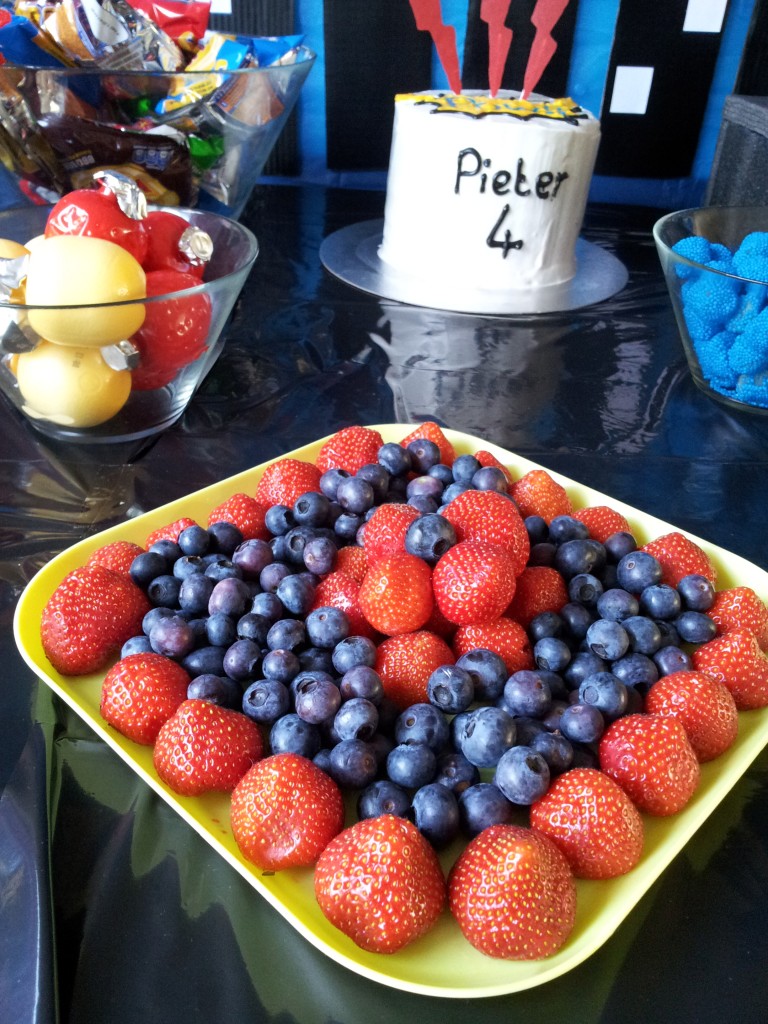 Blueberries and Strawberries for a Superhero vitamin boost.
I probably should have washed the blueberries first, hm?  The squeezy yogurts are Munch Bunch Strawberry and something-or-other.  I think it's supposed to be lemon…
And notice the Hoola Hoops in the back?  They were supposed to be packaged in 3″ ziplock bags with a cute little superhero label attached, but my 3″ ziplocks have gone walkabouts and I only realized it on the morning of the party.
Cake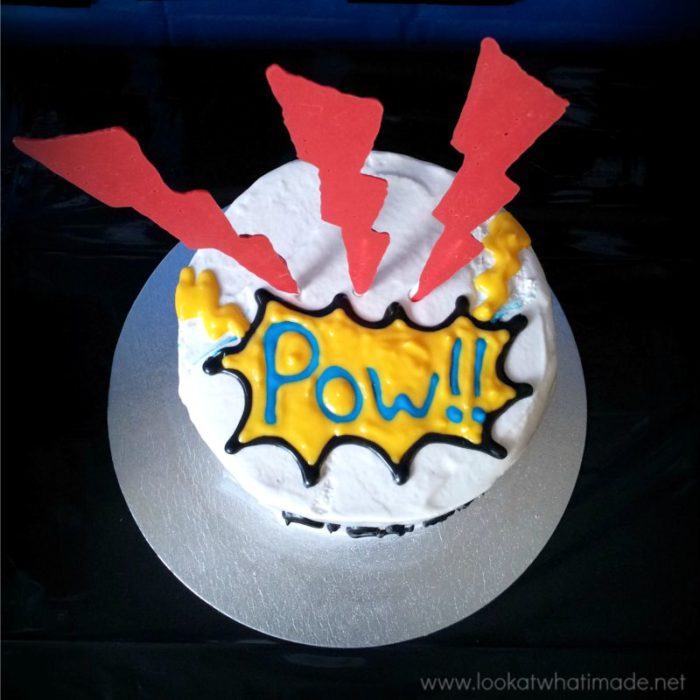 I have made a rainbow cake before, but it was the other kind.  The kind where you plop all the different colours into the same cake tin in an orderly fashion and then get a rainbow/vortex effect.  I find this layered kind much prettier though, and when I saw the Superhero Rainbow Cake on Love the Day's Superherop Party Inspiration Feature, I had to make one.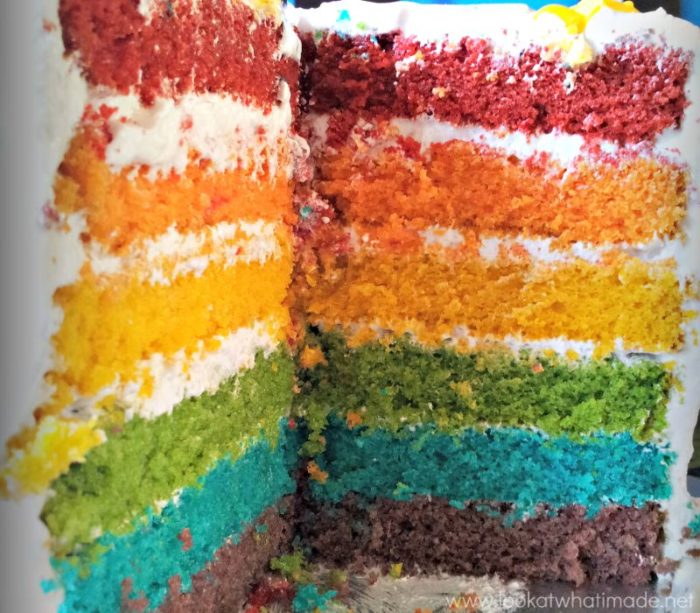 The lightning bolts are made out of melted red candy melts.  I simply printed out a template of a lightning bolt using Microsoft Word's 'Insert Shapes' feature and placed it under some wax paper.  I then piped the melted candy melts onto the wax paper, following the outline of the template.  When each lightning bolt was done, I placed it in the microwave for 20 seconds to make sure any bumps and lines melted back down.  In with a lollipop stick (which you will need in order to poke the lightning bolt into the cake later) and 30 minutes to harden.
Invites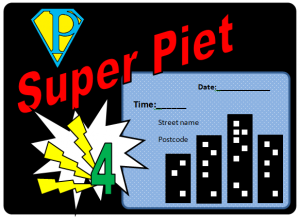 Of course you can buy a variety of customized/customizable invites.  But I was so focused on saving money that I completely forgot about the cost of printer ink and the amount of ink needed for a black invite!
Have a look on the internet.  There are so many cute and inspiring invitation ideas.  And they are not difficult to design yourself.
If you would prefer to buy some invitations, have a look at these Superhero Invites from Amazon.com.
Masked Superhero Capes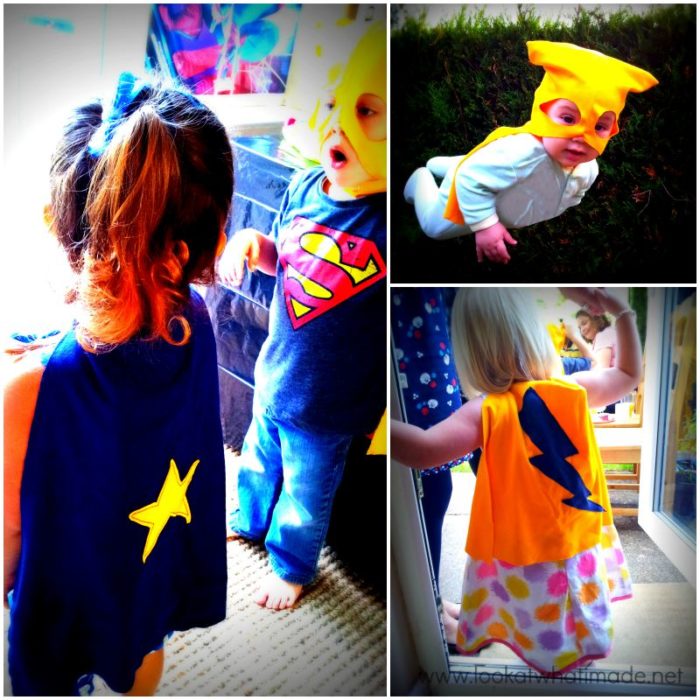 I made one of these capes for each of the little guests at the party.  They can be worn with or without the mask and are made from jersey cotton with little jersey cotton appliques on the back.  I used some fabric left over from when I went through my baby-sling-making phase, so they cost me nothing but a few poppers and some thread.
You can find the pattern and tutorial for the Superhero Capes HERE (available in sizes 6-12 months, 2-3 years and 4-5 years).
Entertainment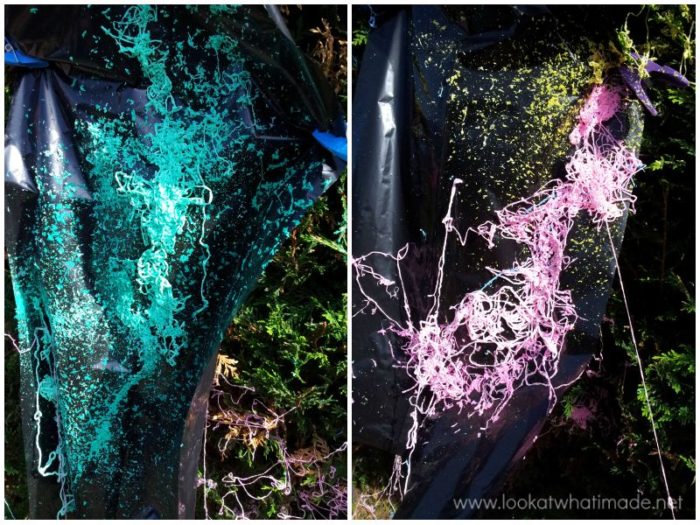 We borrowed a red, yellow and blue bouncy castle from Lovely Lynda and set that up at the back of the garden.  I really REALLY wish I had pretty pictures to show you, but I don't.
For our structured activity – yes, there was only one – we pinned some black bag baddies to the hedge and had the children "attack" them with silly string (available from Amazon.com and Amazon.co.uk
).
Superhero Pop Art Party Printables
For best results, use 160 gsm paper or card stock.
Cupcake Toppers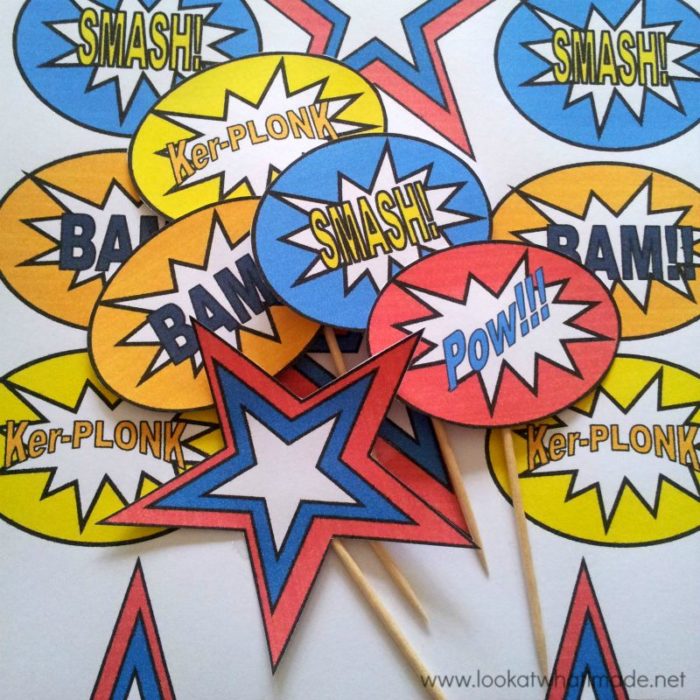 To make these cupcake toppers, download my Free Superhero Pop Art Cupcake Toppers Template.  Cut out the toppers and stick each one to one end of a toothpick.  Alternatively you can buy 50 cupcake cases and superhero toppers HERE on Amazon.com.
 Juice Labels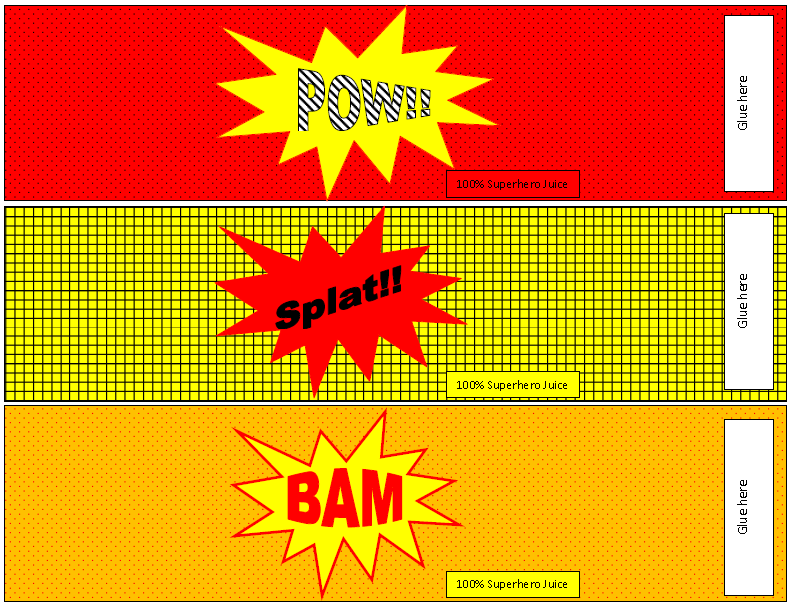 To make these cupcake toppers, download my Free Printable Superhero Pop Art Juice Labels.  Cut out the labels and attach them to the bottles by sticking a piece of double sided sticky tape where indicated.  If the labels are too wide for your bottle, cut off a bit or just stick the double sided sticky tape to the back left edge of the label and wrap it around until it's nice and snug.
Munchies Labels


As I have already mentioned, these munchies labels were designed for 3″ ziplock bags.  I have taken a photo of the label attached to a 4″ bag (for illustration purposes only).  Ideally the label should overhang the bag and not the other way around.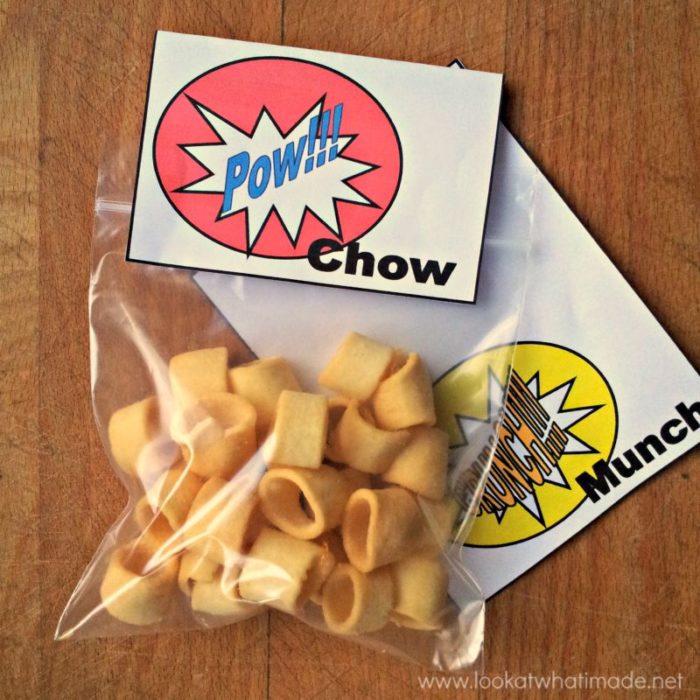 You can download the Free Superhero Pop Art Munchies Labels HERE.  Once you have printed the labels, cut them out and fold them in half.  Attach them to the ziplock bags with double-sided tape.
I hope you have enjoyed this post, and that you have found some inspiration for your Superhero Party.  If you have some Pop Art Party ideas of your own to share, I would love to hear them.