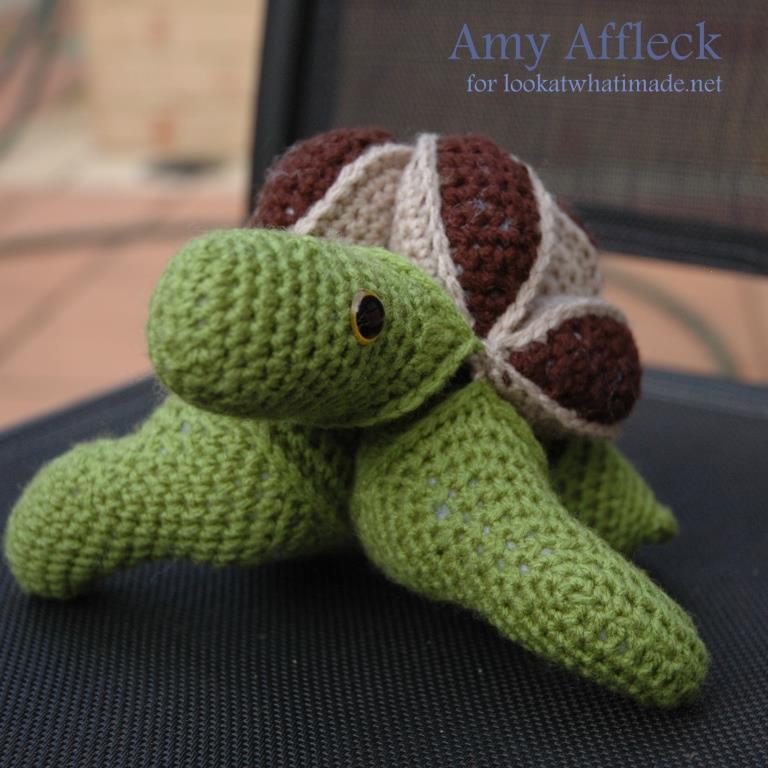 Update July 2014:  This pattern is no longer available as a stand-alone pattern.  Instead it will soon be available as part of a book by Annie's Publishing.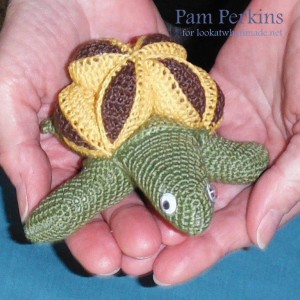 Skillie the Crochet Turtle Puzzle is the latest in my Amigurumi Amish Puzzle Animal series (Amamani for short).  He is based on my FREE Crochet Amish Puzzle Ball Pattern, and as such comes apart into 3 segments that have to be assembled or "built" to form the turtle.
Not only is he super cute – am I allowed to say that about my own design?  Ah well – but he is also perfect for little hands to grab hold of.  And you should by no means be limited to green and brown!  You can go colour-crazy and make this little crochet turtle in any colour or combination you fancy.
He works up to 12 cm high by 18 cm long (5″ x 7″).  His front leg span is also 18 cm for what that's worth (7″).
My friend (and trusted tester) Pam Perkins made a tiny version using #10 crochet thread and a 1.5 mm crochet hook.  The resulting turtle was about 11.5 cm long (4 1/2″) and not quite 7.5 cm high (3″).
The pattern is very simple and I have kept the joining to a minimum.  By that I mean that, where possible, I have resorted to crocheting in a spiral instead of joining in the round, hopefully eliminating a lot of issues.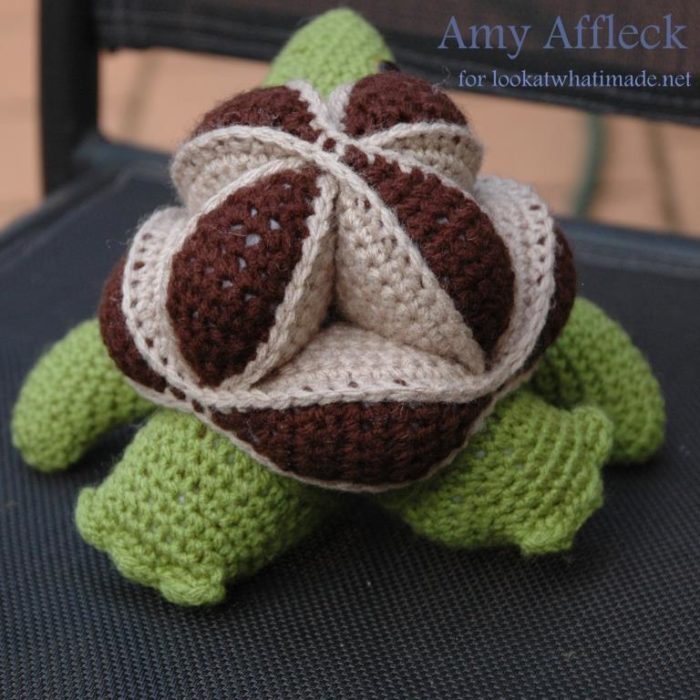 You will want some experience of working in the round and increasing/decreasing.  If you are at all unsure and want to do a dummy-run first, try making my Crochet Amish Puzzle Ball or the Crochet Octopus Puzzle, both of which are free.
Alternatively, have a look at my other Crochet Puzzle Animals (Amamani).
Remember to subscribe to my Weekly Newsletter if you would like to be kept in the loop. You can also like my Facebook page or follow me on Bloglovin, Google+, Pinterest, Twitter, or Instagram.
Happy Hooking!