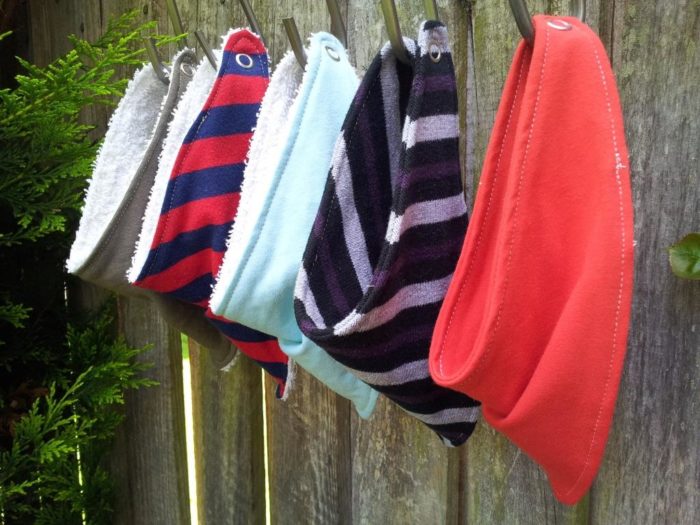 T-shirt Baby Bandana Bibs
You might have seen my post about making your own Baby Bandana Bibs. This is a follow-up of that post. Why, if I have already shared the pattern and the how-to? Because these baby bandana bibs were made out of upcycled fabric and I feel it my duty to encourage you to upcycle too!
Everyone, at any time, has some item of clothing they no longer wear but like the fabric/pattern of. I have loads of those: the jumper my husband used to wear when we first started dating, a few of my first cloth diapers – mine, not the boys' (thank you, Mamma, for keeping them for me) – a particularly favourite baby-Gap t-shirt with a stain on the back… Every time I look at them they invoke so many memories that I just couldn't bring myself to throw them away.
So, like with my memory blanket project, I re-use the fabric so that we can appreciate the memories a little bit longer.
If you feel like making these baby bandana bibs, please see my post about making these baby bandana bibs as it has instructions for making the pattern and sewing the bibs. For the purposes of this post I will assume that you already have your pattern handy.
Upcycling fabric
Simply take your garment and lay the pattern on top of it. You don't even have to bother with ironing it first. Clearly I didn't!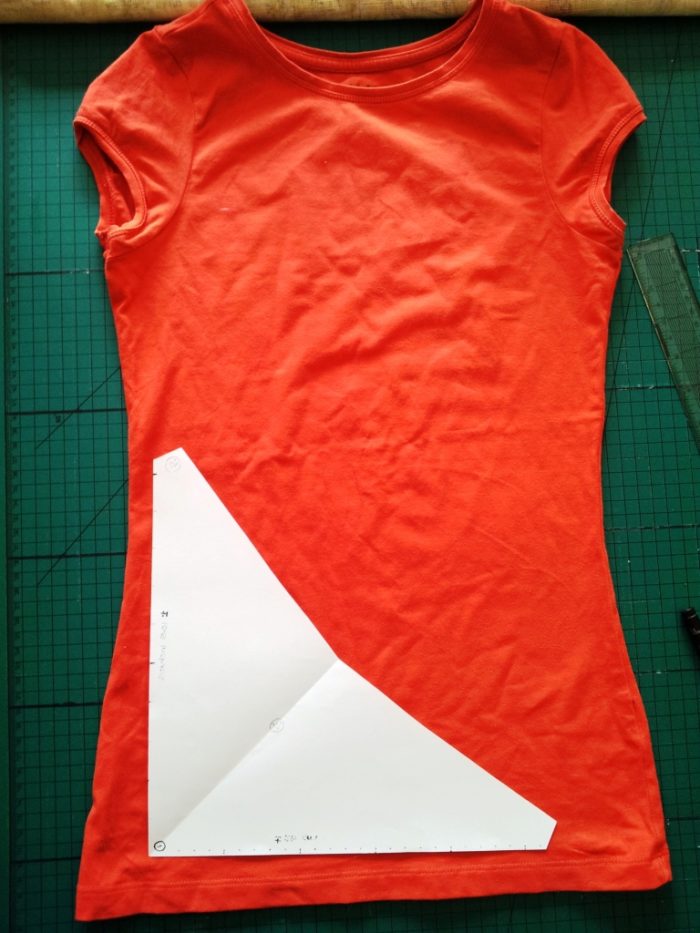 Cut out as many baby bandana bibs as you can.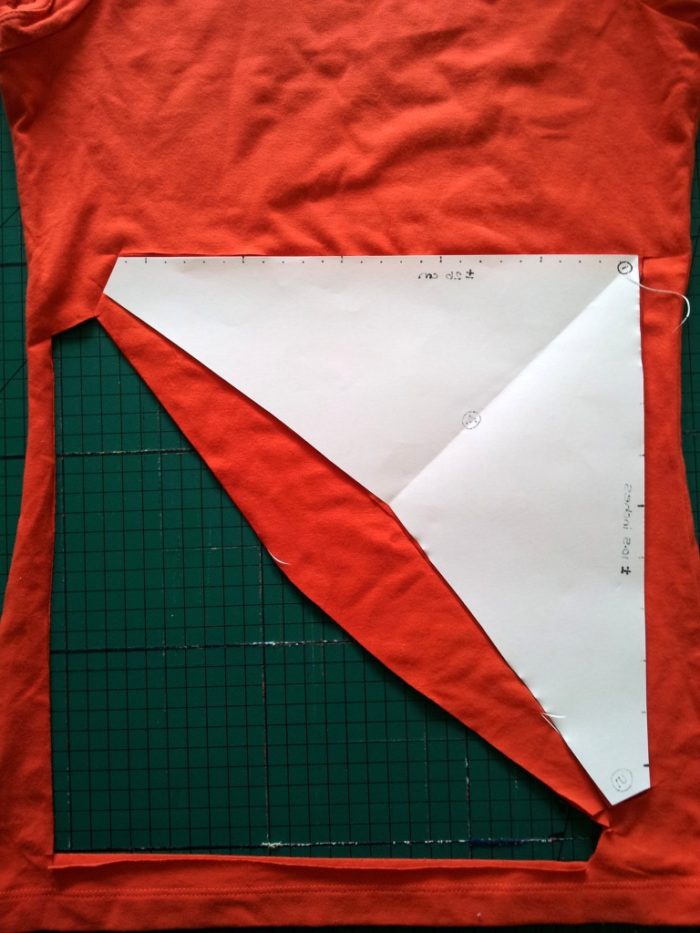 Look at the lovely starburst pattern :)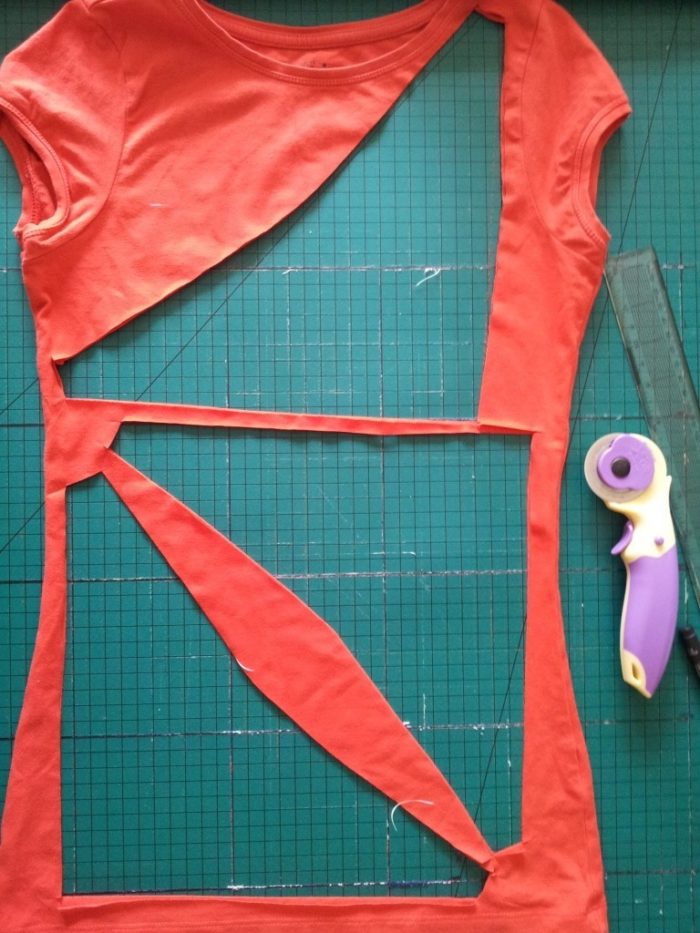 For extra absorbent baby bandana bibs, use terry cloth (cloth nappies/diapers/towels) for the back of the bib. It isn't quite a pretty as just using fabric, but you'll survive.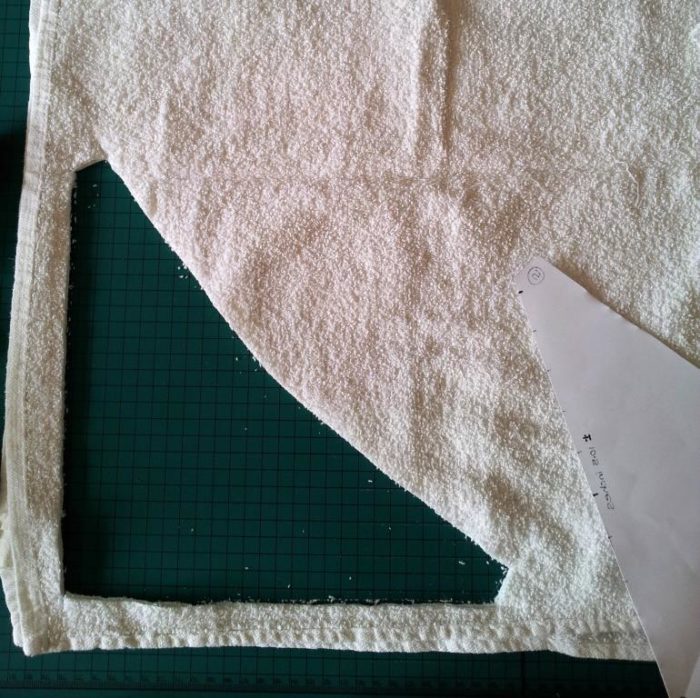 This is my stash of baby bandana bibs after sewing and before turning them the right way around.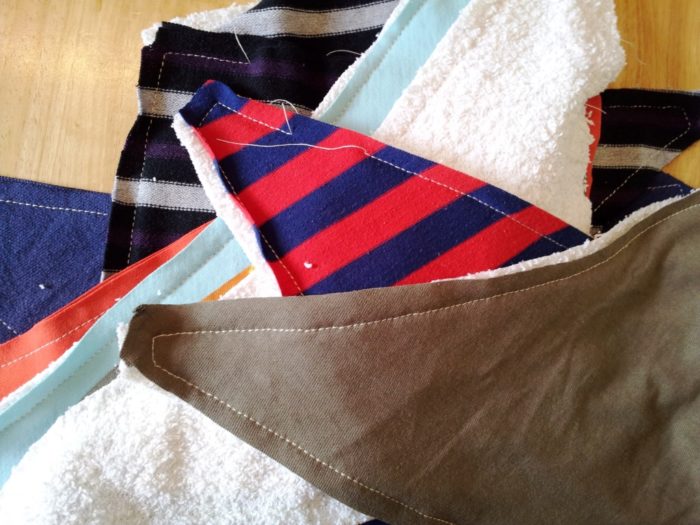 Here are some photos of my little Xander wearing his upcycled baby bandana bibs.
This one used to be a baby Gap t-shirt.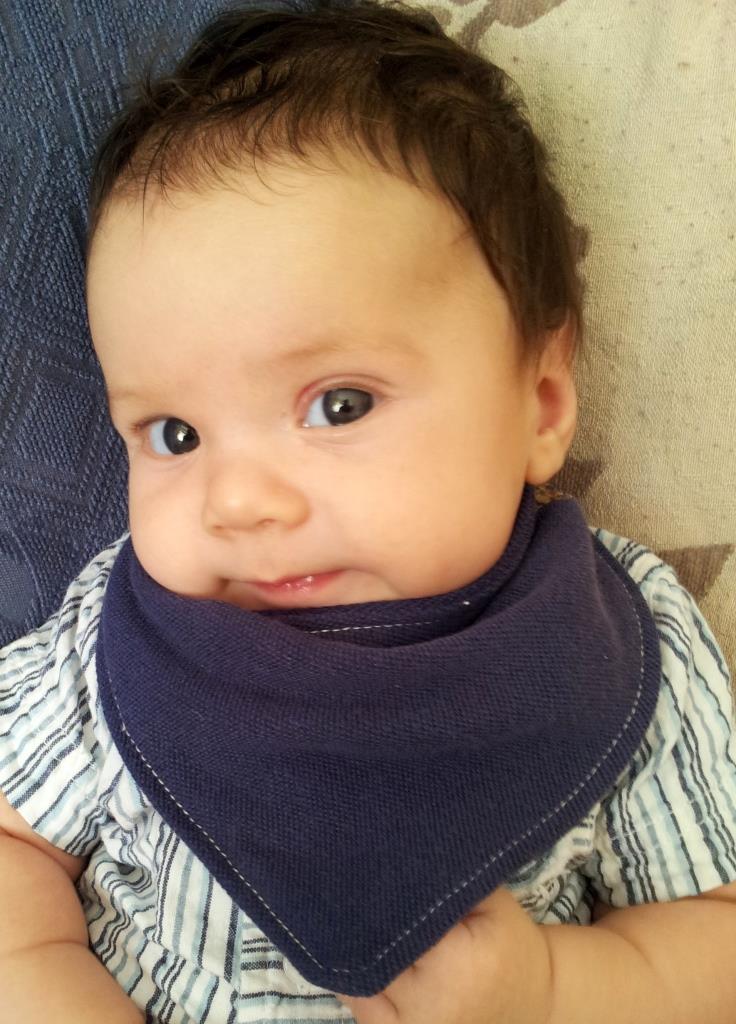 This one started life as the aforementioned jumper – Christiaan always looked so handsome in it.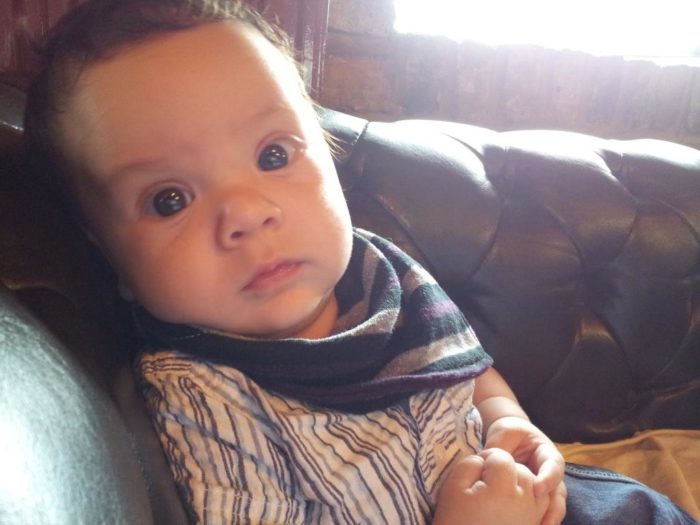 This one used to be the red t-shirt I cut up in the photos.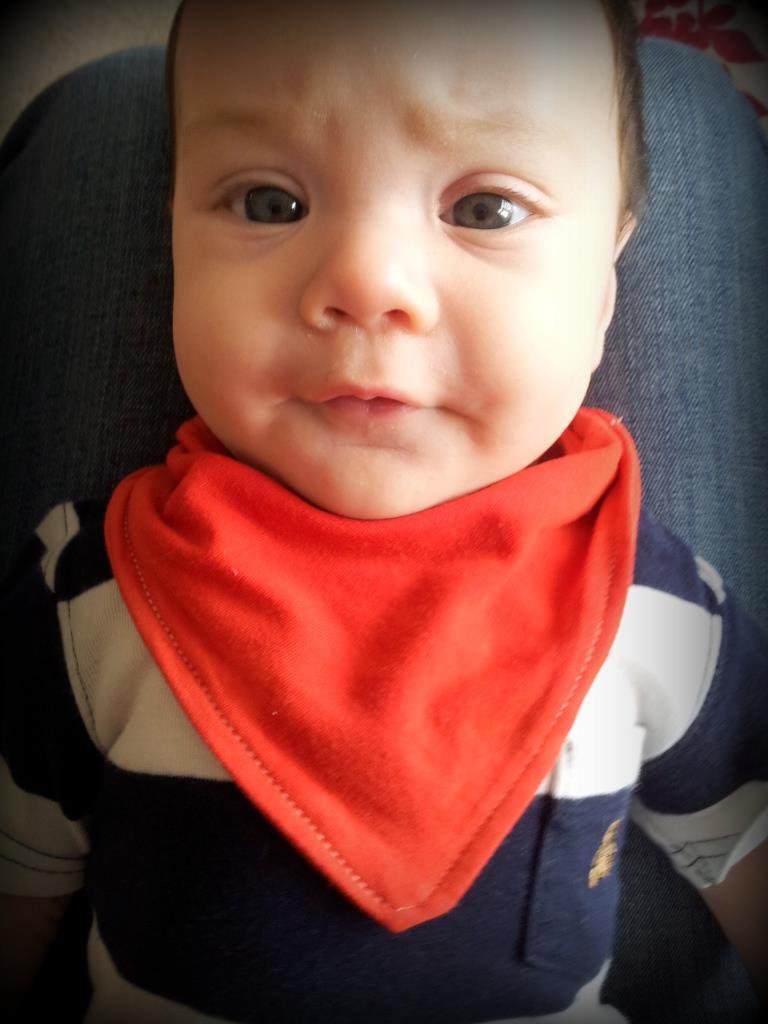 Oh…Pieter's pretty Avengers top and a cloth diaper turned dribblebib.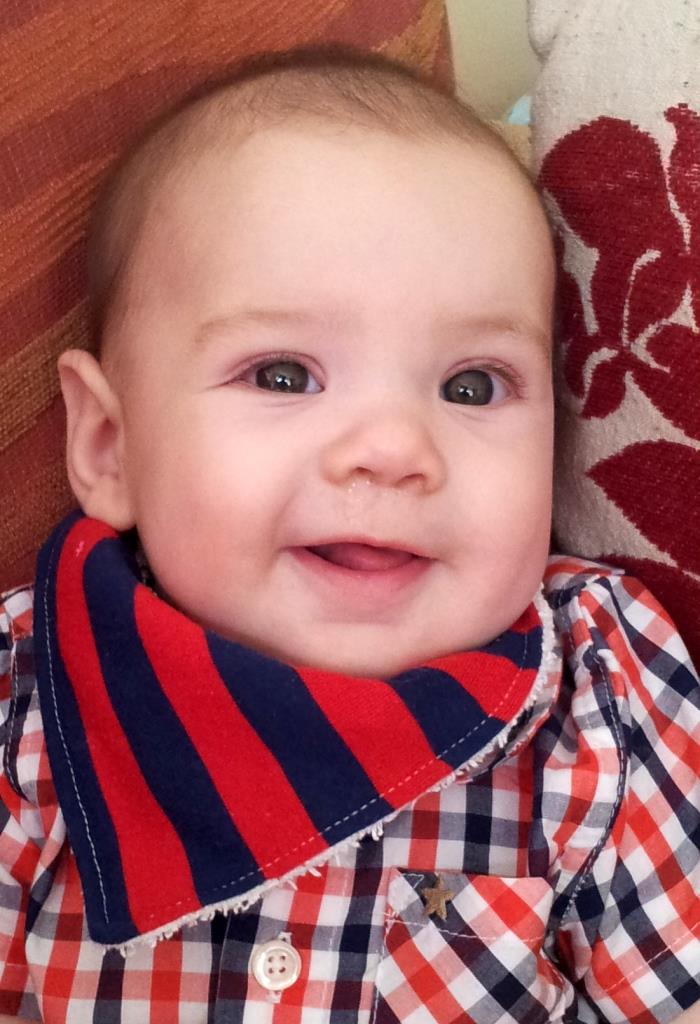 Some More Baby Bandana Bib Tutorials
This gorgeous baby bandana bib is from The Purl Bee. It is super quick to make and I love the way it looks. Although she has made these bibs with fancy fabric, you can make them with any recycled fabric. Just be sure to marry your designs up so that you don't end up red flowers on the one side and shocking green and puce on the other side :)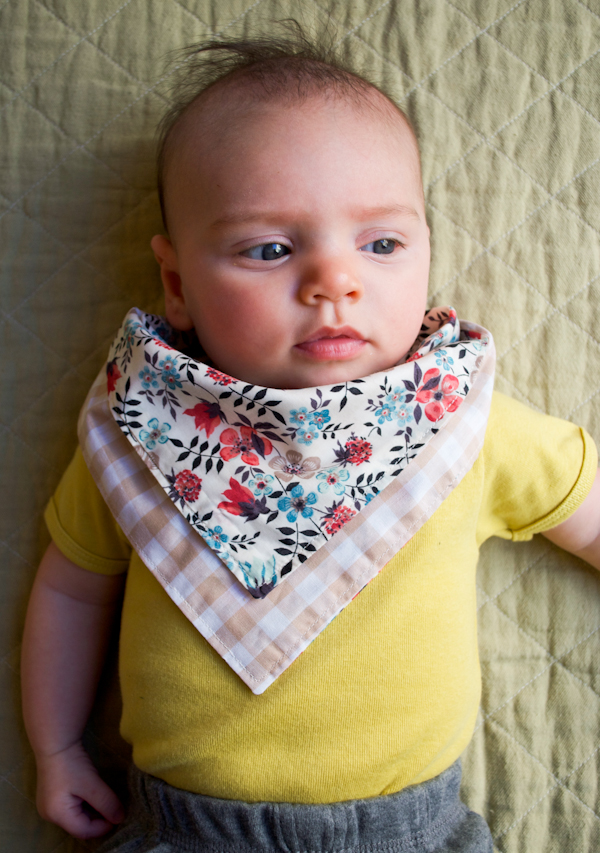 And if you really, really, REALLY don't want to sew, you can try your hand at these no-sew baby bandana bibs from Swoon! And because her pattern calls for jersey cotton, which most t-shirts are, you're in luck if you feel like upcycling. Even if you don't want to make the no-sew bandana bibs, do yourself a massive favour and take a look at her blog. It is just plain pretty.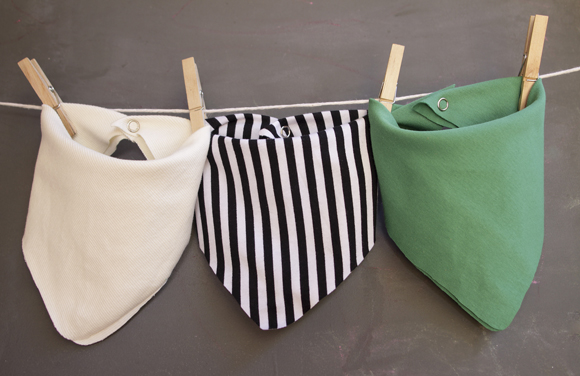 I hope you feel inspired to make some baby bandana bibs!
Remember to subscribe to my newsletter if you would like to be kept in the loop. You can also like my Facebook page or follow me on Bloglovin or Google+.
Happy Making!