This Tiny Crochet Wreath should take all of 5 minutes to make (although any embellishments could take considerably longer!!!). It is basically just a simple crochet ring with a loop at the top.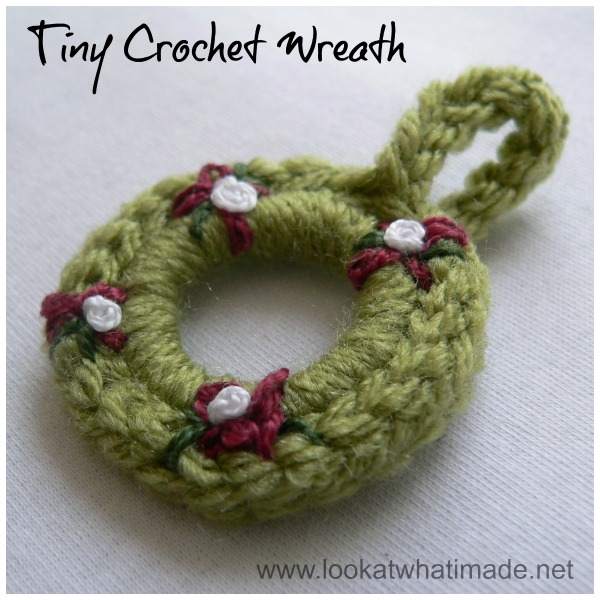 Please note that this wreath is TINY (in case you missed that bit in the name).  
Using a 4 mm crochet hook (US 6/G  UK 8) and double knit yarn (light worsted weight/#3) will yield a ring that is 1.25″ in diameter.  Using a 5.5 mm crochet hook (US I/9 UK 5) and 2 strands of double knit yarn will yield a ring that is 1.5″ in diameter.
I think a few of these on your Christmas tree would look awesome.  But an even better idea is to make one and pop it on the front door of a doll's house – if you are fortunate enough to know someone who has a doll's house.
Simple Crochet Ring
© Dedri Uys 2013.  All Rights Reserved.
Abbreviations
US Terminology Used
| | |
| --- | --- |
| Ch | Chain |
| Sc | Single crochet |
| Sl st | Slip stitch |
| St/st's | Stitch/stitches |
Materials
Double knit yarn (light worsted weight/#3) in green – a couple of yards
4 mm crochet hook (US 6/G  UK 8)
Yarn needle
Instructions
Ch 10 (Photo 1).  Join to the first st with a sl st to form a ring (Photos 2 and 3).
Ch 1.  Sc x 24 into the ring (so over the chain stitches).  You will have to scoot the stitches up a bit after every 8 or so, otherwise you won't fit 24 st's in (Photo 4 is before "scooting", Photo 5 is after "scooting", Photo 6 shows that all the stitches will fit!).  Join to the first st with a sl st .
 The resulting ring will have a pretty braid running all the way around it.  Because of the slip stitches, the edge will be nice and thick.  The photo below (far right) shows what it will look like from the back.

To turn your simple crochet ring into a tiny hangable wreath, you will need to ch 10 before binding off.  THEN you can bind off, leaving a 15 cm (6″) tail of yarn.  Use the tail of yarn to sew the end of the chain to the back of the wreath (right behind the stitch where the chain starts.
Now embellish your tiny wreath with embroidery or beads or glitter glue…whatever makes your creative heart happy.  As you can see, I am not a dab hand at embroidery.  I remember myself being so much better at it.

 If you would like a bigger crochet wreath, simply use more strands of yarn and a bigger hook.  I am curious to see exactly HOW big it can be made before it starts looking ridiculous…hmmm…that's just given me an idea.  If I wasn't going out for dinner tonight, I would so be exploring this.
More Quick Christmas Patterns (FREE)

This blog post contains affiliate links. I only link to products I personally use or would use.  All opinions are my own.