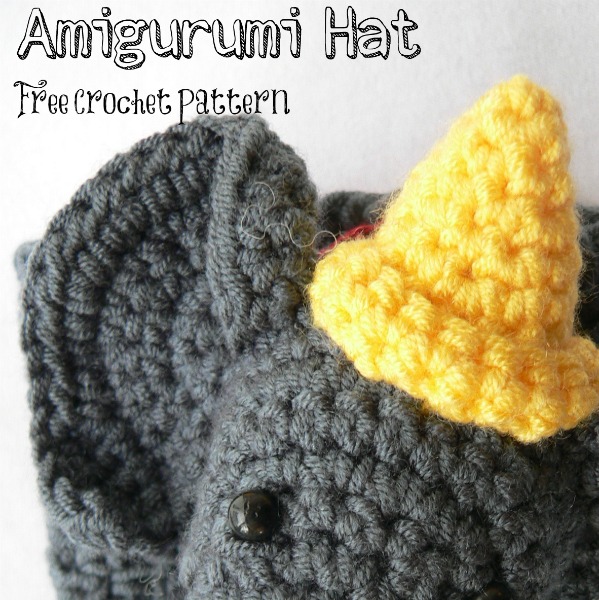 This Amigurumi Hat is a quick and easy addition to any crochet toy. Using the hook and yarn specified, the little hat will work up to 3.5 cm high with a 3.5 cm diameter (1.5″ x 1.5″). It takes less than 10 minutes to make and you need only a few yards of yarn.
Can't think of anything you'd like to stick a hat on? Why not use these hats as traffic cones instead? A bit of a bizarre suggestion, I know, but my boys have plenty of crochet cars, so why not!
Amigurumi Hat Pattern
© Dedri Uys 2013. All Rights Reserved.
Abbreviations
US Crochet Terminology Used.
| | |
| --- | --- |
| Ch | Chain |
| Sc | Single crochet |
| Sl st | Slip stitch |
| St/st's | Stitch/stitches |
| * | Repeat all instructions between asterisks the amount of times specified. |
Materials
Double knit yarn (light worsted weight/#3) in yellow – a few yards
4 mm crochet hook (US G/6 UK 8)
Yarn needle
Teeny tiny amount of stuffing
Instructions
This amigurumi hat is worked in a spiral. At the end of each round, don't join to the first st with a sl st. Just continue around, making the first st of the round in the first st of the previous round.
With yellow yarn and working into a magic ring: ch 1, 4 x sc. (4)
*Sc inc, sc* x 2. (6)
*Sc inc, 2 x sc* x 2. (8)
*Sc inc, 3 x sc* x 2. (10)
*Sc inc, 4 x sc* x 2. (12)
*Sc inc, 5 x sc* x 2. (14)
*Sc inc, 6 x sc* x 2. (16)
*Sc inc, 7 x sc* x 2. (18)
Sc x 18. (18)
Sc x 18. Sl st in the next st. Ch 1 and bind off, leaving a 25 cm tail of yarn (10″). (18)
At this point your hat is just a cone (photo below left). Turn the last row up so that it forms a lip around the bottom of the cone (middle and right photos below).

Attaching the Amigurumi Hat to Your Animal Of Choice
Place a tiny amount of stuffing inside the hat
Place it on top of your animal/doll's head
Sew it into place using the final tail of yarn. The best way to do this is to make running stitches in the valley formed by the lip of the hat, working through the stitches of the head below.
Work away your tails of yarn

What would you stick a tiny amigurumi hat on?
Remember to subscribe to my newsletter if you would like to be kept in the loop. You can also like my Facebook page or follow me on Bloglovin or Google+.
Happy Hooking!