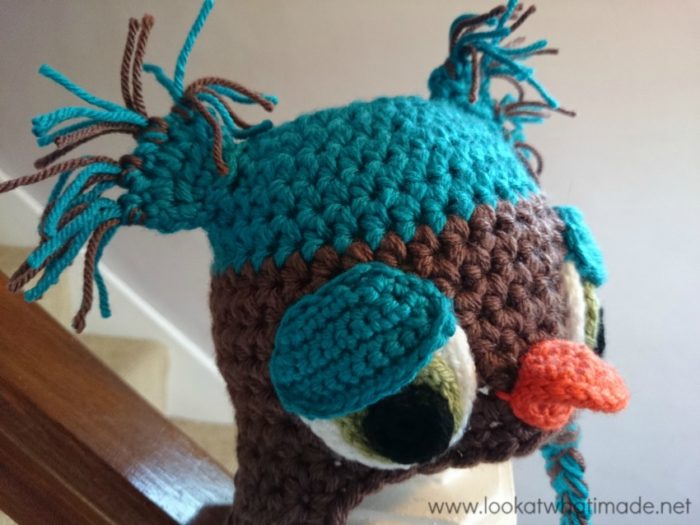 I've been meaning to make this Crochet Owl Hat for quite some time now, and I finally got around to doing it just before we went to South Africa in April. This one was a gift for my new nephew, Luca. You might remember him as the little tyke who helped me check my stitch-count when I was making the tutorial for my Granny's Crochet Pansies.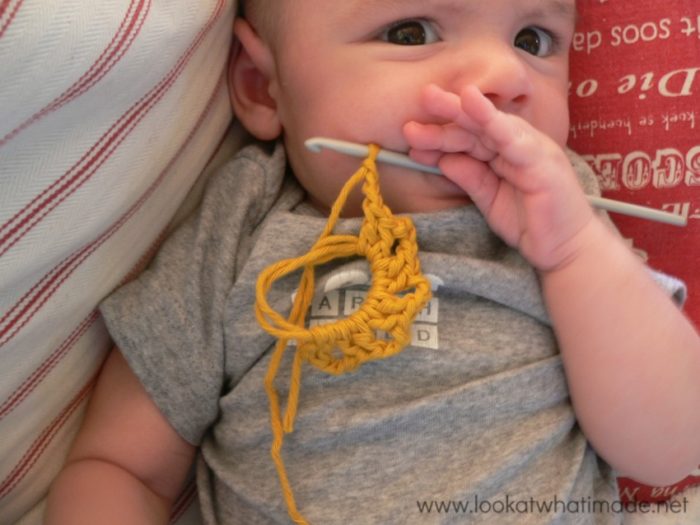 Unfortunately I don't have a photo of him wearing the hat…he didn't like me very much after I tried to see if the other hat I'd made him actually fit. The closest I came to getting an actual human model was this blurry photo of Pieter smiling dubiously at my suggestion that we use a shrinkinator to shrink his head so that the hat could fit.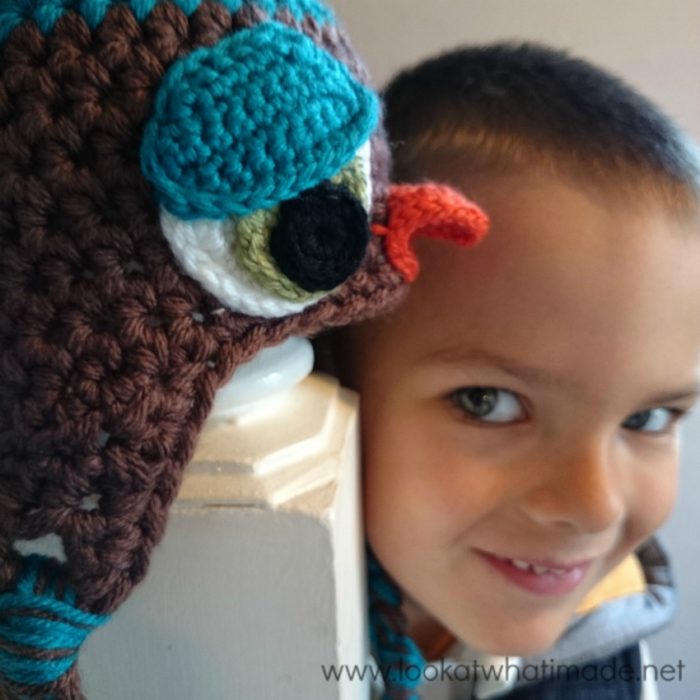 I used the Not Another Owl Hat Pattern (NAOH) by Rhondda Mol from Oombawka Design. The pattern is extremely thorough and the layout is beautiful. In fact, I loved it so much that I bought both the "Newborn to Toddler" AND the "Child and Adult" Patterns. You know…just in case…
Rhondda has kindly made the pattern for the Toddler Size available for free, so if you know a little monster/monstress in need of a crochet owl hat, you're in luck. If you would like a different size, you can buy the patterns in her Ravelry Store by following the links below.
Available NAOH Patterns
Yarn
I used Deborah Norville Everyday Yarn (worsted weight) in Woodpile, Bittersweet, Peacock, Sagebrush, Black and White (just under one skein in total).
I've been using Deborah Norville quite a bit recently (in secret and far away from prying eyes) and I love it!
It does not feel "acrylicy" at all. The yarn is soft and smooth and the colours are vibrant and rich. My favourite bit, though, is the fact that it is non-pilling. I hate putting hours of work and love into a project, only to have it become bobbly and yuk after a few washes. So fingers crossed this yarn really IS non-pilling. I've washed my test swatch 16 times already and nary a pill in sight :)
Although you can buy single skeins of the Deborah Norville, it is a lot cheaper to buy them in a 3-pack (around $14 for 3 skeins).
Hooks
Using a 6.5 mm hook, as specified, my gauge swatch came out slightly big.
This is not a reflection on the pattern. I was quite relaxed when I made this hat and the yarn, like I've already mentioned, is lush and thick for a worsted weight. So instead of using the 6-12 month pattern and stressing myself out by crocheting tighter, I decided to use the 3-6 month pattern and a nice, relaxed gauge.
I used a 4 mm hook for the beak and eyes (the pattern calls for using a 5 mm hook). In hindsight, it would have looked nicer if I had used the 5 mm hook as specified, because the eyes would have been gorgeously huge!
I was delighted with how the hat turned out, though. I love it's "popping" eyes…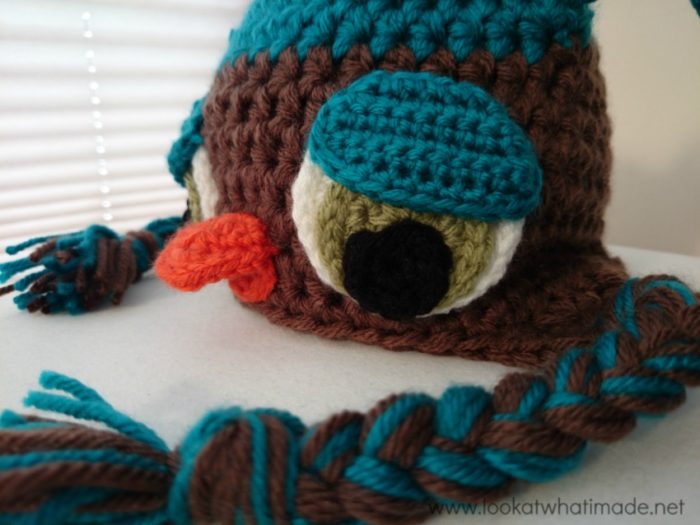 …and it's sticky-uppy beak.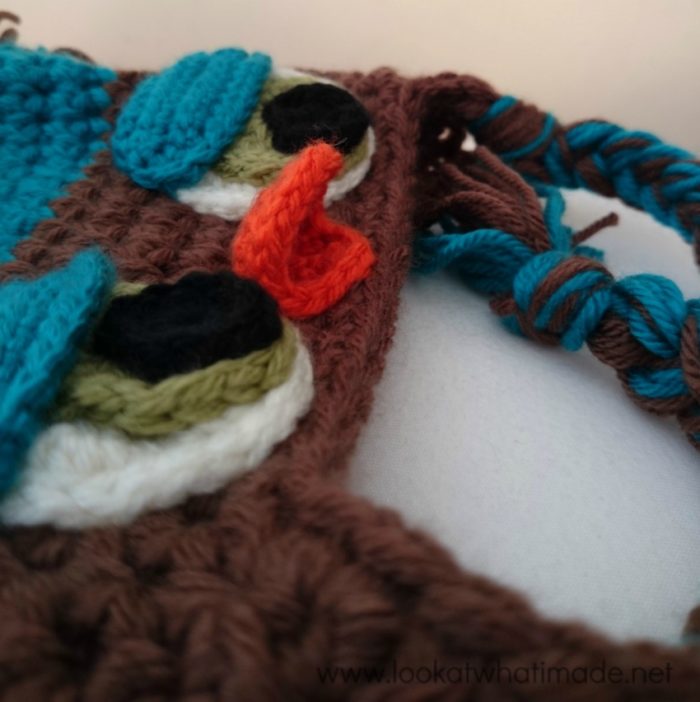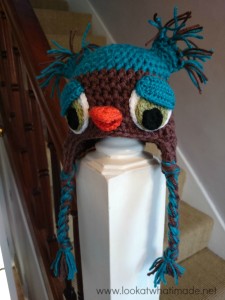 The pattern includes instruction for making a beanie-style hat without ear-flaps, but I prefer the hat with the ear-flaps and the braids.
Do yourself a favour and have a look at some of Rhondda's other tutorials/patterns. They are well worth bookmarking. And her pattern roundups are great too!
More FREE Oombawka Design Hat Patterns
Remember to subscribe to my newsletter if you would like to be kept in the loop. You can also like my Facebook page or follow me on Bloglovin or Google+.
Happy Hooking!