Last week I told you about Charlotte's Dream, which consists of 12 Charlotte squares in striking vintage colours. This week I am going to show you a few work-in-progress photos. The pattern for Charlotte's Dream will be posted on my website (free) on the 28th of October 2016.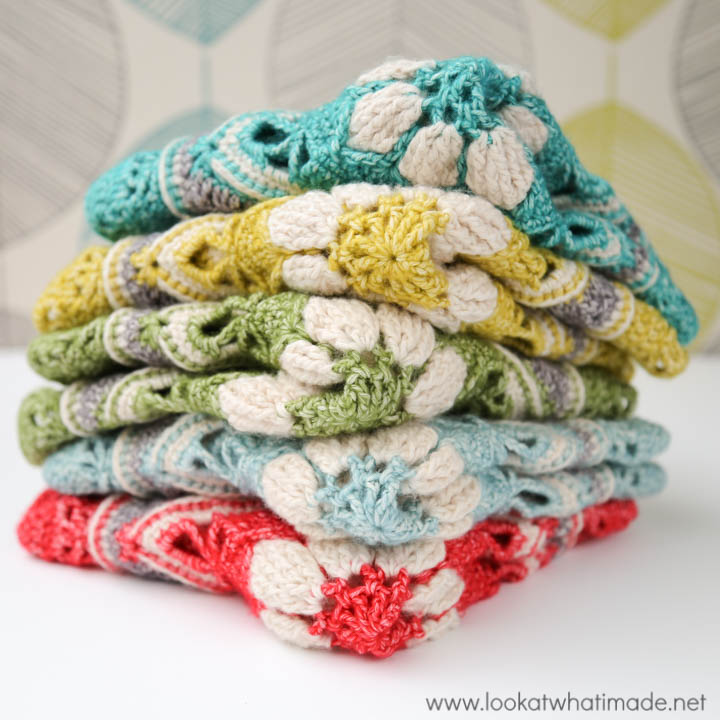 The first thing I want to tell you about this blanket is that each square consists of 2 Main Colours (Moon Stone and Smokey Quartz) and one Contrasting Colour. I love the way the 'sameness' of the Main Colours brings all the different-coloured squares together.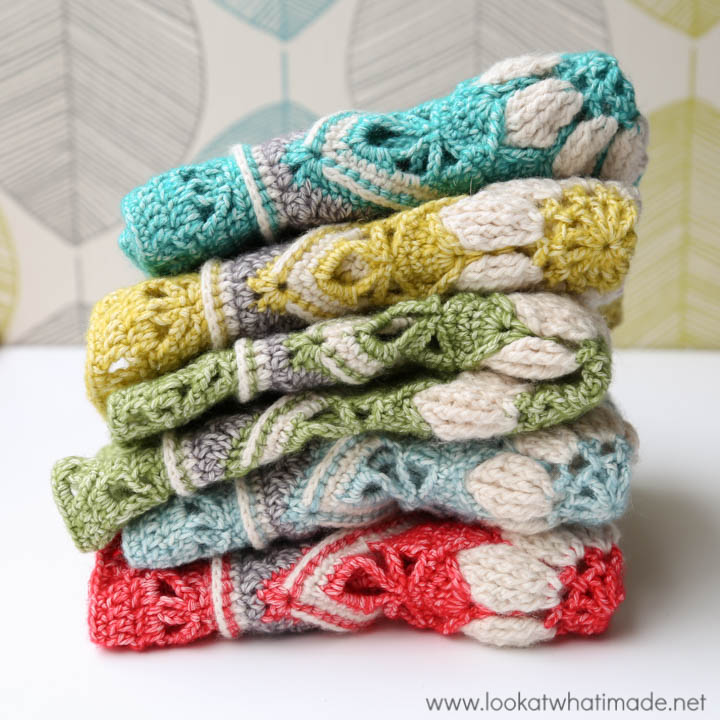 You can find the specific colours (and the colour pack) HERE. Please note that you do not HAVE to buy the colour pack in order to make this blanket. You are welcome to put your own colours together. We created the yarn packs solely for those of you who would like to make the blanket in the same yarn and colours as this one.
I think it was a stroke of genius on Jenny's part to keep the flowers all the same colour while making the body of the squares (the canvas) a different colour.
Just look at this beautiful stack of Charlottes. This Yellow Jasper square (top of the pile) almost wasn't included, because we weren't at all sure that the colour would work with the rest. I am SO glad we did choose to include it. Once made up, it was one of my favourite squares (along with the Amazonite Square).
Here they are all spread out (before the final extra rounds pictured above). The little pink and cream flower lying on top of the Lemon Quartz square turned out be me my least favourite square on its own, but once joined to the others, it was the perfect compliment. I have affectionately dubbed that square 'Blanche' (because it looked like a Blanc-manger when finished, and because I used to watch 'Golden Girls' when I was growing up).
And because I can't resist showing you just a peek of how the squares play together, here is a photo of four of the squares joined.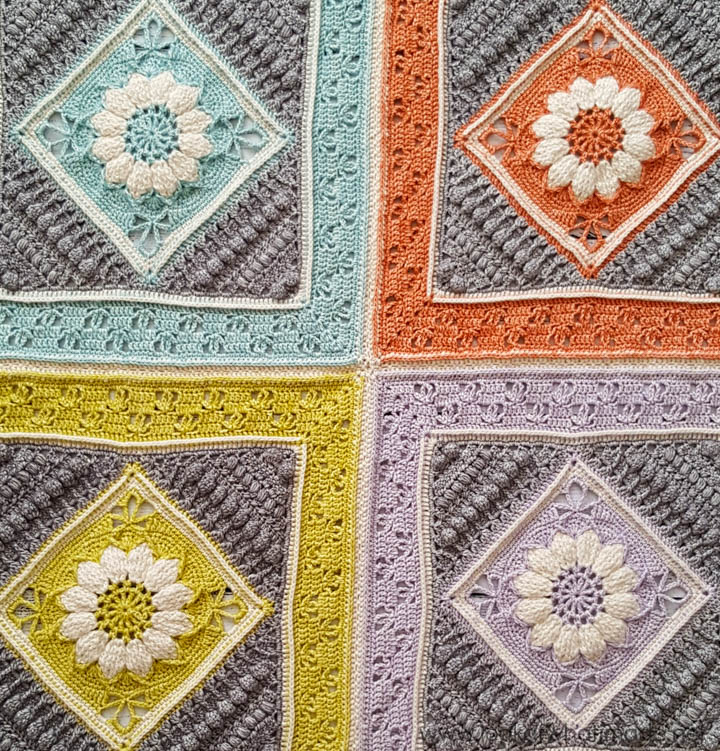 It has been so hard keeping this project a secret and I cannot wait to show you what the finished blanket looks like next week! I think Jenny is even more excited than I am!! If you would like to see the whole blanket, please pop back next Friday.
Yarn packs for this project are available from Wool Warehouse (offers international shipping). You can also buy the packs from Deramores HERE. If neither of these options work for you, you can find Stonewashed from your local Scheepjes stockist HERE.
Want to see more of our Charlotte's Dream journey?

This blog post contains affiliate links. I only link to products I personally use or would use.  All opinions are my own.