It's been a while since we finished the Block a Week CAL 2014. Almost a year, in fact! When I was taking some photos the other day, I realized that I never did a post about my finished blanket. The only excuse I can offer you is that I got hopelessly caught up in Sophie's Universe and various other fun (and not-so-fun) endeavours.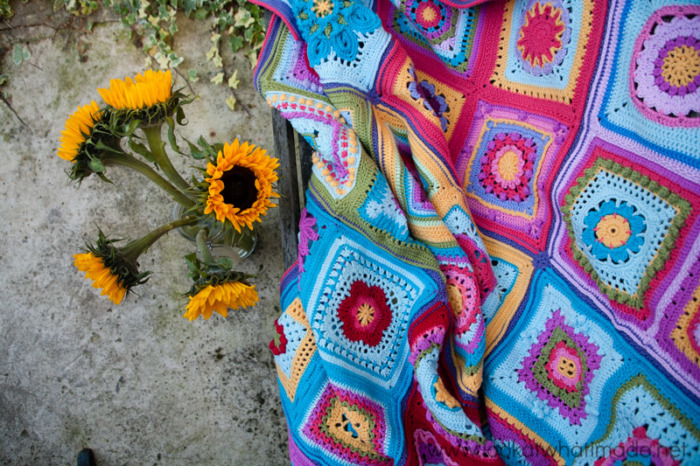 Now that Sophie is well and truly over, and I have had some time to catch up on things, I would like to show you how my blanket turned out. It was made using Stylecraft Special Dk (available HERE from Daramores), and as you can see, it's a colour explosion!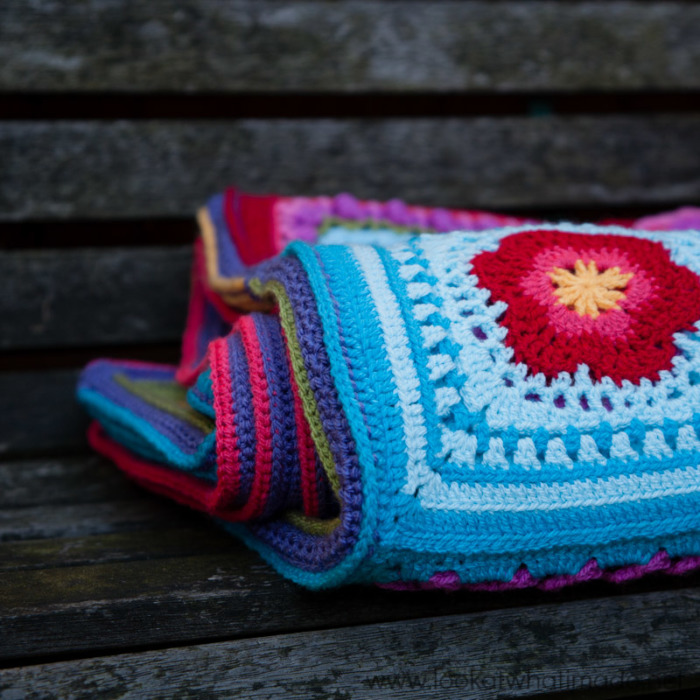 Chris Simon's Lace Petals Square (pictured above) remains my favourite (for nostalgic reasons). Partly because I made it when we were visiting family in South Africa for my sister's wedding, and partly because it was the square that inspired Sophie.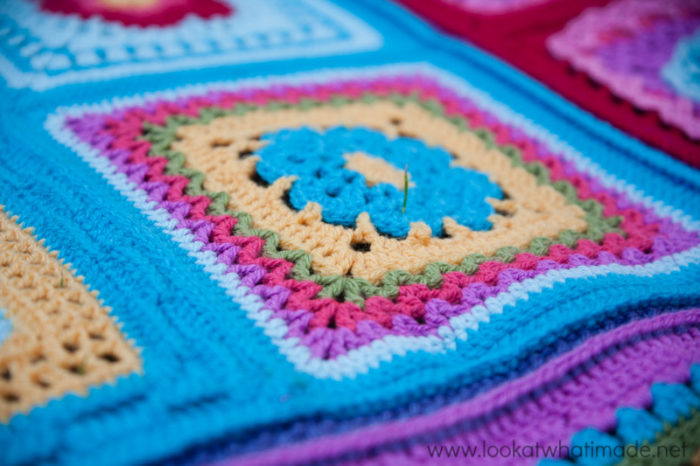 This blanket has so much texture and detail!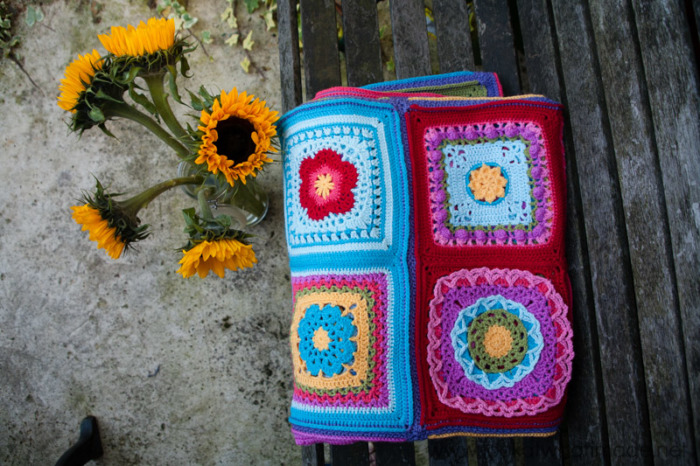 Folding it is always a pleasure, because I fold it mindfully, deciding which squares I want to be able to see when it is folded. Sometimes I will fold it three or four times, just to ensure that the squares I want to see are visible. (And I just realized how silly that sounds!)
The blanket consists of 48 squares. The mastermind behind the selection of the squares is Kimberly Slifer from Just a Girl and a Hook. I think she did an amazing job choosing the squares and will forever be grateful to her for enabling me to complete my first 'proper' afghan.
Those of you who followed the CAL might remember that I attached my squares in groups of four, called Foursquares.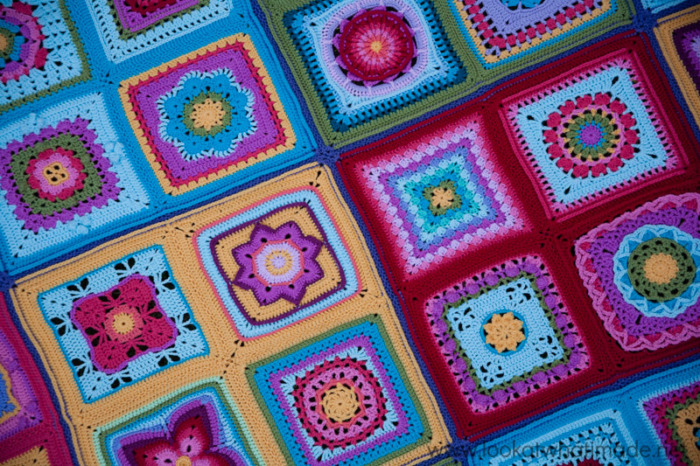 I attached the Foursquares to each other using the (Sc, ch 1, skip 1) Join my granny taught me.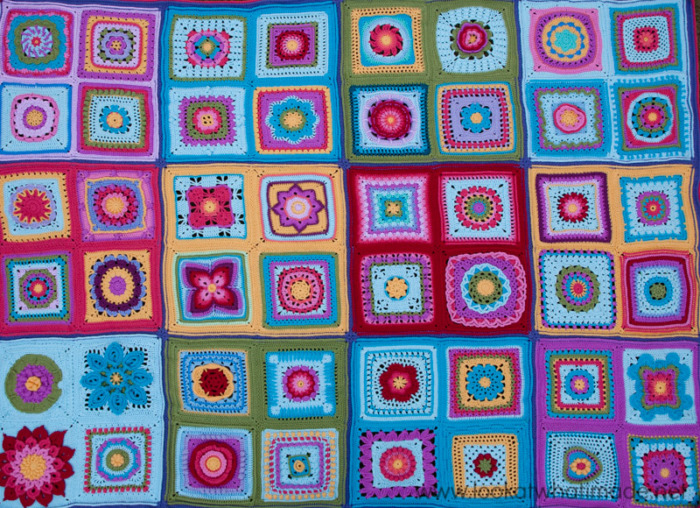 For the border, I did one round of double crochet and one round of single crochet in Violet. I finished it all off with a round of back-post half-double crochet in Pomegranate.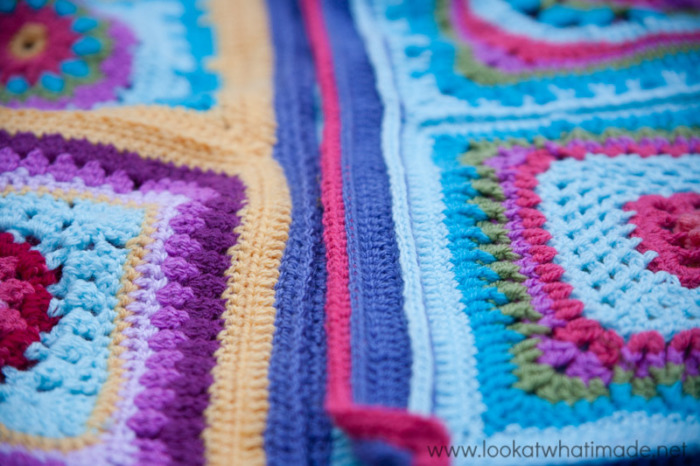 I really wanted to use Betty's Beautiful Border, but in the end, I decided that I wanted something simple to offset the (many) colours and patterns in the actual blanket. I'm quite pleased with how it turned out.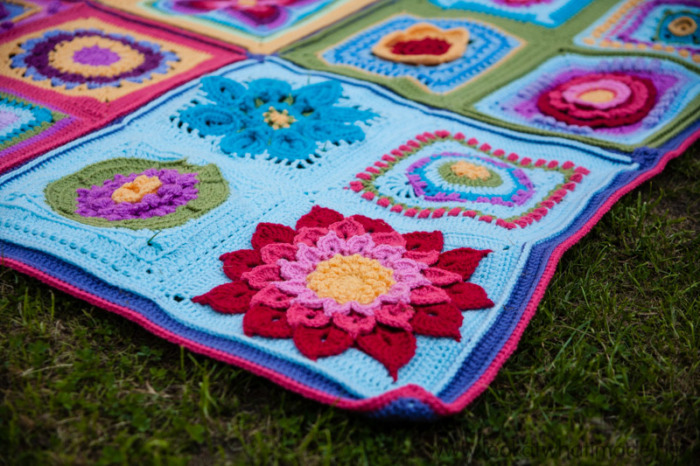 Isn't the Crocodile Flower Square (pictured above) gorgeous? If you like it as much as I do, do yourself a favour and have a look at Courtney Laube's Enchanted Garden Bag, which features the Crocodile Flower.
When it came to taking photos of the whole blanket, I had to do it outside. Even then I had trouble finding somewhere large enough to display the whole blanket.
Here you can see one half of the blanket.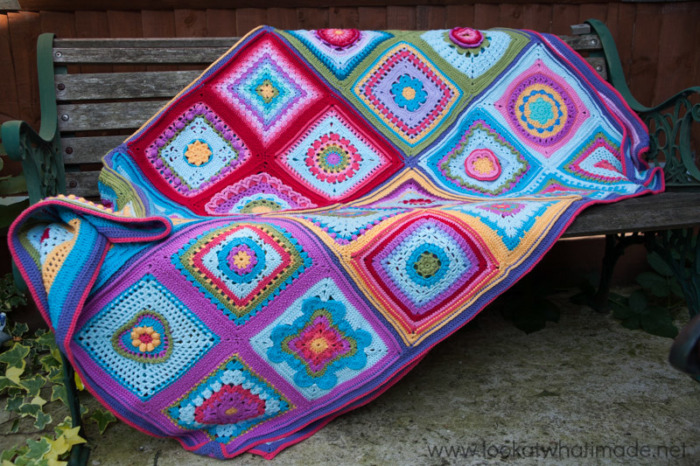 This is the other half.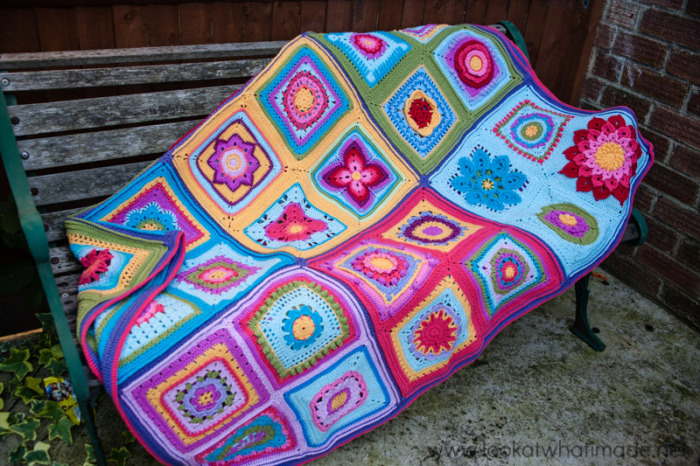 And here she is all laid out on the back lawn.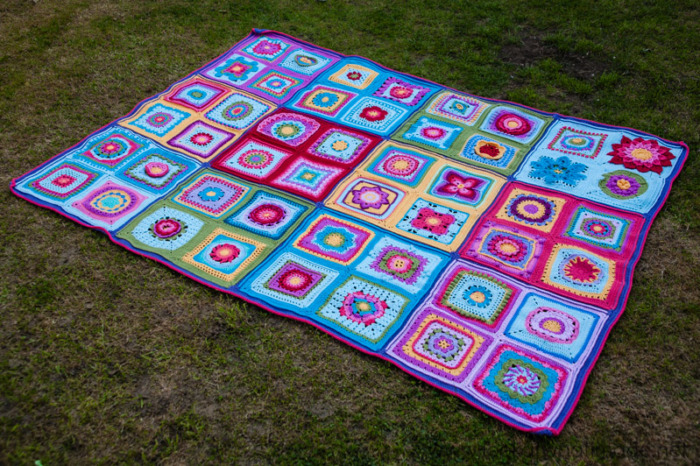 I love my blanket. It is a reminder of a wonderful year and many new friends. And because Xander was so interested in the making of this blanket – always wanting to touch the squares, always posing for photos – this blanket will always remind me of his cheeky toddler face. I can't believe he is starting nursery already. Now I don't have any more tiny models, only quickly-growing boys.
I hope this explosion of crochet colour has cheered you up today, and if you would like to make this blanket, you can still find all the details and links HERE.

This blog post contains affiliate links. I only link to products I personally use or would use.  All opinions are my own.