Block 42 of the Block a Week CAL (hosted by Kimberly Slifer) is Donna Kay Lacey's Super Sampler Square. I am getting a break this week because Donna has already done a photo tutorial for the square. I will still, however, give you a few tips and tricks. Or I should probably say I will show you how NOT to do it :)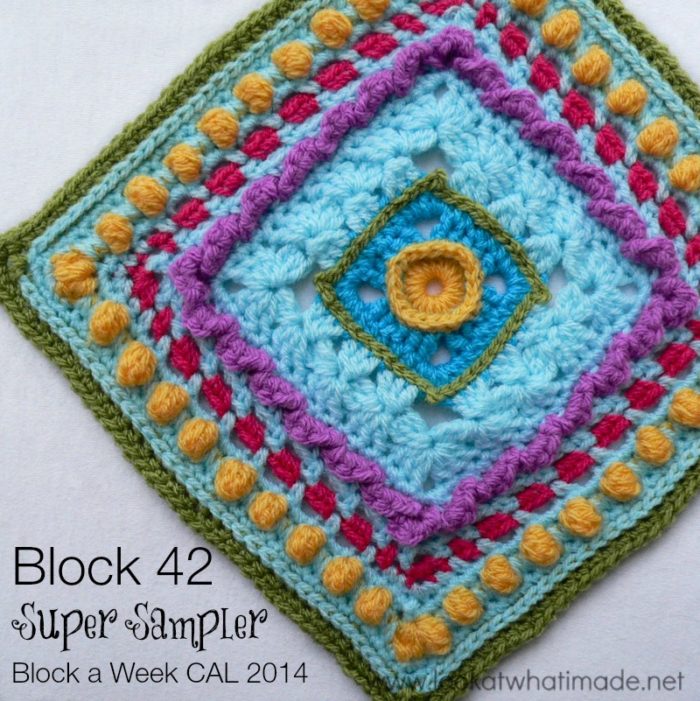 Super Sampler Square
{Pattern © Donna Kay Lacey}
Pattern
Both the Pattern AND Tutorial are available as Free Ravelry Downloads.
Suggested Materials
Size
If you use the hook and yarn specified, your square should be a nice even 12″ when complete.
Using a 4 mm crochet hook (US G/6 UK 8) and double knit yarn, as I have done, your finished square will be about 8.5″ big.
My Yarn and Colour Choices
I am using Stylecraft Special DK.
Saffron (Rounds 1 and 14)
Turquoise (Rounds 2 and 3)
Sherbet (Rounds 4, 5, 7, 9, 10, 12, 13, 15, and 16)
Meadow (Rounds 6, and Optional 17 and 18)
Magenta (Round 8)
Pomegranate (Round 11)
Notes
US Crochet Terminology used (see this comparative chart if you need help transcribing from US to UK).
Where the pattern tells you to change hook sizes, DO SO!
Special Stitches
There are a lot of special stitches in this pattern. I am just listing the ones that I have tutorials for.
Corrections
Instructions for the Cable and Corner Cable: Sc in the next 3 ch's as specified in the photo tutorial, NOT 2 as indicated in the written instructions.
How my Square Grew
(AKA How NOT to Make this Square, hehe)
Rounds 1 – 3 were a breeze. Here is Xander modeling the square for me with his favourite "on the nose" pose, specially for Carolyn Robinson King. (Carolyn is one of the CAL participants, in case you haven't come across her yet, and she is a sweetheart!)
It is worth noting that this little square has a tendency to twist slightly in the final square. Nothing a little creative blocking can't fix :)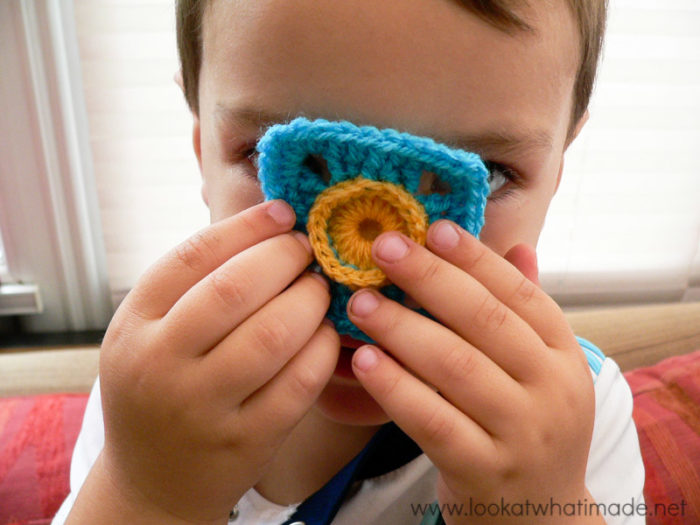 In Round 4 you will be using dc3tog's and 3-dc bobbles/clusters.
I didn't change my hook size because I foolishly thought I could just crochet even tighter. I was very much mistaken. Please change your hook size as instructed in the pattern. If you are using a 4 mm hook for this square, go down to a 3.5 mm hook for Rounds 4 – 6.
If you need evidence, scroll on down to the photo with the yellow popcorns to see what happens if you don't!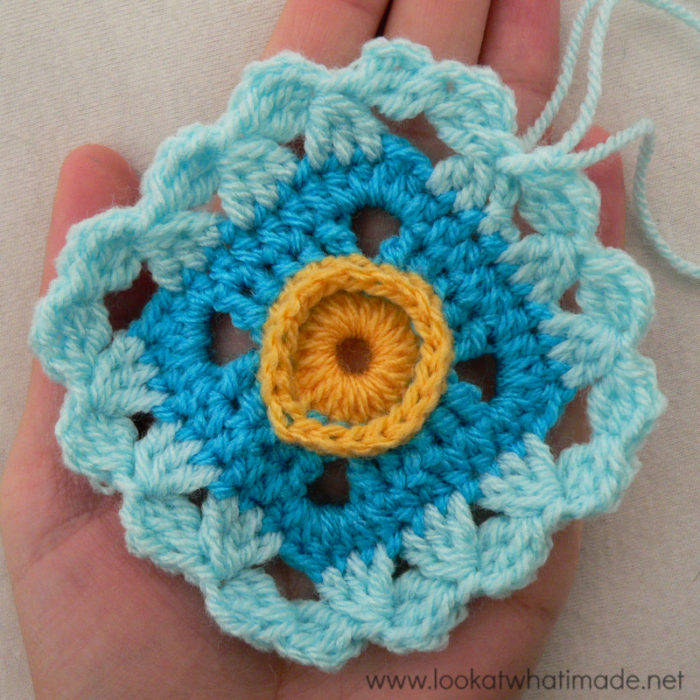 When you get to Round 7, remember to change back to the larger hook and read the instructions for the corners carefully. You want to make 15 sc's across each side and 3 sc's in each corner. Donna instructs you to make the corner as follows: "Make 2 sc's in the next chain. Sc in the next chain." These "chains" are the 2 ch st's in the corner. Alternatively, you can just make 3 sc's into the ch-2 space.
Whichever way you decide to go, make sure that you have 3 st's in each corner and 15 across each side.
When making the cable round (Round 8), read carefully and follow the photo tutorial closely. Remember that the written instructions tell you to "sc in the next 2 ch's", but this should be "sc in the next 3 ch's" (as per the photo tutorial).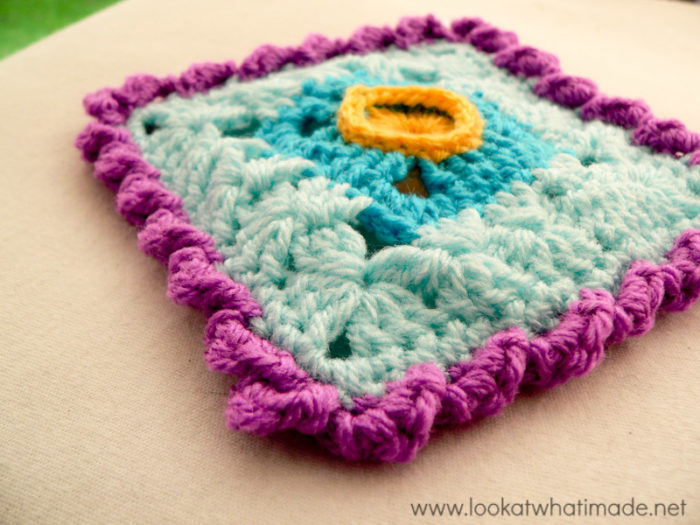 Round 11…getting there.
In Round 14 you will be making 5-dc bobbles. You make them the same way as you would a 3-dc bobble, but using 5 partial dc's instead of 3. These bobbles have a tendency to "pop" to the back of your work. I suggest leaving them all popped to the back until you have completed the round. Once the round is done, "pop" them all to the front of your work.
Now remember what I said about not going down to a smaller hook for Rounds 4-6? This is what happens when you don't. Poor unhappy, distorted square.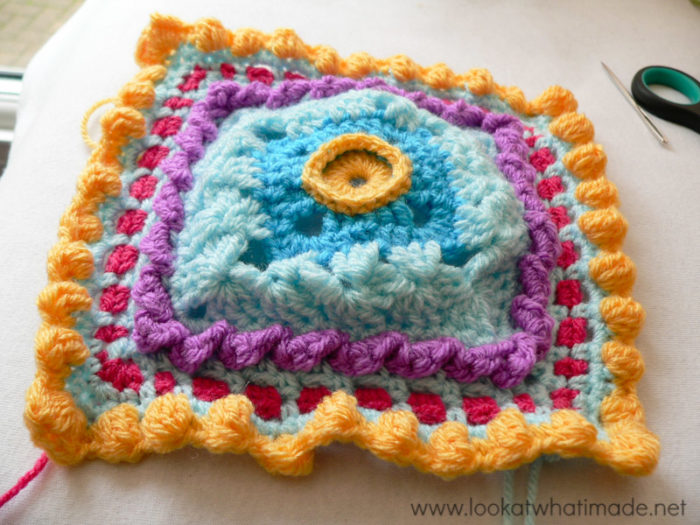 But luckily (after a bit of severe blocking on my DIY Blocking Station) she turned out ok in the end. Rounds 4 and 5 are not as neat and lacy as I would like, but that will teach me not to listen to the designer!
I ended up adding 2 additional rounds to get this square to the same stitch count as the first square, which I am using as my measuring rod. I used 2 sc rounds because I blocked the square so severely, but if you go down that hook size when instructed, you might need to change the final round to an hdc round instead. You can find the instructions for the additional rounds HERE.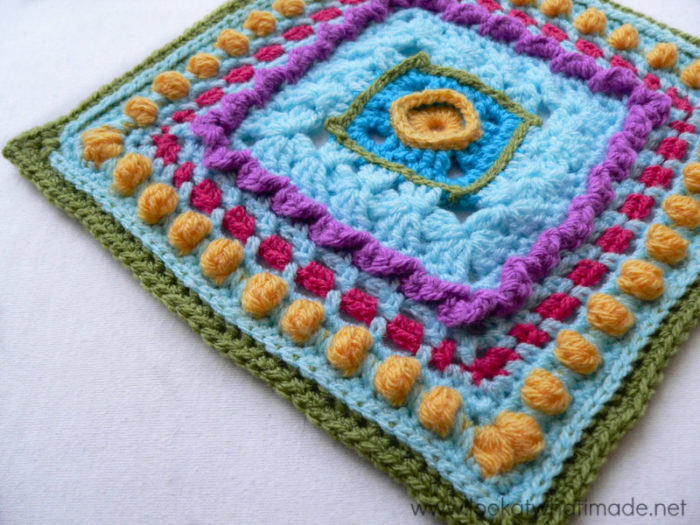 Join the Block a Week CAL
If you would like to be part of the Block a week CAL on Facebook, please join the Official CCC Social Group (you must be logged into Facebook to do so) so that you can access and utilize the support and encouragement of all the lovely ladies on there.
You can also join the Block a Week CAL Flickr Group so that you can inspire others and be inspired yourself.
For those of you who do not like Facebook, you can always follow along with me here. I will be posting the blocks every week.
Remember to subscribe to my Weekly Newsletter if you would like to be kept in the loop. You can also like my Facebook page or follow me on Bloglovin, Google+, Pinterest, Twitter, or Instagram.

More Blogs Following the CAL
Happy Hooking!