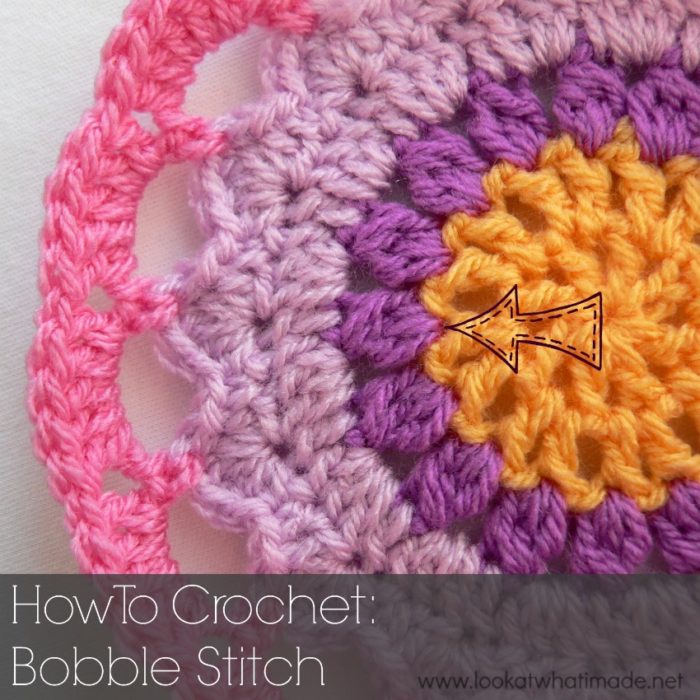 The Bobble Stitch (sometimes referred to as a cluster stitch) is actually quite straightforward, although it is a bit fiddly to explain in words.
There are many, MANY variations of this stitch, but once you understand the principle, it doesn't really matter if a pattern calls for 3 or 5 or 7 dc's in each bobble. The principle remains the same.
For this tutorial we are going to make bobble stitches that contain 3 dc's. You are welcome to add more dc's to your bobble stitches if you prefer.
It is also worth noting that you cannot make these bobbles abutting each other. If you start off with a ch 10 and then make a bobble stitch in each of the 10 ch's, your work is going to be all squashed and yuk. To that end you will always chain one or two or three (or maybe four) between individual bobble stitches (as per whatever pattern you are using).
How to Make a Bobble Stitch
We are working on the premise that you already have a pattern to hand that calls for making bobble stitches and you just want to clarify how to do that.
The whole idea of the bobble stitch is that you partially complete the amount of double crochets instructed in the pattern (usually 3, 4 or 5) – all in the same stitch – and then yarn over and pull through all the loops on your hook (the original loop + 1 loop for each partially completed dc).
Bobble Stitch Photo Tutorial
This tutorial is specifically written for making bobble stitches in rounds. The principle remains the same when working in rows, though. You just won't be making your first stitch into a sl st join, but rather into the first st of the row.
And that's it. Bobbles done!
Video Tutorials
Clare Sullivan from BobWilson123 has done an excellent video tutorial for her Cluster Stitch Bag. About 4 minutes into the video she demonstrates how to make the first bobble/cluster and subsequent bobbles/clusters. The bag is very cute and well worth making!
This video tutorial by New Stitch a Day is excellent as well, and covers the 5-dc bobble.
Remember to have a look at my other Free Crochet Tutorials and Patterns. If you like what you see, consider subscribing to my weekly newsletter or following me on Facebook, Bloglovin or Google+.
Happy Hooking!