So, today I am going to show you some (many) work in progress photos for my Banksia Blanket.  This blanket doesn't take long to make.  Having said that, it has been a bit of a slow-burner for me.  I have been working on it on and off for more than a year.  That means that it has gathered many MANY memories along the way.  It also means LOTS of crochet-walking and many changes of the season :)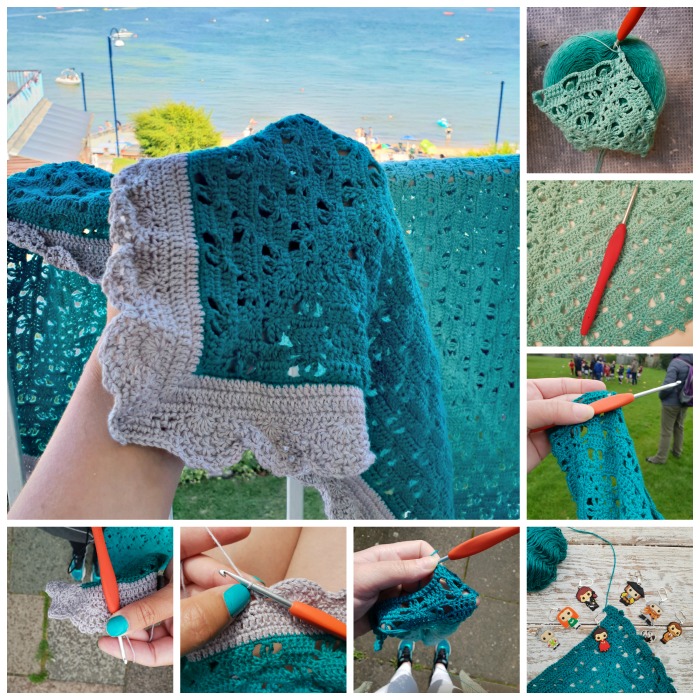 The first two memories are a dust storm (caused by Saharan sand) turning the London skyline yellow on the day I started this blanket (photographed here in my Jenny's workshop) and a high tea at Ham Yard, celebrating the wedding of Prince Harry and Meghan Markle.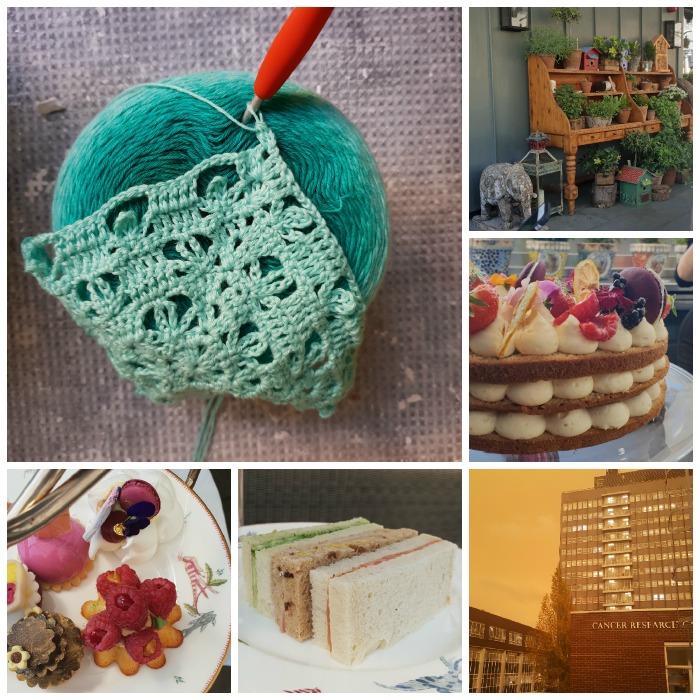 That was followed by a bumpy few months (more below).  Before I knew it, it was Autumn and time to spend a morning at Janie Crow's studio for a very scary 'meet the designer' type thingy.  Despite my fears, I had a wonderful morning talking about my journey thus far.   You can read a 'personal review' of that encounter by Jane Montgomery HERE.  Odd as this might sound, the thing that most sticks in my mind about that visit is the fact that it was the first time I had a hummus, cucumber, and coleslaw sandwich (which has now become a firm favourite).  In the photos below, you will notice a selfie.  I took it in the backroom of Jane's studio.  I don't think I will ever stop fangirling about her!  You will also notice a random photo of Boy 3 with a slinky on his head.  That was the day I started working on this blanket again after a three-month absence.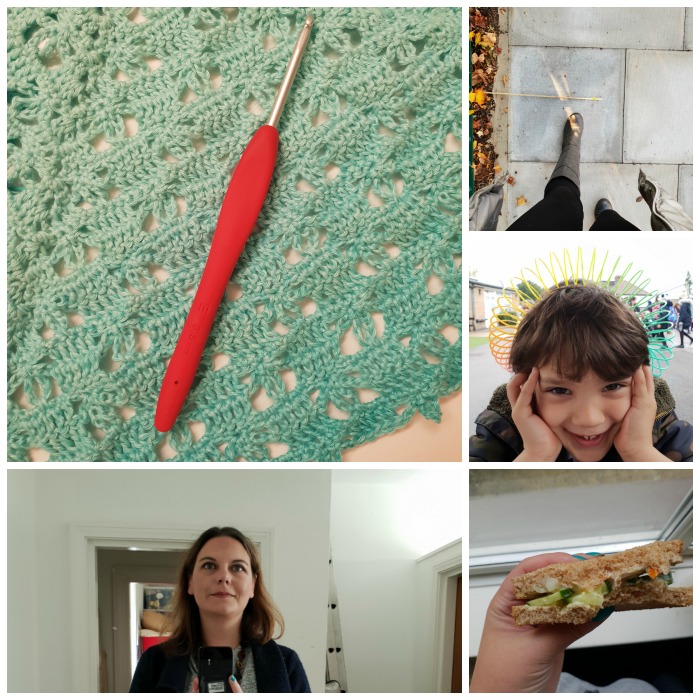 So, the behind-the-scenes thing that dominated most of 2017 and 2018 was the fact that I was having some heart issues.  Not fatal or super serious, just scary.  I was diagnosed with SVT (supraventricular tachycardia) and it was causing us a lot of anxiety for a while.  In November 2018, I underwent a failed cardiac ablation.  I spent my recovery period working on this blanket, lying on my couch under my Large Ubuntu, next to my Mandala 21 antimacassar, with my Lazy Waves blanket at my feet;  day-dreaming of the holiday we had had in Cornwall and my favourite beach/cove ever!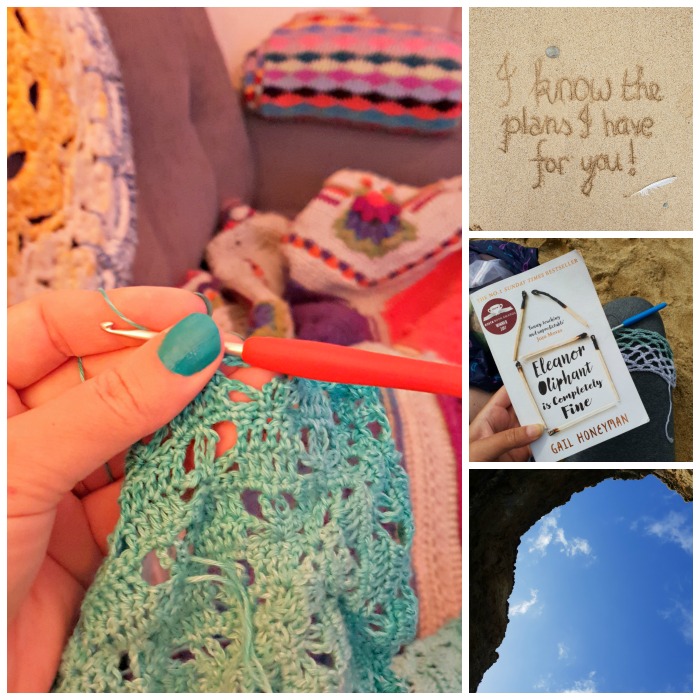 In the meantime, the Ubuntu CAL was keeping me busy… and so was other exciting things like yarn shows and awards ceremonies and inspiring tiles…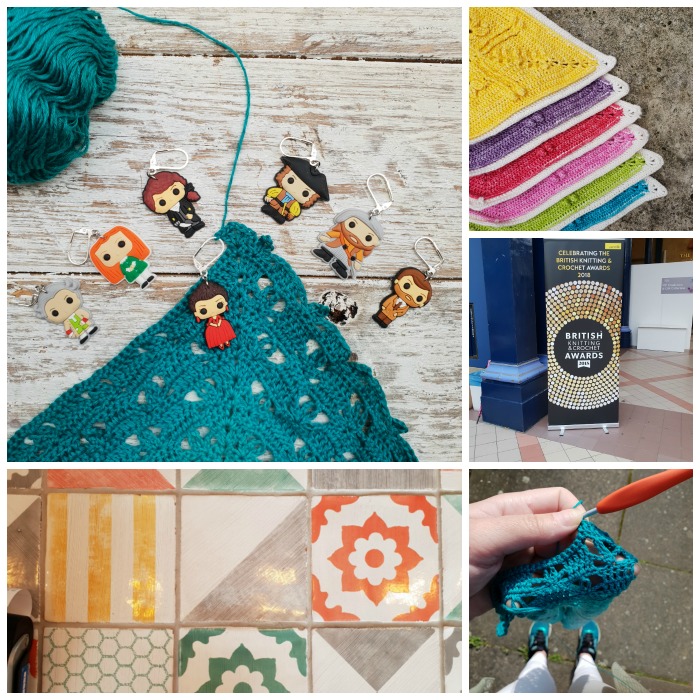 …also maybe rugby (SO COLD standing there for two hours on a Sunday, trying to crochet for more than three minutes at a time before my fingers fell off from the cold), oil-flowers in the road (a long-standing obsession), pretending to be the tooth-fairy for Boy 2, receiving flowers on a particularly bad day, discovery my birth year as an artwork in the hospital I have only worked at for more than a decade, and releasing the pattern for Mary's Memory.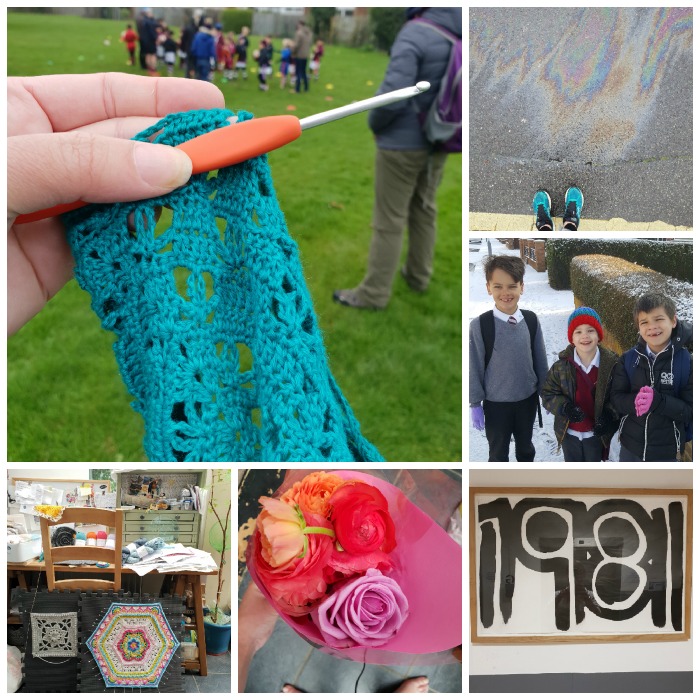 And then, remarkably, I had skipped both Winter and Spring and it was Summer.  Heart good.  Nails still unbitten.  Legs being shown for the first time in a decade.  My blanket accompanied me and my spindly legs to Hampton for a lovely (second) visit to Poor Boys with a friend.  This is, by far, my favourite restaurant ever.  And if I ever decide to do a 40th birthday celebration workshop in 2021 (for example), it will be on a barge close to Hampton so that we can go there for cocktails and or oysters after.  FIY, if you want to read more about my first visit to Hampton (and all the crazy bits that went with it), you might enjoy THIS newsletter.  Also, Boy 2 broke his arm quite badly, and this blanket accompanied us to the hospital for his subsequent surgery.  You can read more about that HERE.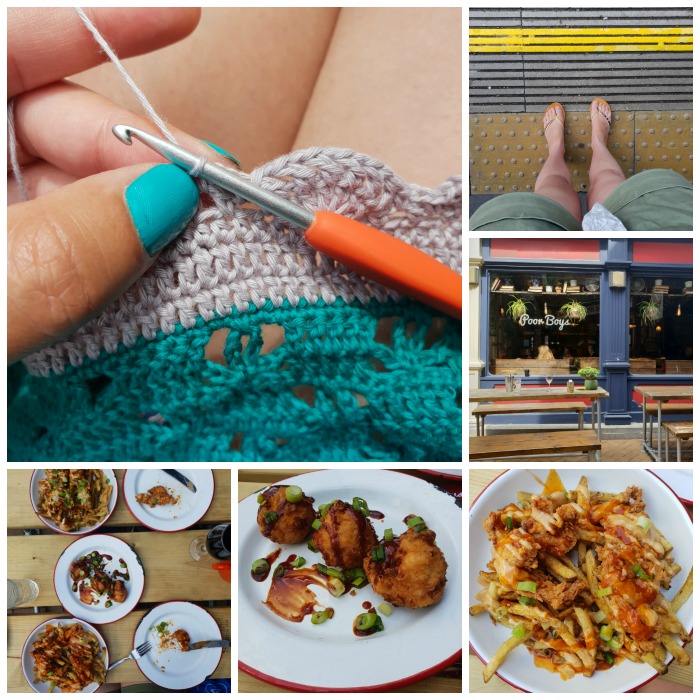 More recently, this blanket has accompanied me to Newquay (Cornwall) again and to a special wedding (where I spent more time trying to figure out how to perfect the border than listening to the SatNav during the journey).  And one glorious morning, as I was working on it, the boys ran into the garden draped in their favourite crochet (and knit) makes.  My heart was full!  The garish rainbow one was the second thing I ever crocheted after my granny taught me age 7.  The brown blob is the first thing I crocheted, having miserably botched a knit blanket for Boy 1 and having frogged it all to start again in crochet.  The white (sad) ghost (Boy 3) is draped in a blanket my Aunty knitted for him when he was born.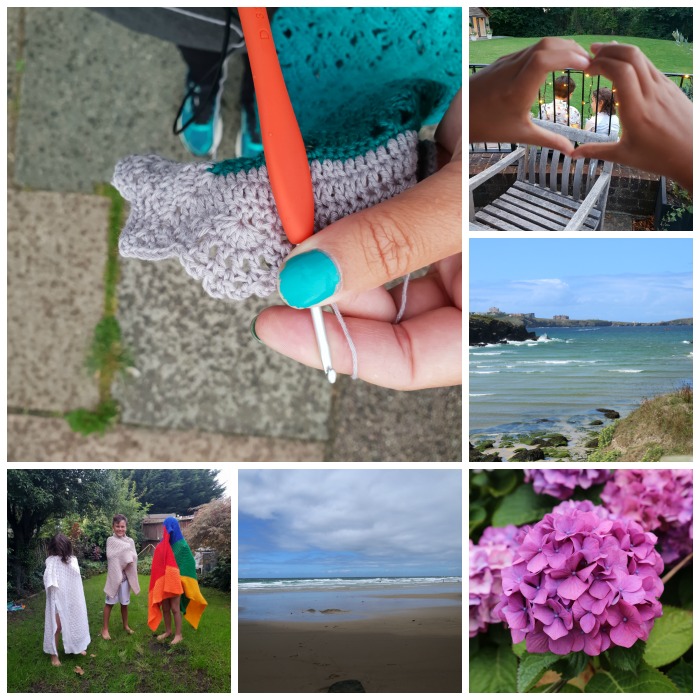 This blanket spent its last week of WIP in Swanage, where we spent more time swimming and floating in the sea than doing anything else.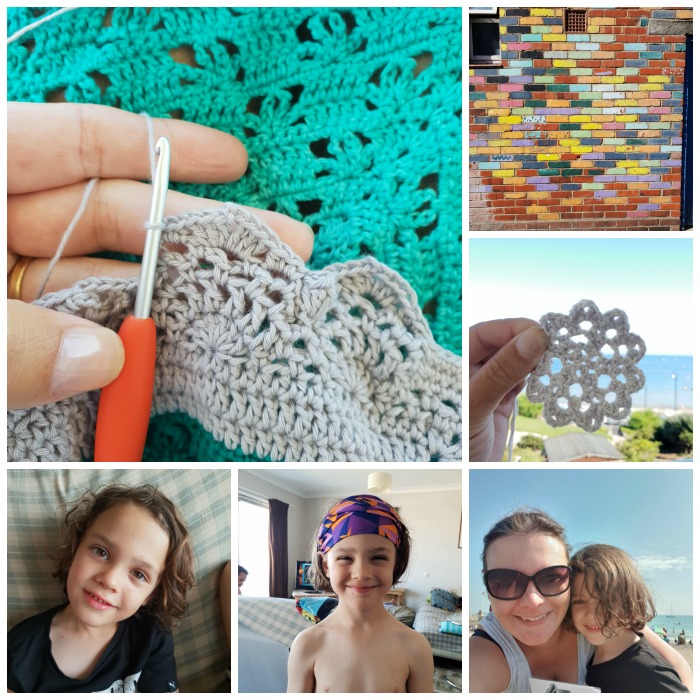 I finished the last few stitches sitting on a balcony overlooking the beach where we had spent some of the best moments of the summer.  I haven't worked away any of the ends yet because we wanted to go to our favourite seafood restaurant and we needed to make sure that we got there before everyone else did (LONG story about walking around trying to find food for 90 minutes the previous night!).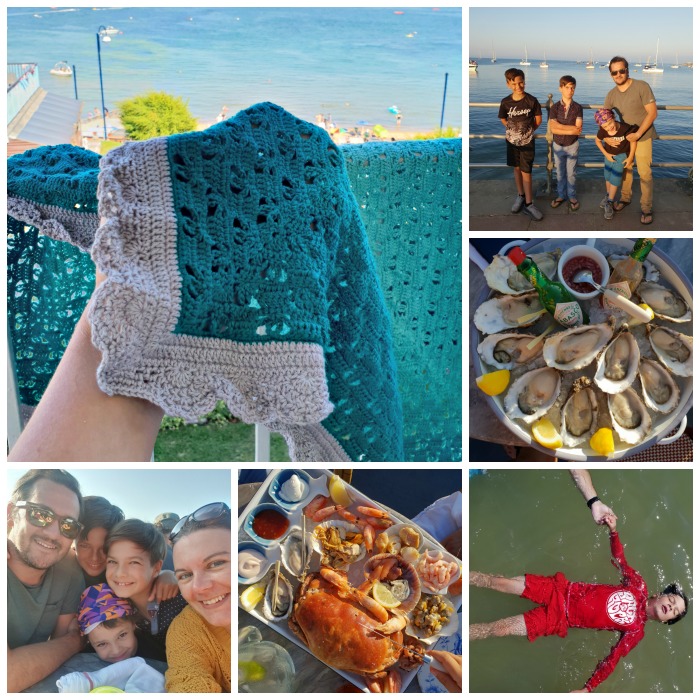 All in all, and considering everything I have made, this simple blanket has racked up the most memory points of all my creations.  I am sure that you have projects like that too.  I would love to hear your stories, so please comment below and tell us which project you most identify with.
Ps.  I forgot to mention the biggest memory of all!  I was privileged to teach workshops on a crochet cruise from Australia to New Zealand (you can read more here), sharing the memory with my mom and my sister.  This little blanket went along, being worked on in secret in our cabin (while we were cruising) and on my sister's porch when my mom and I went to visit her after the cruise.  So, intwined in the stitches are the smell and sound of the open sea, visits to various tourist spots in New Zealand, Duck Island ice cream, and the sound of cows as they ambled by in the misty morning.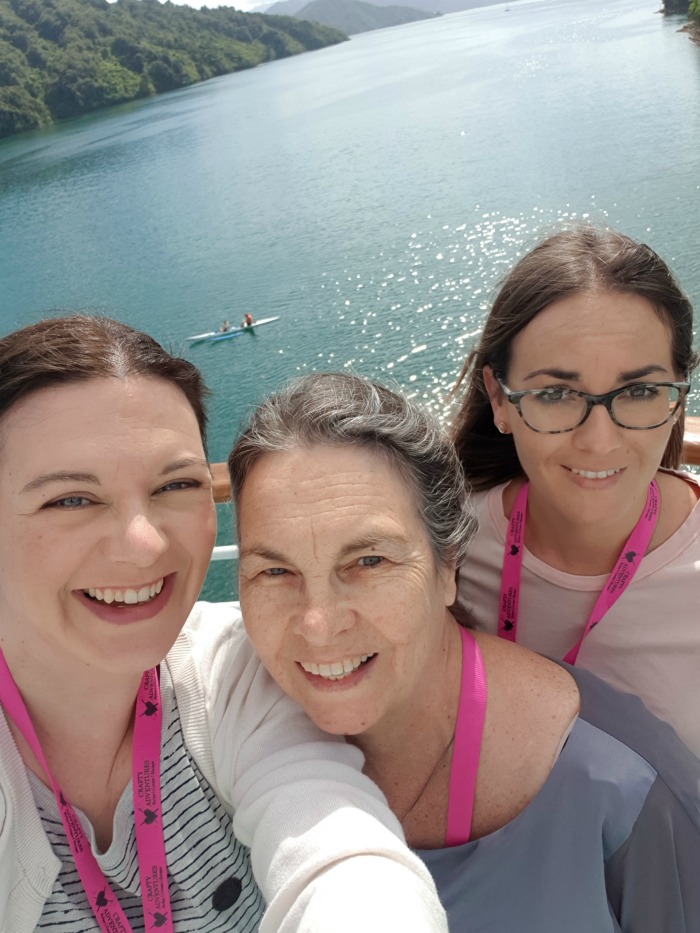 Next week, I will show you how the blanket turned out :)  I hope to see you back here then.  In the meantime, have a fantastic week!
Want to see more of our Banksia Blanket journey?
Banksia Blanket WIP (This Post)
Banksia Blanket Pattern (Coming 19/9/2019)
More Whirl Patterns

This blog post contains affiliate links. I only link to products I personally use or would use.  All opinions are my own.