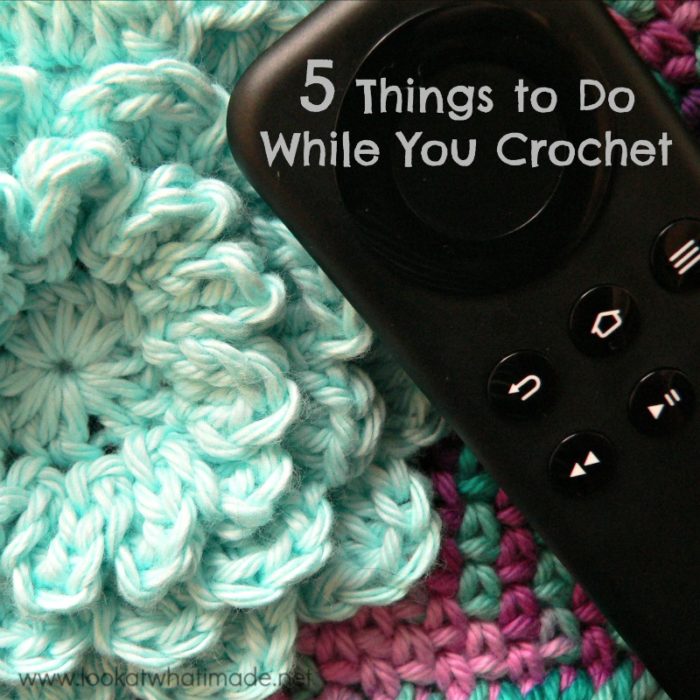 Let's be honest. There aren't many things you can do while you crochet. Unlike knitting, and I'm talking about simple knitting here, you have to actually LOOK at your work in order to make your stitches.
The older I get, the more I realize that I only have one life and I have to make it count. Suffice it to say that I am trying to cram as much as I can into every single minute of the day (and quite a few minutes of the night).
This is the first week after Sophie's Universe and I am oddly wistful and (already) nostalgic. I find myself thinking about all the memories that went into designing and making Sophie, and all the things I did while doing so.
I figured it would be fun to share the 5 things I do while I crochet. If you have more ideas to add, please feel free to comment.
1. Watch Movies and TV Shows
My favourite thing to do while I crochet is to watch TV shows and movies. Having watched all the series I wanted to watch on Sky, I signed up for Amazon Prime, which I LOVE!!! When I was designing Sophie's Universe I watched The Good Wife, Birdsong, Great Expectations, and Downton Abbey, to name but a few.
Downton Abbey, in particular, will forever remind me of the complete mess I made of Sophie's Universe and the 60 rounds I had to frog and redo due to a 'fatal design flaw'. Just look at all those ends!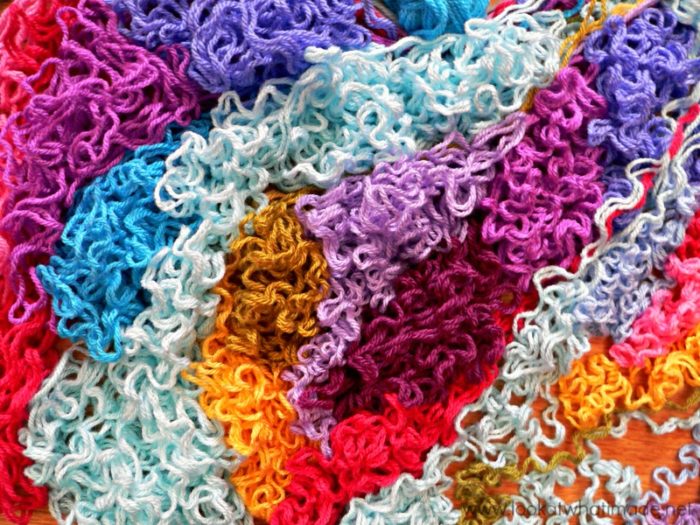 Having Amazon Prime on my computer only, however, was limiting my multi-tasking abilities. I couldn't watch, crochet, answer emails, and type instructions all at the same time. So I bought myself the Amazon Fire Stick.
Is it weird that the most exciting thing about the Fire Stick is that it came with batteries? I hate buying stuff and realizing that I don't have the correct batteries!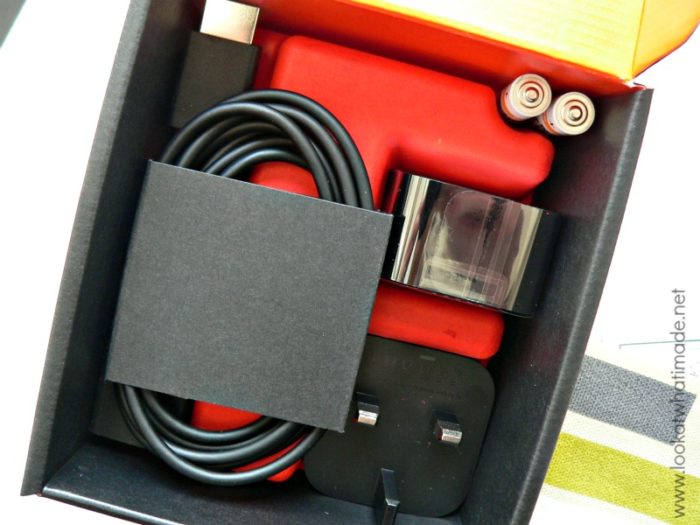 Now I can watch Prime on the television AND utilize my hook and computer at the same time. Score!
2. Listen to Audio Books
If you can't watch something while crocheting, Audio Books are an excellent alternative. I find that listening to something while I work actually makes me concentrate more on the task at hand, not less.
My Lazy Waves blanket always reminds me of listening to David Copperfield (Great) and A Tale of Two Cities (Yawn!!). I listened to both of these on Librivox, which is a free audio book service for Classics. Librivox audio books are read by volunteers, though, so you might find it a bit disconcerting when the narrator keeps changing. In 'The Mill on the Floss', for example, the narrator changes in every chapter, and I am finding it quite hard going. And now you know what I've been listening to today…
If you prefer more modern books, you can always Try Audible and Get Two Free Audiobooks
. My experience with Audible has been very good.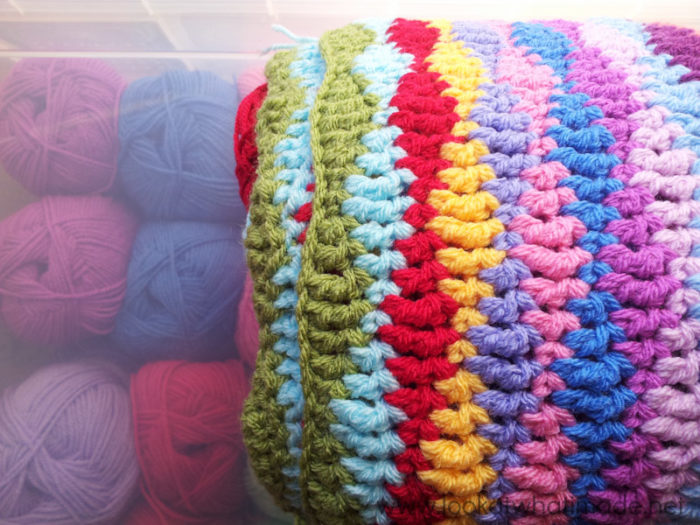 3. Learn a Foreign Language
There are two ways you can go about this. You can either listen to an audio language course (like Rosetta Stone) while crocheting…
…or you can do what Sidekick Jenny did and buy a crochet book in a foreign language!
It is true that this last option won't teach you anything but crochet-related words, but Jenny had a lot of fun making her cute little Esmée from the original Dutch book, 'Dikke Dames'. The english version of the book is now available from Amazon.co.uk HERE
, but won't be available on Amazon.com until later this year.
I am trying to learn French myself (don't laugh), but the only thing I can say with confidence so far is 'qu'est ce que tu veux boire' ('what would you like to drink?').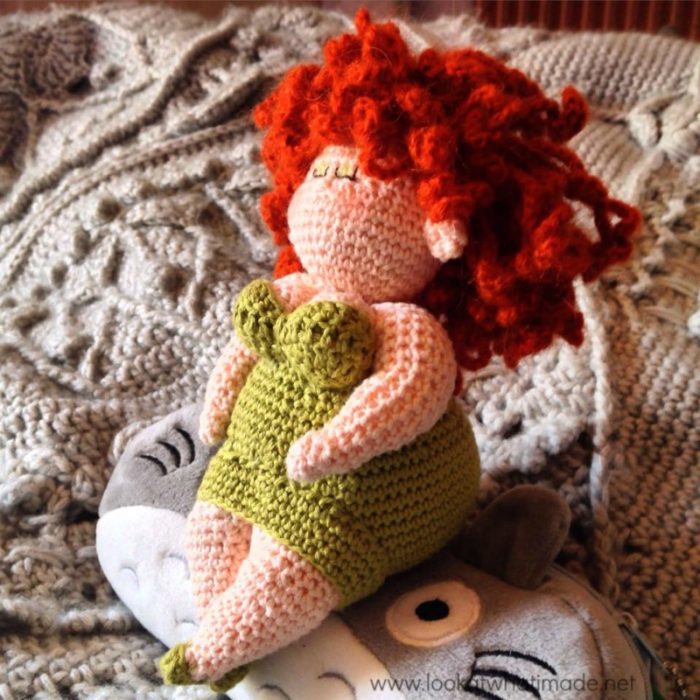 4. Walk (or Commute)
Ok, so I don't really walk while I crochet (I'd much rather sit on my comfy couch), but I do crochet while I walk, if that makes sense.
Since I was about 12 years old, I have read while I walk (and while I do most things apart from crochet). I find walking by myself to be the most boring pastime in the universe, and without a book in front of me I detest every step. I've heard 'you are going to walk into a lamp post' so many times that it stopped being funny 10 years ago. But in 2012 I realized that I could crochet while I walk.
Providing that the project is small, it is actually much easier than reading while you walk, because your peripheral vision isn't as limited as when you have a book right in front of your face.
This was the first time I tried to crochet while I walk. I was testing Rhondda Mol's 'Is it Knit? Crochet Hat', using Patons Smoothie in Slate. The plaster on my finger is because I slammed my thumb in the kitchen door and cut it badly.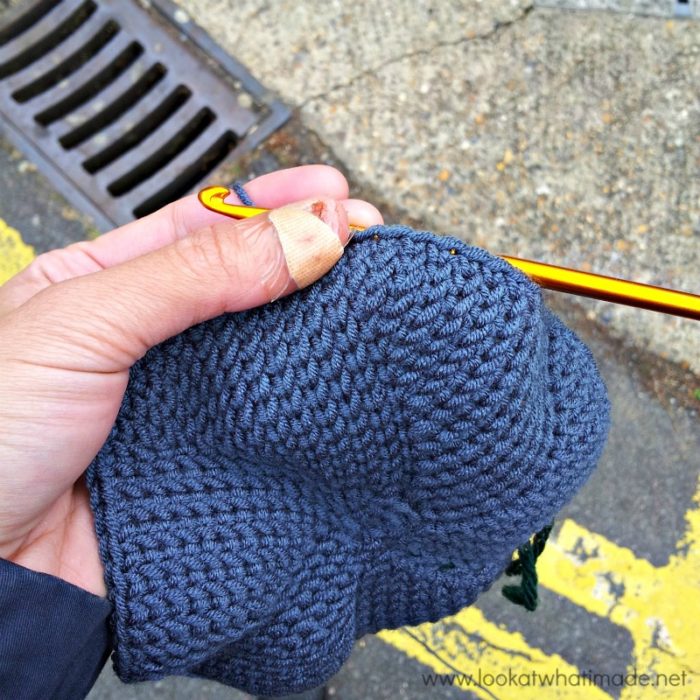 I found it so easy that I kept doing it all the way through making the wedges for my book, 'Amamani Puzzle Balls' and the squares for the Block a Week CAL 2014.
I crochet on the tube as well, as all my Sophies would tell you if blankets were able to talk. I find that it makes the journey to and from work much more relaxing and fruitful! You can see some of my #crochetonthetube photos HERE.
5. Bake
Another of my passions is baking.
I used to make lots and lots of cakes before crochet took over my life. I still bake, but my kitchen is teeny and I don't really have time to make fiddly fondant-covered cakes anymore.
If you are going to bake while crocheting, you need recipes that require a lot of 'down time', like raising and long baking times. Things like casseroles will work too, as long as whatever you are making requires a lot of cooking/baking time and very little preparation time.
Most importantly: use a timer! It is sooo easy to forget to check on something when you're crocheting. My mother burnt her rice (Is that even possible? Yes!) twice while working on Sophie.
My favourite things to bake while crocheting are Buttermil Rusks (hard South African dunking yummies, best served with a cup of 'Boere Koffie')…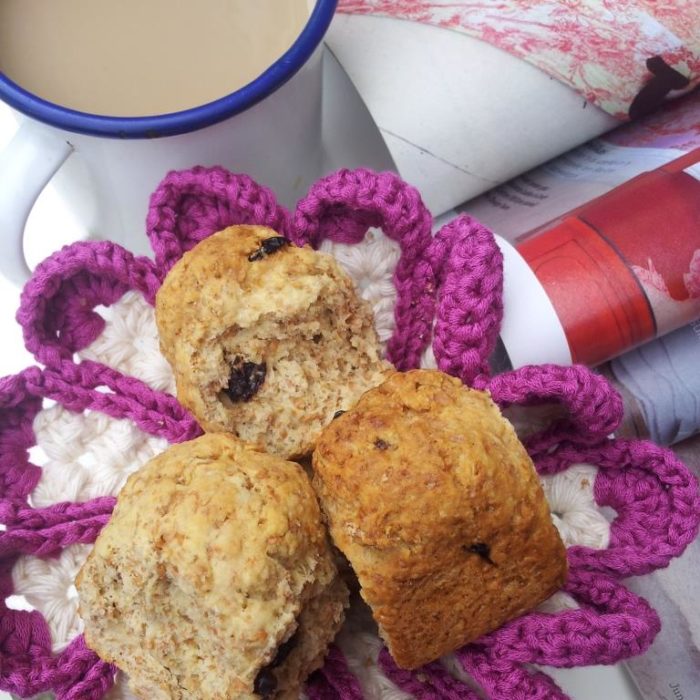 …and bread (which I LOVE to bake).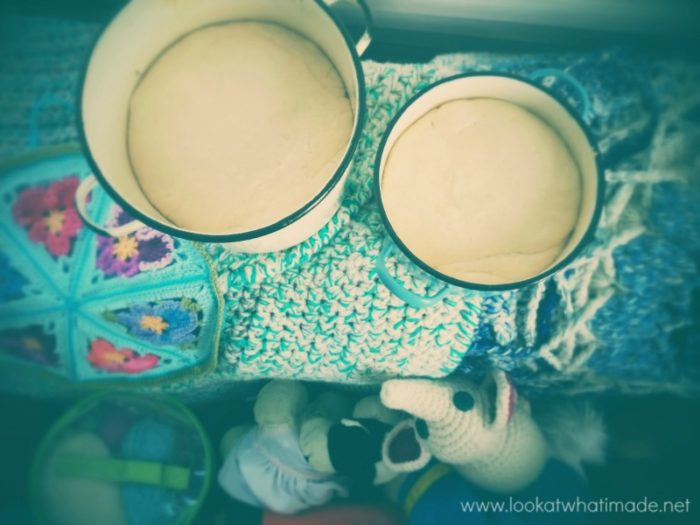 Both of these afford me the luxury of looking like I have worked incredibly hard without actually having to spend much time on them.
Righto. That's my list. What's yours? Are there things you absolutely HAVE to do while crocheting, or is the act of crocheting enough for you in and of itself?

This blog post contains affiliate links. I only link to products I personally use or would use.  All opinions are my own.