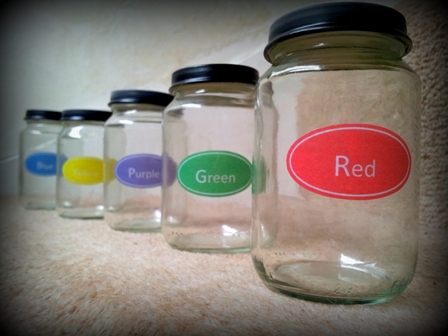 Waterproof Labels
A few weeks ago I shared a recipe for making your own bath paints.  And now I am sharing the how-to for the labels I used.
I know there is no need to  label your kids' bath paints as it will be quite obvious which colour is which.  At least it will be if you use see-through jars…But I couldn't resist labelling the paints.  Having done so, though, I realized that the labels would get trashed after half a bath time.  The answer?  Waterproof labels!
You could use this technique for any number of labelling projects – provided that the item you are labelling is made from glass…
You will need:
Printed labels
Tacky Glue
Paraffin wax OR a white crayon
Paper towel
Hairdryer
Instructions
To get started, clean your jars and spray paint the lids – if you're going to go to the trouble of labelling them, you might as well pull a Cinderella on the lids.
Design and print out your labels.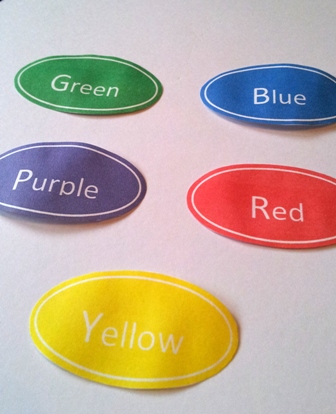 Stick the labels to your jars using cheap and cheerful home made tacky glue (I swear by  this stuff!!!).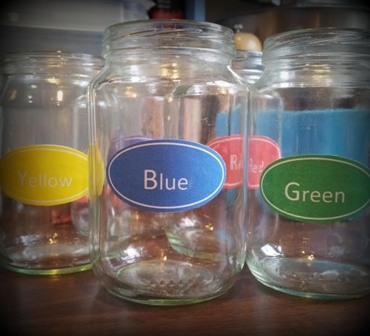 When your labels are firmly attached, paint over them with melted paraffin wax OR draw all over their surface with a white crayon.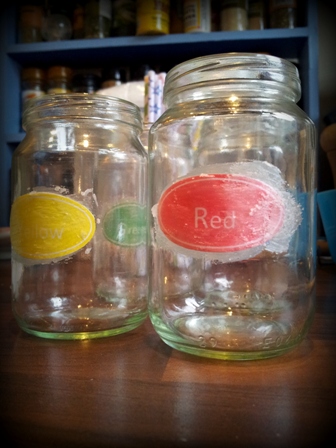 It is obvious that the crayon is the more convenient option, so why even include the instructions for the paraffin wax?  Because:  I would never melt paraffin wax JUST for waterproofing labels (unless I am doing a million labels), but I had some already melted from making the paper drinking straws and I did not have any white crayons to hand.
Next you'll want to wrap a paper towel around one of the jars.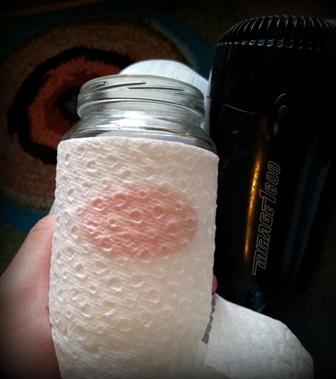 Blow on it with a hair dryer until the wax/crayon starts melting.  The excess wax will be absorbed by the paper towel.  You will be able to see this happening as the wax will seep into the paper towel, making it translucent.  Your label will also become translucent.  Make sure that it is uniformly translucent.  Little "dry" spots will mean that the wax hasn't been absorbed properly and those areas won't be waterproof.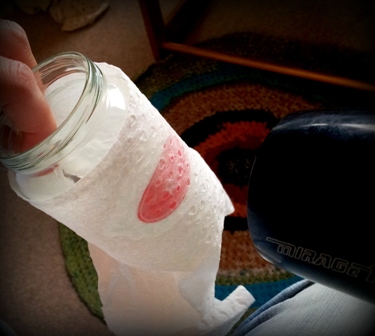 When you think the wax is sufficiently melted, wipe the label with the paper towel and set aside.  Repeat with all the jars.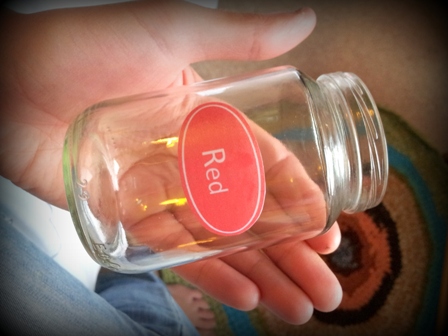 And there you have it.  Waterproof labels in minutes.