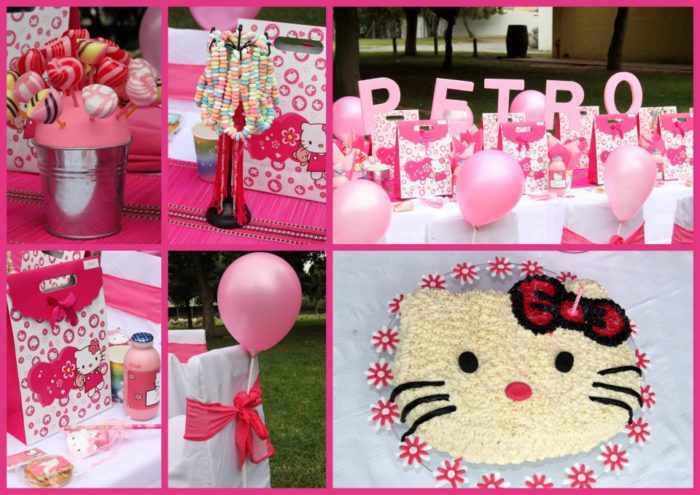 To my mind every crafter should have a little girl in her life for whom she can make all things pink and frilly. Sometimes I am reminded of the fact that I don't have one of those hanging around. This is one of those times.
When I saw these photos on Elizma's facebook page I went all koochycoo. They were calling out to be shared and if she wasn't going to do it, I had to!
It is easy to choose your theme. It is much, much harder to rein yourself in and not go overboard. I think this is an excellent example of an understated, but FUN, kid's party.
So, with kind permission, here are some ideas to make your little princess' Hello Kitty party one to remember.
Hello Kitty Party Ideas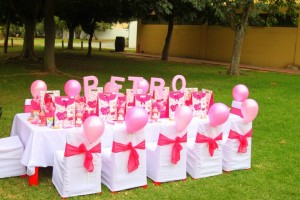 There are a few tutorials on how to make your own slipcovers for chairs. This tutorial by Ana White is brilliant. It's called a Parson chair slipcover and is both quick and simple. You can make them as long or as short as you like. Or you can hire them if your pockets are deep enough.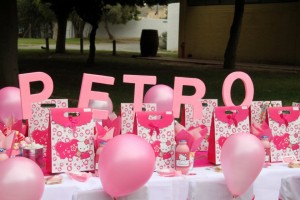 These styrofoam/polystyrene letters make a striking center piece. You can spray paint them any colour you want. You can even cover them in glitter, sweets or sprinkles should you prefer. And you can use the idea for any theme, not just a Hello Kitty Party. Stuck into a bucket filled with sweets/sand (provided the kids are big enough to refrain from eating the sand) they make the table come alive. You can buy polystyrene letters/numbers from most craft shops or online at places like Amazon and eBay.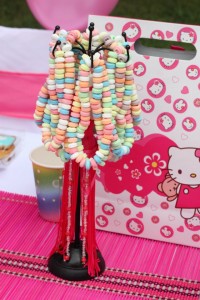 You can buy these Sweet Necklaces at Amazon. They look really cute displayed on a necklace stand and my sister and I used to love wearing (and eating) these as little girls. Come to think of it, so did my brothers.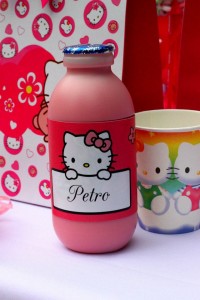 You can download free templates for gift tags and name tags at printfreecards.net.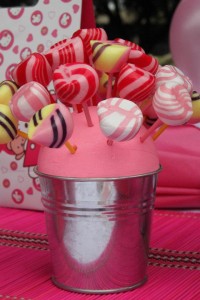 This little bucket and spray-painted polystyrene ball is perfect for displaying lollipops or cake pops.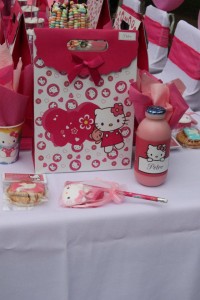 You can also find a free template for a cute little Hello Kitty gift box here at paperkawaii.com. Free templates for gift bags are few and far between, but you can fold your own gift bags from any nice pink paper and just print out some hello kitty pictures to stick on the front. Here is a lovely tutorial by How About Orange. Just as an aside, How About Orange is fast becoming my favourite blog, so if you are into crafts, bookmark that site! It is chock full of awesome ideas and beautiful photos.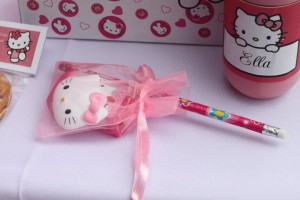 Keep your party favours simple. There are millions and millions of cheap and cheerful hello kitty bits available. Try to steer clear of the usual dime-a-dozen party favours that just end up annoying the moms when they get home. I hate all the little bits of nonsence lying around all over my house!!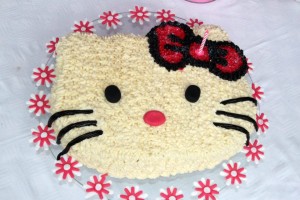 Here is a cute tutorial for a HelloKitty cake from The Mucky Macbook. You can also print one of the picture supplied at the bottom of this post and use it as a template for either a plain iced Hello Kitty cake or a fondant Hello Kitty cake. If you are interested in making Hello Kitty cake pops, follow this link to access Bakerella's tutorial.
For a wide variety of Hello Kitty cake images – and I do mean a WIDE variety, not just your standard pink cake – visit bigFATcook.com by clicking HERE.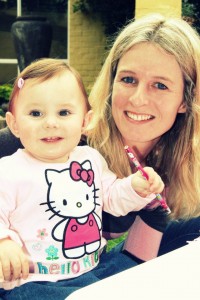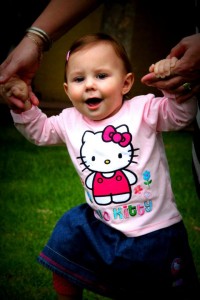 Thank you for letting me use your photos, Elizma!
Some tools/ideas…
Some more parties…
Best of luck with your little one's party!!
Have you got a Hello Kitty Idea you would like to share? I would love to feature your ideas or suggestions, so drop me a line if you have recently done a kick-ass Hello Kitty Party and am dying to share it!
Remember to subscribe to my newsletter if you would like to be kept in the loop. You can also like my Facebook page or follow me on Bloglovin or Google+.
Happy Party Planning!