As always, we are having a budget Christmas. To that end I have tried to make every £5 look like a tenner with a tan. Enter my frugal Christmas gifts (which are also brilliant for last-minute gifts).

I might be wrong, but I think that these little gift bags feel A LOT more opulent than they are worth.  My mom always says it's the idea that counts.  How come it feels like that is increasingly not the case?
These little frugal Christmas gift bags would also be ideal for those people who realizes (very last minute) that they have forgotten to get someone a gift and the shops have already closed.  The garage (service station) will no doubt still be open.  And if it's not, everyone has a stash of sweets in their house, so improvise…just don't tell them about this blog or your secret will be out!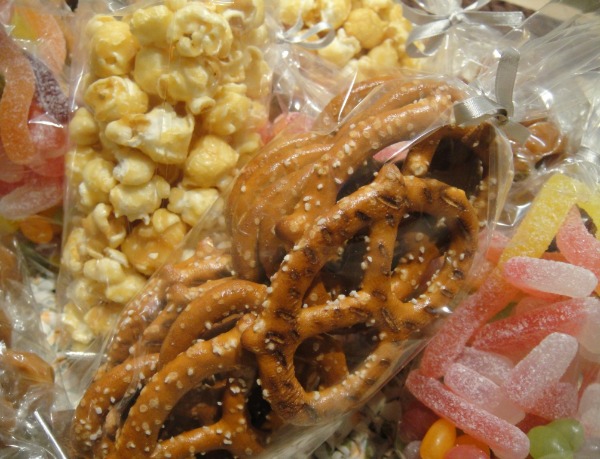 You can make these gift bags as expensive or as inexpensive as you want.  You can pop them in a gift bag  with some tissue paper crumpled in the bottom or in a quirky cardboard box lined with newspaper.  What about popping them into a plant pot for a little old lady with a penchant for potted flowers?
And as an alternative to a Christmas card for a work colleague, why not tie a tag onto the ribbon and hand them a little bag of nibbles?  And giving anyone a gift voucher?  Pop it into a bag full of sweeties and make it fun!
For our next-door neighbours I have combined them with a few bags of Ikea coffee beans as that is what they like using in their coffee machine.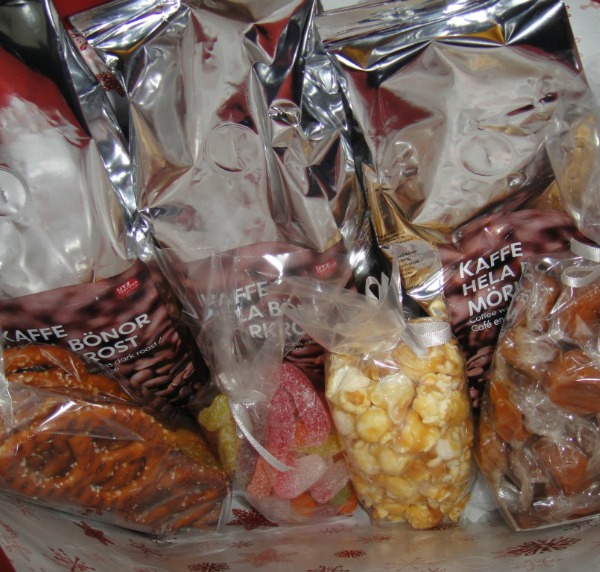 Assembling Your Frugal (Last Minute) Gifts
Before you get started, make sure that you have the following items handy:
A cuppa or a drink
Scissors
String/wool/ribbons (here's a handy tip:  you know that gift bags usually have ribbon/string handles?  I cut these handles out of the bags before throwing them away – if I can't use the bags again, that is.  I have a whole ice-cream container full of odd pieces of salvaged ribbon and string.)
Cellophane bags (like these Wilton bags)
Stash of goodies -popcorn, pretzels, toffees, chocolates, sweeties…HOME MADE BISCUITS?
Suitable container/gift bag
Optional:  Last-minute Christmas Card Printable
Now for the instructions:
Open cellophane bag
Fill with loot
Tie with ribbon
Repeat
When you're done, place the goody bags in your container of choice and prettify!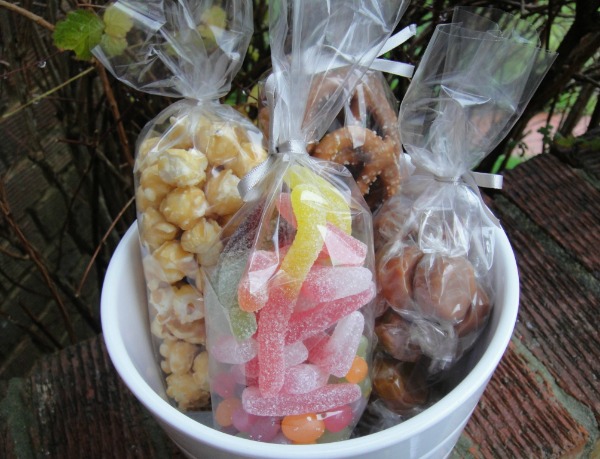 I hope this little post helps you out of a sticky situation :)  Or better yet, I hope you weren't in a sticky situation in the first place, just super frugal and organized!
Remember to subscribe to my newsletter if you would like to be kept in the loop. You can also like my Facebook page or follow me on Bloglovin or Google+.
Happy Hooking!