Sophie's Alternate Universe is an extension/modification of Sophie's Universe, created by my friend Sonja Hollands. Sonja needed to make Sophie much larger, so she flipped her through 90 degrees again and added four half-gardens to create a ginormous Alternate Universe. It is a whopping 200cm x 200cm!
I am delighted to present you with Sonja's instructions for creating your own Alternate Universe. Before we start, I would like Sonja to share a little bit about her journey, but before we get to that, I need to tell you one very important thing: This is NOT a complete pattern, but an add-on. You will still need the instructions for Sophie's Universe in order to create this 'Alternate Universe'. Sonja's instructions have not been tested and there are no step-by-step photos.
That having been said, Sonja and I have spent the majority of the past 2 weeks trying to make her instructions as easy as possible to follow. By the time you need to implement the repeats/changes to create the alternate universe, you will already have made the first 89 Rounds of Sophie's Universe, so you will be familiar with all the stitches and techniques used.
If you are in a hurry, scroll past the interview to 'Instructions for Creating Sophie's Alternate Universe' at the bottom of this post. You will find the PDF there.
Sonja and Her Alternate Universe
When Did You Start Working on Sophie?
My friend and neighbour Hélène and I share a love for crochet, so we get together at least once a week to crochet together. We both loved Sophie's Garden, so when the Universe CAL was announced, we just had to make it. We started on February 21 (the day after my birthday).
I was in Spain the week before to celebrate my and my mums birthday (the 13th). I got back in the early afternoon on the 21st and that evening we started our journey.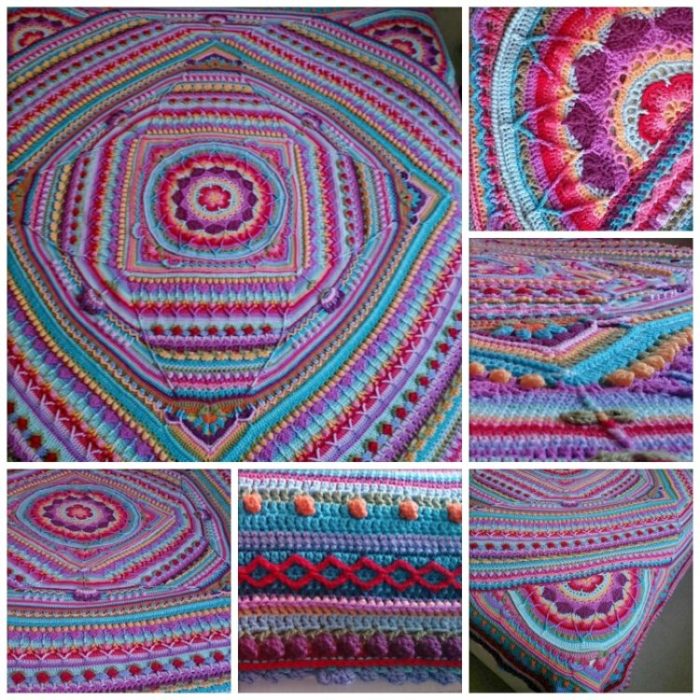 When Did You Decide to Make the Alternate Universe?
I initially thought Sophies Universe would fit on my queen-sized bed with only adding a few extra rounds. I was constantly running at least 5 weeks behind so I could see what was coming. By the time I reached Round 90 and saw all the finished Sophies appear, I realised I would have to add so many extra rounds to make her fit, it would ruin the design too much.
The first idea was to repeat all the rounds from 35 and up, but keep Sophie in a square. But I also loved the pretty flowers on the short side so I decided to make the turn again. And I had to repeat all the rounds anyway to make length, so there I went.
When I reached Round 80, I ended with an octagon and couldn't use the squaring off rounds from the pattern, because they didn't fit.
I needed 4 triangles to fill up four sides to square up my Sophie again. I decided on trying to make half a Sophie's Garden (diagonal) as a triangle. It took me a few days to figure out how to make it fit. I even went into a yarn shop with my half Sophie (because I thought I should make it separate first) to get help. The half Sophie I made was not flat on the bottom. Turned out I forgot to increase, but I finally got it figured out without the corners bulging or stretching the whole piece.
I was so proud that I got to alter Sophie successfully that I wanted to alter her name too. That's how I got to name her Sophie's Alternate Universe.
Hélène is doing the same alteration at the moment and hers is dubbed Sophie's Parallel Universe. ;)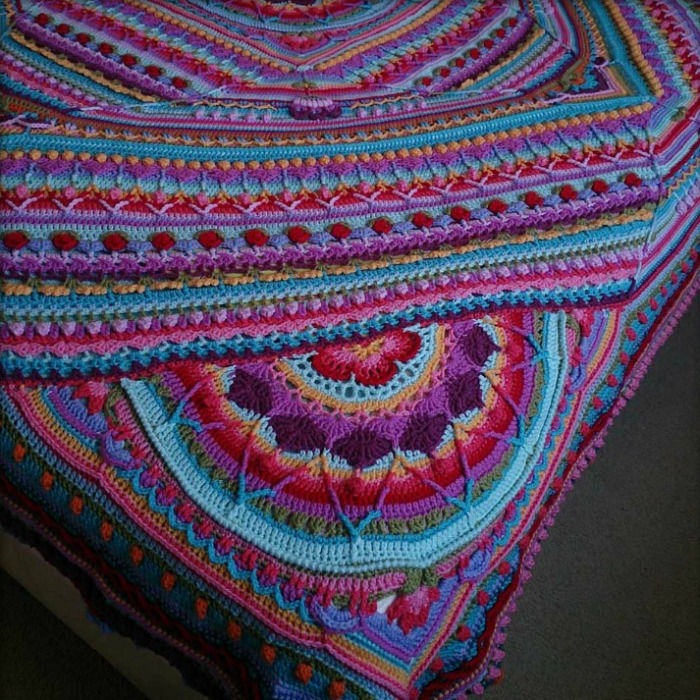 When Did You Finish?
I took a 2-month break from Sophie during the summer because I was either busy or it was too hot to have her on my lap. I finished her in the first week of January this year, so that was almost a full year.
What Would You Have Done Differently?
Nothing, I guess. I loved making her.
How Many Hours Did It Take You?
That's hard to say. Hélène and I get together at least once a week, so that's at least 3 hours times 40, but a crochet evening includes chat, wine and snack breaks, so maybe we get 2 and a half hours effective crocheting done ;)
But there have been a lot of crochet-a-thons too. Netflix and crochet…some series were easy to crochet along to, since the audio/dialogues were enough. Some weren't, like the Danish ones where I had to read subtitles.
If I have to make a wild guess, I'd say under 200 hours. I know in the end, making Bettys Beautiful Border, it took me at least 2 hours to complete a round.
Instructions For Creating Sophie's Alternate Universe
If you would like to make Sophie's Alternate Universe, you can download Sonja's FREE PDF HERE. Please note that the PDF has been edited. The latest version is v6.
You can find the Dutch PDF HERE.
You will still need to access the instructions for Sophie's Universe in order to complete your Alternate Universe.

This blog post contains affiliate links. I only link to products I personally use or would use.  All opinions are my own.