If you have been following my blog for a while, you might remember that I teamed up with the lovely ladies from Be Inspired in August to host workshops in South Africa. I have already told you about the workshops at 27 Boxes in Johannesburg and today I want to tell you about the Be Inspired workshops at I Love Yarn in Pretoria.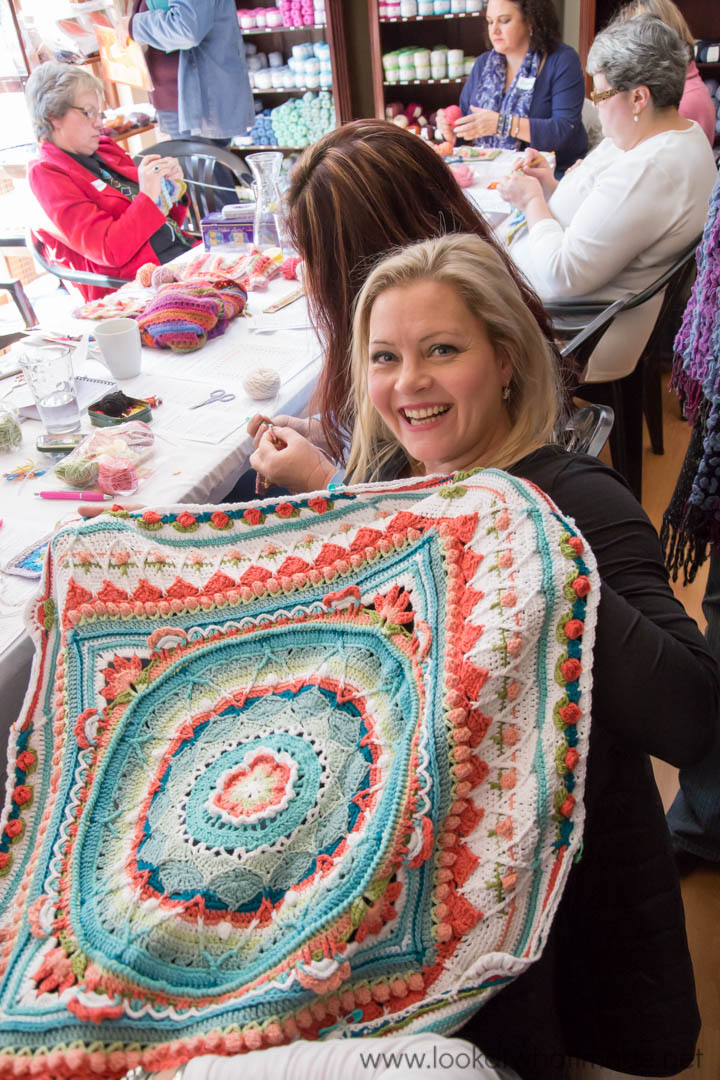 I cannot remember this gorgeous lady's name, but as I mentioned in the post about our South African Trip, she has come to embody the spirit of the workshops for me. I just love how happy she is, and how proud she if of her work :)
A Little Bit of History
One of my cousins came to visit us last month (a wholesome, handsome young man any mother would be proud of) and, with him being well acquainted with Pretoria, our conversation inevitably turned to what a beautiful city it is, and how friendly the people are.
Between the months of September and November, the city is a purple paradise thanks to the 70 000 Jacaranda trees lining its streets (and shedding their flowers). It is often referred to as 'Jacaranda City'. I was there too early to witness this amazing fairy-land display, but my friend Loma was kind enough to send me some photos. What I wouldn't give to be able to see it in person! (You can see some Google Image Search results HERE if you are interested.)
Here's a little something you don't know about me. When I was tiny (just before I turned 6, I think), I went to stay with my granny and grandpa in Pretoria for a while. I remember my visit fondly, most notably for the fact that I found out, while there, that I would be getting a baby sister.
Be Inspired Workshops at I Love Yarn
Back to the workshops!
Our Pretoria workshops were hosted at I Love Yarn (@iloveyarnsa). It is a beautiful venue, and with one wall taken up almost completely by windows, it was sunny and surprisingly warm :)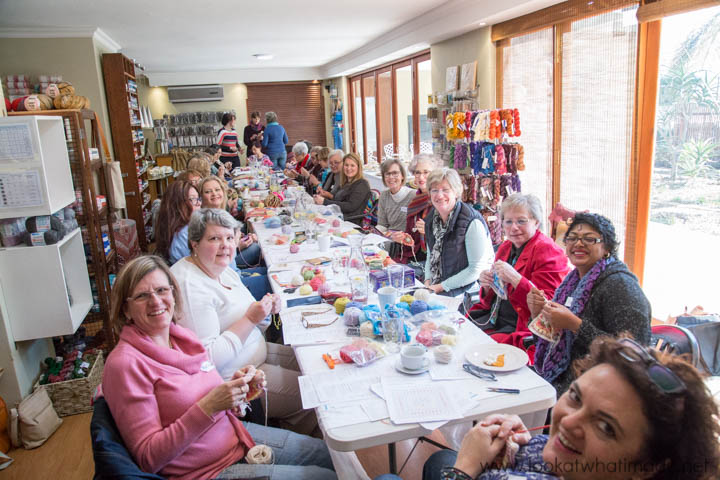 Elaine van Wyk, who runs the shop, was kind and delightful, and the snacks they provided looked amazing! I didn't have any because I was a) running around and b) feeling even worse than I did at the Johannesburg workshops. If memory serves, my voice had already turned into a low croak by that point and I kept drinking a ginger-lemon concoction my aunt had supplied me with.
Before I show you some pictures of the workshops, I want to quickly show you the yarn I bought: I Love Yarn Imagine (70% Bamboo, 30% Cotton mix). I am not sure what I am going to make with it yet, but considering what I have now learned about the drape and character of bamboo, I am thinking a shawl. Elaine helped me choose the colours and I love the fact that they are not my usual more-is-more colours!
I also spied a beautiful Cotton Bath Mat that I really want to make, but I forgot to take a photo of it. You can see it HERE on Ravelry, or you can wait for me to make one and see it them :)
Morning Workshop
We had a couple of crochet celebrities in the morning workshop: Helène Janse Van Rensburg from Brilliant Mommy (@brilliantmommy_southafrica) and Annamarie Esterhuizen, 'the Mandala Queen'.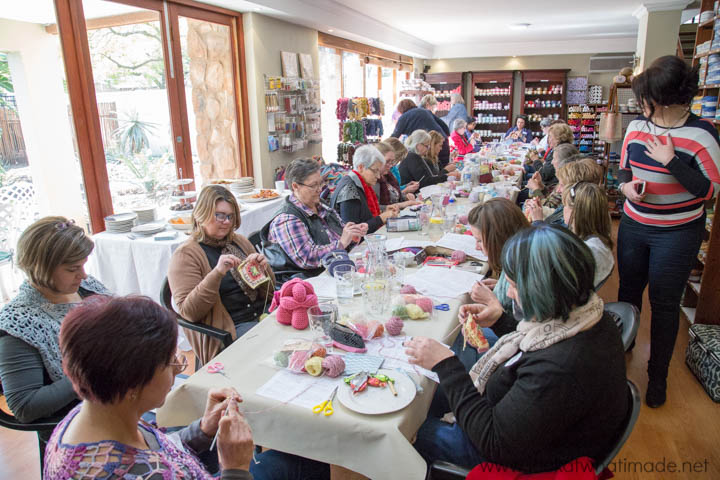 The workshop ladies brought A LOT of items for Show and Tell. This is Maryna van Emmenes showing off her Sophie. Isn't it beautiful in the pastels?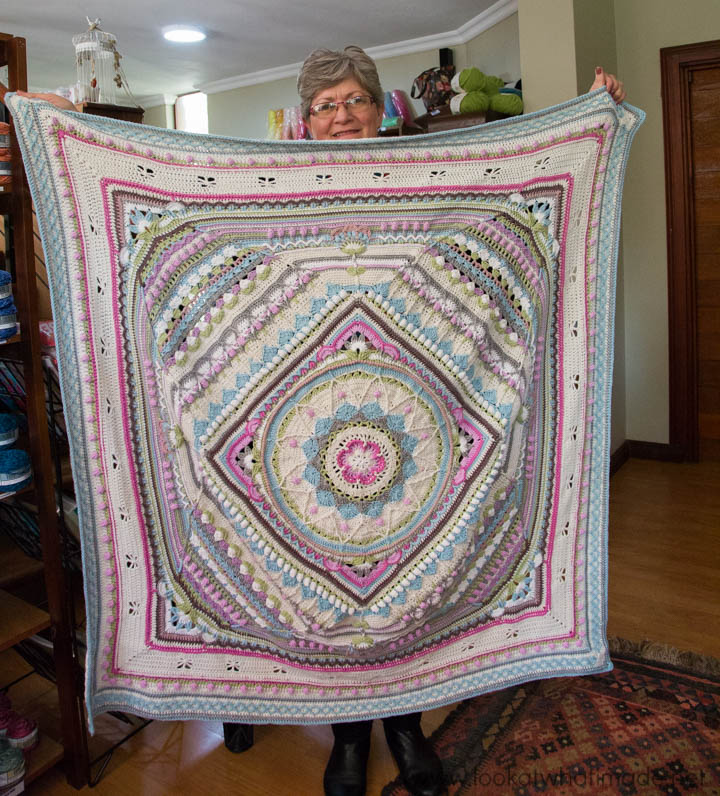 Eloise Nel's Sophie makes me think of Frozen. I love the elegant feel obtained by using only three colours.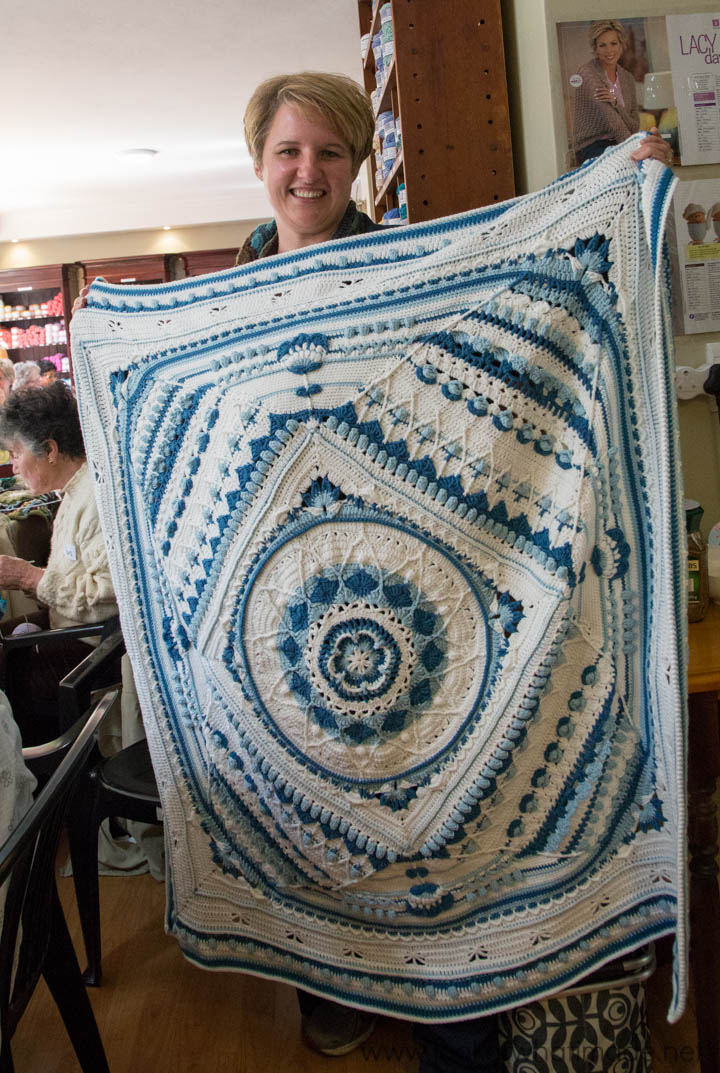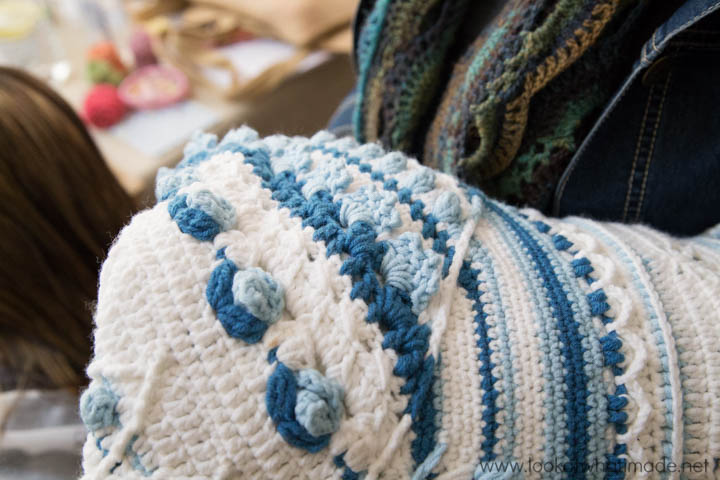 Annaline started making this gorgeous blanket before I released the pattern for Sophie's Universe. It consists of 12 'Gardens' (Parts 1 – 4 of Sophie) and I LOVE it. Look how big it is!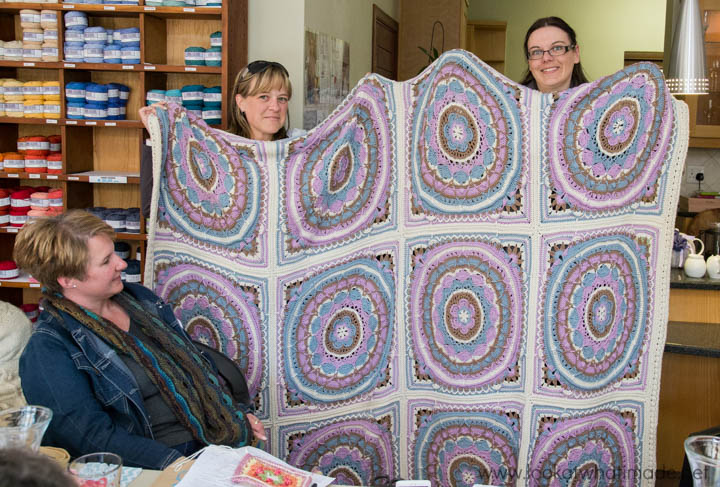 While we were chatting and laughing and generally being silly, I took some photos of Marilyn van Zyl wearing the Namaqualand shawl I designed for the workshops. Doesn't she look elegant?
It was made using 2 skeins of Scheepjes Invicta Colour (which I am crazy about) and I will be sharing the pattern in January, so you will have something to look forward to after Christmas.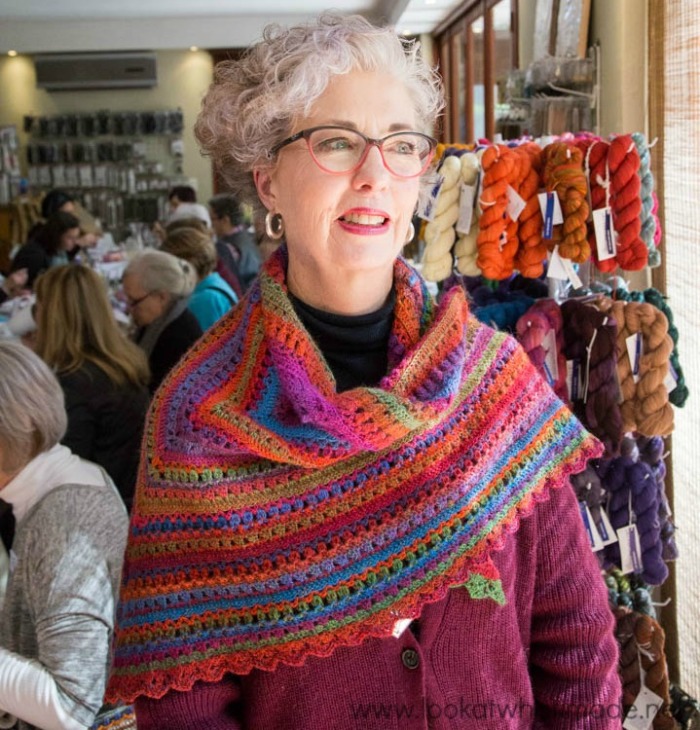 Daisy from Devon Sun Yarns teases me because I never wear anything crocheted when I go to yarn shows, so when I went to Yarnporium a few weekends ago, I donned this shawl. I don't think I wear it quite as well as Marilyn, but I'm ok with that :)
Because so many people had brought along their Sophies (and other makes), we decided to take a group photo of everyone who attended the morning workshop. As I look at this photo now, I can feel myself getting all emotional and homesick. Like with all the other workshops, it was wonderful to spend time with, and get to know, so many ladies I had only known online up until that point.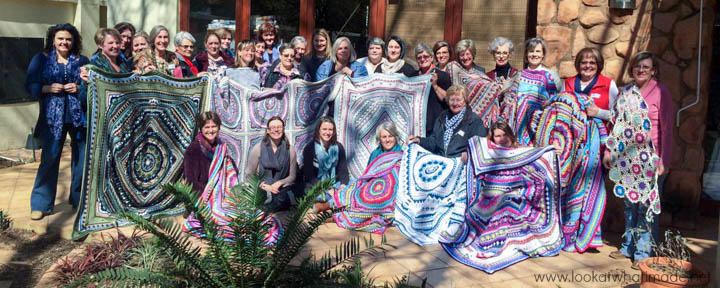 Lunch at Jam and Daisies
After the morning workshop, Chantal and Julie took me to Jam and Daisies for lunch. The food was delicious, but I must confess that the best part of it was seeing these gorgeous Whirligigs. I LOVE daisies and I can't believe that I have never seen a pinwheel daisy before. Smitten!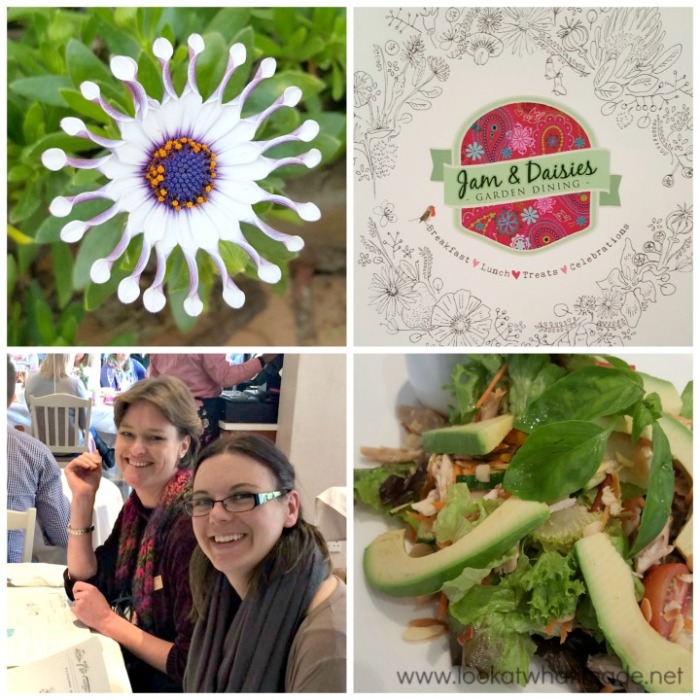 Afternoon Workshop
In the afternoon workshop, I got to see some more 'makes'. This modified Sophie by Marietjie really intrigued me. I have seen a few Dandelion Mandalas squared up using Part 4 of Sophie's Universe, but this was the first time that I saw Sophie squared up using Lilla Bjorn's Dandelion Border and finished using the Around the Bases CAL.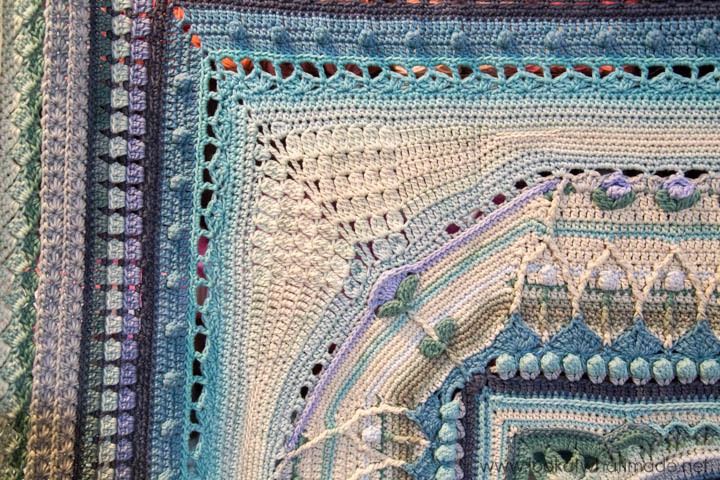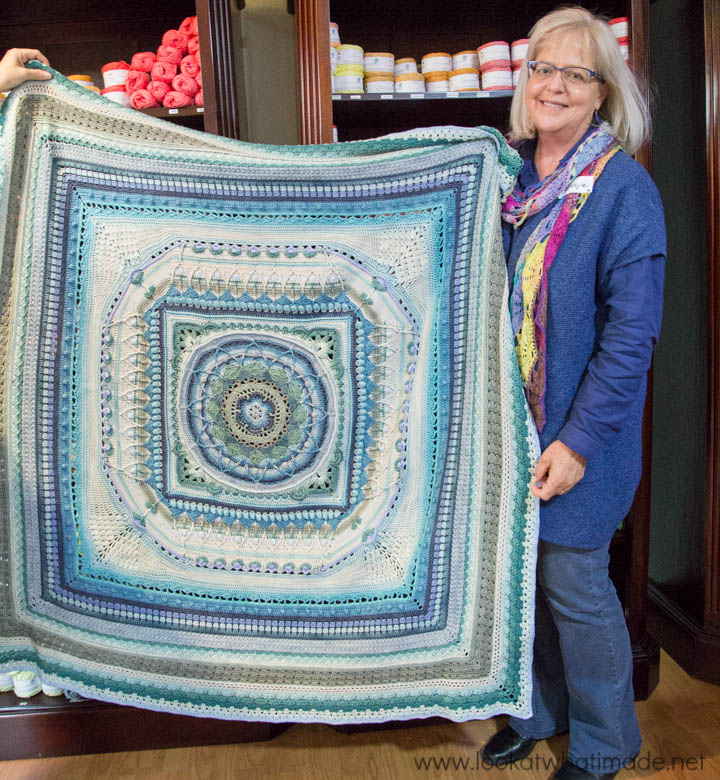 Some of the 67 Blankets ladies brought along a blanket made from 6 Charlotte Squares. I had the privilege of seeing this same blanket gifted to someone in need.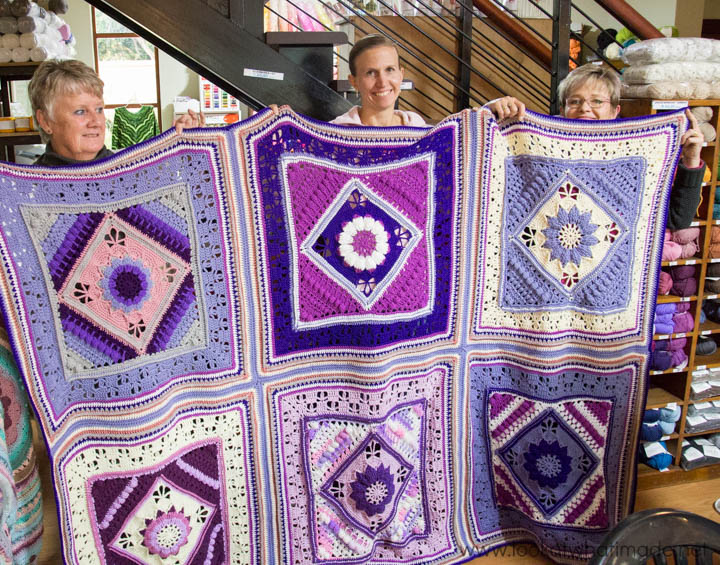 Ina…what can I tell you about Ina except that she was lovely! She brought a friend along, and they drove a very long way to attend the workshops. You know that I firmly believe crochet is much more than just a craft and Ina is proof of this theory. She told me that crochet (and all the wonderful, modern patterns available on the internet) has changed her life. It was an honour to meet her and to talk to her about healing, community, and crafting.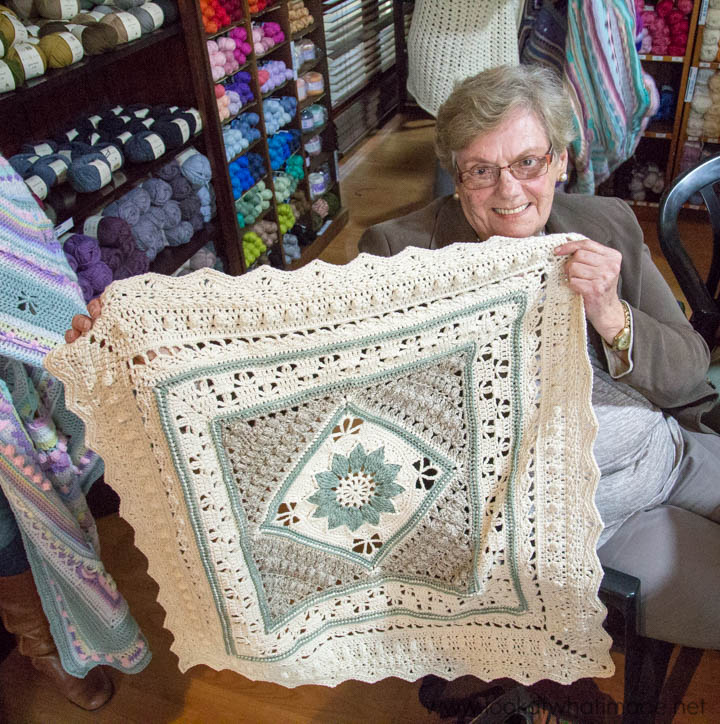 You can see more photos of the Pretoria and Johannesburg workshops HERE on the Be Inspired Facebook Page. You can also read about the Johannesburg workshops HERE.
If you attended the workshops and would like to share photos, please use hashtag #beinspiredbydedri.

This blog post contains affiliate links. I only link to products I personally use or would use.  All opinions are my own.