It has been one week since we concluded the Maya's Meadow crochet-along, and, as always, I find myself at a bit of a loss when a long-term communal project comes to an end. Buoyed by all the good feels and the sense of community, I want to dwell in CAL land just a little bit longer. So, I thought I would share a few crochet-alongs starting this month. All of these projects/CALs finish before Christmas, so with luck, you can tick a few gifts off your list :) And if you get to the very end of the post, you'll see a sneaky of what I'm up to next.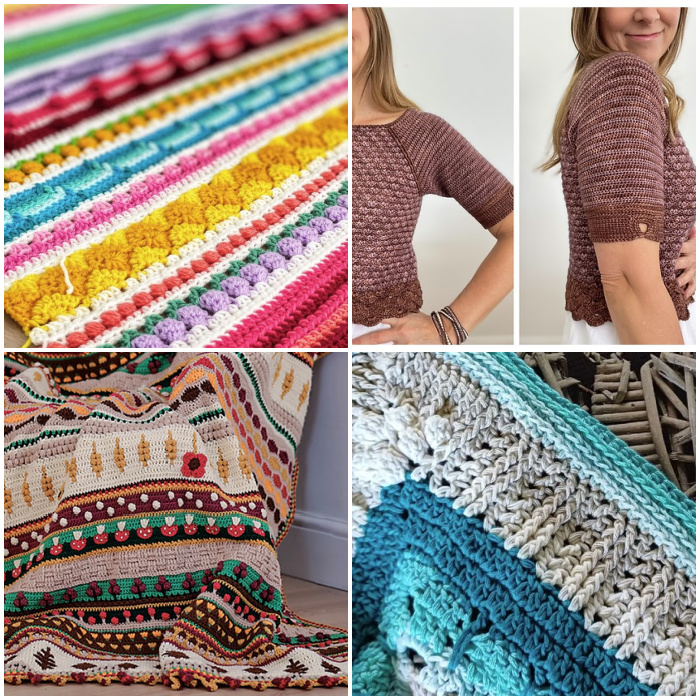 Rainbow Sampler Blanket 2 by Kirsten Ballering.
Following on from the success of her previous Sampler Blanket CAL (Free Pattern), Kirsten has designed a new sampler blanket with more advanced stitches to add to your crochet library. Although the stitches are advanced, the pattern is written with beginners in mind, with plenty of photo tutorials and charts.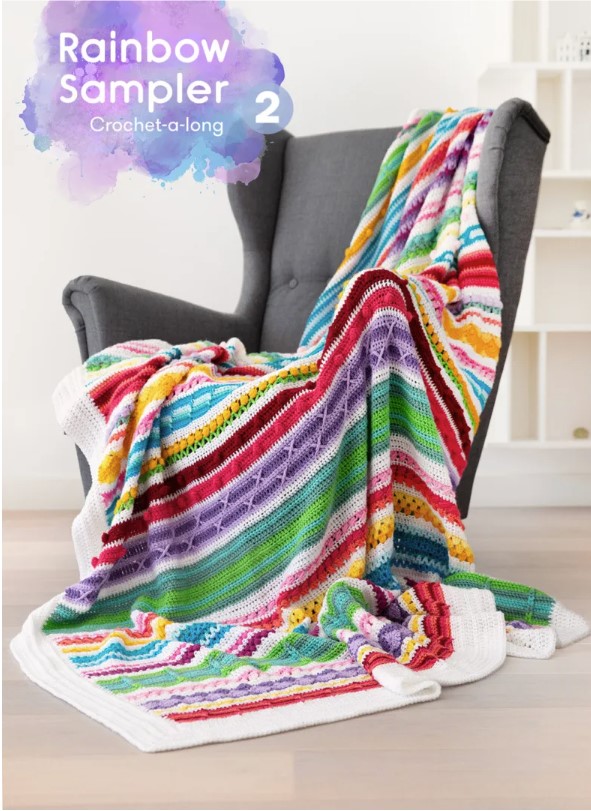 A few months ago, Kirsten and I spent a great day hunting for fossils on the beach at Lyme Regis. She found fossils and beautiful old glass bottles. I found rusty window frames, which will hopefully come in handy for future photos :)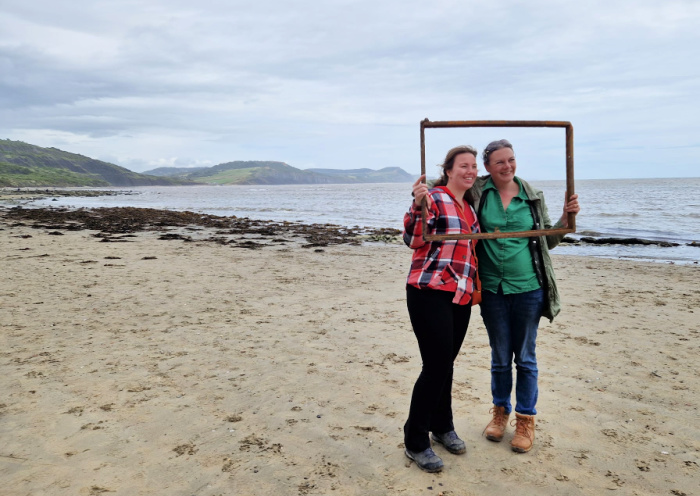 She brought this Sampler Blanket WIP along with her, so I was fortunate to see it in real life. It is a riot of colour and happy stitches; one of those projects that make your eyeballs smile!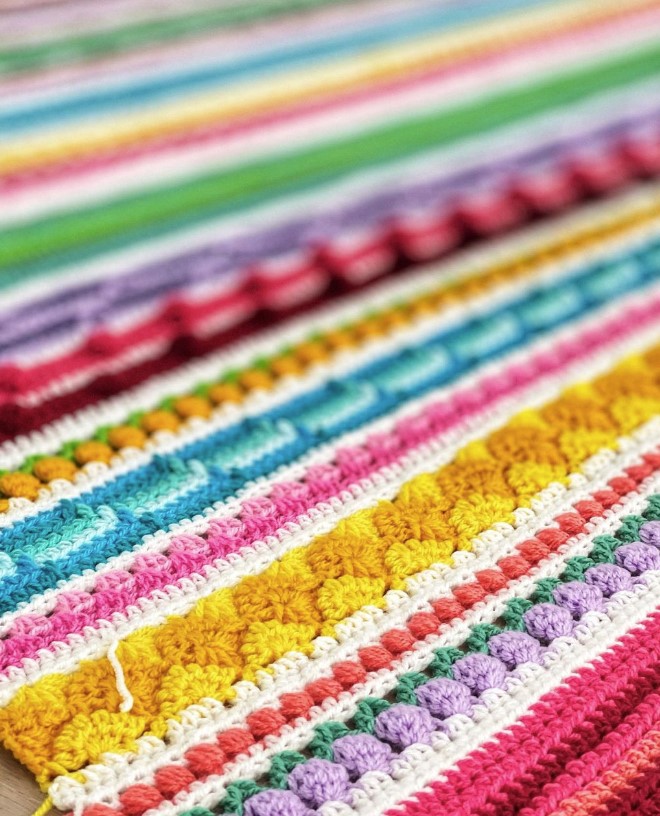 The Rainbow Sampler Blanket 2 CAL starts on the 28th of September 2023, and will last for 12 weeks, with free parts being released on Kirsten's website every Thursday. You can also purchase a styled PDF version of the pattern if that is your preference (50% off until December 14th when the CAL concludes). For support, you can join Kirsten's Facebook Community, and for weekly reminders, you can join her dedicated CAL mailing list.
You can find all the information for this crochet-along HERE on Haak Maar Raak.
The Shelley Sweater CAL by Susannah Kate
The Shelley Sweater CAL is designed and hosted by Susannah Kate from Peppergoose Design. It is named after the well-known (and SUPER lovely) Australian crochet designer Shelley Husband. It is a top-down raglan design, graded to 11 sizes. It is aimed at adventurous intermediate to advanced-level crocheters.
Just look at it! Isn't it beautiful? Susannah has lots more photos on her website, including testers' versions and Shelley herself modelling a different yarn/colour.
I can't resist sharing a photo I took of Susannah and Shelley when we attended the Crochet Guild of Australia's National Crochet Conference in June. This is them grabbing lunch on the run and me being all paparazzi!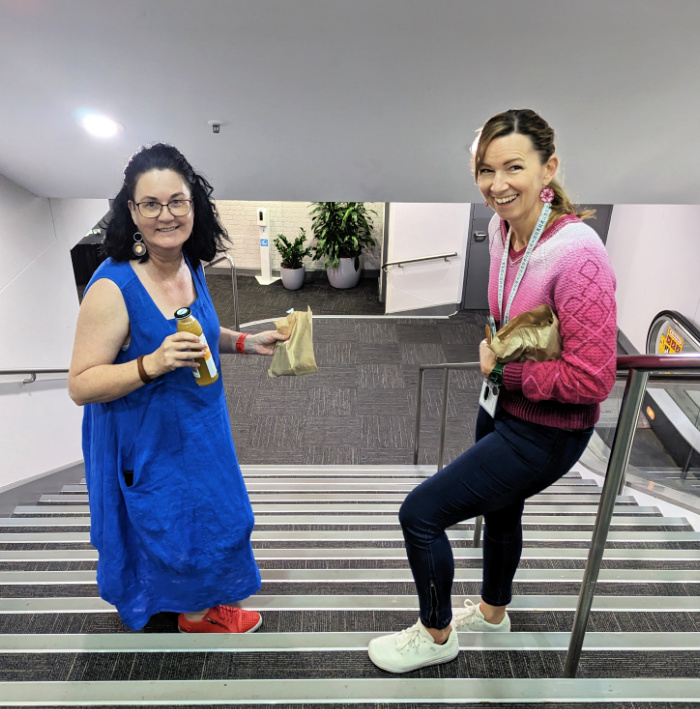 The CAL started on the 24th of August 2023, with a blog post covering swatching, selecting yarn, and choosing your size. The pattern itself is available as a paid PDF, which will be updated weekly as each part becomes available. The first part is already available on Ravelry HERE, and you can join Susannah's Pattern Support Group HERE.
You can find all the information for this CAL HERE on Peppergoose Design.
Modernella Throw Mystery CAL by Joanita Theron
Hmmm, I do love a mystery crochet-along and the textured stitches I can see here make me very happy! Also, the blues!!!! Such pretty colours. I have been following Joanita's designs for a good few years now, and I always enjoy what she comes up with.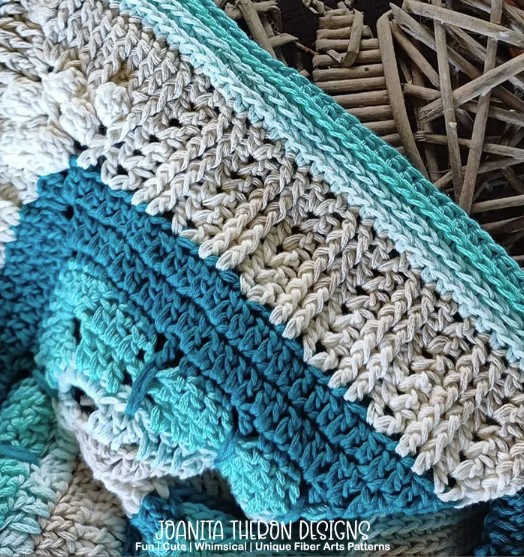 The crochet-along is aimed at adventurous beginners to Intermediate-level crocheters. It starts on the 15th of September, with parts being released on Fridays and Tuesdays over the course of 2 weeks (5 parts in total). The finished size will be 97cm x 97cm (38″ x 38″). Pattern support is available from the Joanita Theron Designs Facebook Group and/or Joanita Teron Designs Ravelry Group.
You can find all the information for this CAL HERE on Creative Crochet Workshop.
Fall into Autumn CAL by Alice Tarry
How cute is this blanket? I especially love the little mushrooms! I have a particular fondness for story blankets.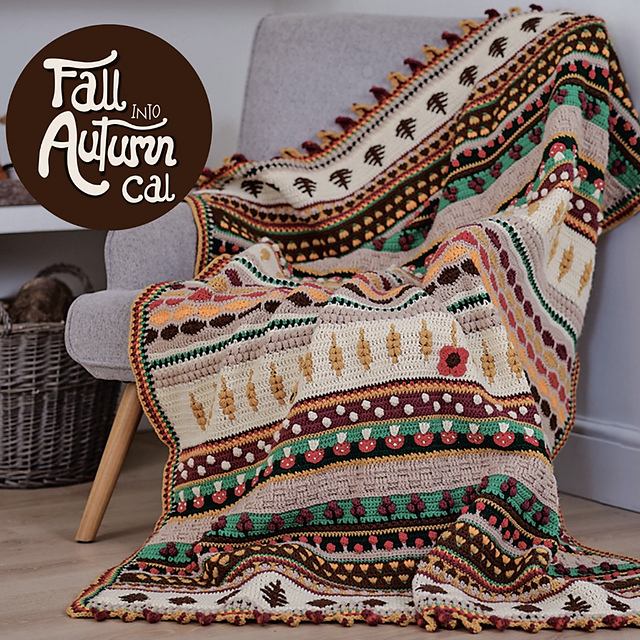 This blanket was designed by Alice Tarry from The Burrow UK (Ravelry Store). This is a free crochet-along, starting on the 22nd of September, with parts being released weekly on a Friday for seven weeks. You can find more information HERE on the HobbyCraft website.
More CAL Patterns 2023
If you want even more CAL ideas (all published this year), you can find 17 blanket patterns HERE. Number 11 by Sadika Sobhan has my heart!
And, of course, there is the beautiful Spirit of Flora CAL by Janie Crow, currently running as a crochet-along shared in Inside Crochet Magazine. You can read more about it HERE. You can also see some gorgeous examples HERE on Instagram.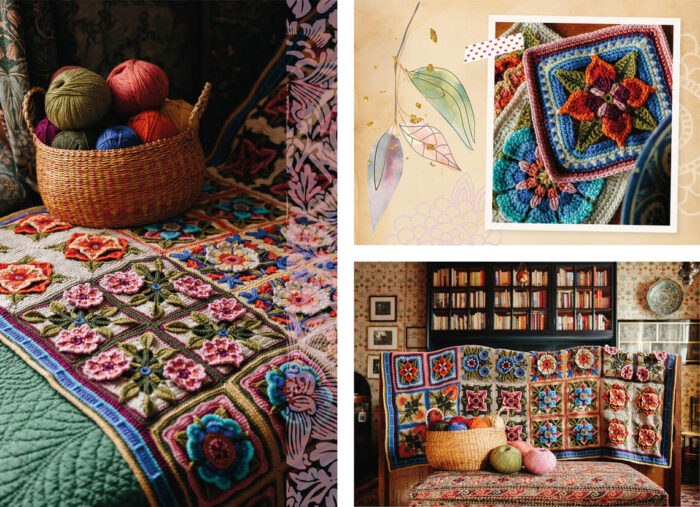 Right, that should keep you busy for a while!
In the meantime, I am working on extending one of my mandalas :) It matches the boys' rugby kits perfectly. Go Crediton!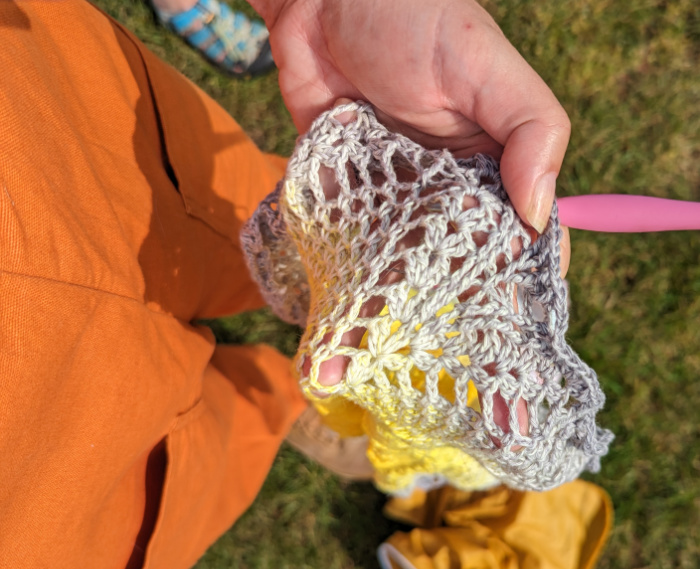 This blog post contains affiliate links. I only link to products I personally use or would use.  All opinions are my own.