For the first time in my personal crochet history, I am working with predominantly pastels. Someone said that I made it sound like a bad thing (and I suppose I did), but that can't be further from the truth. I love Cath Kidston colours. I love crocheting with pastels and muted colours, but for some reason I always end up using every colour in the rainbow. I just can't help myself. I am colour crazy!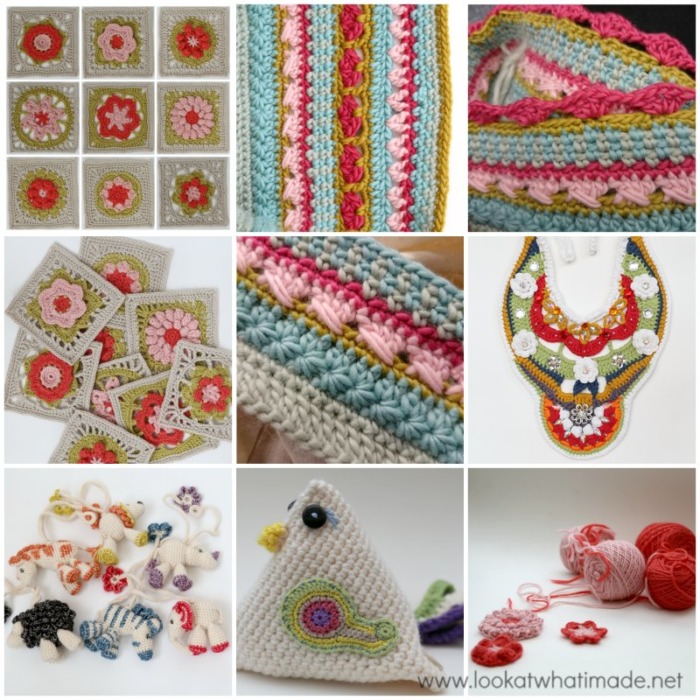 The above photo is a screen clipping of my Instagram feed and it makes me happy! So happy that I couldn't resist sharing. My latest 2 projects are both done in a few select colours and the colours are muted and calm (apart from the bright pink). I had to restrain myself from adding more colours and I am so glad that I did.
The blog has been quiet of late, because it has taken me many months to get over the excitement that was Sophie, and to catch up on all the other tasks I had set myself to do before the end of 2015. I am pleased to say that I am now almost caught up (and will be as soon as I read through the whole draft of the Sophie book again before sending it off to be proof-read).
Here are some of the projects I have been working on:
(Top Left, Middle Left, and Bottom Right) Flowers Abound by Spincushions. I am working from the US Version of the e-book. It is extremely comprehensive! You can buy the US Version from Amazon.com ($5.95) and the UK Version from Amazon.co.uk (£3.93). I am using Plump Dk by Mrs. Moon.
(Top Middle, Top Right, and Central) I Want This Bag CAL by Kimberly Slifer from Just a Girl and a Hook. I am making a cowl following Week 3, Week 4 and part of Week 5. If you would like to make this gorgeous bag, you can find the links to all the parts of the CAL HERE on Facebook. This project is also made using Plump Dk.
(Middle Right) Crochet Neck-piece for a friend of mine. Said friend (Jotsna) is Swaminarayan, and she asked me to make a celebratory neck-piece for her Swami. I made the piece with Drops Paris Cotton and she added some extra crochet flowers and a little bit of 'bling'. This pattern is not available yet.
(Bottom Left) Little Zoo Animals by Anette Bak. I have been working on these patterns with Anette for almost 2 years. When we started making these, I just used whichever yarn I was loving the most at the time, but I really wanted a set of animals in the same yarn, so I asked Anette to make me one each in Scheepjes Stonewashed. You can find the patterns for the Little Zoo Animals HERE.
(Bottom Middle) Mama Chicken Bag. I made this bag ages ago to celebrate Easter. The Mama Chicken Bag was created to carry my Super Quick Easter Chicks. In this photo it is 3-dimensional, but it can fold flat as well. I took the bag out to practise taking photos with my new Canon 6D. You can find the pattern for the Mama Chicken Bag HERE.
I bet you are all super busy finishing the last of your Christmas gifts. I would love to hear and see what you have been up to, so feel free to share links to your pages/feeds/etc.

This blog post contains affiliate links. I only link to products I personally use or would use.  All opinions are my own.