Crochet Hook Sizes and Abbreviations
I compiled this Crochet Hook Sizes and Abbreviations chart last year and although I have been linking to it from some of my posts, I thought it deserved a post of its own. And once I decided to dedicate a post to it, I thought I should really play around with the layout a bit. Two hours later and you would never know that I actually have a million and one more important things to be getting on with.
But avoiding confusion IS important as well. And crochet is mired in confusion! We have metric, US and UK hook sizes. We have US and UK Crochet Terminology/Abbreviations (and that's just in English. What about the other languages??) And don't even get me started on yarn weights! (But that will have to wait for another day)
I use US Crochet Terminology in all my patterns as it just makes more sense to me. But if you are used to using UK Terminology I don't want you to miss out and become totally confused. Plus, I live in the UK, so I should show a bit of solidarity, hm?
If you would like a printer-friendly version of the Crochet Hook Size and Abbreviations chart, feel free to save the image below to your computer. You can do that by right-clicking on the image and choosing Save Image As…
To save the chart as a PDF, simply click on the image below to access the PDF.
You can Pin these images as much as you want. You can print them out and give them to your crochet buddies. You can blog about them and link to them and fold them into paper aeroplanes or origami flowers. But please do not republish them anywhere else.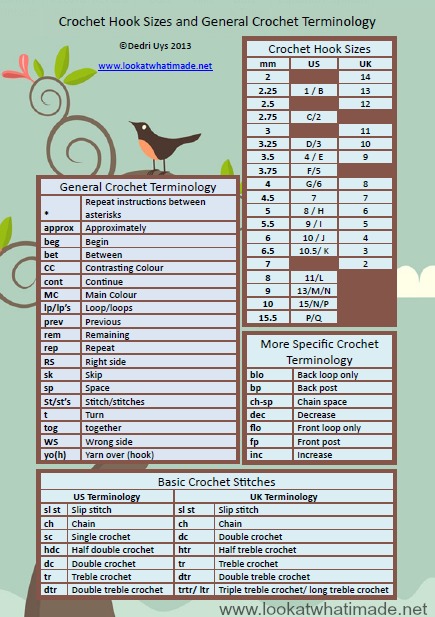 If you have any questions, or spot any errors, please do not hesitate to contact me. (Thank you to Elizabeth Ham, who picked up the dodgy slip stitch abbreviation so that I could correct it!)
Remember to subscribe to my newsletter if you would like to be kept in the loop.
You can also find me here:
Happy Hooking!