Odyssey, by Letitia Sherriff, is the first square of the Block a Week CAL 2014, hosted by the Official CCC Social Group on Facebook. You can find all the information about the CAL HERE.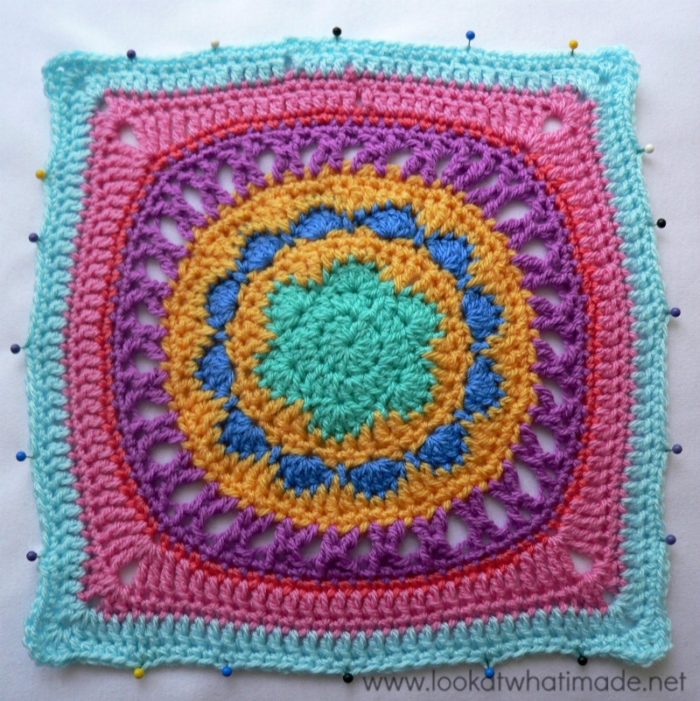 Update:  This square does not have a photo tutorial because we had not decided to do photo tutorials when we did this square, and so hadn't obtained permission to do so.  If you would like to start with some of the squares that do have photo tutorials, I suggest starting from Week 5 onwards and then coming back to this square later on.
From the photo above you can see that I am not an experienced block-maker by any means.  The pins were just so that I could photograph the block better.  I understand now why afghans need to be blocked!!!
This is the block up to the end of Round 6.  Doesn't it make a pretty flower?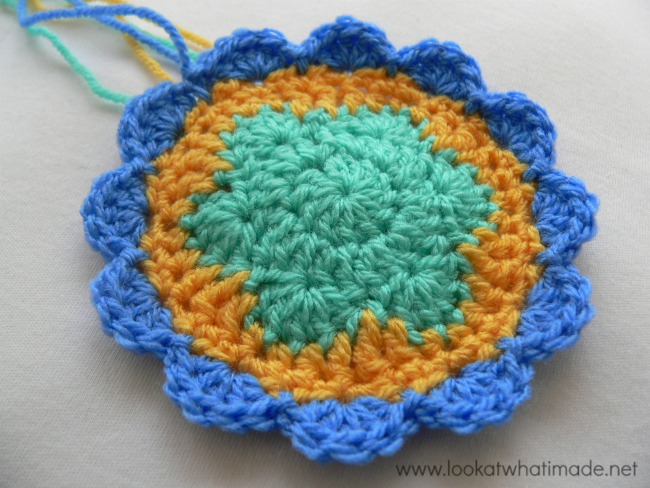 Odyssey Square
Pattern
Materials
Specific Colours
Aspen (Rounds 1 – 3)
Saffron (Rounds 4, 5, 7, and 8)
Aster (Round 6)
Magenta (Round 9 and 10)
Shrimp (Round 11)
Fondant (Rounds 12 and 13)
Sherbet (Rounds 14 and 15)
Size
Using the hook and yarn specified, your square should be a nice even 12″ when you are done.  Using a 4 mm hook, my square came out at 8.5″.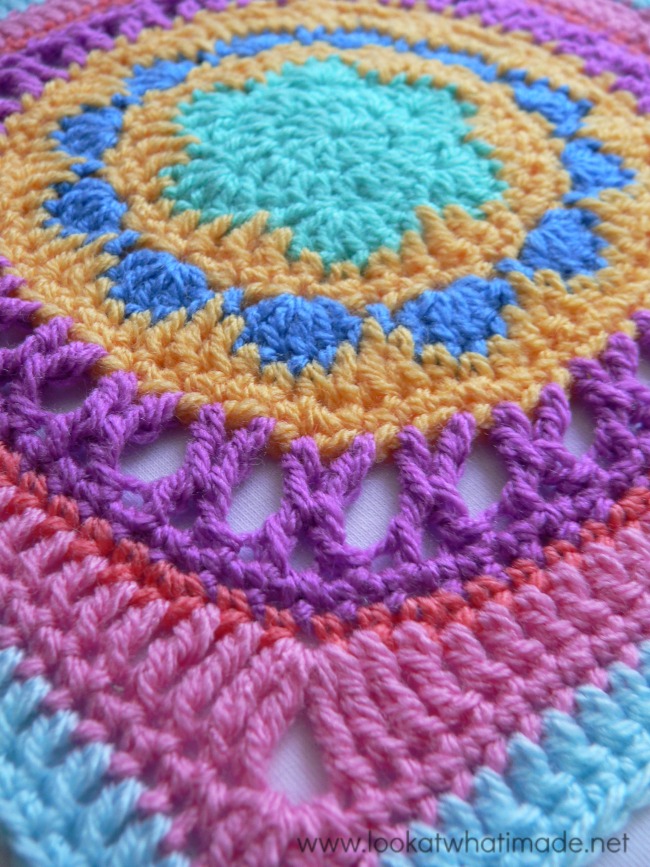 Corrections
Round 10:  The total stitch count is 87, not 86.
Round 11:  Should read:  Finish off the round with two additional sc's, then join with a sl-st to first sc. (104 sc).
Round 12:  Should read:  Repeat from * to * 3 times (ending with 8 dc in the last repeat). Sl-st to top of beg ch-3. Finish off colour A.
Remember to subscribe to my Weekly Newsletter if you would like to be kept in the loop. You can also like my Facebook page or follow me on Bloglovin, Google+, Pinterest, Twitter, or Instagram.
Happy Hooking!