My Jaco is crazy about Elmo, so I made these cookies for his Elmo-themed birthday party almost a year ago.  I remembered the photos of the party being a lot better than they are.  Imagine my sadness when I went to finally write this post only to realize that my photos were not that great at all.  But if you can look past the blur and the flash, let me show you how to make these biscuits, which are both tasty and very cute!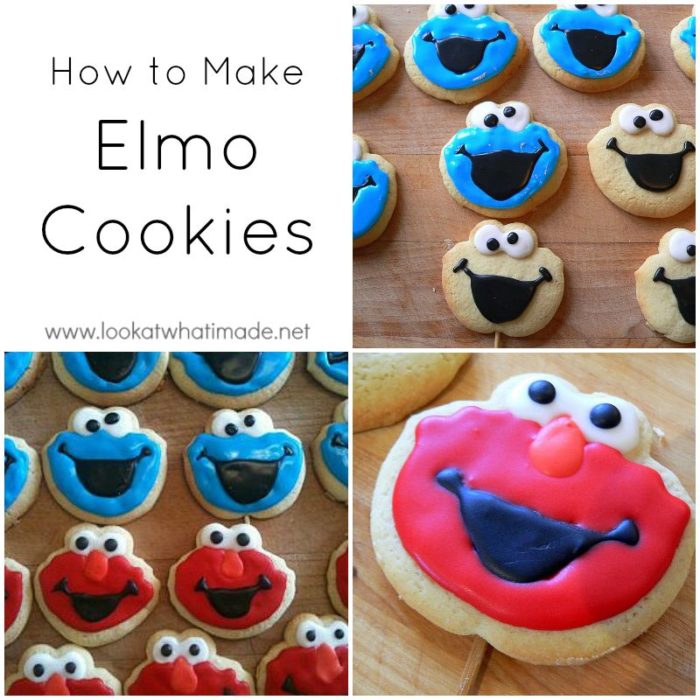 How to Make Elmo Cookies with Royal Icing
You will need:
Royal Icing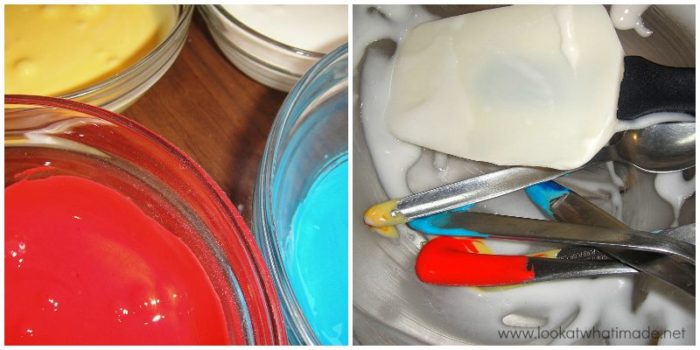 Mo make the Royal Icing, take a large egg white and beat it a little bit.
Stir in 3/4 cup of icing sugar a tablespoon full at a time.  You might not need all the icing sugar.  The royal icing is ready when it reaches the consistency of toothpaste.  Put it in a squeezy piping bottle or a piping bag (the concertina icing bottles are by far the nicest and easiest to use – although not to clean, grrr).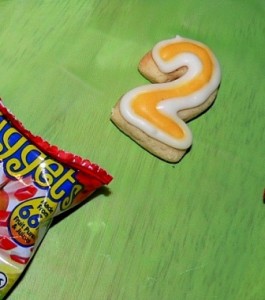 To get the royal icing black, I mix it with black fondant.  I find this method much easier than messing around with black gel food colour.  You can find out how to do that HERE.
*** Remember that royal icing dries out at the speed of light, so if you are not working with it, make sure that it is covered with a double layer of cling wrap.  One layer goes straight onto the surface of the icing and the other covers the whole container. ***
In the photo you will notice some yellow royal icing as well.  I used that to make these little Number 2 cookies.
How to Make Elmo Cookies with Royal Icing
First off you will have to bake the biscuits/cookies and mix up your royal icing.
Once the cookies are cooled, pipe on your mouth and nose.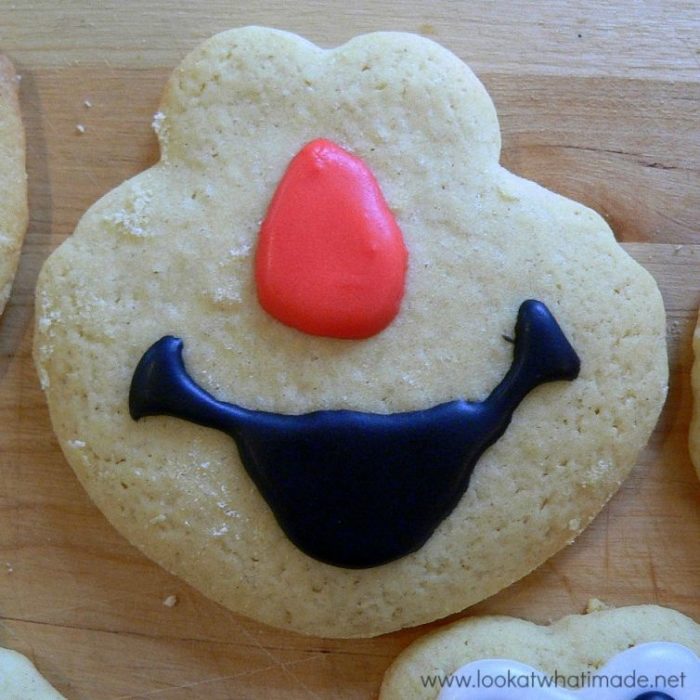 Then pipe on the eyes.  Once they are dry, pipe on the little black pupils.  You will notice that the royal icing sometimes forms little spikes where you stop icing and pull the bottle away.  To smooth these down, just dip your finger in a little bit of water and dab at the spike.  Make sure that your finger is only wet, not dripping, otherwise you will get drops of water on the royal icing and that will form cracks when the royal icing has dried.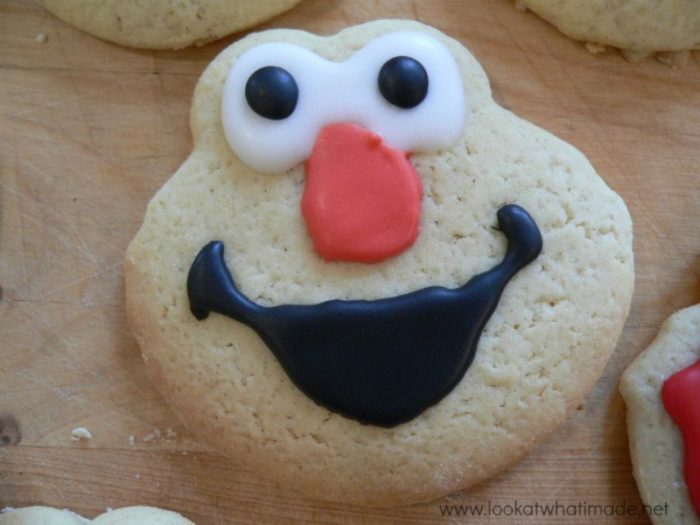 The next step is to flood the cookie with red.  Do this by piping the outline of the face and all around the various structures.  Then fill in the rest and tap the cookie lightly to smooth out any bumps.  (I didn't take a photo of this last step, my bad!)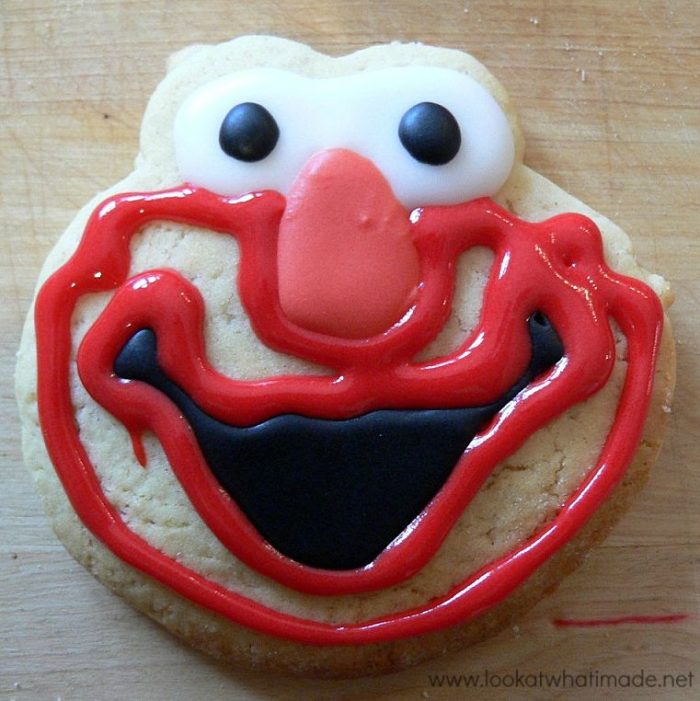 The finished cookie below is not a testament to the efficacy of this method, but to my inexperience as a cookie decorator.  You can see the fine crack on the mouth where I accidentally dropped a teensy bit of water on the royal icing.  And if you look closely you can see a spike on the nose – didn't smooth that one down, did I?
You will also notice some gaps around the mouth between the black and the red.  These can be avoided by pushing the red royal icing against the mouth snugly when outlining in red.  It can also be fixed immediately after piping by taking a toothpick and pushing the royal icing around a little bit.  Remember that this might cause some spikes, so either tap the cookie to get rid of these, or use a damp finger.
So why share this less-than-perfect photo?  Because I think you learn a lot more from mistakes than from successes.  This way you will know what to avoid.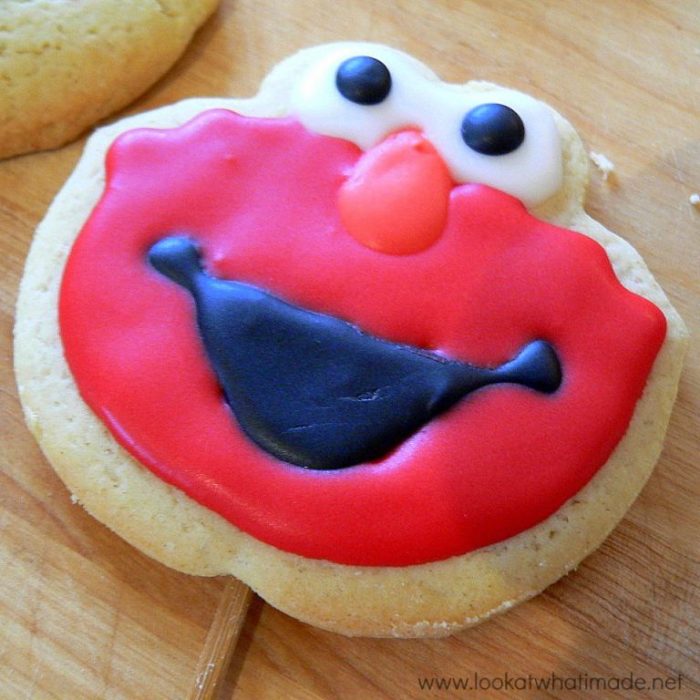 Cookie Monster Cookies
The set also comes with a cookie monster cookie cutter.  They are done very much in the same way as the Elmo.  The only differences are that Cookie Monster has googly eyes, no nose and a bigger mouth.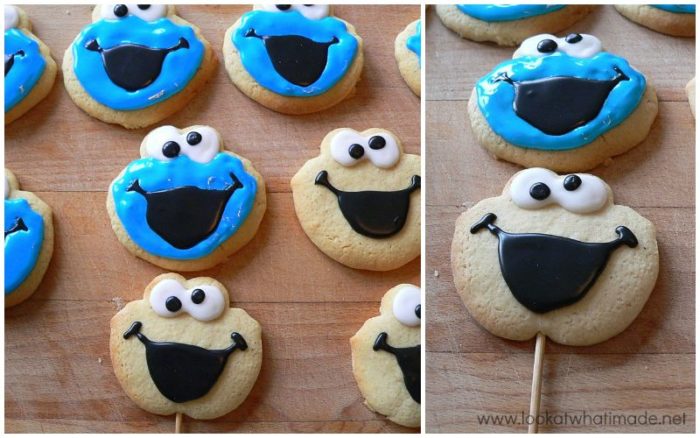 You could always stick some kebab sticks into the cookies before baking and make some Cookie-pops.
If you think these cookies are too much hassle, but still want your party to scream:  "Elmo!", check out my post on How to Make an Elmo Cake.  It's easy and very straightforward.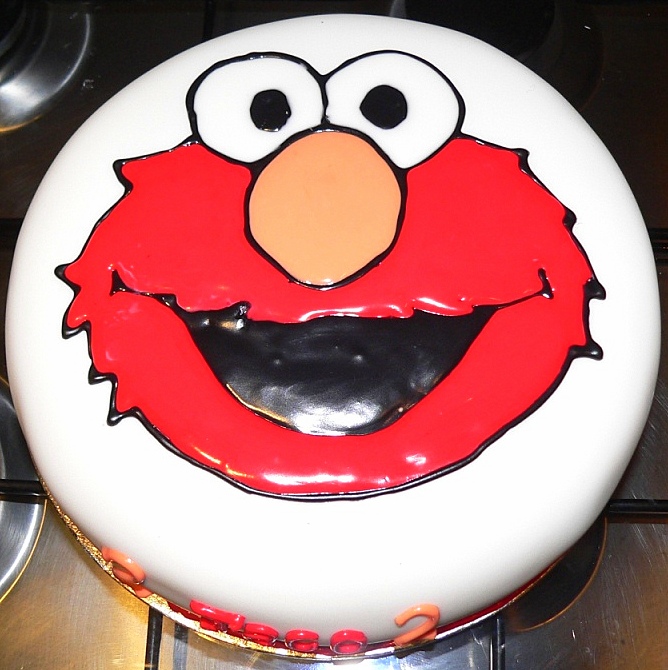 I hope you have fun making your Elmo Cookies!