I cannot tell you how pleased I am with these Carrot Oat Bars. The boys (husband included) loved them and we scoffed the lot within 36 hours. I barely had time to take pictures before they were gone.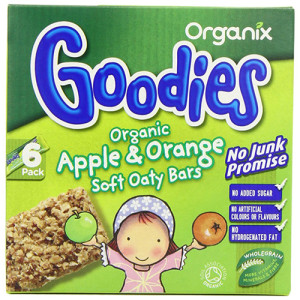 My boys love the Soft Oaty Bars by Organix, but at £3.50 for 6, they are a little bit too expensive to buy with any regularity. So on Saturday I set out to make my own, armed with only a vague idea of what I should be putting into my home-made Oat Bars.
The recipe worked perfectly on the first try and cost me less than £2 for 18 Carrot Oat Bars. Bargain, I say!
I have deliberately omitted adding any sugar (apart from the golden syrup), because I wanted these Carrot Oat Bars to be toddler-tummy-friendly.
Although they are sweet, they are not nearly as sweet as some of us might like them, so I topped them with some melted Candy Melts. And it was perfect! The Candy Melts add just enough extra sweetness to turn these toddler treats into grown-up delights.
So here, for your baking pleasure, is the Carrot Oat Bar Recipe.
Carrot and Oat Bars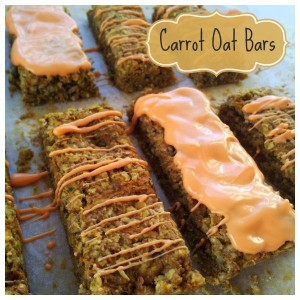 Prep Time: 15 mins
Cook Time: 10 mins
Total Time: 25 mins
Yields: 18 bars
A delicious, healthy snack that is part cake, part cookie, these Carrot Oat Bars are perfect for weaning toddlers and peckish adults alike. They contain very little sugar and a lot of fibre. And don't forget the sneaky carrots!
Ingredients
3 cups Oats
1 cup Wheat germ
1/2 cup Plain flour
1 tsp Baking soda
1/2 tsp Cinnamon (you can use mixed spice (UK) or pumpkin pie spice (US) instead)
1/4 tsp Salt
1 cup Finely grated carrots, packed (about 3 medium carrots)
1/2 cup Butter
1/3 cup Golden Syrup
2 tbsp Milk
1 Large egg, lightly beaten
Optional:
1/4 cup Candy Melts
1/2 tsp Coconut Oil
Method
Pre-heat your oven to 180 °C (350 °F) and line a 10″ square cake tin or brownie pan with wax paper or grease-proof paper (see Note below).
Mix all the dry ingredients and the grated carrots in a large mixing bowl.
Melt the butter and golden syrup over a low heat and then pour it over the dry ingredients. Mix well. At this point you will have a very crumbly, dry mixture.
Add the lightly beaten egg and the milk and mix thoroughly.
Press the resulting dough into your cake tin, making sure to press it all the way into the corners. You want the dough to be about 3/4″ thick (just under 2 cm).
Bake at 180 °C (350 °F) for 10 – 12 minutes, or until just set and lightly browned. This will give the bars an awesome texture that is halfway between carrot cake and oats cookies.
Set aside to cool for 5 minutes and then cut into 18 bars using a non-serrated knife. To do this, make a cut down the middle, then cut each half into 3. You should now have 6 columns. Turn everything 90 degrees and cut each column into 3, giving you 18 bars.
Allow to cool completely before serving or storing. Store whatever you don't eat in an air-tight container.
Optional:
Place the Candy Melts in a small microwavable container and heat them in the microwave for 30 seconds at a time, until they are completely melted. Now stir in the coconut oil. This will make the melted Candy Melts slightly more runny, making it easier to drizzle/spread.
Drizzle or spread the melted Candy Melts over the bars in a rather haphazard fashion.
Note
If you do not have a 10″ square cake tin or brownie pan, use a bigger container and fold the wax paper up on one side to make a "dam".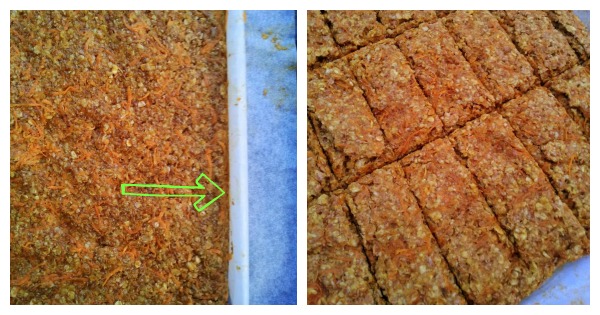 Stored in an air-tight container, these carrot oat bars will last for two weeks, although I doubt that they will be around for that long.
Don't be fooled by the humble appearance of these Carrot Oat Bars. They are delicious. I just know they are going to become a family favourite.
Have you got a favourite Oat Bar recipe? Or is it one of those things you have never thought of making?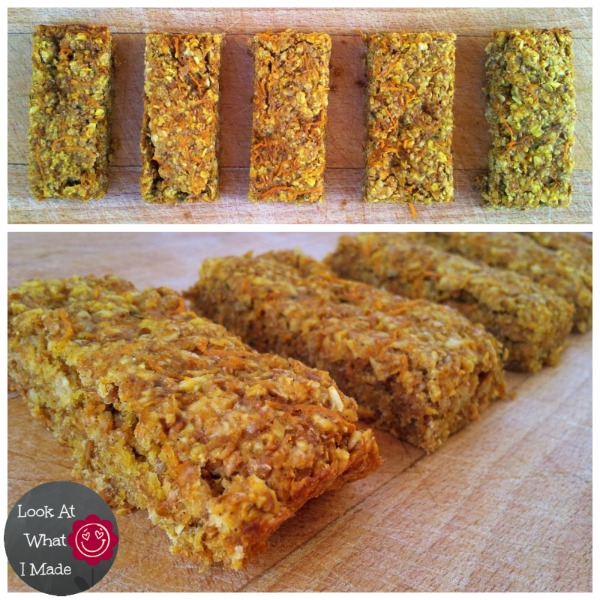 Remember to subscribe to my newsletter if you would like to be kept in the loop. You can also like my Facebook page or follow me on Bloglovin or Google+.
Happy Baking!!!