For Valentine's day I made some Rolled Sugar Cookies and covered them in Glaze and/or Royal Icing.  I much preferred the taste of the glaze, but that took AGES to dry.  The Royal Icing gives a matte finish, but uses egg whites, so probably not that baby safe :)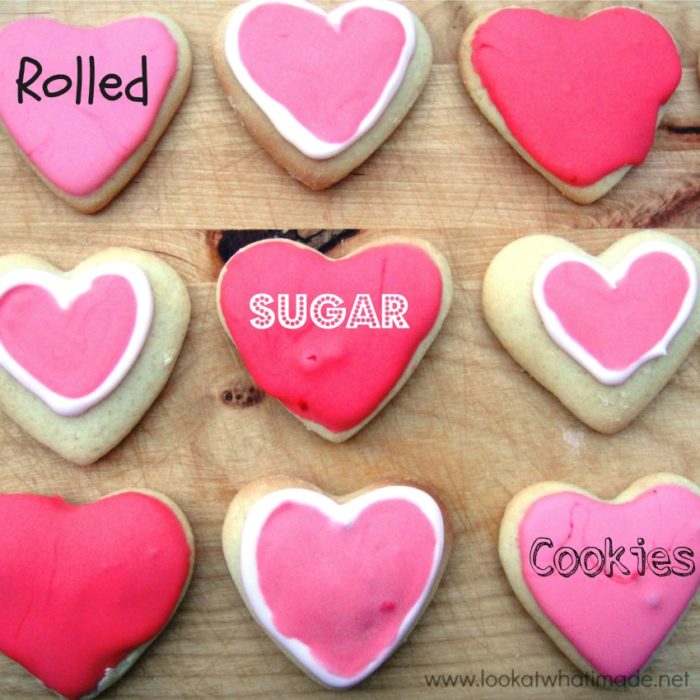 Yummy Rolled Sugar Cookie Recipe
Cream together:
3/4 cup butter
1 cup sugar
Beat in:
2 eggs
1 tsp Vanilla extract
Stir in:
2 1/2 cups flour
1 tsp baking powder
1/2 tsp salt
Cover with clingfilm and chill for at least an hour.  I leave it until the next day :)
When you are ready to bake, preheat your oven to 200 °C (400 °F).
Cut some baking parchment into squares (big enough to fit on your baking tray).  Roll your dough out on floured baking parchment (5 mm to 1 cm thick, but I think thinner is better) about 2cm apart.  Lift the excess dough up from around your biscuits and chuck it back in the fridge.
Now transfer your baking parchment and your cookies onto baking trays.  Pop in the oven for 6 – 8 minutes.  You want to watch out that the edges of the cookies just start turning brown.  If you leave them in longer than that, they will start to burn.
Transfer your baking parchment onto another surface and load your trays with the next batch of cookies.
Hmmmmm!
But even more Hmmmm if you use one of the following icings.  Both will dry rock hard if given enough time (again, probably overnight).
Sugar Cookie Glaze
Stir together:
1 cup icing sugar
1 tbsp glucose syrup or corn syrup
2 tbsp water
Add some food colouring and start dipping your biscuits face-down in the icing.  You can twist them as you lift them up to get rid of the stringy drippy bit.  Pop onto a wooden cutting board or cake rack to dry.  You can sprinkle some hundreds and thousands on after about 30 mins if you want them to stick to your cookies.
Royal Icing
Whisk until soft peaks form:
1 egg large egg white (30g)
3/4 cup of icing sugar
Now add:
3/4 cup of icing sugar and continue whisking until hard peaks form and the icing loses its shine.
Finally, add:
1tsp lemon juice to keep the icing white.  Add some food colouring to jazz it up a bit.
You will notice that this icing is extremely stiff.  To get the right consistency for dipping/flooding, stir in enough water (1 tsp at a time) to make a runny icing.
The icing will be runny enough if it swallows a ribbon of itself in 3 seconds.  That sounds odd.  Let me explain:  When you lift the spoon out of the icing and move it around over the bowl, it will form ribbons on the surface of the icing.  If these disappear within 3 seconds, you're good to go.  If you have added too much water, stir in some more icing sugar.  This is a hassle, though, so add your water sparingly.
See THIS TUTORIAL about Ryal Icing if you would like a more in-depth tutorial.  And for black royal icing, see THIS POST.
I gave Christiaan a few of these to take to work on Monday.  He says he just thought:  Hmmm, biscuits.  He was unprepared for the reaction of the female staff.  They Ooh'd and Aah'd as if he was the cutest thing for bringing them Valentine's biscuits.

This blog post contains affiliate links. I only link to products I personally use or would use.  All opinions are my own.