This Roasted Beetroot Pasta is a simple, punchy dish with loads of flavour.  It takes minimal preparation but will taste like a lot of work!  It is ideal as both a summer AND winter meal as it is filling without being heavy.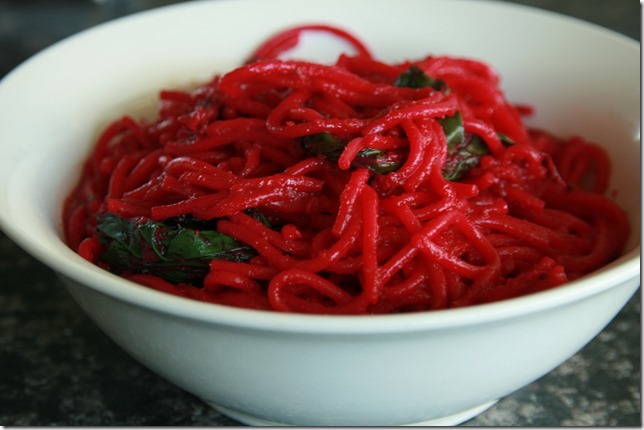 Photo:  Ance Strydom
I got this recipe from my sister, who is quite the little chef.  When she came to visit at Christmas, she told me that my mom and her were going to do a little recipe-swapping this year.  Every week one of them will share a favourite dish and then they will both make it.  I suppose it is a way to make the distance between South Africa and New Zealand disappear for a short while.  And of course I wanted to be part of this bonding exercise.  But 3 months later and I have just made one of their suggested dishes:  this lovey Roasted Beetroot Pasta.
And once things calm down I am hoping to match them meal for meal so that, in the eating, we three can pretend that we are not all on different continents.  It is nice to indulge in the illusion that I could just pop over to my mom's, if I wanted to, to borrow some ingredient or other.  And that I could just as easily pop down the road to Ance's house so that I can nick some of her home-grown beets.
And when I do participate, I will gladly share the recipes with you :)
Ance's Roasted Beetroot Pasta Recipe
Enough to serve 4 depending on how strong you like it
Ingredients
3 big/4 medium beetroots, sliced into roughly 3 cm cubes
Garlic bulb (though still tastes great without it)
Balsamic vinegar
Olive oil
Juice and zest of 1 lemon
45 ml extra virgin olive oil
½ cup grated parmesan
Leaves of 2 sprigs of basil
Salt and pepper
A big bunch of baby beetroot leaves, stems attached
Optional: goat's cheese for an edge to the tanginess of the lemony pasta
Method
Pre-heat the oven to 200 °C.
Rub the beetroot and garlic in balsamic vinegar, olive oil and salt and pepper. Wrap the beetroot and garlic into a little tinfoil parcel and let it cook for approximately 30-40 minutes.  You want the flavour of the balsamic to be nice and concentrated.
Place the cooked vegetables into a container with high sides (to avoid beetroot splashing on you when you whizz it) and squishing all the soft garlic out of their shells, combine with the beetroot.
Add the lemon juice, zest, olive oil, parmesan and the basil and whiz to a puree.
Now cook your spaghetti according to packet instructions (surely you don't need instructions!!). 2 minutes before the pasta will be al dente, add the beetroot leaves to the cooking water, it should be limp but still crunchy when done.
Drain the pasta and mix in your beetroot sauce.
NOTES
The sauce has great depth of flavour, with the initial tasting of the finished dish you may think it bland, but after a few bites you will see why you can spread the sauce out to just a thin layer covering the pasta.
If you can't find beetroot leaves (this is normally just convenient because the leaves may still be attached to the beetroot), you can replace this and create the same effect with spinach, silverbeet, rocket or even mesclun salad leaves. Just remember to vary the time at which you add the leaves. E.g. if you are adding rocket or baby spinach, don't boil at all.  The heat from the pasta will wilt it by itself.  But if you are using sliced spinach leaves, it will have a slightly longer cooking time (by a minute perhaps) than the beetroot leaves would have.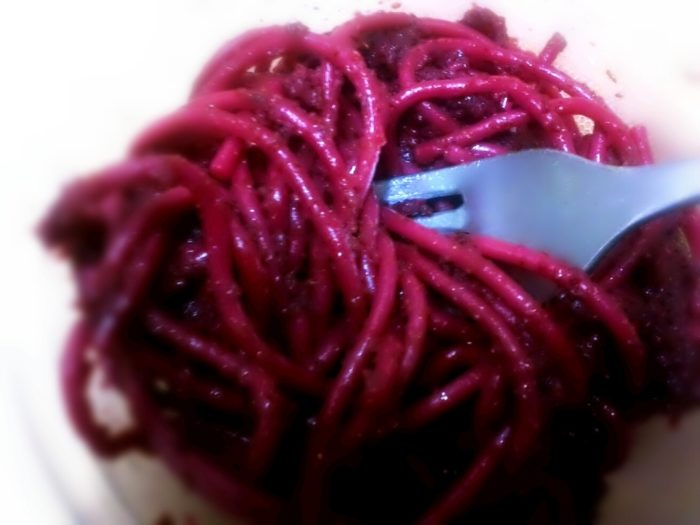 Photo:  Minette Strydom
I hope you enjoy this dish as much as we have done!
Remember to subscribe to my newsletter if you would like to be kept in the loop.  You can also like my Facebook page or follow me on Bloglovin.
Happy Cooking!