I think these Ice-cream Cone Cupcakes are out of this world cute!  Even Zazzi – the cake snob – ate them :)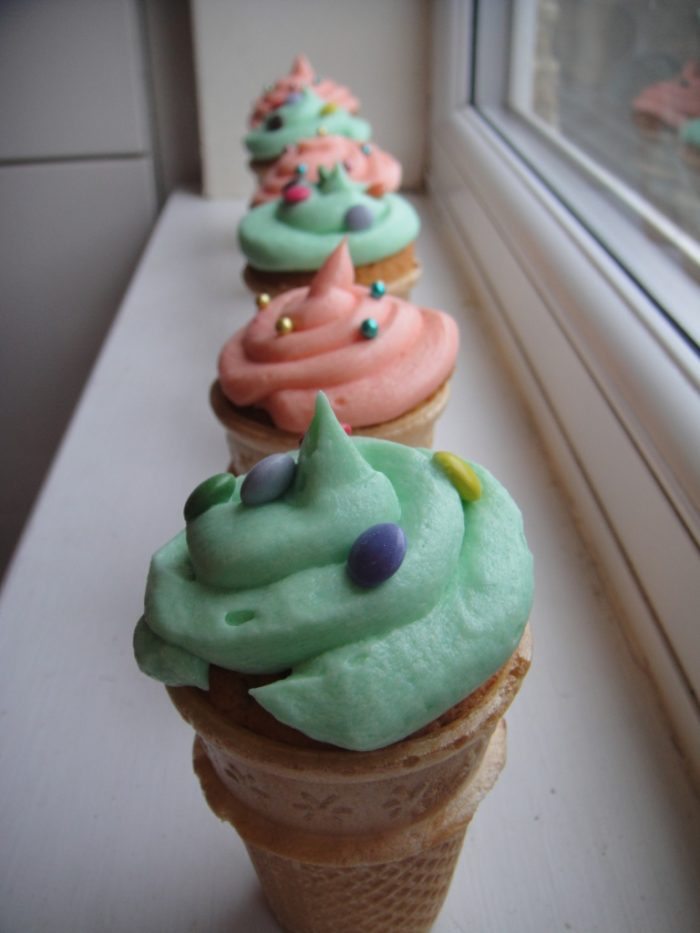 I'm struggling to remember when I made these.  It must have been last Sunday…I suppose…yes, definitely last Sunday.  When Pieter and I made our Valentine's cookies.
I got the idea from YouTube, actually.  Long story short:  Pieter stumbled upon the site while he was watching a woman decorate a Fire Engine Cake on Howdini.  So I Googled Ice-cream Cone Cupcakes and found a host of variations on the theme.
One of the negative reviews I read stated that the cones came out tasting stale.  I have not found this to be the case.  If consumed on the same day as baking, the cones stay fairly crunchy.  If you keep these for a day or two before eating, however, you will notice that the moisture of the cupcakes makes the cones go softer, not completely soft.  It is only an issue because you expect to get a crunch and then fail to.  So the texture is not unpleasant in itself at all.  It is just not what you are expecting when you see a cone.
Regardless, kids (and grown-ups) go crazy for these because they appeal to something deep inside of us.  Who doesn't love soft-serve ice cream?
The only thing I did find was that they were an ABSOLUTE pain to transport.  I spent ages cutting up pieces of cardboard to keep them upright in a container.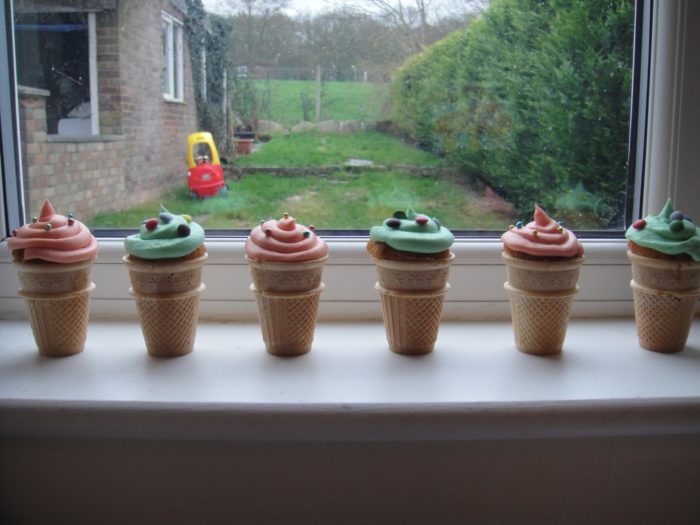 Ice-cream Cone Cupcakes
Preheat your oven to 200°C.
Ingredients
275g self-raising flour
275g castor sugar
275g butter (at room temperature, because this makes it much easier to work with)
5 eggs
10 ml baking powder (2 tsp)
10 ml vanilla extract (2 tsp)
30-45 ml milk (2-3 tbsp)
Method
With a mixer, cream the butter and the sugar.
Add the eggs and a couple of spoonfuls of flour in turn, mixing all the while.
Add baking powder and vanilla extract.
Add the milk – only enough to form a thick batter.
Baking
Place your Ice-cream cones on a baking tray or in a muffin pan.
Spoon the mixture into the cones, filling them 2/3 of the way up.
Pop into the pre-heated oven (at 200°C) for 15 minutes.
After 15 minutes, lower the heat to 180°C and bake for another 25-30 minutes.
Ice the cakes with your preferred icing when they have WELL AND TRULY cooled down.  Otherwise, you will have melting ice-cream cupcakes!
Super Easy Buttercream Icing
100g butter
200g icing sugar
1tsp vanilla extract
In a mixer, beat butter for about 2 minutes – or until light and fluffy.
Add half of the icing sugar and beat well.
Add rest of icing sugar and vanilla extract and beat for about 3 minutes.
Add food colouring and mix well.
USE :)

This blog post contains affiliate links. I only link to products I personally use or would use.  All opinions are my own.