My mom used to make these 30 Day Muffins when I was little.  They are so handy, because you can keep the batter in the fridge for up to 30 days – like the name implies :)  They are so easy and yummy, though, that you will run out of batter LONG before the 30 day expiration.  I have a special kliplock container for this batter that almost lives in my fridge.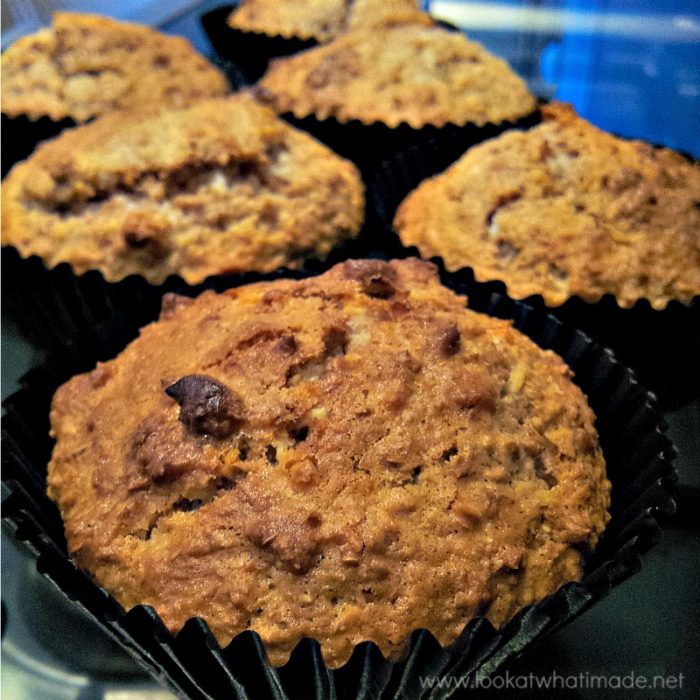 What can be better than taking fresh muffins to work with no more hassle than plonking some muffin cases in a tray and putting the oven on while you have your morning coffee?
So here is the 30 Day Muffin Recipe.  Apologies for not stating the source.  I copied it onto the back of an envelope YEARS ago and have long since forgotten where I actually got it from.
These are bran muffins and not very sweet or savoury.  They just are!  And what they are is the perfect vehicle for a knob of Lurpak and some grated cheese…or jam…OR BOTH.
Did I mention that they are healthy(ish)?
30 Day Muffin Recipe
 In a very large bowl, whisk together:
4 eggs
175 ml vegetable oil
500 ml brown sugar
1l buttermilk
Add to this:
500 ml bran – if you struggle to find bran (wheat germ), try your local health food store.  You can buy a very large bag for very little money.  And here's a handy tip:  if you run out of whole-wheat flour, you can add some bran to plain flour to turn it into whole-wheat flour.
750 ml cake flour
750 ml whole grain flour
25 ml baking soda
5 ml salt
Mix well and store in an airtight container for up to 30 days.  The colour might change slightly, but don't worry about it.  Just give it a stir before use and Bob's your uncle :)
When needed, pre-heat the oven to 200 °C.  Line a muffin tray with paper cases.  Fill the cases 2/3 of the way up with batter and bake for 18 – 20 minutes.
I hope you enjoy these as much as my husband and I do.  If Bran Muffins aren't your thing, why don't you try making these Sweet Potato Muffins?  They, too, are a personal favourite.  And extremely versatile…
I would love to hear from you if you have made these muffins before.  Or maybe you have your own store-and-bake muffin recipe you would like to share?

This blog post contains affiliate links. I only link to products I personally use or would use.  All opinions are my own.