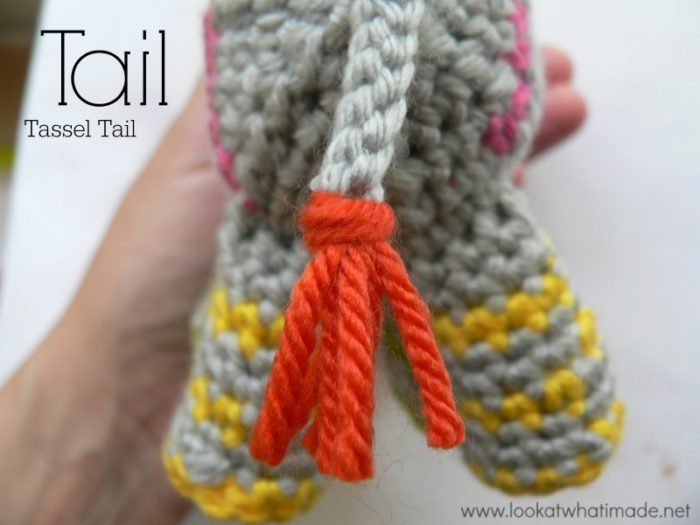 Although this tail is specifically designed for the Little Zoo Animals and my Amamani, you can use it on any amigurumi animal of your choice.
The instructions below follow on from the last round of any of the Little Zoo bodies, so you will already have a long tail of yarn to work with.
If, however, you want to use these instructions to attach a tail to any other animal, start with a slip knot already on your hook.
Crochet Animal Tail with Tassel
Materials
Whichever hook and yarn you are using for the animal you are wanting to attach the tail to.
Yarn needle (to work away ends)
Scissors
Abbreviations
US terminology used.  See this chart.
Tail
Insert your hook around the "hole" at the back of the animal by poking it into the animal on one side of the closed hole and out the other side (Photo 1).
If you are using these instructions for any animal other than the Little Zoo Animals, find the centre of your animal's behind and insert the hook around the post of that central stitch.
Yarn over (with the long tail of yarn) and pull up a loop.
Ch 8 (Photo 2).  Working into the back bump of the chain stitches:  sl st in the second ch from the hook and the remaining 6 ch st's.  Bind off and work away your tail of yarn by sewing around the base of the tail a couple of times (Photos 3 and 4).  This will make the tail a little bit more secure.
Tassel
When adding the tassel to the tail, insert your hook from the bottom (back) of the tail to the top (front) so that the little band formed by the knot is to the front.  If, however, you prefer to have the band to the back, insert your hook from the top of the tail to the bottom.
Cut 3 or 4 pieces of CC yarn roughly 15 cm (6") long.  Why so long for such a tiny tassel?  Because it is easier to work with.
Jab your hook through the end of the tail (Photo 5 – see note above).  Fold the pieces of yarn in half and grab them with your hook.  Pull up a loop with all the pieces of yarn (Photo 6).  Yarn over again (with ALL the pieces of yarn), and pull them all the way through the loop (Photos 7 and 8).  Trim your tassel (Photo 9).
 Well done!  One crochet animal tail complete with tassel.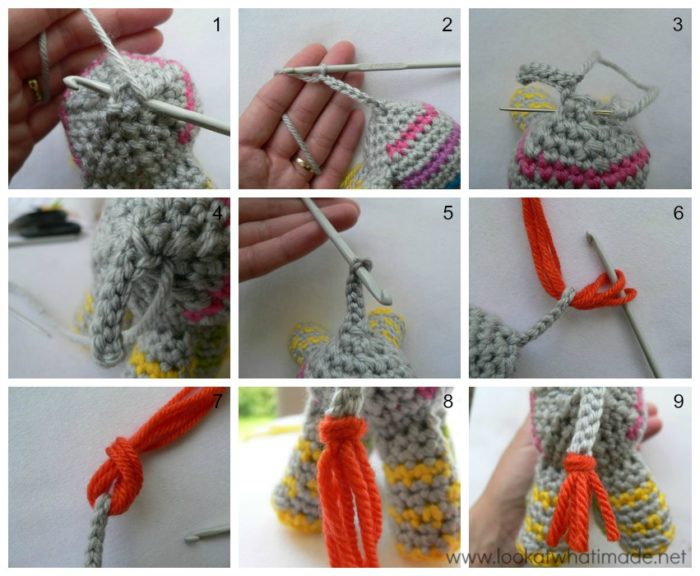 Remember to subscribe to my newsletter if you would like to be kept in the loop. You can also like my Facebook page or follow me on Bloglovin or Google+.
Happy Hooking!