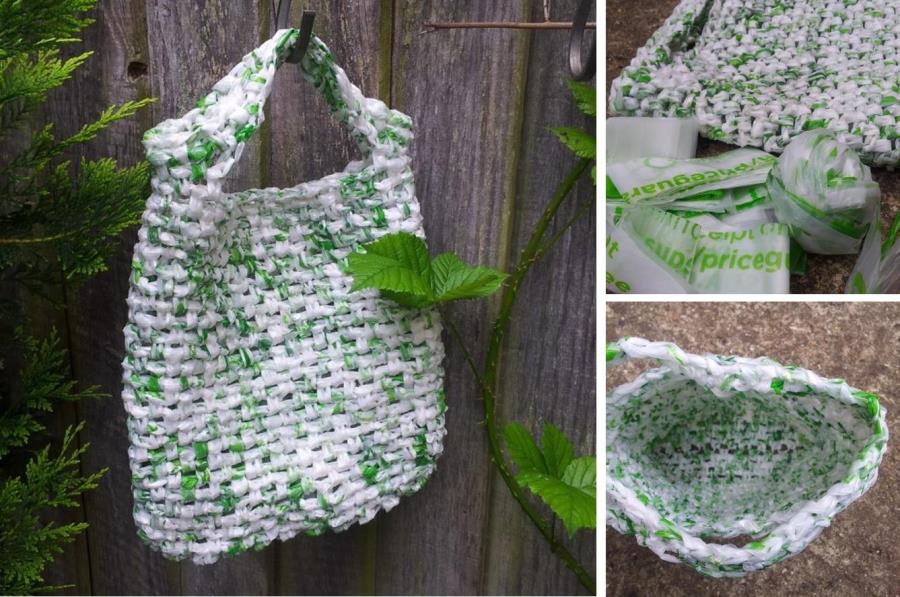 Mini Plarn Tote Crochet Pattern
Update 26/6/2013:  I have tidied up the pattern for the Mini Plarn Tote.
Hehe, I am a little bit embarrassed to share this Mini Plarn Tote as it was the first one I ever made with plarn.  It took me absolutely ages to gather enough bags (now I get bags dumped on me from all sides, hehe).
The photo is a bit shoddy as it was taken with my phone.  I can't take a better one as I have given this bag away.  I suppose I should just make another one and take a better picture, right?  But I have so many many MANY other things on my to-do list that re-making something (esp. such a plain bag) seems inconceivable.
So apologies delivered, you will now have to make do with this grainy photo and my primitive pattern :)
This is Mini Plarn Tote is small.  It is about 30 cm long by 25 cm wide when empty, but stretches slightly when full.  It is perfect for taking your lunch to work in, or if you're just popping to the shop for a large bag of crisps and a dip or two.
And if, for any reason, you need to lug 2 bottles of wine around, this is just the bag for the job!
You can easily make a larger bag by increasing the initial number of chain stitches in multiples of 2 and working extra rounds.
This pattern is suitable for Beginners.  In fact, it is perfect for beginners as you only need to know how to chain and make single crochet stitches.  It takes hardly any time to knock one of these out and you can use any textile you fancy – t-shirt yarn, plarn, wool, rope…you can even use pet hair if you are that way inclined…nah…
Mini Plarn Tote Crochet Pattern
 © Dedri Uys 2011.  All Rights Reserved.
US Terminology used.
This bag is worked in the round and all stitches (unless specified) are worked into the ch-1 spaces of the previous round.
Abbreviations

Ch – Chain

Ch-1 space – the space between 2 sc's formed by making a ch st between them

Sc – single Crochet

Sl st – slip stitch

St – stitch

** – Repeat all instructions between asterisks.

Materials

1cm Crochet hook

Double-ply Plarn – click

here

if you want to see my method for making super speedy 2-ply plarn (and have a little giggle at my video-making skills).  I can loop double-ply plarn like nobody's business!

Yarn needle for finishing off

 

Foundation Chain
Chain 24.
Body
 Sc in one loop only of the 4th ch from the hook.  *Ch,sc* in one loop only of every 2nd st across.  You should now have 12 sc clusters.  *ch,sc* into the last (same) st again and then continue working around the foundation chain.  *Ch, sc* into the remaining loops of every 2nd st across (10 more clusters).  When you reach the end of the round, *ch,sc* into the same (lasts) stitch. (24 sc clusters in total – the initial 3 ch's count as a cluster)
 
 Continuing around:  *Ch, sc* into the space formed by the initial ch-3 at the beginning of round 1.  This counts as your first ch-1 space.  *Ch, sc* into every ch-1 space around until you have completed 24 rounds.  (24 sc clusters in each round)
 
 When you have completed the last round, fold your bag flat.  The last stitch should now be 2 st's away from the fold.
 
 Because you are working in a spiral, the first st of every round will creep steadily to the right.  If you want a longer or a shorter bag, add more rounds/leave some rounds out until you get the desired length.
 
 If you alter the length, though, the last st of your last round will fall in a different place (that is on the fold, before the fold or waaay past the fold).  Just make sure that you finish 2 st's past the fold.  So add a few more stitches or leave a few out.
 
 You will now make the handles.
Handles
Round 1:  Starting 2 st's past the fold:  Ch 15.  Skip 8 ch-1 spaces.  *Ch,sc* into the next 4 ch-1 spaces.  These 4 sc clusters should fall over the fold on the other side.  Ch 15 again and skip 8 ch-1 spaces.  *Ch, sc* into the last 4 ch-1 spaces.
 
Round 2:  **Now *ch,sc* x 9 over the 15 ch st's of the handle  When you get to the end of the handle, work the *ch,sc* pattern into each of the next 3 ch-1 spaces.**  Repeat from ** to **.
 
Round 3:  *Ch, sc* into each of the 24 ch-1 spaces.  Sl st in the next ch-1 space and bind off.  Now work away your tails.
Remember to subscribe to my newsletter if you would like to be kept in the loop.  You can also like my facebook page.
xxx dedri